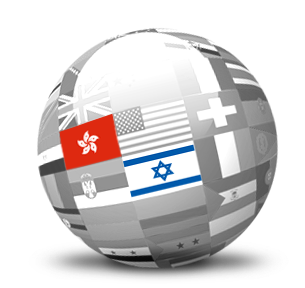 24 ISRAELI DESIGNERS REACH FINALS -- AND WILL REPRESENT ISRAEL IN FIRST ISRAELI POP-UP STORE IN HONG KONG
Carpets, Jewelry, Hats, Toys, Fashion Accessories, Lamps, Gifts and More
Twenty-four Israeli designers, amongst eighty who submitted applications, were selected to represent Israel in a pop-up store that will be launched by the Israeli Ministry of Economy and the Israel Export Institute in Hong Kong in October. The opening is expected to be attended by many from the Hong Kong design community and is expected to brand Israel as a leading country in a number of areas of design.
Following the call for submissions by the Foreign Trade Administration at the Israeli Ministry of Economy and the Israel Export Institute several weeks ago, no less than 80 Israeli designers submitted applications for a place in the first Israeli design store in Hong Kong. A design company from Hong Kong together with the Israeli commercial attaché there, Elad Goz, and representatives of the Israel Export Institute, selected the twenty-four leading Israeli designers whose work will be displayed in the store.
Earlier this week, the selected designers presented their wares to the staff at Israel's Hong Kong trade mission, who were on a visit to Israel. The visit was part of preparations for the opening of the store -- which will take place in a festive ceremony that is already creating great interest in Hong Kong. The opening will take place on October 22nd.
The Head of the Israeli Economic & Trade Mission in Hong Kong, Elad Goz, said: "We have chosen not to limit the type of designs and as a result are featuring a wide variety of Israeli designers from a number of areas, including jewelry, home furnishings and more. The store will present the best and the widest variety of products and help bolster the Israeli design brand in the Far East, branding Israel not just as the 'Startup Nation' but also as a leading country in various design fields."
Director of the Home and Family Department at the Israel Export Institute, Eyal Levi, said: "Israeli design is recognized abroad as innovative and yet many designers find it hard to export their products abroad. Establishing this store, with its wide range of areas of design –from home furnishings to fashion and jewelry – will help designers maximize their exposure in markets in the Far East that have significant potential. We hope that they can increase their sales in traditional avenues as well as online."
The designers selected to represent Israel:
1. Adi Bakshi http://www.adibakshi.com (fashion accessories)
2. Adi Buvarovsky http://www.thepixelsfactory.com (Pop Art)
3. Adi Lev http://www.adilevdesign.com (jewelry)
4. Aviv Kinel http://www.avivkinel.com(jewelry)
5. Bangi Shoes http://bangishop.etsy.com (shoes)
6. Briday http://www.briday.us (gifts)
7. Bumpers Comfort http://www.bumperscomfort.com(shoes)
8. Dori Csengeri http://www.doricsengeri.com (jewelry)
9. Ester Shahaf http://www.estershahaf.com (jewelry and Judaica)
10. Gallabia http://www.gallabia.com (fashion)
11. Ifat Shterenberg http://www.ifatshterenberg.com (furniture)
12. Justine Hats (Yael Cohen) http://www.justinehats.com (hats)
13. Kay Brock http://www.kaybrock.com (textiles for the home)
14. Maya Negri http://mayanegri.com/en (fashion)
15. PaperCat http://www.papercatdesign.com (toys)
16. Studio Shulab http://www.shulab.com (home furnishings)
17. Sink Skin http://www.sink-skin.com (home furnishings)
18. Gal Stern http://www.sterntights.com (fashion accessories)
19. Studio Cheha http://www.bulbing-light.com (lamps)
20. Studio Vayehi (Katerina Brand and Tsuriel Gottlieb) http://www.studiovayehi.com (lamps)
21. Sturlesi Design http://www.sturlesidesign.com (home furnishings)
22. Una Una Shoes http://www.una-una.net (shoes)
23. Anat Dahari http://www.walkbyanatdahari.com (shoes)
24. Yesh Meayin http://www.beijacarpet.com (carpets)