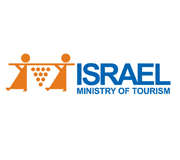 Tourism Minister Yariv Levin: "The increase in tourist entries to Israel is the result of significant budgets that were allocated for marketing and attractive campaigns, investment in new markets and the development of relevant sub-brands for different target markets."
Jerusalem, January 9, 2017 – Against the security background in the Middle East and despite the drop in incoming tourism in many countries in the region, Israel registered a 3.6% increase in incoming tourism for 2016, with 2.9 million tourist entries. The Tourism Ministry is not surprised by these statistics and attributes the increase to a strategic shift in marketing and an increase in the marketing budget.
The marketing program adopted by the Tourism Minister Yariv Levin and implemented under the direction of Tourism Ministry Director-General Amir Halevi focused on creating demand in Israel tourism by building sub-brands suited to different target markets, supported by wide-ranging campaigns and including new markets such as India and China which have each registered increases of tens of percent in incoming tourism. The Tourism Ministry also promoted collaborations with the largest international online travel agents such as Expedia and TripAdvisor. In addition, the ministry worked with international airlines to expose them to the economic potential of opening routes to Israel and, among others, by giving incentives for every passenger flying into Ovda and for opening new routes into Ben Gurion airport.
Tourism Minister Yariv Levin: "The increase does not come from thin air. The increase in tourist entries to Israel is the result of significant budgets that were allocated for marketing and attractive campaigns, investment in new markets and the development of relevant sub-brands for different target markets. The strategic plans are adapted to fluctuations and changes in the tourism industry worldwide. I will continue to advance the activities of the ministry with strategic international partners so that the tourism market in Israel will continue to develop and flourish."
With a budget of nearly half a billion shekels - the highest ever for tourism marketing – the focus was placed on campaigns in key markets with the highest numbers of incoming tourism and the largest potential for additional growth, such as USA, Russia, Germany, France, England and others. This, alongside investment in new and significant markets with high potential for increased tourism, particularly India and China.
In addition to the marketing campaigns, Hainan Airlines, the largest private airline in China, opened a new route into Israel and one can see an increase of tens of percent in tourism traffic. The expenditure of the Chinese tourist in Israel is the largest of all countries, injecting revenue into the local economy. For the first time this year, a tourism campaign ran in India, gaining millions of views. According to Google, the exposure to the campaign promoting tourism to Israel came close to the exposure of the campaign for the Pepsi drinks brand.
Increase in tourism from countries with new air routes and advertising campaigns:
The period September through December 2016 saw a record in the number of incoming tourists. The countries which registered the most significant increase in the number of tourist entries as opposed to the previous year were: China (+69%); Croatia (+62%); Belarus, Latvia and Georgia (+41%), Malaysia (+35%) and the Philippines (+ 27%). The USA and Russia continue to lead in the numbers of incoming tourists, followed by France, UK, Germany and Ukraine .
Tourism to Eilat doubles:
Flights to Eilat from 9 European cities – because of the ministry directive that offers a 45 Euro subsidy to every passenger flying into Ovda in the current winter season, with a total budget of NIS 18 million.

Anticipated doubling of tourist entries arriving on direct flights into Ovda this winter season, as opposed to 42,000 in the winter season 2015/2016.

NIS 10 million advertising campaigns promoting the new Eilat brand in UK, Finland, Russia, France and Poland, with a dedicated website in English, Russian, Finnish and French : www.traveleilat.com

Because of the ministry's activities, Eilat was ranked seventh by TripAdvisor in a list of destinations on the rise.
New Markets
India
For the first time, an advertising campaign in India to encourage tourism to Israel – the video had tens of millions of hits for minimal promotional cost. The YouTube video has over 11.7 million views

The marketing budget stood at NIS15m in 2016

Israel won a prize from the Indian Travel + Leisure Magazine as the best destination for history and heritage

According to Google and YouTube, as a result of the campaign, the brand Israel competes with other leading brands in India such as Pepsi
China
Israel won the 2016 Best Destination in Chinese media awards.

Hainan Airlines, the largest private airline in China, opened its route from Beijing-Tel Aviv in April 2016

Hainan recently added another weekly flight and is planning to open a route from Shanghai

The marketing budget rose dramatically in 2016 to about NIS 20m.

The increased tourism traffic from China and India injected tems of millions of shekel into the Israeli economy in 2016 and this is expected to significantly increase in the future.
Renewing Existing Markets
Campaigns in Europe
After many years of hiatus, advertising campaigns ran in Holland, Scandinavia and Spain.

Two Cities One Break – a new and comprehensive campaign with a budget of NIS 80 million that ran simultaneously in 8 European countries, promoting the city break concept in Tel Aviv and Jerusalem. The campaign, which starred Israeli model Shir Elmaliach, ran on TV, billboards and in print, with a focus on digital media. The concept offers Europeans two destinations on one ticket, Jerusalem and Tel Aviv. From data based on the first round of the campaign, there were 1.9 million unique visitors and 4.5 million clicks from 9 countries. More than 24.5 million views were recorded for the campaign video. Example: https://youtu.be/_dBNXPfdePs
Campaigns in USA
The NIS 50 million USA campaign targets Evangelical, Catholic and Jewish audiences in New York, LA, Atlanta and Florida, with a particularly high budget for online promotion.
Aviation
New Hainan Airlines route from Beijing

New Wizzair route from Warsaw

New Ryanair route from Bratislava

New EasyJet route from Amsterdam

New United Airlines route from San Francisco

New Ryanair route from Paphos

Declaration by Cathay Pacific to open new route from Hong Kong in two more months
Tourism Minister Yariv Levin defined the increase of seat capacity on flights into Israel as a significant target for the ministry. In 2017, significant budgets will be allocated to promoting new routes from Europe into Ovda and Ben Gurion airports.
Collaboration with online travel agents
TripAdvisor, Expedia, Odigeo

Payment to agents based on sales results

Adjusting to the market reversal – 60% of tourists arrive independently and not in organized groups
There have been marked changes in incoming tourism in recent years, with most tourists today arriving independently (FITs), about 60%, as opposed to arriving as part of a group. In addition, they purchase their own land and air arrangements through online travel agencies. The ministry adapted itself to this trend, with a NIS 18.5 million investment in collaboration with the largest companies such as Expedia, TripAdvisor, Edreams and Odigeo. Payment is based on results and not on advertising.
Promoting sports events as a tourism engine
Campaigns on Eurosport during the Tour de France

About 3,000 tourists participated in the Jerusalem Marathon

Hosting journalists from around the world to cover sporting events

Hosting journalists who cycle to cover new cycling routes
Hostings in 2016
The Ministry hosted more than 2000 opinion-formers, decision-makers, celebrities and travel agents, of whom 70% were journalists.
Among the most well-known: Bollywood producers, Roseanne Barr, Bollywood star Sunam Kapoor, stars of the youth series The Green House, American Jazz ensembles for Winter Jam, 2016 Eurovision participants and more

Hosting of production of popular reality shows from Europe and USA

Hosting cyclists to ride the new cycling routes in the desert

Hosting chefs and journalists for the Round Tables event

Hosting the conference for Indian travel agents (TAFI)

Hosting the Romanian travel agents conference

Hosting journalists for a variety of events, such as Tel Aviv Pride Parade, the Opera Festival in Jerusalem and Acre, Midburn Festival, Bird Festival in Eilat, Israel Trail, Open Houses in Jerusalem, Yoga in the Arava and more

Hosting large conferences of travel agents and tour operators from India, China, Philippines, Russia, Ukraine, Japan and more
Tourism by Source Country
As in previous years, tourism from the USA continued to represent the largest country of origin for incoming tourism to Israel, with 648,310 tourist entries in 2016, 5% more than 2015 and 8% more than in 2014. In second place is tourism from Russiawith 440,358 visitors, a decrease of 1% on 2015 and 21% on 2014. Tourism from France takes third place, with 287,450 tourist entries, 2% less than last year and 1% down on 2014, followed by the United Kingdom with 181,346 (4% up on 2015 and 10% up on 2014) and Germany with 164,076 tourist entries, 3% more than 2015 and 1% more than 2014.