The Embassy of Kazakhstan in Tel Aviv celebrated and rejoiced in commemorating the 19th anniversary of its nation's independence in what could only be defined as the finest and classiest Kazakhi style.


A large contingent of foreign dignitaries, Israeli MK's and representatives of the Foreign Ministry attended the lavish gala which was accompanied by traditional Kazakhi styles and cultural elements. Amongst the notable guests, Minister of Industry, Labor and Trade, Binyamin (Fuoad) Ben Eliezer and MK Yossi Peled gave encouraging speeches honoring the Central Asian Nation.


H.E. Galym Orazbakov, Kazakhstan's ambassador to Tel Aviv gave a moving speech as he discussed the natural bond between his country and Israel. Mr. Orazbakov spoke of the warm and fortified diplomatic relations between the State of Israel and Kazakhstan as he explained that "since 1992, the relations have become more understanding and stronger."


Israel was one of the very first countries to recognize the independence of the Republic of Kazakhstan in 1991, and since then, the two countries have always maintained a solid and amicable friendship.


Kazakhi-Israeli relations have been categorized across many sectors: political, scientific, humanitarian, military-technical and economic. Trade and economic relations between the countries has increased heavily over the past few years.
The Ambassador described how trade started as virtually nothing but has reached, '250 million US dollars in 2008, as more than 250 Israeli companies are now doing business in Kazakhstan,' - more than double in comparison with the previous year.

Kazakhstan and Israel successfully sustain relations beyond the business and economic sphere as well.


Mr. Orazbakov highlighted and made his admirations known with regards to the current special exhibition at the Menachem Begin Heritage Center in Jerusalem, which ends on the 24th of December. He noted pridefully that the exhibition contains works of Kazakh artist, Erbolat Tolepbay.

Later on into the evening, Mr. Ben Eliezer spoke about his visit to Kazakhstan and his meetings with government officials and heads of the business sector.


"Those meetings have created the foundations for continued joint work between our two countries and help in achieving closer and better economic ties."

He concluded his speech by wishing Kazakhstan a happy independence day.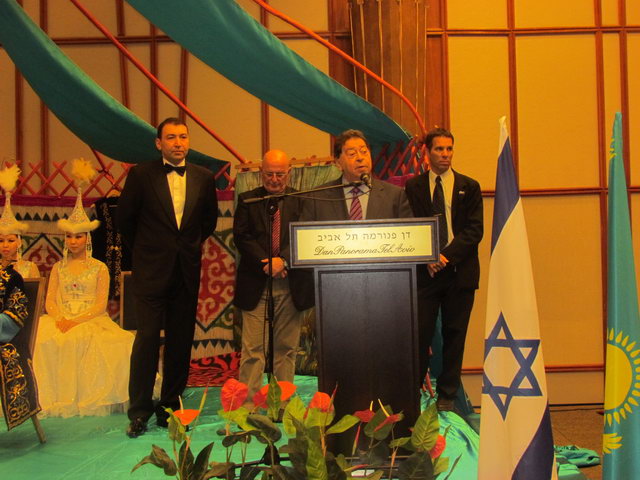 The eventful evening also featured traditional, delicious Kazakhi food, music and women beautifully dressed in typical and exotic Kazakhi attire.

Clearly, those in attendance were inspired by the rich cultural traditions on display as well as being encouraged by the direction of Israeli-Kazakhi relations headed into 2011.





For more information on Kazakhstan's diplomatic mission to Tel Aviv, click here
Photos Silvia Golan