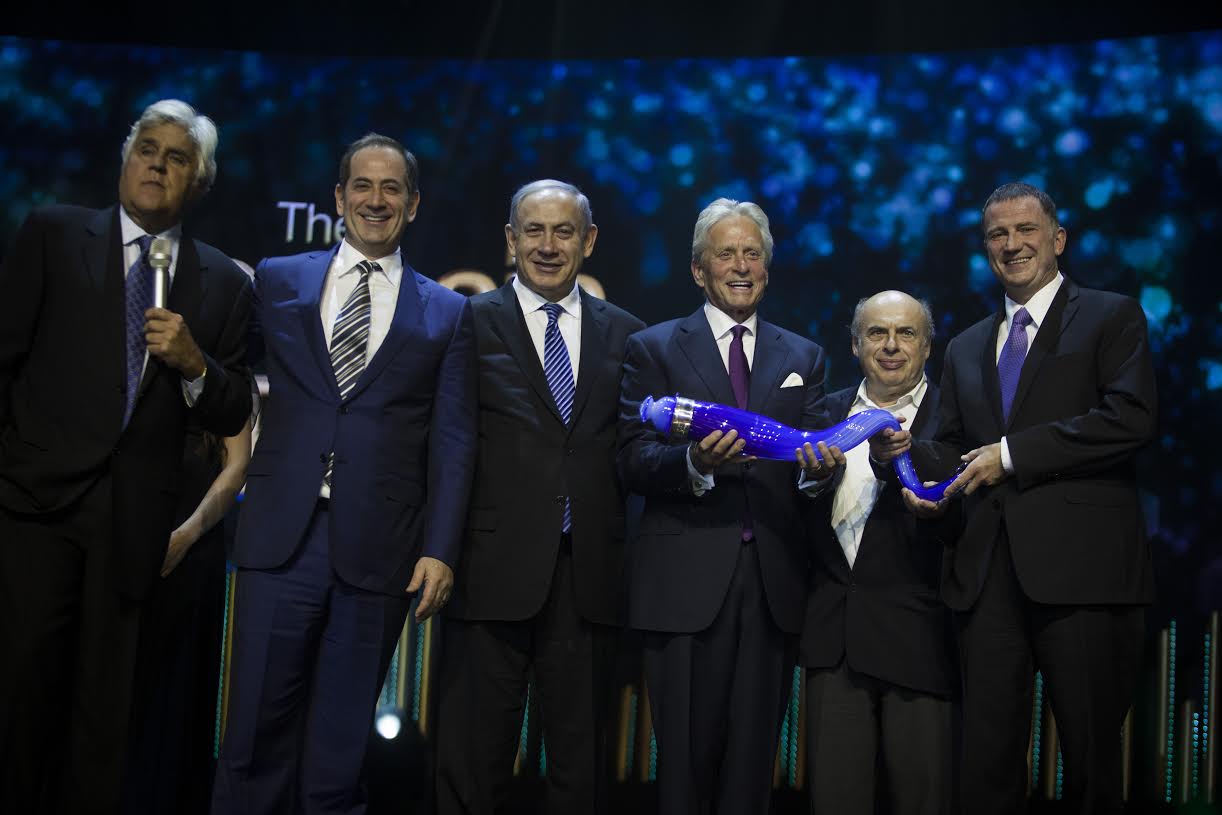 Michael Douglas and Genesis Prize Foundation Launch $3.5 Million Inclusivity Initiative Effort focuses on critical issue of including intermarried families in Jewish life
Jerusalem, Israel, June 18, 2015— Tonight, at the Genesis Prize Award Ceremony at the Jerusalem Theater, activist and actor Michael Douglas announced the establishment of a dedicated fund to foster inclusion of intermarried families in the global Jewish community. Douglas made the announcement during his acceptance speech for the Genesis Prize, a $1 million annual award that recognizes individuals who have attained excellence and international renown in their field, and who inspire others through their engagement and dedication to the Jewish community and the State of Israel.
In recognition of the challenges facing the Jewish community stemming from the high rate of intermarriage, the Genesis Prize Foundation announced that it would double the Prize amount this year to $2 million. These additional funds will also be directed to programs aimed at fostering inclusion in the Jewish community.
"In choosing to use his prize to raise awareness of the need for inclusion of intermarried families, Michael Douglas is shining a light on an issue of great importance to the Jewish community," said Stan Polovets, Co-Founder and Chairman of the Genesis Prize Foundation. "Such inclusion is key for a vibrant and prosperous long-term future of the Jewish people and we are pleased to support Michael's efforts by doubling the amount of the prize to $2 million."
The Genesis Prize Foundation also announced that it would partner with the Jewish Funders Network to establish a matching grants fund to encourage the development of new initiatives in this field. The fund is expected to disburse up to $3.5 million in grants to Jewish organizations interested in taking on the issue of inclusiveness of intermarried families and their children. The first such grant will go to Hillel International, which will use the funds to foster greater engagement of students of intermarried backgrounds in Jewish campus life.
The official call for applications will come in August 2015. A full description of the matching grants process, the criteria for applying and all relevant details are available at
http://intermarriedfamilies-genesisprizematch.org/.
"As someone who has not always been welcomed in the Jewish community because of my mixed parentage, I am passionate about changing that reality for others who want to connect to their heritage," shared Michael Douglas on stage at the Jerusalem Theater. "My children have further shown me how powerful our heritage and history are, and I want other families to reap the benefits of this connection."
Michael Douglas was named the 2015 Genesis Prize Laureate for his achievement in film and television, commitment to humanitarian issues, and dedication to his Jewish heritage. He came to Jerusalem with his wife, actress Catherine Zeta-Jones, and children Dylan and Carys. Former Mayor of New York City Michael Bloomberg was the recipient of the inaugural Genesis Prize, awarded in May of 2014.
Bloomberg deferred his $1 million award so that the Genesis Prize Foundation could create the Genesis Generation Challenge competition in his honor. As part of the competition, nine teams of young adults have been awarded $100,000 each to pursue projects in various fields of social innovation aimed at bettering the world. The winning teams include Prize4Life, an Israeli non-profit organization looking to develop an app that will help monitor ALS disease markers; Build Israel and Palestine (BIP), a U.S.-based platform bringing together Jews and Muslims to partner in development projects in Israel and the Palestinian territories; as well as Spark, an organization in Burundi involved in reaching out to rural poor communities and assisting them in implementing their own social impact projects.
The second Genesis Prize award ceremony saw the return of Jay Leno as its host, and added Bar Refaeli, the Israeli supermodel and actress, to its list of talented presenters. The events surrounding the Genesis Prize ceremony also included a panel discussion at the Peres Center for Peace with the Ninth President of Israel, Shimon Peres, and Jewish Agency Chairman Natan Sharansky. Michael Douglas, a UN Messenger of Peace, moderated the discussion, which was attended by hundreds of young people from Israel and abroad.
BACKGROUND INFORMATION
Intermarriage rates and Jewish identity
According to a 2013 Pew Research Center survey of U.S. Jews, close to 70% of non-Orthodox Jews who married since 2000 have a non-Jewish spouse. Among Jewish millennials in the US, 48% have only one Jewish parent. Yet the same study indicates that while the religious affiliation of the offspring of intermarriages has weakened, their desire to define themselves as Jewish has grown – 59% of this group aged 18-29 considers themselves Jewish, compared to only 25% in the age group 65+. For US millennials from intermarried families today, the desire to affiliate is stronger than in previous generations. The data, which is similar to what is found in other large Jewish concentrations outside of Israel (such as the former Soviet Union) points to the desire of millennials from intermarried families to connect with their Jewish heritage and culture. This, in turn, presents an opportunity for the broader Jewish community. Active engagement of intermarried couples and their children can and will bring about a stronger connection to their Jewish legacy, to the local Jewish community, and to the State of Israel.
For more detailed information on the importance of engaging intermarried families in Jewish life, view the Genesis Prize's "Living as One" video, debuted at the Genesis Prize award ceremony, available at
To learn more about The Genesis Prize, please visit genesisprize.org or facebook.com/TheGenesisPrize and follow on Twitter at @TheGenesisPrize
Add a comment