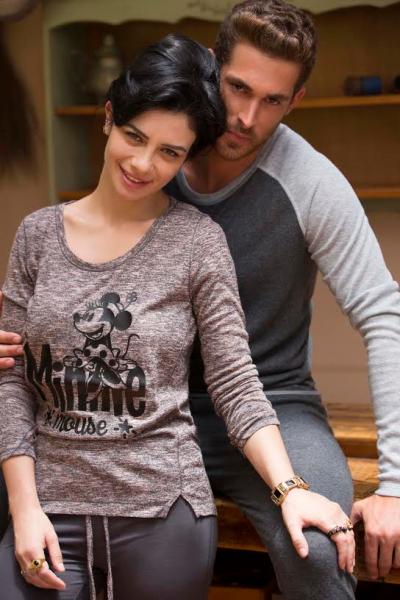 Delta israeli clothing company widens its operation and launches its 2014-15 winter collection, and shows a glimpse to its innovation for the years 2015-16.
Delta's cooperation with the Israeli company Cupron widens, for launching a series of special underwear (מאצ'תונים) for soldiers, which incorporates new technology in the production of underwear for men. Cupron also enters the production of clothes for women during and after pregnancy branded "Nearly Nude Maternity".
Zvika Shwimmer, Delta-Israel's CEO, said that "launching innovative technology is the company's cutting edge. We intend to continue and bring to our customers the technological innovations in the field of underwear clothing for women and men. This season, for the first time, we will let our customers a glimpse to part of the innovations expected in the coming year."
Shwimmer pointed out that Delta will enter in the category of clothes for women during and after pregnancy branded "Nearly Nude Maternity".
He also added that: "among the remarkable innovations, within the cooperation with Cupron, Delta will launch special underwear (מאצ'תונים) that include copper fibers, which provide the underwear with anti-bacterial qualities, renew the skin cells, and evaporate sweat, during the whole product life".
He announces that: "Delta opens a new store, following the revolution that we led last year. This store will provide a special buying experience and a division in worlds of contents (intimate world, house world and active world). This is one of the stores that underwent an innovative transformation. Until 2016, all Delta's stores will undergo this transformation."
About Delta
Delta Marketing
Delta Israel is a subsidiary of Delta Galil Industries Ltd., a private label world wide manufacturer of Intimate Apparel, Men's wear and Socks. Delta Galil is a provider to major leading retailers such as Walmart, Marks & Spencer, Hema, JC Penny, Target, GAP, C&A and more... Delta also provides to leading brands such as Victoria's Secret, Calvin Klein, Tommy Hilfiger, Nike, Hugo Boss and more... Delta also holds her own brand DELTA - the local brand in Israel.
Delta Galil was established in 1975 in the north of Israel and today is spread over four continents with manufacturing centers in the Middle East, the Far East and East Europe, marketing offices in NY, NJ, London and Israel, with a total workforce of over 10,000 associates, and a million products produced daily and shipped to the finest stores world wide. Our customers receive the finest products as Delta is known for it's great innovation, design, high technology and fabric development.
Delta's main share holder, Chairman and CEO is Mr. Isaac Dabah, owner of GMM Capital LLC. Mr. Dabah has enterd Delta in 2005 after purchasing Sara Lee's shares. In 2007 he completed his control by purchasing most of the shares held by Dov Lautman, founder of the company and Chairman until July 2007. Mr. Dabah holds a long years experience in the Textile industry; among his former roles are CEO of Gloria Vanderblit and CEO Jones Apparel Group.
ESTABLISHED IN 1975, DELTA GALIL INDUSTRIES IS A GLOBAL MANUFACTURER AND MARKETER OF PRIVATE LABEL APPAREL PRODUCTS FOR MEN, WOMEN AND CHILDREN

At Delta Galil our experts leverage the company's vast knowledge base and core manufacturing competencies, to deliver comprehensive solutions that address the dynamic changes in the industry.
FOLLOWING OUR BODY-BEFORE-FABRIC PHILOSOPHY, WE PLACE EQUAL EMPHASIS ON COMFORT, AESTHETICS AND QUALITY

We anticipate new fashion trends and develop cutting edge technologies and fabrics, all in-house and all built on a 37 year tradition of uncompromised excellence in manufacturing, marketing and service.
SERVICING THE WHO'S & WHO'S OF THE GLOBAL APPAREL INDUSTRY

Ever aware of the pulse of the marketplace, Delta Galil is depended on by leading apparel designers and retailers worldwide to help them introduce new products and innovative manufacturing solutions that answer consumer demands and help grow their market share. With an eclectic offering of made-to-order products, Delta Galil's range includes: intimate apparel for men & women, active wear, socks and kids & baby wear. We are proud to have contributed to the success of: Wal-Mart, Marks & Spencer, and Target as well as leading fashion brands such as Calvin Klein, Nike, Hugo Boss and Victoria's Secret. In addition Delta Galil sells its products under brand names licensed to the company, these include: Wilson, Maidenform, Tommy Hilfiger and others.
THREE DECADES OF DESIGN & INNOVATION

From our original base in Israel, in over 3 decades we have established strategically located design, development and manufacturing centers spread across four continents. We employ 9000 people worldwide and serve over 50 industry-leading customers in the US, UK, and Europe. At Delta Galil we are proud of our global spread and multi-cultural nature. We employ individuals from all over the world and believe in mutual respect and co-existence, amongst ourselves and within the communities and environments in which we work.
DELTA FACTS SHEET
Established in 1975

Manufacturing and marketing is spread of 20 countries

Multi cultural workforce of 9000 employees worldwide

Human and professional diversity

Over $32M are invested in R&D per year

500 M products are sold yearly by the Company

4 years of consistent growth

Sustainability driven, GRI approved
Photo Yariv Fain & Guy Koshi