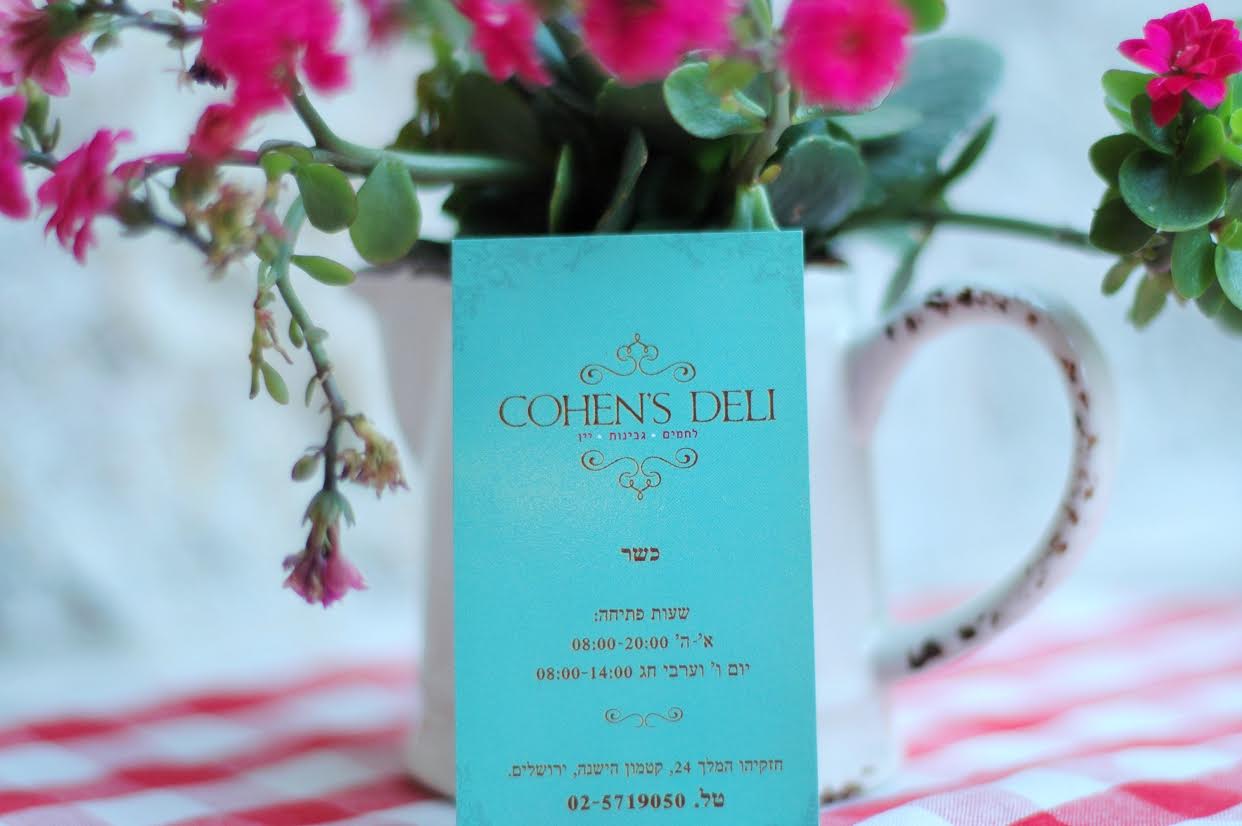 Cohen's Deli nestles in the tranquil Jerusalem suburb of Old Katamon. Owned and managed by Shimon and Yehuda Cohen, the business has quite some family history. It began as their grandfather's grocery and was then taken over by their father. Coming from a restaurant background, brothers Shimon and Yehuda moved into the premises three and a half years ago and decided to change the business into a café and deli. With its attractive red-rimmed shop-front and pot plants adding color to the street, clients and passers-by find the shop a high quality place to buy specialty foods, its large selection of cheeses, wine, olives, honey and jam, crackers and excellent breads appealing to those with finer taste. Shimon travels all over Europe visiting dairies and choosing the most exclusive cheeses to sell in the shop, a place where clients come to buy specialty cheeses not otherwise available in Israel. All the other food products in the shop are locally sourced.

The intimate café, with its cheery, warm décor serves dairy meals – quiches, sandwiches and salads, soups in winter, to be followed by some inviting sweet treats for dessert. Clients can choose to sit inside or outside. I spoke to Yona and Ilana, two local ladies, who had met there for morning coffee and a chat. Regular customers, they enjoy the high quality coffee served as well as the café's special ambience. They are happy about the fact that clients wishing to relax there in peace and quiet can find some interesting magazines to read but no newspapers! Ilana also insists that there are no better salads served in Jerusalem eateries than at Cohen's Deli. Shimon spoke of the business's clientele as coming from all sections of the community - local people, tourists and people working in Israel… also plenty of English speakers. Yehuda and Shimon are friendly and welcoming, addressing several of their regular customers by name.

My companion and I decided to sit ourselves outside to enjoy the noon sun. Shifra, a waitress working at the Deli, served us with a rousing glass of tea with cinnamon, fresh lemon, ginger and honey, the perfect tea for a winter's day. A native of New York, she is well informed as to all the food items they serve and sell and is happy to talk about them. We were then served a selection of four cheeses – Manchego – a Spanish sheep cheese, Bouche – a French goat cheese, Landana – a Dutch goat cheese and a French cow's milk Camembert. These came with green olives, sun-dried tomatoes and thin slices of good bread from Russell's Bakery in Jerusalem. Shifra also brought us a generous serving of salad. Ilana was absolutely right in her opinion of Cohen Deli's salads! Comprising cucumbers, tomatoes, red onion, parsley, almonds, walnuts, tahini, olive oil, lemon and seas salt, this salad was a celebration of flavors and textures…a joy to the palate, an absolute winner! We were delighted with our visit to Cohen's Deli, enjoying both the ambience and the food. The Cohen brothers recently opened another deli-café not far away – at 16 Harlap St., Rehavia.
Cohen's Deli
24 Hizkiyahu Hamelech St.,
Old Katamon,
Jerusalem
Open 7:30 a.m. to 8:00 p.m. weekdays
Fridays 7:30 to mid-afternoon
Tel: 02-5719050
Photos by Shirley Burdick