More

Life Style
Life Style
Details

Written by

Buzzy Gordon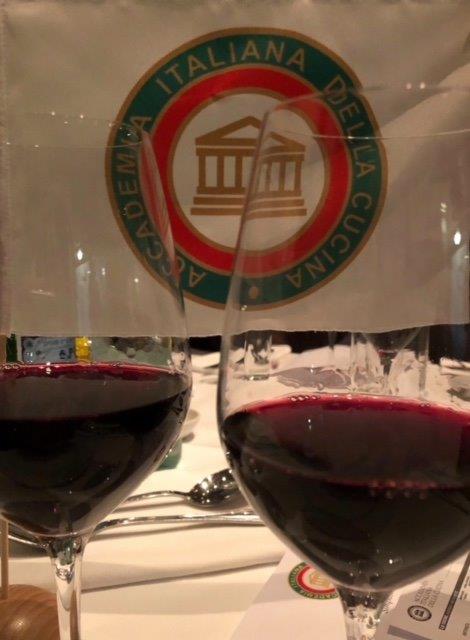 The Israel chapter the Italian Academy of Cuisine (l'Accademia Italiana della Cucina) held its first dinner of 2018 on January 28 at Pronto, the Italian restaurant helmed by Chef David Frenkel. The symposiarchs of the evening were Academy Delegate Dr. Cinzia Klein and Ms. Aliza Radian.
In her opening remarks, Ms. Radian noted that in recent years, the Hebrew media had recognized Pronto as the best Italian restaurant in Tel Aviv.
Chef Frenkel himself won the prestigious San Pellegrino and Acqua Panna Cooking Cup as a result of his performance in the Venice competition in 2012.
Frenkel welcomed the group to his restaurant, noting that under owner Rafi Adar, Pronto was the first Italian trattoria to open in Tel Aviv, in 1988. Pronto moved to its current location seven years ago, where Frenkel has been overseeing its transformation from a typical trattoria to a full-fledged fine dining restaurant.
For the occasion of the Italian Academy's first official visit to Pronto, Frenkel prepared a special four-course da condividere menu, with dishes served in the center of the table to be shared.
The Antipasti comprised tuna tartare bruschetta, grilled eggplant in Gorgonzola cream, and vitello tonnato, while the Primi course featured three pasta dishes: corn ravioli with seasonal vegetables, agnolotti in a Gorgonzola sauce with cream of potato and leek, and cappelletti with oxtail.
At this appropriate juncture in the meal, Dr. Massimo Lomonaco, the Israel bureau chief of the Italian press agency ANSA -- citing the book Moments of Happiness by French anthropologist Marc Augé -- discussed the important role played by pasta in elevating people's moods.
The meal continued with two Secondi -- sea bream poached in white wine with tomatoes and capers, and butcher's cut with polenta -- and concluded with two desserts: crostata al miele and tiramisu.
The food was accompanied by Prosecco Tommasi, as well as Bibi Graetz Casamatta red and white wines from Tuscany.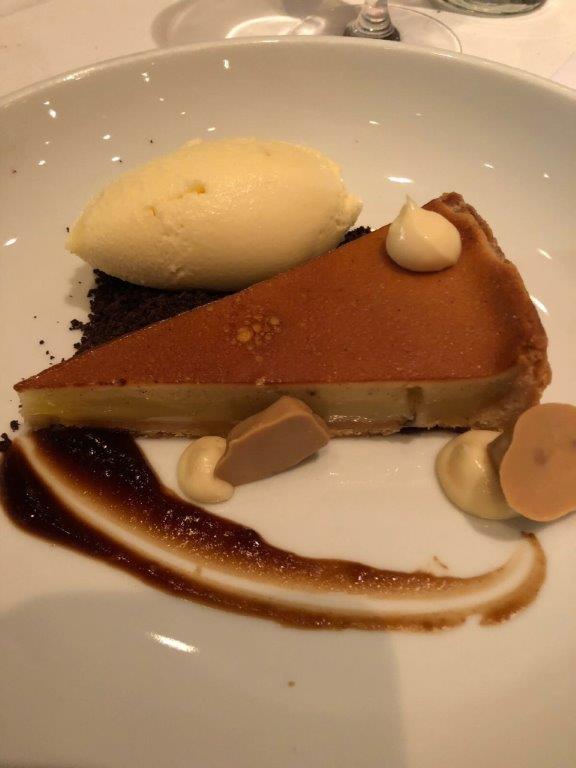 At the conclusion of the meal, the diners voted to award Pronto a score of 7.5, which equates to three stars. This rating ties Pronto with several other restaurants in Tel Aviv that achieved the highest ranking accorded in Israel by the local chapter of the Accademia.
Among the notable personalities attending the dinner at Pronto were Dr. Francesco Meucci, commercial attaché at the embassy of Italy; architect and sommelier Jenny Innocenti; and MK Oded Ben Hur, former Israeli Ambassador to the Vatican.
Photos by Joelle Inowlocki and Iris Kanner
Details

Written by

Silvia Golan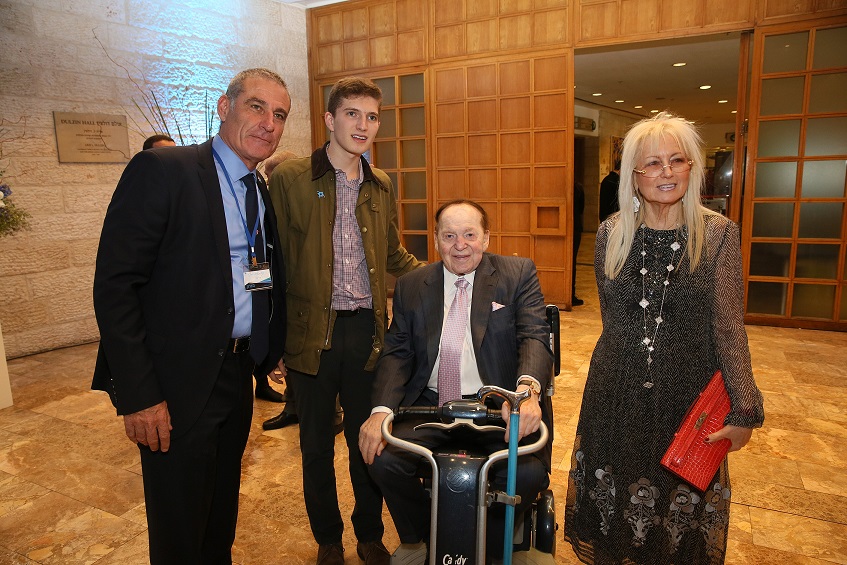 Said Prime Minister Benjamin Netanyahu, to thousands of young Jews participating in 'Birthright Israel's main event held in Jerusalem tonight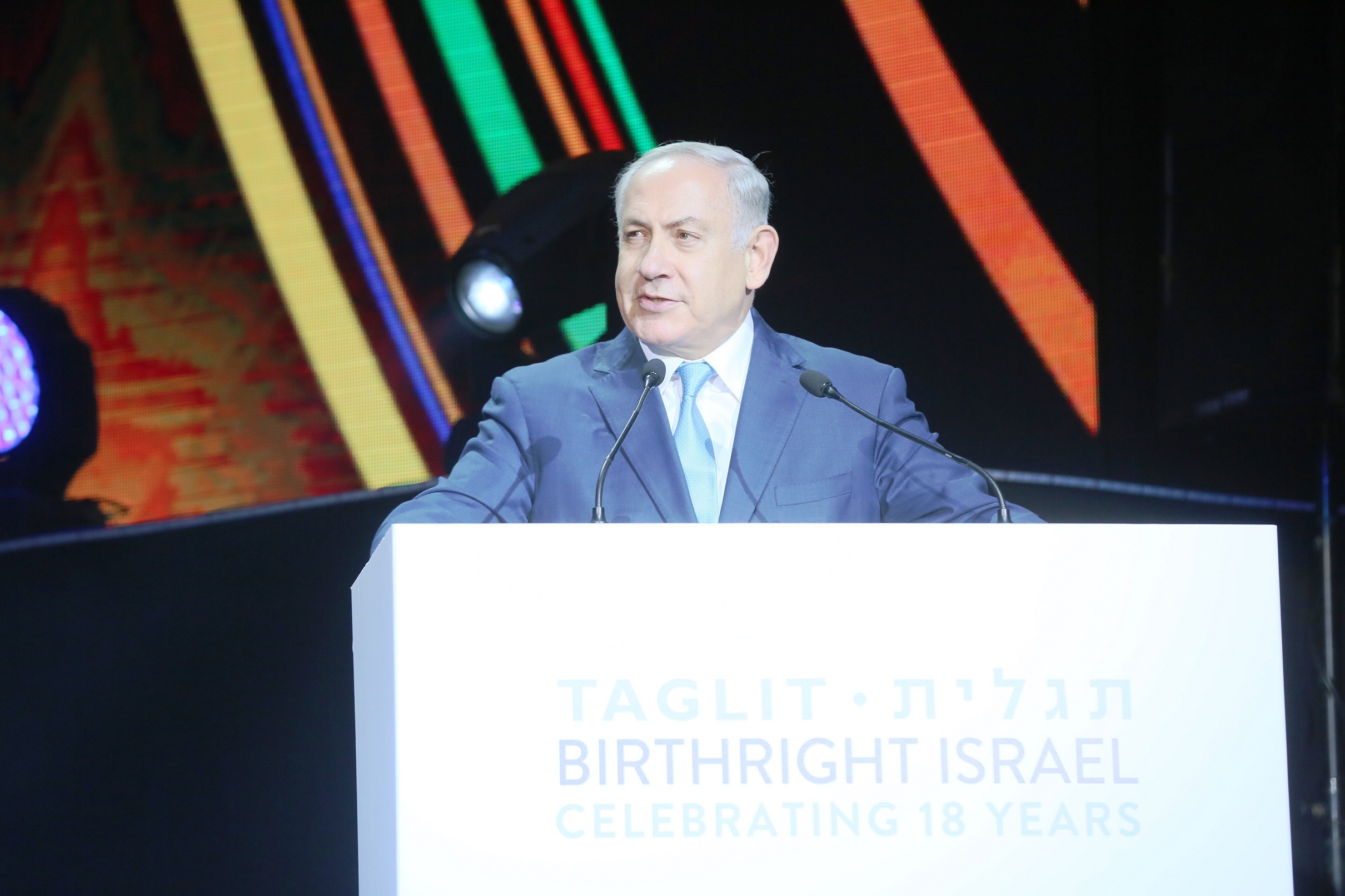 "4000 years ago, our people arrived to this country- and they were sent to exile. Usually people who are expelled – tend to disappear with time- but the Jewish nation refuses to disappear. When we said: 'Next year in the rebuilt Jerusalem'- we knew our wish will come true. It took us a while, but we made it and we are here forever. Strong Israel support powerful Jewish community worldwide. This is 'Birthright Israel's' 18th year of operation – while in Hebrew 18 means 'Hchai', being alive. 'Birthright Israel' brings life to more than half a million Jews over the world and there's nothing that represents your Jewish identity more than 'Birthright Israel' Venture. Remember that no matter where you come from and how you pray – Israel is your home". said Prime Minister Netanyahu in the main event of 'Birthright Israel', the largest Jewish venture in the world.
The event, held in the International Convention Center in Jerusalem in the presence of Dr. Miriam and Sheldon Adelson, Meir Shamir, Birthright Israel International CEO, Gidi Mark, Members of the Israeli Knesset, benefactors, fellows and participants from around the world.
'Birthright Israel' International CEO, Gidi Mark: "As we open 'Birthright Israel's 18th year, we find great importance, especially in this time, in strengthening the bond between young Jewish people in the diaspora, their Jewish heritage and the state of Israel. This year, we continue to expand our offering for future participants, providing more ways than ever for them to connect with their Jewish roots and Israel's diverse character".
Photo Sharona Avraham
Details

Written by

Yavni Bar Yam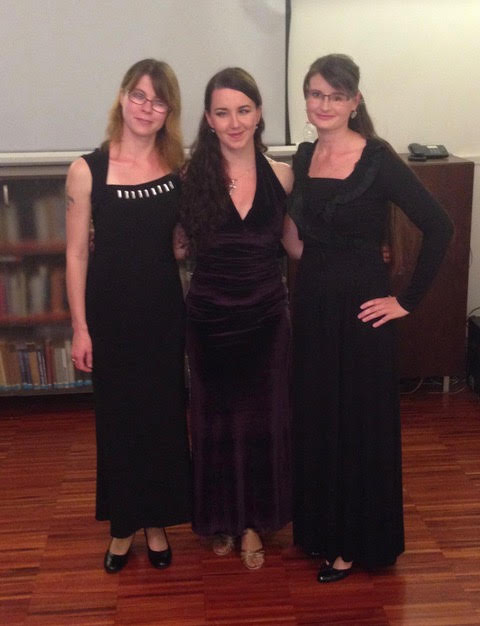 On Monday afternoon, October 23, the Czech embassy in Tel Aviv treated a modest but very appreciative audience of mostly Israelis to a performance by Czech vocal trio Makabara. Makabara is the resonant harmonies of Marie Vostatková (first soprano), Kateřina Schejbalová (second soprano) and Barbora Janová (alto). The trio was formed in 2003 after the three met at the Jan Deyl Conservatory for visually impaired performers in Prague.
In the first half of the programme, the singers performed short traditional Czech folk songs, arranged as a capella art songs for their voices by contemporary Czech composers. In the second half of the programme, the trio surprised the audience by revealing another specialty of theirs: Hebrew and Jewish songs, including arrangements of "Oseh Shalom", "Eshet Chayil", "Eli Eli", and even a contrapuntal rendition of "Dayenu", from the Passover seder. In that case, they explained that some believe that "Dayenu" originated in the Czech region of Moravia.
The trio is apparently used to performing for Czech audiences, as they provided almost no explanation of the traditional Czech songs, but introduced nearly all of the Hebrew numbers. Although, they admitted that "you may know this song" for the first few, and inviting the audience to sing along for Hava Nagila, with which they closed the program, before agreeing to an encore.
The performance delighted the audience, and we hope that the performers' smiles and what appeared to be sunburns were signs that they were enjoying Tel Aviv as well.
Diplomacy.co.il
thanks the Czech embassy and particularly Arthur Polzer, the press, culture, and education attaché for bringing the Makabara trio to Israel!
Photo Yavni Bar -Yam
Details

Written by

Buzzy Gordon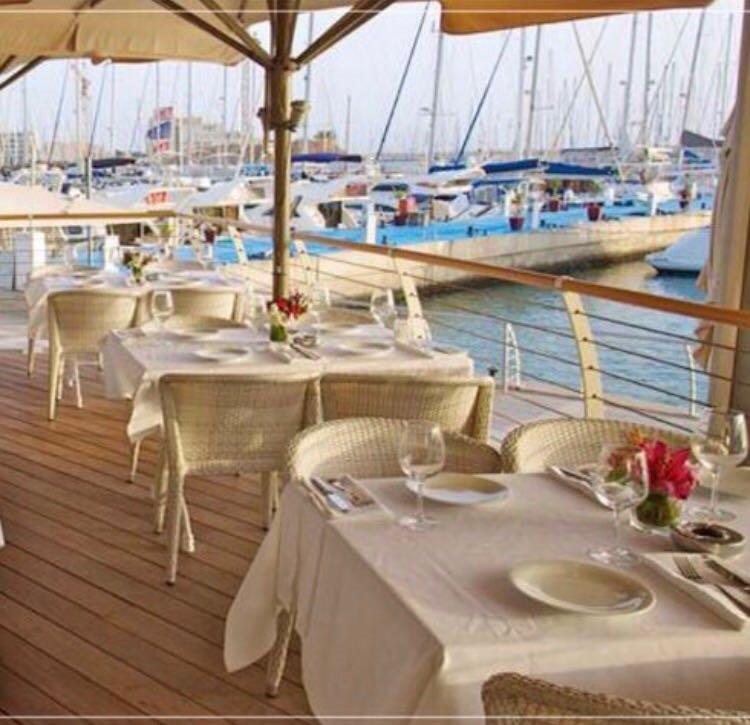 The Japanese-Mediterranean restaurant and sushi bar Nammos occupies one of the prime locations in the Herzliya Marina: the Blue Wave, home of the prestigious Yacht Club. The fine dining restaurant itself extends over several indoor and al fresco areas, in very close proximity to the berths of massive luxury yachts.
Nammos' well-stocked bar offers seven specialty cocktails, in addition to the classics. One of the former creative cocktails is the Apple and Pomegranate: spiced rum, vanilla syrup and lemon, blended with apple and pomegranate juices, resulting in a fruity and refreshing drink. The bartender will also mix a virgin cocktail, sans alcohol.
It is evident from perusing the restaurant's extensive menu that Nammos specializes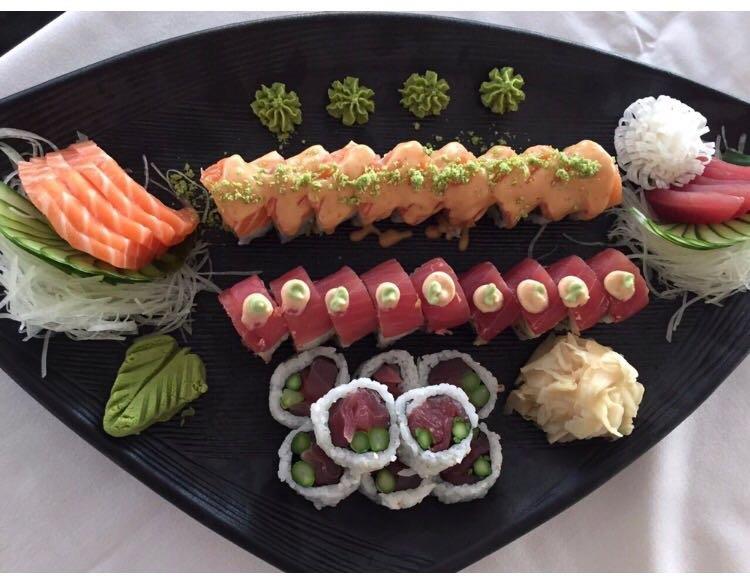 In fish and seafood. The sushi menu highlights 16 special rolls, of which we sampled that evening's chef's recommendations: spider rolls, featuring soft shell crab tempura, avocado, asparagus, tobiko and green onion; lobster rolls with cucumber, avocado, spicy miso and black tobiko; spicy tuna rolls with tempura flakes, avocado, cucumber and spicy mayonnaise; and salmon miso rolls: salmon, cucumber, avocado, takwan, spicy miso and crunchy wasabi peas. All the rolls, prepared with exceedingly fresh fish and seafood, were exceptionally well-balanced.
For our main courses, we were served two of the restaurant's signature pasta dishes.
The lobster ravioli comprised delicate pasta pockets stuffed generously with premium seafood, accompanied by emerald green asparagus. The al dente vegetable and gently cooked ravioli were drenched in a rich, complex saffron cream sauce that we mopped up to the last delicious drop.
The black pasta, meanwhile, was dark linguine studded with a marvelous seafood assortment: lobster, shrimp, calamari and clams. The cream sauce enriched with wine and butter added another exquisite dimension to this outstanding dish, which was greater than the sum of its parts.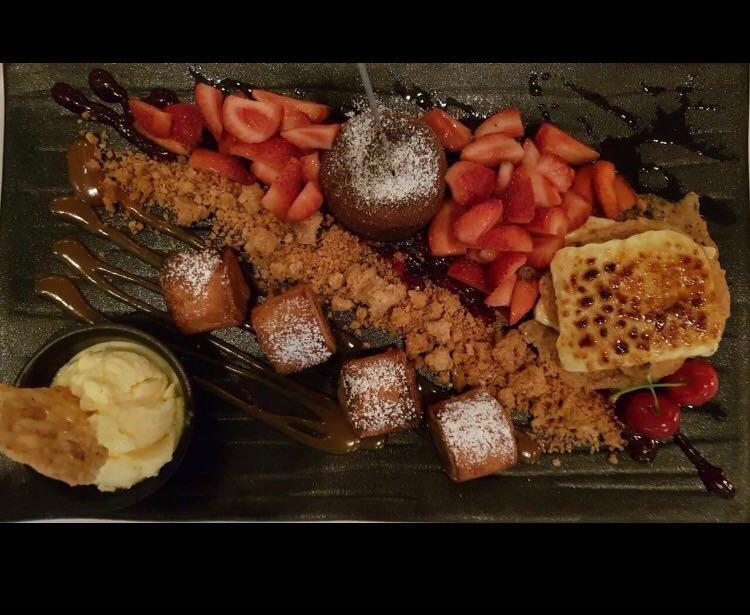 Our two desserts were also chosen by the kitchen. First was the chocolate sphere encasing homemade marshmallow ice, over which our waiter poured chocolate sauce at the table. Together with crunchy, buttery crumble, this dessert was like eating a cool candy bar.
Even sweeter was the crême brulée semifreddo: alternating layers of half-frozen crême brulée with almond tuile, surrounded by dots of toffee sauce. This light dessert of contrasting textures made for a worthy finale to a memorable meal.
Throughout our meal we were treated to friendly and impeccable service, exemplified by the proffering of wet naps from pre-torn packages between each course, along with the constant clearing of the table and resetting with clean plates and cutlery. The excellence of the food, combined with the professional service, are the hallmarks of a first-class restaurant.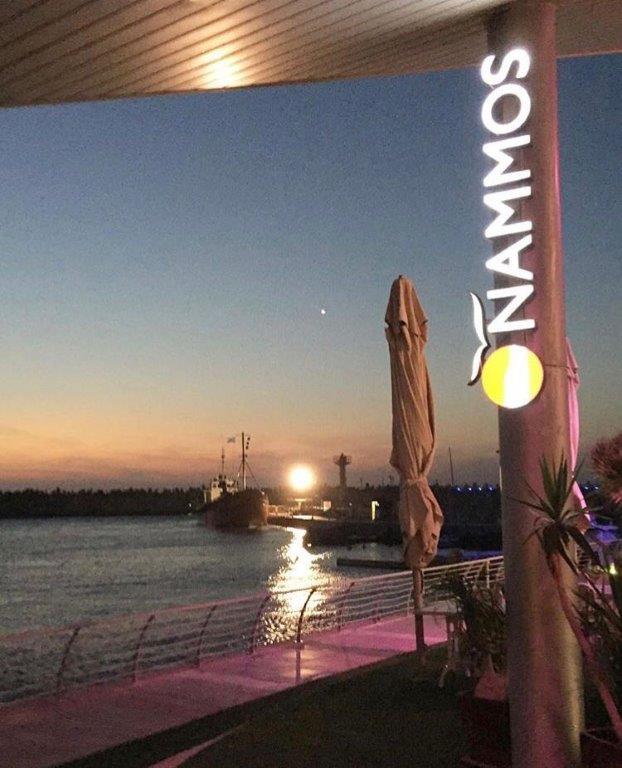 Nammos
Website: http://www.restaurants-in-israel.co.il/restaurant.aspx?id=20403
Chef/Proprietor: Ilan Trigger
Not kosher
Hatzedef 1, Herzliya
Tel. (09) 951-1555
PhotoS Nammos
Details

Written by

Buzzy Gordon
The Israel chapter of the Italian Academy of Cuisine (Accademia Italiana della Cucina) hosted its annual ecumenical dinner and symposium on October 19, 2017, at the Tel Aviv restaurant Pomo. The dinner was organized by Dr. Cinzia Klein, Delegate of the Academy in Israel and Ms. Sabrina G. Fadlun, Vice Delegate of the Academy in Israel, who were joined as the evening's symposiarchs by Ms. Joelle Inowlocki.