Life Style
Details

Written by

MFA
https://youtu.be/ltMlx8yhpUk
VIDEO: Jerusalem biking festival combines sports and fun
This year, over 5,000 bikers took part in the Tour Jerusalem annual biking event.
Jerusalem Biking festival combines Sports & Fun

Biking up and down across Jerusalem's hills, while enjoying the iconic walls of the old city and the many green parks is a unique experience. This year, over 5,000 bikers took part in the Tour Jerusalem annual biking event, which is being held for the third consecutive year.
https://www.youtube.com/watch?v=ltMlx8yhpUk&feature=youtu.be
credit of this video the MFA.
Details

Written by

Taly Sharon
Bar Giora Restaurant announces a new menu. The well-established restaurant that is located just a step from Dizengof Center mall is very popular and offers a wide selection of excellent meals, beverages and entertainment.

The restaurant is not new; it opened sixteen years ago and was purchased by Emanuel and Hugo Jorlette, two Belgian brothers, a couple of years ago. Emanuel and Hugo have enhanced the activities and concerts and now offer a new and improved menu with many unique entrees and a wide selection of alcoholic beverages.

Bar Giora has a nice open-air terrace that enjoys a pleasant breeze from the sea. It has a great atmosphere and is well-suited for business meetings, for a good meal after shopping, and also features romantic seating areas. There is also an indoors dining area with a trendy bar, and an Indy concert venue. It is also open for small events.
The new menu offers tasty starters and entrees, many of them are unique to Bar Giora and they are all worth tasting! The new menu includes also vegetarian/vegan dishes. Here are a few examples from the new menu:
Chicken Liver Pate – served with Melba toasts and home-made pumpkin conserve.

Fried Mushroom & Cauliflower – fried in beer dough, served with spicy mayonnaise and teriyaki chili.

Sweet potato baked in the oven with warm lentils salad, spinach and roasted red onion.

Beet & Feta Salad – grated fresh beetroot with tomatoes, red onion, rocket leaves, grated feta cheese and a decoration of walnuts.

Surprise burger – Freshly ground beef, stuffed with goat cheese or Emmental, served with vegetables and fries.

Salmon burger – freshly ground Norwegian salmon, with caramelized onions, garlic confit, and herbs, served in a bread roll with vegetables and fries.

Steak & Egg sandwich – thinly sliced pieces of Entrecote with Dijon mustard, mayonnaise, red onion, tomato, rocket leaves, sunny side up and fried onion.

Tofu Tortilla – tofu covered with bread-crumbs served over guacamole, tomato, cucumber, and red pepper with a basket of tomatoes.

Peter Luger Cookie – home-made chocolate chip cake, served with vanilla ice cream and chocolate sauce.

Cadaif basket – served with mascarpone cream and seasonal fruit.

Noa Berry – spicy rum shaked with lemon, crème de casis, lychee liquor, and vanilla extract served with berries. Just the look of this will make you dizzy!

The full review in English:
http://eatrelaxenjoy.com/bar-giora-restaurant
The full review in Hebrew: Bar Giora Retaurant

Article written by Taly Sharon

Eat Relax Enjoy
Photos Silvia Golan
Details

Written by

The Ambassador's Club
"I've learned a lot about Israel during this trip and I've been most impressed by the scenery and the people."
Diplomats from a variety of different countries who belong to the Ambassadors' Club of Israel took a day off to tour the north with KKL-JNF and visit the In the Paths of Wine Festival. The day out included an excursion to Hagit Forest, to which KKL-JNF is transplanting old trees from other sites in the north, bird-watching at Lake Hula and a festive evening event at the wine fair in Rosh Pina.
"We're making this trip so that the diplomatic community can see something of KKL-JNF's impressive activities for themselves," explained Ambassador Yitzhak Eldan, President of the Ambassadors' Club. "It's important to show how KKL-JNF contributes to Israel's environment and development for the benefit of all its citizens. KKL-JNF's willingness to place its knowledge at the disposal of the rest of the world greatly helps Israel's foreign relations."
More : http://www.kkl.org.il/eng/about-kkl-jnf/green-israel-news/may-2015/ambassadors-club-israel-galilee/
Photo 1
Deputy Ambassador of Guatemala Jose Ortiz Cicnado and Thailand's Ambassador to Israel Angsana Sihapitak. Photo: Yoav Devir
Photo 2
Yitzhak Eldan. Photo: Yoav Devir
Details

Written by

Sima Lahat
Sarona grows and flourishes in the heart of Tel Aviv.
In the past – a Templar settlement, and today – a center of shopping and entertainment.
Ambassadors and their spouses arrived (despite of the hot weather) to a festive visit, to get a taste of the past, and experience the present of Sarona.
The event was organized by Israel's Diplomatic Portal (www.diplomacy.co.il), directed by Ms. Silvia Golan, in association with Sarona's Management Company under the chairmanship of General Manager Iris Rar-Berz.
We met in the "Tasting Room" to taste Israeli wines.
We continued with Ms. Paul Kedem-Racover - certified and experienced tour guide, specialized in guided tours in Tel Aviv.
We toured between the picturesque balconies, lawns and parks, the pool with water flowers, the stores, and sport facilities.
Ms. Kedem-Racover started by presenting the history of the place; she told us about Sarona, which was the fourth settlement that the German Templers built in Israel in 1871, by the west bank of the Ayalon river.
The Templers were members of the "Temple Society"- a German Protestant sect, with roots in the religious movement of the Lutheran Church Protestant, originated in the middle of the 19th century. The founder of this movement, Christoph Hoffmann, intended to promote spiritual cooperation to advance the rebuilding of the Temple in the Holy land - Palestine at that time - believing that this foundation will promote the second coming of Christ.
When the Nazi regime took power in Germany, members of the Templar community in Israel started to be involved in Nazi political activities. The British mandate government put them in confined camps, and considered them as enemies (spies) and deported many of them to Australia. The British also liberated some of them in exchange to Jewish people with Israeli citizenship that were held in concentration camps in Europe. The Templers' possessions, including the high-valued real estate of their settlements, were transferred to the management of the trustee of absentees' properties.
In 1948 the Hagana forces conquered the Waldheim and Galilean Bethlehem, and the last Templar's settlers were deported from Israel.
The process of transfer of compensations to the Templers lasted about ten years. Up to 1962, the Israeli government paid 54 million German marks to the Templers and their successors - about 13 million dollars, as compensations for their lands and possessions.
And finally…

We completed our tour with a lunch picnic in the Sarona lawns, under the auspices of the Little Italy restaurant. We enjoyed the pizzas and Italian pasta, and excellent champagne.
Who needs more than all this to learn from Ms. Kedem-Racover about the past, and enjoy Sarona in the present?
The ambassadors thanked the tour organizers, and expressed their pleasure for the enrichment of their knowledge about the Templar period and the delicious culinary.
Link to the original article in Hebrew, written by Sima Lahat:

http://www.sima-blog.com/#!שרונה-–-מהטמפלרים-לכפר-קניות-ובילוי/c1kod/555c8c340cf21fee13a20f0b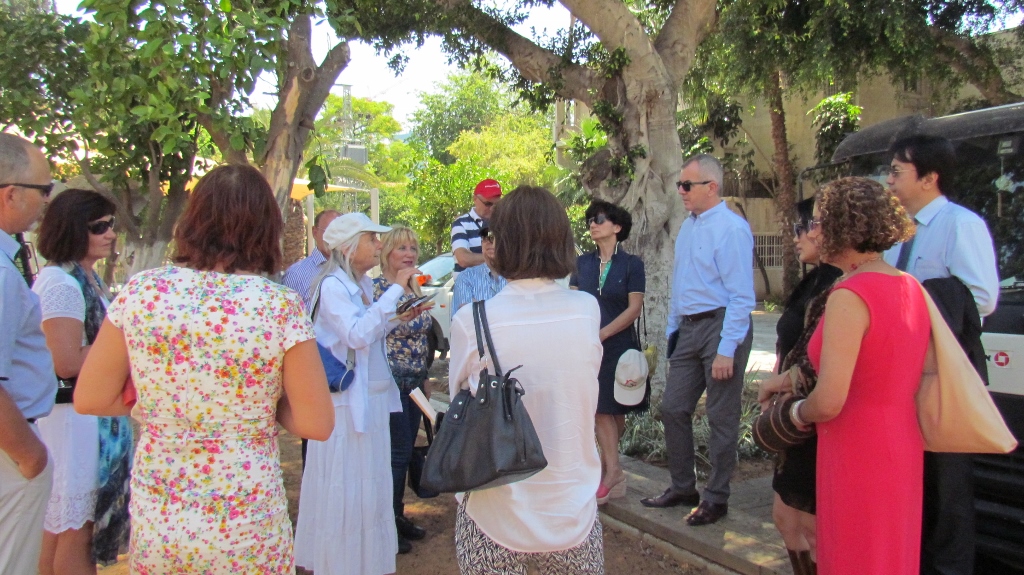 Photos Silvia Golan
Details

Written by

Silvia G Golan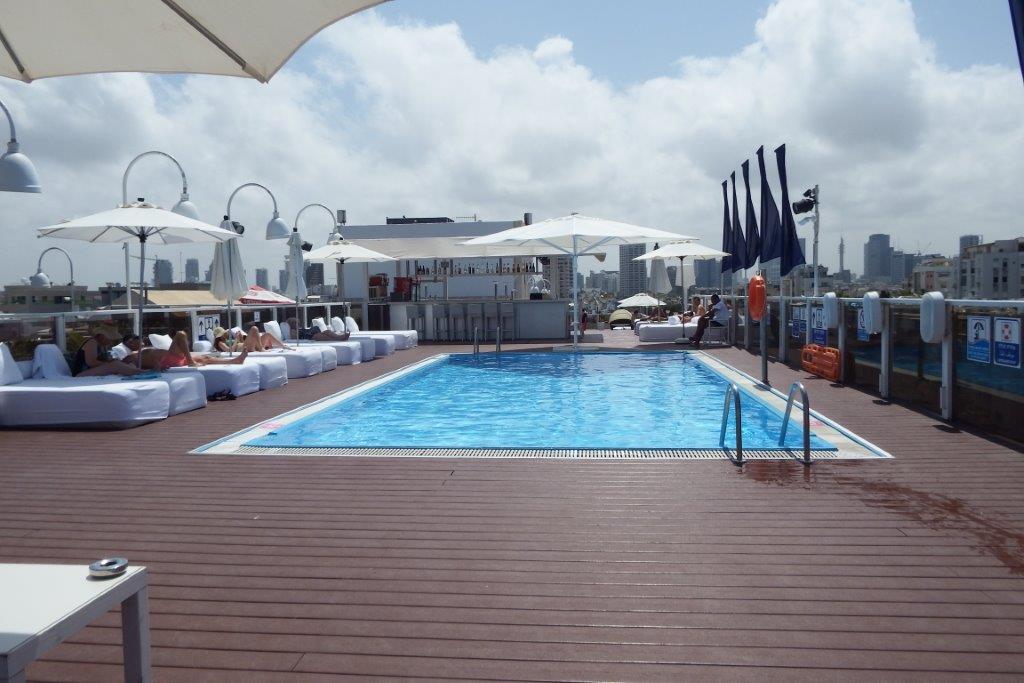 The Marina Tel-Aviv non-smoking hotel is perfectly located on the shore line, right in the heart of the city's seaside boardwalk and the marina. Its unique location provides a relaxing experience with great accessibility to the city's business leisure and cultural center.
Throughout the hotel the guest find a variety of artwork by well-known Israeli and International artists that are part of the Dubi Shiff Collection, which includes more than 300 paintings and drawings. The paintings are exhibited in all the hotel public areas and rooms.
The Marina Business center and amenities is especially tailored for our corporate guests.
The lounge offers meeting areas in a peaceful atmosphere, dynamic business surrounding with computers, wireless internet access, copying machine, fax, office services and daily newspapers and magazines.
Light snacks as well as hot and cold beverages are served.
The roof top swimming pool is surrounded by a magnificent view of the blue Mediterranean Sea, the marina and the sky line of Tel Aviv, decorated with wooden decks for sun tan and relaxation. It is perfect also for different events.
Exclusive bar serving snacks and light refreshments.
The pool opens during summer months only.
Lobby bar with direct access to the Tel Aviv promenade beach and the marina. A place to gather with friends and enjoy light dairy meals, hot and cold drinks and alcohol beverages.
Free WIFI.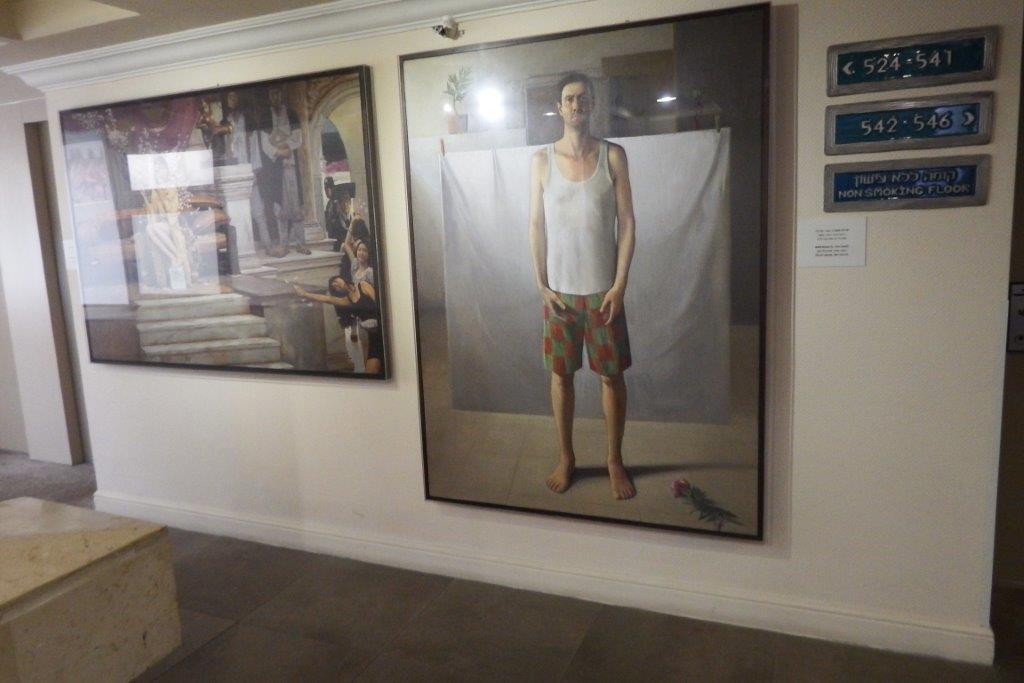 Parking is available at an additional charge.
For observant guests we have Synagogue, Sefer Tora and Shabbat Elevator.
From intimate gatherings to grand occasions, seven multi-purpose modern meeting rooms, from 15-200 participants, offering flexibility in capacity and configuration.
For business or pleasure, Marina's experienced team will happily coordinate the meeting or event to ensure ultimate success.
Choice from 86 Club Rooms, 9 Club Family Rooms, 44 Superior Rooms, 2 Superior Rooms for the disabled, 8 Superior Family Rooms, 6 Suites and one Presidential Suite.
Address: 167 Hayarkon st., Tel Aviv 61032
Website: www.Marina-telaviv.com
E-mail :This email address is being protected from spambots. You need JavaScript enabled to view it.
Tel: 03- 5211777
Fax: 03- 5211772
Photos Silvia Golan