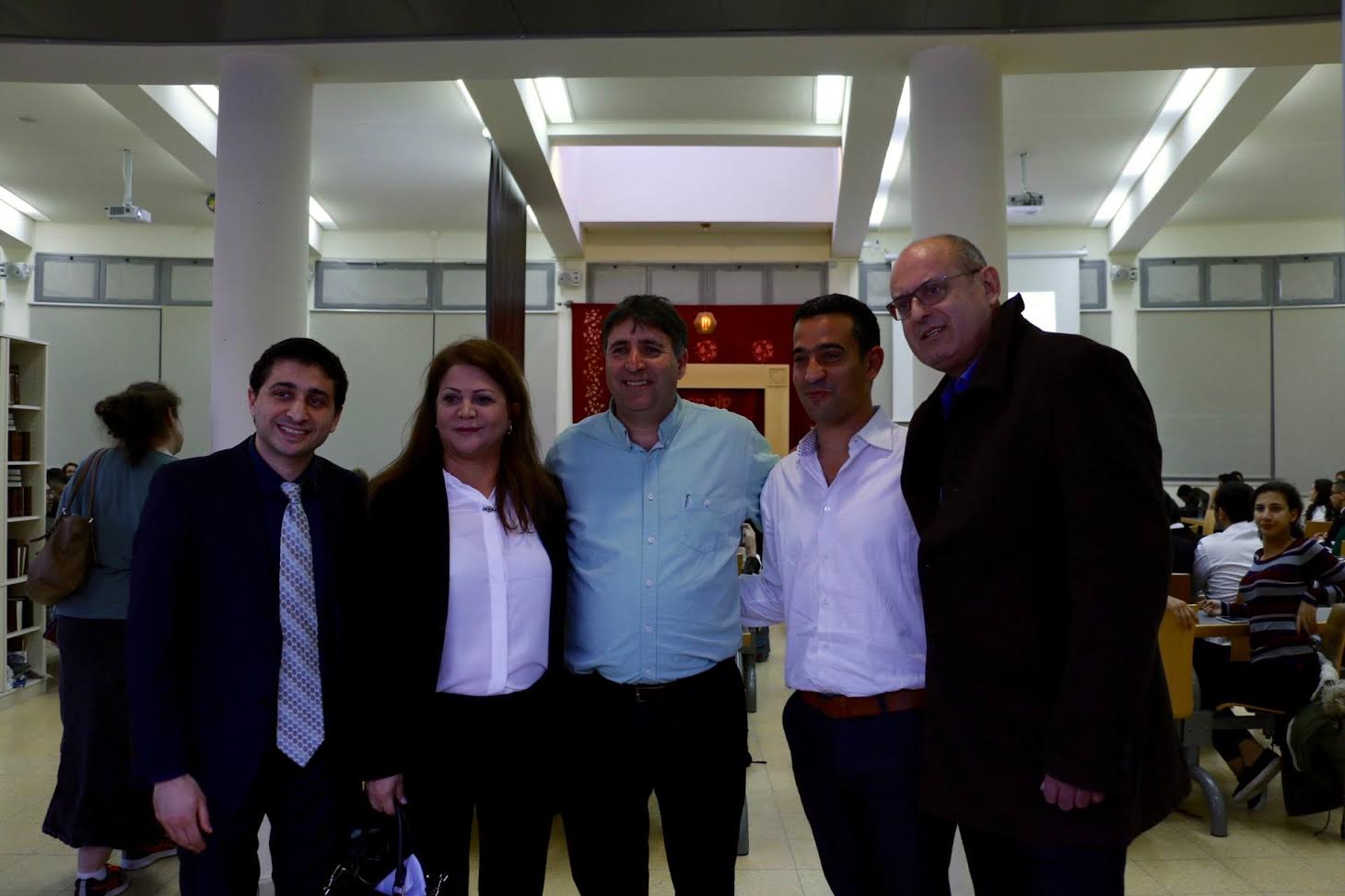 Some of Israel's brightest young diplomats gathered at the Yachad Modi'in High School on Sunday, passing a number of resolutions promoting women's rights and empowerment. YachadMUN, the first Model United Nations (MUN) conference to be held in Modi'in, united Arab and Jewish girls and boys from more than 15 schools and cities around Israel for a full day of intensive debates and negotiations before finally voting on 5 resolutions.
YachadMUN was the latest MUN conference run by Debate for Peace (DfP), a program offering free MUN conferences to students all over Israel. DfP is run in DfP coordination with the Interfaith Encounters Association (IEA) and the Jerusalem Peacebuilders (JPB). DfP was able to provide transportation to participating schools thanks to a grant from the American Embassy in Tel Aviv, its newest partner.
At the conference, the 150 participants, ranging from 13 to 18 years old, discussed topics of global importance related to women's rights: women's education; women's health; women's role in developing economies; sex trafficking, and women's rights in Muslim countries. After four hours of rigorous debates and negotiations, all five committees passed resolutions.
During the closing ceremony, Mrs. Sassie Yona, the Yachad MUN club advisor, and a teacher in the English and Diplomacy program, thanked everyone who had helped make the conference happen, the guests and the participants. She was followed by the principal of Yachad, Mr. Sagiv Elbaz, who thanked Mrs. Yona for her commitment to MUN at Yachad, essentially creating a dominant program from scratch.
The keynote speaker was Dr. Iris Truman, barrister at law. Dr. Truman, who holds a PhD in law and a Masters in Business Administration from the University of Leicester in England, has also served as a business mentor for young entrepreneurs for more than two decades.An expert in international law and trade agreements and managing complex negotiations, Dr. Truman is the chairman of the ICSCD committee of the Israeli Bar Association. She talked to the students about her latest initiative—a new international commercial court to settle disputes between countries and multinational companies, using practical examples relevant to the conference's topics.
Following the formal speeches, came the awards section of the evening. Mr. Jack Karn read out the students who had earned scholarships to JPB interfaith programs in the United States this summer: Shai Lenman (Ort Binyamina); Alia Habib Allah (Al-Bashaer); Tal Tzipori (Yachad Modi'in); Lana Wattad (Jatt); Ariel Haguel-Gutman (Darca Begin); Jameel Ghantous (Al-Bashaer); Almog Bar (Ort Gan Yavne); Saba Tahaa (Jadeeda); Omri Zait (Ort Binyamina), and Donia Daghash (Al-Bashaer).
The chairs for each committee then came to the podium and announced the winners of the Best and Outstanding Delegates: In the HRC, Mor Atsmon, Ariel Zinman and Zohar Baskin; in ECOSOC, Chai Margalit and Omri Zait; in OIC, Shaked Offenbach and Donia Daghash, in UNESCO, Or Moshe, Tal Tzipori and Carmel Kenneth, and in the WHO, Yoav Lev Sagie, Hila Krokovski, Omar Masalha and Itai Shalev.
After the event, Mrs. Yona discussed how pleased she was with hosting Modi'in's first MUN conference:
"My students and I put in countless hours of preparation for this event, and the day went off almost exactly as I had imagined and hoped it would.
Hosting YachadMUN has been one of the most rewarding experiences of my teaching career. This has given students unique opportunities, and I have seen shy, introverted boys and girls shine as they challenge themselves to stand up and represent a country whose policy they may not necessarily agree with."
Nooralhuda Hoji, co-Director of the Debate for Peace program said that "bringing together so many young students from around Israel to tackle such important topics is proof that we can work together to empower women and change perspectives on key issues, some of DfP's most important goals."
Steven Aiello is the founder and co-director of the Debate for Peace program & a part of www.diplomacy.co.il Team
Photo Credit: Yachad Modi'in School