More

Politics
Politics
Details

Written by

President's Media Advisor
PM Netanyahu: The threats in the region also create opportunities. We will take every opportunity to translate regional cooperation into processes for stability and peace, including attempts to reach a responsible political settlement with the Palestinians.
President Reuven Rivlin today (Tuesday, 19 May 2015), together with Prime Minister Benjamin Netanyahu, stood for the traditional photograph at the President's Residence with the ministers of the newly sworn-in 34th Government of Israel.
At the beginning of the event, the President and Prime Minister delivered brief statements, and toasted, with the ministers, the success of the new government.
President Rivlin began by referring to the great challenges that face the new government, "There are governments that receive a grace period of one hundred days. However, there are great challenges that this government must deal with from the outset, without a 100 day grace period. Previous governments did not face such challenges in the same way or with the same intensity. With regard to foreign affairs, you are required to deal with international pressure in a manner that demands endurance and the ability to make considered decisions which will not lead the State of Israel to isolation, but will preserve the red lines of Israeli diplomacy. On the domestic front, you face the urgent and crucial mission to present a budget which will provide an answer to the social and economic needs of the citizens of Israel - from housing and employment to welfare."
President Rivlin addressed the ministers and spoke of the criticism of the size of the government. He said, "On your shoulders rests the task and the duty to prove your ability to manage the affairs of the state with its complexities and sensitivities, for the benefit of all citizens. Much noise was made on the issue of the size of the government which was sworn in, and ostensibly relating to its legitimacy. However, in Israeli democracy a government of sixty-one Members of Knesset is as democratic and legitimate as a government of ninety Members of Knesset. We must remember that the most dramatic moves in Israel's political history, including the Oslo Agreement, were decided by a single vote. Equally today, we must respect and obey the rule of democracy. A narrow government must be, and is able to be, a good government as long as it is faithful to its internal cohesion, and to the public interests of all the citizens of Israel."
The President concluded by wishing the new government success, "On my own behalf and on behalf of citizens of Israel, I want to wish success to the Prime Minister and all the new ministers and Members of Knesset in general. Together with all the people, I am filled with hope and prayers for your success."
Prime Minster Netanyahu said, "Also for the fourth time, just as the first, I am greatly moved and honored to present to you today, the ministers of the Government of Israel. This government has been established at a time of great challenges and opportunities. Our first challenge is to ensure the security of Israel in the face of accumulating threats around us. Radical Islam is lapping at all our borders, nearly all in the form of factions and forces led by Iran and other radical elements. At the same time, aided by the agreement proposed to it, Iran is making progress in achieving a nuclear weapon. All the enemies of Israel know that in the face of these threats, we have red lines.
Until today, Mr. President, we have been successful in keeping Israel out of the turmoil and atrocities affecting the region. We will continue to guard the security of Israel. The threats in the region also create opportunities. Many states around us have common interests with us, they see eye to eye with us on the dangers, and they see Israel as central partner in fending them off. We will make every effort to translate this cooperation into processes for stability and peace, including attempts to reach a responsible political settlement with the Palestinians, which will safeguard Israel's essential interests. We will continue to promote deeper ties with the US Administration and the American people. Even at times of disagreements, this bond is stronger than any difference of opinion.
"Mr. President, the welfare of the citizens of Israel is our top priority. We will work to reduce the cost of living, and the cost of housing. Already today, at the cabinet meeting which took place this morning at the Israel Museum, we made decisions aimed at these goals.
"The People of Israel returned to its land, and established here the State of Israel, a Jewish and democratic state, a state which preserves the rule of law and respects every human being. Here in our eternal capital of Jerusalem, the Prophets of Israel embedded the eternal values of humanity, but also embedded the eternal values of our people – to which we are committed in each generation. I am proud to be the Prime Minister of Israel, and I will do all in my power, together with my ministers, to honor the mandate we have been given by the citizens of Israel. There is nothing more valuable than that."
Photo The 34th Government of Israel.
By GPO / Avi Ohayon
Details

Written by

Arik Rudnitzky
Arab Politics in Israel: Pending Questions
On March 31, sixteen recently elected Arab and Druze Knesset members were sworn in and took their seats in the 20th Knesset. Of this group, 12 belong to "the Joint List" while each of the remaining four represent different Jewish-Zionist parties, including the center-left Zionist Camp, the left-wing opposition Meretz, the victorious Likud (led by Prime Minister Binyamin Netanyahu), and Yisrael Beitenu, a member of the previous governing coalition. This is the largest number of Arab and Druze MKs elected to the Knesset since its establishment in 1949. Perhaps even more noteworthy, the Joint List, which is now the Arab public's major political representative body in the Knesset, is the third largest faction in parliament, with a total of 13 seats (including 1 Jewish MK), trailing only Likud (with 30 seats) and the Zionist Camp (with 24).
The Moshe Dayan Center publishes TEL AVIV NOTES, an analytical update on current affairs in the Middle East, on approximately the 10th and 26th of every month, as well as occasional Special Editions.
TEL AVIV NOTES is published with the support of the V. Sorell Foundation.
To republish an article in its entirety or as a derivative work, you must attribute it to the author and the Moshe Dayan Center at Tel Aviv University, and include a reference and hyperlink to the original article on the Moshe Dayan Center's website, http://www.dayan.org.
Read more &
Previous editions of TEL AVIV NOTES can be accessed at http://www.dayan.org/tel-aviv-notes.
Details

Written by

MFA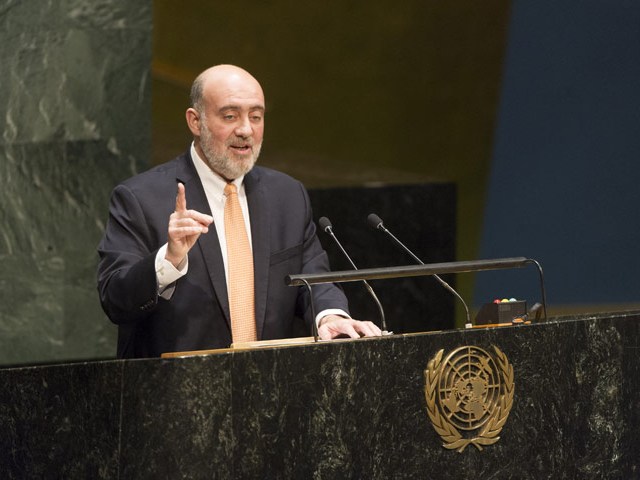 To the nations that continue to allow prejudice to prevail over truth, I say "J'accuse." I accuse you of hypocrisy. I accuse you of duplicity. I accuse you of lending legitimacy to those who seek to destroy our State.
Mr. President,
I stand before the world as a proud representative of the State of Israel and the Jewish people. I stand tall before you knowing that truth and morality are on my side. And yet, I stand here knowing that today in this Assembly, truth will be turned on its head and morality cast aside.
The fact of the matter is that when members of the international community speak about the Israeli-Palestinian conflict, a fog descends to cloud all logic and moral clarity. The result isn't realpolitik, its surrealpolitik.
The world's unrelenting focus on the Israeli-Palestinian conflict is an injustice to tens of millions of victims of tyranny and terrorism in the Middle East. As we speak, Yazidis, Bahai, Kurds, Christians and Muslims are being executed and expelled by radical extremists at a rate of 1,000 people per month.
How many resolutions did you pass last week to address this crisis? And how many special sessions did you call for? The answer is zero. What does this say about international concern for human life? Not much, but it speaks volumes about the hypocrisy of the international community.
I stand before you to speak the truth. Of the 300 million Arabs in the Middle East and North Africa, less than half a percent are truly free - and they are all citizens of Israel. Israeli Arabs are some of the most educated Arabs in the world. They are our leading physicians and surgeons, they are elected to our parliament, and they serve as judges on our Supreme Court. Millions of men and women in the Middle East would welcome these opportunities and freedoms.
Nonetheless, nation after nation, will stand at this podium today and criticize Israel - the small island of democracy in a region plagued by tyranny and oppression.
Mr. President,
Our conflict has never been about the establishment of a Palestinian state. It has always been about the existence of the Jewish state.
Sixty seven years ago this week, on November 29, 1947, the United Nations voted to partition the land into a Jewish state and an Arab state. Simple. The Jews said yes. The Arabs said no. But they didn't just say no. Egypt, Jordan, Syria, Iraq, Saudi Arabia and Lebanon launched a war of annihilation against our newborn state.
This is the historical truth that the Arabs are trying to distort. The Arabs' historic mistake continues to be felt - in lives lost in war, lives lost to terrorism, and lives scarred by the Arab's narrow political interests.
According to the United Nations, about 700,000 Palestinians were displaced in the war initiated by the Arabs themselves. At the same time, some 850,000 Jews were forced to flee from Arab countries.
Why is it, that 67 years later, the displacement of the Jews has been completely forgotten by this institution while the displacement of the Palestinians is the subject of an annual debate? The difference is that Israel did its utmost to integrate the Jewish refugees into society. The Arabs did just the opposite.
The worst oppression of the Palestinian people takes place in Arab nations. In most of the Arab world, Palestinians are denied citizenship and are aggressively discriminated against. They are barred from owning land and prevented from entering certain professions.
And yet none - not one - of these crimes are mentioned in the resolutions before you.
If you were truly concerned about the plight of the Palestinian people there would be one, just one, resolution to address the thousands of Palestinians killed in Syria. And if you were so truly concerned about the Palestinians there would be at least one resolution to denounce the treatment of Palestinians in Lebanese refugee camps.
But there isn't. The reason is that today's debate is not about speaking for peace or speaking for the Palestinian people - it is about speaking against Israel. It is nothing but a hate and bashing festival against Israel.
Mr. President,
The European nations claim to stand for Liberté, Égalité, Fraternité - freedom, equality, and brotherhood - but nothing could be farther from the truth.
I often hear European leaders proclaim that Israel has the right to exist in secure borders. That's very nice. But I have to say - it makes about as much sense as me standing here and proclaiming Sweden's right to exist in secure borders.
When it comes to matters of security, Israel learned the hard way that we cannot rely on others - certainly not Europe.
In 1973, on Yom Kippur - the holiest day on the Jewish calendar - the surrounding Arab nations launched an attack against Israel. In the hours before the war began, Golda Meir, our Prime Minister then, made the difficult decision not to launch a preemptive strike. The Israeli Government understood that if we launched a preemptive strike, we would lose the support of the international community.
As the Arab armies advanced on every front, the situation in Israel grew dire. Our casualty count was growing and we were running dangerously low on weapons and ammunition. In this, our hour of need, President Nixon and Secretary of State Henry Kissinger, agreed to send Galaxy planes loaded with tanks and ammunition to resupply our troops. The only problem was that the Galaxy planes needed to refuel on route to Israel.
The Arab States were closing in and our very existence was threatened - and yet, Europe was not even willing to let the planes refuel. The U.S. stepped in once again and negotiated that the planes be allowed to refuel in the Azores. The government and people of Israel will never forget that when our very existence was at stake, only one country came to our aid - the United States of America.
Israel is tired of hollow promises from European leaders. The Jewish people have a long memory. We will never ever forget that you failed us in the 1940s. You failed us in 1973. And you are failing us again today.
Every European parliament that voted to prematurely and unilaterally recognize a Palestinian state is giving the Palestinians exactly what they want - statehood without peace. By handing them a state on a silver platter, you are rewarding unilateral actions and taking away any incentive for the Palestinians to negotiate or compromise or renounce violence. You are sending the message that the Palestinian Authority can sit in a government with terrorists and incite violence against Israel without paying any price.
The first E.U. member to officially recognize a Palestinian state was Sweden. One has to wonder why the Swedish Government was so anxious to take this step. When it comes to other conflicts in our region, the Swedish Government calls for direct negotiations between the parties - but for the Palestinians, surprise, surprise, they roll out the red carpet. State Secretary Söder may think she is here to celebrate her government's so-called historic recognition, when in reality it's nothing more than an historic mistake.
The Swedish Government may host the Nobel Prize ceremony, but there is nothing noble about their cynical political campaign to appease the Arabs in order to get a seat on the Security Council. Nations on the Security Council should have sense, sensitivity, and sensibility. Well, the Swedish Government has shown no sense, no sensitivity and no sensibility. Just nonsense.
Israel learned the hard way that listening to the international community can bring about devastating consequences. In 2005, we unilaterally dismantled every settlement and removed every citizen from the Gaza Strip. Did this bring us any closer to peace? Not at all. It paved the way for Iran to send its terrorist proxies to establish a terror stronghold on our doorstep.
I can assure you that we won't make the same mistake again. When it comes to our security, we cannot and will not rely on others - Israel must be able to defend itself by itself.
Mr. President,
The State of Israel is the land of our forefathers - Abraham, Isaac, and Jacob. It is the land where Moses led the Jewish people, where David built his palace, where Solomon built the Jewish Temple, and where Isaiah saw a vision of eternal peace.
For thousands of years, Jews have lived continuously in the land of Israel. We endured through the rise and fall of the Assyrian, Babylonian, Greek and Roman Empires. And we endured through thousands of years of persecution, expulsions and crusades. The bond between the Jewish people and the Jewish land is unbreakable.
Nothing can change one simple truth - Israel is our home and Jerusalem is our eternal capital.
At the same time, we recognize that Jerusalem has special meaning for other faiths. Under Israeli sovereignty, all people - and I will repeat that, all people - regardless of religion and nationality can visit the city's holy sites. And we intend to keep it this way. The only ones trying to change the status quo on the Temple Mount are Palestinian leaders.
President Abbas is telling his people that Jews are contaminating the Temple Mount. He has called for days of rage and urged Palestinians to prevent Jews from visiting the Temple Mount using (quote) "all means" necessary. These words are as irresponsible as they are unacceptable.
You don't have to be Catholic to visit the Vatican, you don't have to be Jewish to visit the Western Wall, but some Palestinians would like to see the day when only Muslims can visit the Temple Mount.
You, the international community, are lending a hand to extremists and fanatics. You, who preach tolerance and religious freedom, should be ashamed. Israel will never let this happen. We will make sure that the holy places remain open to all people of all faiths for all time.
Mr. President,
No one wants peace more than Israel. No one needs to explain the importance of peace to parents who have sent their child to defend our homeland. No one knows the stakes of success or failure better than we Israelis do. The people of Israel have shed too many tears and buried too many sons and daughters.
We are ready for peace, but we are not naïve. Israel's security is paramount. Only a strong and secure Israel can achieve a comprehensive peace.
The past month should make it clear to anyone that Israel has immediate and pressing security needs. In recent weeks, Palestinian terrorists have shot and stabbed our citizens and twice driven their cars into crowds of pedestrians. Just a few days ago, terrorists armed with axes and a gun savagely attacked Jewish worshipers during morning prayers. We have reached the point when Israelis can't even find sanctuary from terrorism in the sanctuary of a synagogue.
These attacks didn't emerge out of a vacuum. They are the results of years of indoctrination and incitement. A Jewish proverb teaches: "The instruments of both death and life are in the power of the tongue."
As a Jew and as an Israeli, I know with utter certainly that when our enemies say they want to attack us, they mean it.
Hamas's genocidal charter calls for the destruction of Israel and the murder of Jews worldwide. For years, Hamas and other terrorist groups have sent suicide bombers into our cities, launched rockets into our towns, and sent terrorists to kidnap and murder our citizens.
And what about the Palestinian Authority? It is leading a systemic campaign of incitement. In schools, children are being taught that 'Palestine' will stretch from the Jordan River to the Mediterranean Sea. In mosques, religious leaders are spreading vicious libels accusing Jews of destroying Muslim holy sites. In sports stadiums, teams are named after terrorists. And in newspapers, cartoons urge Palestinians to commit terror attacks against Israelis.
Children in most of the world grow up watching cartoons of Mickey Mouse singing and dancing. Palestinian children also grow up watching Mickey Mouse, but on Palestinians national television, a twisted figure dressed as Mickey Mouse dances in an explosive belt and chants "Death to America and death to the Jews."
I challenge you to stand up here today and do something constructive for a change. Publically denounce the violence, denounce the incitement, and denounce the culture of hate.
Most people believe that at its core, the conflict is a battle between Jews and Arabs or Israelis and Palestinians. They are wrong. The battle that we are witnessing is a battle between those who sanctify life and those who celebrate death.
Following the savage attack in a Jerusalem synagogue, celebrations erupted in Palestinian towns and villages. People were dancing in the street and distributing candy. Young men posed with axes, loudspeakers at mosques called out congratulations, and the terrorists were hailed as "martyrs" and "heroes."
This isn't the first time that we saw the Palestinians celebrate the murder of innocent civilians. We saw them rejoice after every terrorist attack on Israeli civilians and they even took to the streets to celebrate the September 11 attack on the World Trade Center right here in New York City.
Imagine the type of state this society would produce. Does the Middle East really need another terror-ocracy? Some members of the international community are aiding and abetting its creation.
Mr. President,
As we came into the United Nations, we passed the flags of all 193 member States. If you take the time to count, you will discover that there are 15 flags with a crescent and 25 flags with a cross. And then there is one flag with a Jewish Star of David. Amidst all the nations of the world there is one state - just one small nation state for the Jewish people.
And for some people, that is one too many.
As I stand before you today I am reminded of all the years when Jewish people paid for the world's ignorance and indifference in blood. Those days are no more. We will never apologize for being a free and independent people in our sovereign state. And we will never apologize for defending ourselves.
To the nations that continue to allow prejudice to prevail over truth, I say "J'accuse." I accuse you of hypocrisy. I accuse you of duplicity. I accuse you of lending legitimacy to those who seek to destroy our State. I accuse you of speaking about Israel's right of self-defense in theory, but denying it in practice. And I accuse you of demanding concessions from Israel, but asking nothing of the Palestinians.
In the face of these offenses, the verdict is clear. You are not for peace and you are not for the Palestinian people. You are simply against Israel.
Members of the international community have a choice to make.
You can recognize Israel as the nation-state of the Jewish people, or permit the Palestinian leadership to deny our history without consequence.
You can publically proclaim that the so-called "claim of return" is a non-starter, or you can allow this claim to remain the major obstacle to any peace agreement.
You can work to end Palestinian incitement, or stand by as hatred and extremism take root for generations to come.
You can prematurely recognize a Palestinian state, or you can encourage the Palestinian Authority to break its pact with Hamas and return to direct negotiations.
The choice is yours. You can continue to steer the Palestinians off course or pave the way to real and lasting peace.
Thank you, Mr. President.
Amb Prosor addresses the UN General Assembly
Copyright: UN Photo/Amanda Voisard
Details

Written by

President's Spokesperson
President Reuven Rivlin, on Sunday evening, met with Nobel Peace Prize winner and former US Secretary of State Henry Kissinger. During their discussions, the two discussed a range of issues facing Israel, and spoke about the long history of Israel-US relations. The President thanked Mr. Kissinger for the meeting and said, "We appreciate you and cherish your opinions and positions. The leadership you displayed throughout your many roles was inspiring. You stood alongside Israel in both good times and bad, and while of course we did not always see eye to eye on everything, we always felt your concern and desire for the prosperity of the State of Israel."
Mr. Kissinger expressed great interest in processes currently taking place in the Middle East, and the various options to initiate a renewal of the peace process.
At the conclusion of the meeting, they exchanged views on soccer, and discussed recent games they had seen.
Israeli President Reuven Rivlin and former U.S. Secretary of State Henry Kissinger met in NYC, Jan. 25, 2015.

Photo Credit: Mark Neyman/GPO
Details

Written by

Mira Tzoreff
Egypt's President ʿAbdel Fattah al-Sisi's harsh attitude towards Hamas, which he treats as an enemy, is conditioned by the circumstances that brought him to power in July 2013. One year after the election of Mohammed Morsi, the candidate of the Muslim Brotherhood's Freedom and Justice Party to the office of president, Sisi ousted him in the name of "the people's will" (eradat al-shaʿb). After assuming power, Sisi declared war on the Muslim Brotherhood. He outlawed the movement, declared it a terrorist organization, and then ruthlessly pursued jihadi terrorist groups in the Sinai. Sisi has made little distinction between the Egyptian Muslim Brotherhood and its Palestinian offshoot, Hamas. He has destroyed hundreds of Hamas tunnels used to smuggle weapons into the Gaza Strip, and from Gaza to the global jihadi groups active in Sinai.
Sisi has devoted much of his time and energy to rehabilitating Egypt after almost four chaotic years of political turmoil.The economy is on the brink of collapse, poverty has swelled, and the number of the unemployed – 70% of which are youth, between the ages of 15-29 – increased. Tourism, one of the drivers of the Egyptian economy, has declined precipitously in the absence of public security. Last week, during a visit to Ismailia, Sisi announced his plan to expand the Suez Canal with a 45 mile parallel waterway in order to increase capacity through Suez from 49 to 97 ships per day.[1] This ambitious project will add four new seaports, a new industrial zone, and a "technology valley." It is expected to create one million new jobs and will be financed by the private Egyptian sector as well as by loans from neighboring allies. Sisi declared that the first phase of the project will be completed by July 26, 2015, the 59th anniversary of Gamal ʿAbdel Nasser's nationalization of the Suez Canal.[2] The date is no coincidence, as Sisi has been actively cultivating an image of himself as the new Gamal ʿAbdel Nasser.
Sisi recognizes that although he is perceived as someone capable of restoring stability, security and economic growth to Egypt, he does not have unlimited time or authority. Ibrahim Daoud, in the daily newspaper Al-Youm Al-Sabea, noted that "the president understands that his people, who have put two presidents in prison...will not hesitate to do it a third time if the president will follow one of their paths."[3] Young activists in Egypt have also launched a number of websites under the name "Sisimeter" to "serve as a measure of the achievements of the president."[4]
Therefore, Egypt's position during Israel's military operation against Hamas ("Operation Protective Edge") should be understood in the context of Egypt's internal challenges and Sisi's position as a president "on probation." Sisi perceives Hamas as an affiliate to the Egyptian Muslim Brotherhood that is threatening Egypt's borders and endangering its security. He also views Hamas as jeopardizing Egypt's attempts to revive tourism in the Sinai and improve the socio-economic standing of the Bedouin population in the peninsula.
The Sinai population was neglected for generations by the various regimes in Egypt and, as a result, many have supported the jihadi groups active in the northern Sinai, near Gaza. Sisi believes Hamas was responsible for attacks by these groups on the Egyptian military and security services. In February 2011, following Mubarak's ouster, several Egyptian police officers were abducted in the Sinai and reportedly held hostage in the Gaza Strip, where they were used as a bargaining chip for the release of political prisoners. In August 2012, an attack in Rafah killed 16 Egyptian soldiers during the Iftar meal (that follows the Ramadan day-time fast). Additionally, in May 2013, seven Egyptian soldiers were abducted in Rafah: the incident was intended to embarrass Sisi, who was serving as Defense Minister.
Just over two weeks ago, on July 23, Sisi delivered an important speech to mark the anniversary of the 1952 Egyptian Free Officers Revolution that brought Gamal ʿAbdel Nasser to power. Sisi used the occasion to refute the claim that Egypt was turning its back on the Palestinian people. He stated that throughout the long history of the Israeli-Palestinian conflict, Egypt has sacrificed one hundred thousand people for the Palestinian cause. Sisi criticized Hamas for adhering to armed resistance (muqawama), declaring that after forty years of going in this direction, it was time to stop and weigh the balance of achievements and failures. He concluded with the unequivocal declaration that Egypt's policy would be governed by Egypt's national security needs.
The Egyptian media has stood behind Sisi's position, conveying the unambiguous message of "Egypt first" (misr awalan). In other words, Egypt's difficult economic and social problems should take priority over the troubles of their Palestinian brethren. " Mashʿal [Hamas Political Bureau head], we are tired of defending the Palestinian cause...We have enough problems of our own," wrote Hamdi Rizq in his column in Al-Masry Al-Youm.[5]ʿAmr al-Shobaki, another columnist, stated that "no one should place the Egyptian army in an external war that has nothing to do with the protection of its national land." Mahmoud Sultan, one of the editors of Al-Mesryoon, wondered "how a hungry civilian, deprived of health care and proper education, who does not sleep safely in his home, is not healthy, and has nothing to feed his children, can be asked to soldier in the battle for the liberation of Jerusalem?"[6]
According to Sisi's supporters, this policy does not contradict the solidarity and empathy they feel towards the Palestinian people in general and those residing in the Gaza Strip in particular, because Palestine is not just Gaza and Gaza is not just Hamas. Egypt, they emphasize, differentiates between the Palestinian people and their leaders. Hamas, they say, has abandoned the Palestinian national interest, works for foreign interests – primarily those of the Muslim Brotherhood, Qatar and Iran – and has forsaken the Palestinian people in their quest for power.
Some Egyptian analysts view Egypt's behavior as an attempt to drive a wedge between the Palestinian public in the Gaza Strip and Hamas, in order to prove that the election of Hamas in 2006 was a mistake. Doing so would pave the way for the return of Palestinian Authority president Mahmoud Abbas, who hopefully would rescue Gaza from the disaster brought upon it by the Hamas leadership. For these Egyptians, Abbas, who has long given up the option of armed struggle and chosen to pursue the goal of Palestinian statehood through negotiations – reminds them of Egypt's late president Anwar Sadat. Sadat ultimately abandoned war after 1973, which had exhausted the Egyptian people and impoverished it, and chose peace as an alternative, through which Egypt was able to restore its dignity and territory.
In this spirit, Gamal Abu Hassan published an article in Al-Masry Al-Youm one day after Sisi's speech, titled "Why Don't the Egyptians shed tears for Gaza?", Egypt, he stated, is opposed to the self-proclaimed "heroic" strategy of Hamas and believes that its disadvantages outweigh its advantages. In fact, he claims, Egypt hasn't changed its position on the Palestinian issue in the last three years, since it realized the risks entailed by the "Resistance" strategy. Egypt, Abu Hassan emphasized, has adopted a different strategy, which has proven to be much more effective in this complex conflict.[7]
Egypt's official policy regarding Hamas naturally affects its position towards Israel as well. The sympathetic opinions voiced in Egypt's state-run media regarding Israel's posture towards Hamas even before "Operation Protective Edge" were unprecedented. Tawfik Okasha, the principal anchor and owner of the Al-Faraʿeen satellite television channel, said, "I'm taking my hat off to Israel, and I'm telling the Israeli army, people, and leadership – you are men."[8] This expression of naked admiration notwithstanding, Egypt's position towards Israel during its conflict with Hamas is driven by raison d'état. Egyptian Petroleum Minister, Sherif Ismaʿil, told the Egyptian Daily News that importing gas from Israel "is a must... whatever is in Egypt's interest must be implemented immediately, as we are dealing with an energy crisis. The president and the government working indirectly with Israel is no longer taboo."[9] Furthermore, in the security realm, Sisi's Egypt has been persistent in its destruction of the tunnels connecting Sinai to Gaza, consistently thwarted attempts to fire missiles from Sinai into Israel, and stopped suicide bombers' attempts to cross into Israel and carry out attacks. The Rafah crossing has been tightly managed, and only opened for infrequent, short periods of time for humanitarian purposes.
None of these measures have led to mass protests in the Egyptian streets. It seems as though most sectors of Egyptian society realize that the increasingly tight economic and security cooperation with Israel is indeed in Egypt's interest. The Tamarud movement has been an exception, calling for the expulsion of the Israeli ambassador from Cairo. There have also been isolated individual and group initiatives to collect donations for people in the Gaza Strip, but this support for the suffering of the Gazan people is not necessarily an expression of support for Hamas. It seems that when faced with the choice between the Egyptian home and the Muslim collective, between the uncompromising defense of the Egyptian border in Sinai and the protection of Gaza and its inhabitants, Egyptians have, for the time being, chosen "Egypt first."
Mira Tzoreff is a Research Fellow at the Moshe Dayan Center for Middle Eastern and African Studies (MDC), Tel Aviv University.
[1] Summer Said and Nicolas Parasie, "Suez Canal Set for First Major Expansion," The Wall Street Journal, August 8, 2014.
[2] Dina Ezzat, "Mega Projects make a Comeback," Al-Ahram Weekly, August 7, 2014.
[3] Y. Graff, "Egyptian Intellectuals Columnists Warn against al-Sisi Presidential Candidacy," Middle East Media Research Institute (MEMRI), Inquiry & Analysis Series Report No. 1079, March 28, 2014.
[4] Ahmed Fouad, "'Sisimeter' Keeps Tabs on Egypt's new president," Al-Monitor, June 6, 2014.
[5] Al-Masry Al-Youm, July 10, 2014.
[6] Al-Mesryoon, July 10, 2014.
[7] Gamal Abu Hassan, "Why Don't the Egyptians Shed tears For Gaza?", Al-Arabiya, July 14, 2014.
[8] https://www.youtube.com/watch?v=5a8mF_ESuVQ
[9] Mohamed Ayyad, "No Shame in Egypt Using Israeli Gas through British Oil Company," Daily News-Egypt, July 6, 2014.
The Moshe Dayan Center publishes TEL AVIV NOTES, an analytical update on current affairs in the Middle East, on approximately the 10th and 26th of every month, as well as occasional Special Editions.
TEL AVIV NOTES is published with the support of the V. Sorell Foundation.
To republish an article in its entirety or as a derivative work, you must attribute it to the author and the Moshe Dayan Center at Tel Aviv University, and include a reference and hyperlink to the original article on the Moshe Dayan Center's website, http://www.dayan.org.
Previous editions of TEL AVIV NOTES can be accessed at http://www.dayan.org/tel-aviv-notes.
Volume 8, Special Edition No. 2 August 14, 2014