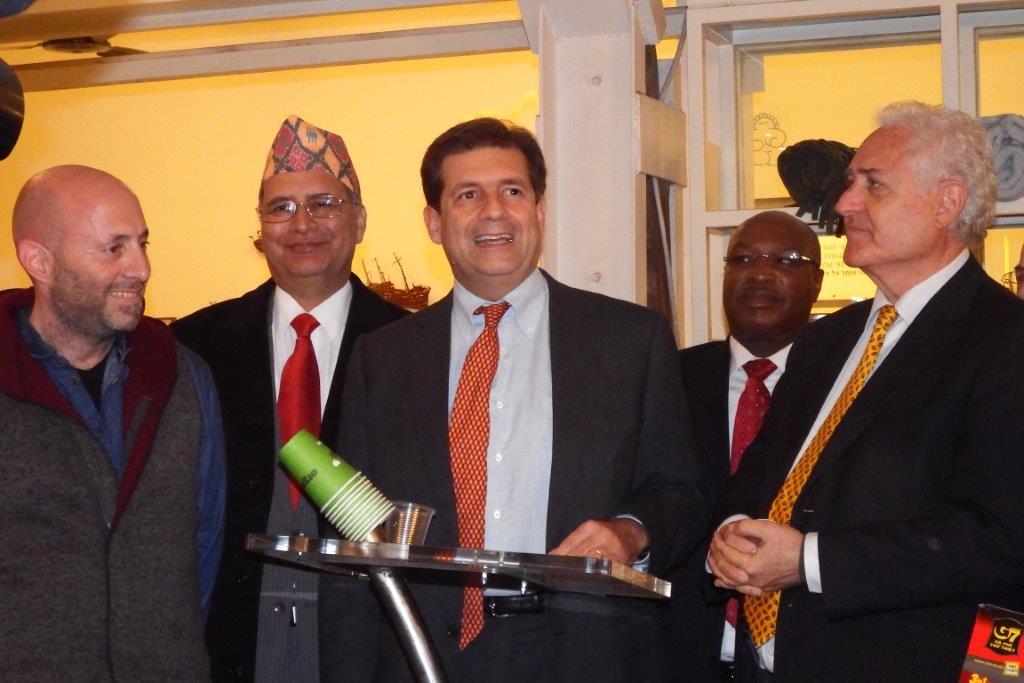 Did you know that Vietnam is also a coffee producing and exporting country?
Your www.diplomacy.co.il correspondent didn't know, and that was only one of the interesting and fascinating discoveries at the charming event for diplomats at the Tel Aviv port on Thursday evening. Hosted by Yitzhak Eldan (President of the Ambassadors Club of Israel) at the Loveat Café on the waterfront, the evening was a showcase for the no less than 17 coffee-producing countries with diplomatic ties to the State of Israel. Some of them are the biggest coffee producers in the world.
The representative countries, in no particular order, were Ethiopia, Angola, Nepal, Colombia, the Dominican Republic, Peru, Guatemala, Costa Rica, Kenya, Panama, Thailand, Philippines, D.R. of Congo, El Salvador, Brazil, Honduras and Vietnam. Ambassadors, diplomats and Israeli society members mixed and chatted while having the opportunity to sip and taste the delicious brews of the various countries. Colorful ethnic costumes, plenty of beautiful photographs and lots of literature about the respective countries added beauty and culture to the casual but friendly atmosphere.
Ambassador Eldan welcomed the guests and thanked everyone for coming, and also the Loveat chain, for hosting the event. The introduced the main speaker, H.E. Francesco Maria Talo, ambassador of Italy. Italy is not a coffee-producing country, but is a major coffee consumer; hence the honor accorded the Italian ambassador (who admitted that he personally rarely drinks coffee. "I am the exception that proves the rule").
Also welcoming the guests was Tal Bodenstein, owner of the Loveat chain. He spoke of the 20 years of coffee culture of the chain, mentioning that their policy is to use organic coffee wherever possible. Also with a brief and interesting introduction was Ofer Gvirtsman, the chain's "coffee master" – in charge of roasting and preparing the various coffees for the end product we all love to drink. All the ambassadors were then Apresented with certificates recording their presence and contribution to the very successful and unusual diplomatic event.
Mr. Mario Vargas, Economic Commercial Counsellor of the Peruvian Embassy reminded us that not all the countries displaying their wares are actually exporting to Israel – yet. "The market here is growing, and everyone wants in".
Among the guests were Yoram Naor - Honorary Consul General of Belize in Israel, Ehab Seid - representing La Nova Italiana Ltd. in partnership with Uri Gottlieb , Gary and Monica Class – representing Coppa Coppa Ltd., and our own Silvia Golan – Executive Director of DIPLOMACY.
Photos Silvia Golan