The Wives of Ambassadors and Diplomats were hosted in "Tapuz" Coffee House
The Annual Congress of the Ambassadors' Wives, took place in the heart of the Eucalyptus Grove within Herzliya Park, in "Tapuz" Coffee House.
Only in Israel such an important, impressive and enjoyable, and at the same time so different event, can take place …
The Ambassadors and Diplomats Wives met in such a pastoral site, in Herzliya Park, with its peaceful lawns. During the event, although previously announced, the National Home Front drill took place, and the alarm sounds to alert the public to enter the protected spaces. All this in accordance with the National Home Front expression: "ready during routine – ready in emergency".
The Ambassadors' Wives reacted to this alarm as if they have always exercised this drill, which head me thinking how well they have mingled in our society – with its honey and its sting …
I sat, by chance, besides the Canadian Representative. I expressed my love and that of the Israeli people, to the Canadian people and to its Prime Minister Mr. Steven Harper, on the friendship and partnership of both countries. She told me that her children too, have become attached to Israel, and that the return to Canada will be difficult for them. Who needs more than this to express such a close friendship on political and personal level?
The upgraded activities of the Ambassadors' Wives over the years, and their contributions to the success of this consolidating and enjoyable event, were utterly expressed in the ceremony.
The volunteer teachers of Hebrew and English were sequentially called to receive gifts and appreciation diplomas for their praiseworthy activity. I watched women from all over the world, uniting and talking in this annual event, which crosses countries and cultures.
At the end of the ceremony all sung the song "Shalom Haverim" ("Good-by Friends") – how symbolic.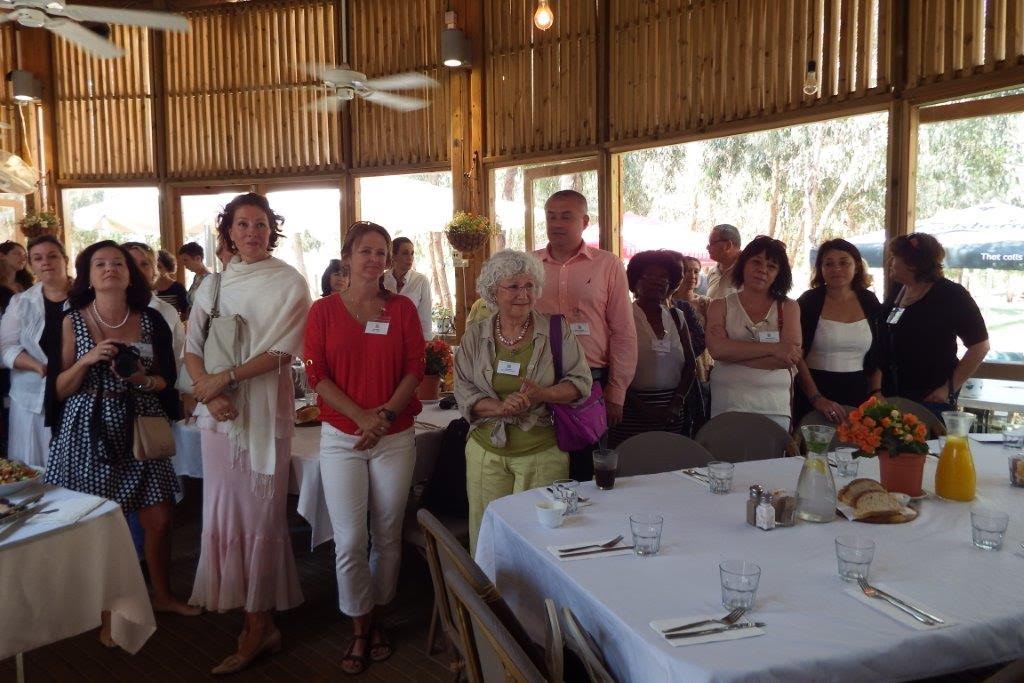 About "Tapuz" Coffee House:
"Tapuz" Coffee House, located in the heart of the Ucalyptus Grove in Herzliya Park, is built within a beautifully designed wooden structure, and offers its customers a culinary entertainment in nature. This year, it was chosen to host the Annual Congress of the Ambassadors' Wives. Michal Weitz, owner of "Tapuz" Coffee House led the event, and served an Israeli breakfast with her experienced and polite crew.
"Tapuz" Coffee House offers a culinary experience in nature without leaving the city, and suits all kinds of meetings: family (friendly for children), couples, romantic or business-like. In the place, you can relax on arm chairs with low tables dispersed in the lawn, or enjoy sitting on chairs with tables below a wooden pergola watching what goes on in the park.
These days, "Tapuz" Coffee House launches a new and refreshing summer menu that includes a variety of dishes aimed also to the vegan and heath-minded customers. It also organizes private and business events (up to 200 guests).
Address: Jabotinsky St. (Herzliya Park)
Opening hours: Sunday thru Thursday, and Saturday: 9 am - 11 pm
Friday: 9 am - 4 pm
Phone: 09-9744050
Parking: Free and ample
Link to the original article in Hebrew written by Sima Lahat
: http://www.sima-blog.com/#!נשות-השגרירים-מתארחות-בקפה-תפוז/c1kod/5575b6760cf2df2eae3b4b88
Photos by Silvia G Golan