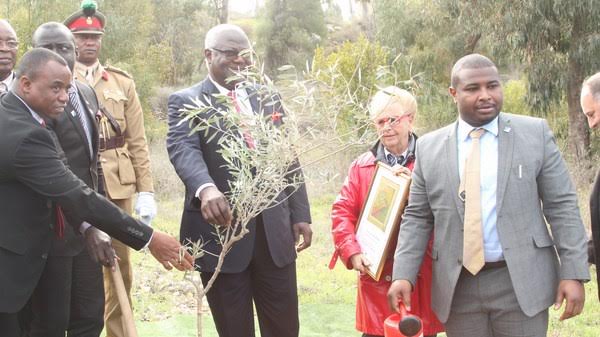 In the course of a three-day visit to Israel with his entourage, Sierra Leone President Ernest Bai Koroma planted a tree in the Keren Kayemeth LeIsrael - Jewish National Fund (KKL-JNF) Grove of Nations in Jerusalem, at a ceremony held on January 10th, 2017.
"I am here to take part in this wonderful tradition ofplanting a tree. We shall continue to be a symbol of hope, a symbol of peace and a symbol that represents the future of all of us – of Israel and the rest of the world. I believe that your tradition was always relevant in the past, but it is especially relevant today, when we are coping with the challenges ofclimate change. We need to continue with this concept of tree planting and continue with the concept of conserving the environment in order to safeguard the future of us all, the future of the world," said President of Sierra Leone Dr.Ernest Bai Koromain his speech at the official planting ceremony, which was held on Tuesday, January 10th, 2017, in theGrove of Nationsin theJerusalem Forest, below Yad VaShem.The ceremony was attended by seven of Sierra Leone's government ministers, including Minister of Foreign Affairs Dr.Samura Kamara, Finance MinisterMomodu Kargbo, Justice MinisterJoseph Kamara, Agriculture Minister ProfessorMonty Jones, Energy MinisterHenry Macauley, Minister of InformationMohamed Banguraand Minister for Infrastructure and WaterMomodu Maligi. The ambassadors of both countries were also present, withPaul Hirschsonrepresenting Israel in Sierra Leone andOsman Keh Kamararepresenting Sierra Leone in Israel. KKL-JNF's Head of ProtocolAndy Michelsonpresided over the ceremony, andBarbara Goldsteinof KKL-JNF's Board of Directors delivered a speech.

Dr. Ernest Bai Koroma was born on October 2nd, 1953 in Makeni in northern Sierra Leone, where he also grew up. He completed his studies in business management in 1976 and graduated from Fourah Bay College, the oldest university in West Africa. For over twenty-four years he worked in private insurance before entering politics in 2002. He was the leader of the All People's Congress (APC), Sierra Leone's main opposition party, before being elected president for the first time in 2007. In 2012 he was reelected for a second term.

"For over one hundred years our organization has understood that we have to come to this land and redeem it, care for it and bring it back to life after it had remained a wilderness for almost 2000 years of Jewish exile. Thus, our hope of returning to our homeland in the early 20th century stemmed from the fact that we knew that the first thing we would do was plant a tree," said Barbara Goldstein. She expressed hope that 2017 would be a year of blessing and fruitful dialogue, and that all nations would learn to live together in peace.

Andy Michelson endorsed the remarks made by the Sierra Leonean president and said thattree-planting, apart from being extremely important for the ecology of the planet, also possesses a traditional significance for the Jewish People. "We have a tradition of tree-planting in Judaism. We plant a tree when child is born, we plant one when he reaches bar-mitzvah age, and we plant another when he marries. Not just because it's good for the ecology, but also because it warms the heart and speaks to the soul," he said.After the speeches, Ambassadors Paul Hirschson and Osman Keh Kamara recited the Planter's Prayer in Hebrew and English, after which the whole party made its way up to the woodland for the planting, in which all members of the Sierra Leone delegation took part.When the planting was complete, Barbara Goldstein presented Dr. Ernest Bai Koroma with a KKL-JNF certificate of appreciation for having planted a tree in the Grove of Nations.
Photo : Left to right: Samura Kamara, Dr. Earnest Bai Koroma, Barbara Goldstein, Momodu Kargbo (Credit: Guy Lumer)