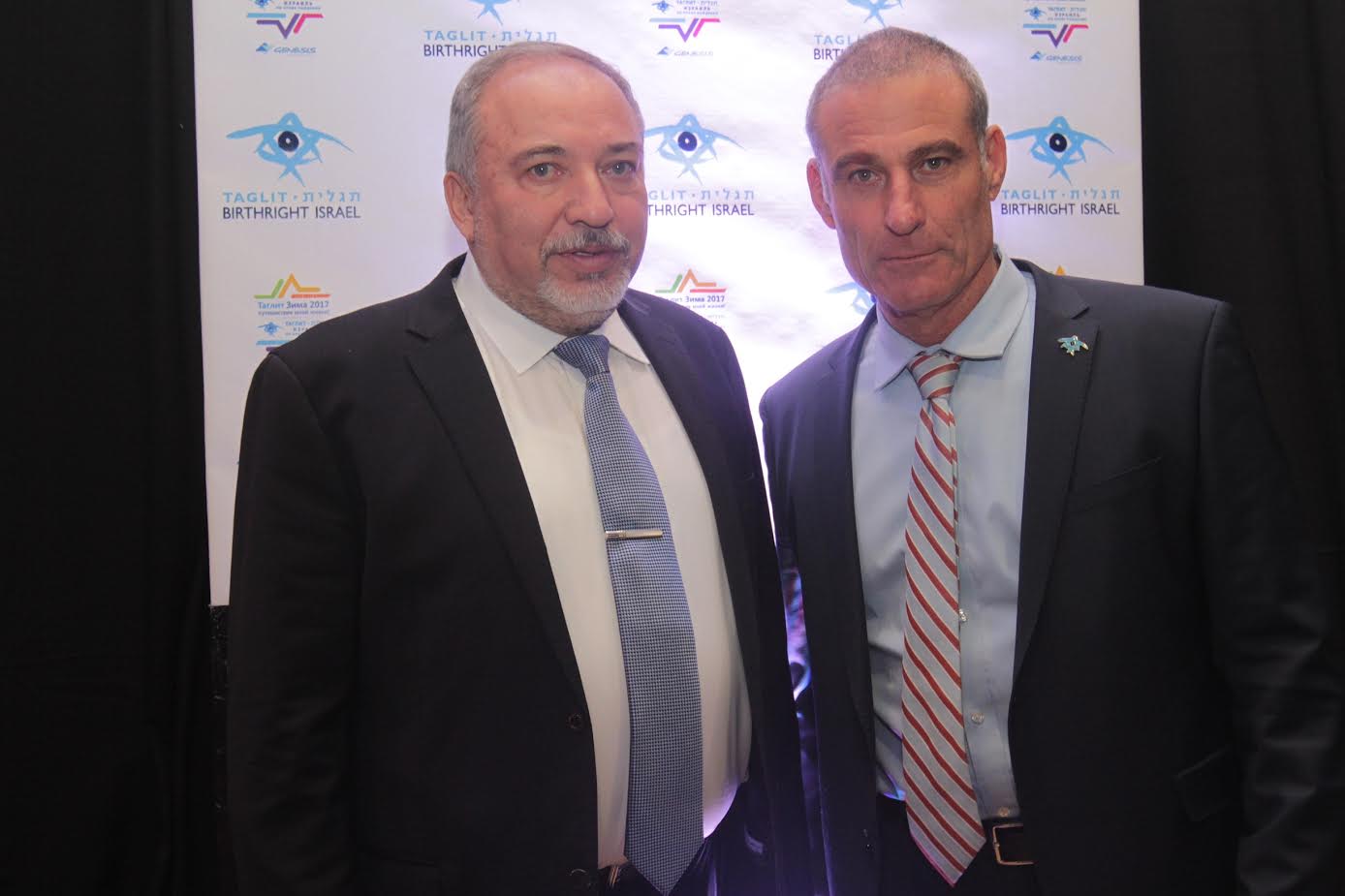 "Just Like I arrived here as a young student from Kishinev and went on to assume some of the most significant positions of power in the state of Israel, you too have the possibility to achieve anything you chose and accomplish anything you set your mind to" Said Defense Minister, Avigdor Lieberman, Speaking to 1,000 young Russian Jewish adults from the FSU, during a Birthright Israel event held tonight in Jerusalem. Other speakers at the event included Gidi Mark, International CEO of Birthright Israel and Mrs. Dorit Holander, Vice President of Genesis Philanthropy Group.
For the majority of Russian speaking Birthright Israel participants, the ten day trip to Israel marks not only their first visit to the country but also an opportunity to witness Israel's vast cultural wealth, beautiful landscapes and diverse society firsthand, taking that experience with them back home to their Jewish communities.
Gidi Mark, International CEO of Birthright Israel said at the event: "Hundreds of participants who took part in today's event join 45,000 native Russian-speaking young Jewish adults who help us realize the importance of building bridges between Israel and Jewish communities worldwide. I believe each and every Jew should be exposed to modern Israel and its culture in addition to the country's ancient history and heritage, and we are particularly excited for this unique event, celebrating the Russian speaking participants, who get to explore Israel for themselves."
The event is a part of a comprehensive partnership between Birthright Israel and Genesis Philanthropy Group, intended to provide Russian-speaking participants with various enrichment experiences while they are in Israel.
Mrs. Dorit Holander Vice President of Community Relations, Genesis Philanthropy Group also spoke to the participants: "for the past eight years of our collaboration with Birthright Israel we have developed a unique program, specifically tailored to meet the needs and interests of Russian speaking young Jews. We view the ten day trip as an opportunity for you to begin a much greater journey, a Jewish journey that will last a lifetime."
About Birthright Israel
Birthright Israel connects young Jews to the State of Israel as well as to their Jewish identity through a free ten-day educational tour of the country. Over the past 16 years, Taglit-Birthright Israel has opened the eyes of hundreds of thousands of trip participants to the people and the land of Israel. The trip aims to build an understanding, friendship, and lasting bond with the land and people of Israel and to reinforce the solidarity of the Jewish people worldwide.
Birthright Israel is considered the most successful and largest Zionist project in the Jewish world. Birthright Israel has a unique, historical and innovative partnership between the Government of Israel, thousands of individual donors and private philanthropists, and Jewish communities around the world.
Since its inception in 1999, over 500,000 Jews from over 66 countries have participated in the free 10-day educational tour of Israel. Of these over 80,000 young Israeli soldiers (from prestigious units of the IDF) and students have joined various groups on their tours. Over the years, several studies have been conducted at Brandies University, located in the USA, demonstrating the lasting effect on Diaspora Jews when focusing on their Jewish identity, their connection to Israel and their ability to promote the country.
About Genesis Philanthropy Group:
Genesis Philanthropy Group is a private foundation whose mission is to develop and enhance a sense of Jewish identity among Russian-speaking Jews worldwide by supporting and launching projects, programing and institutions that are focused on ensuring that Jewish culture, heritage and values are preserved in Russian-speaking Jewish communities. More information is available at gpg.org.
Photo Credit: Erez Uzir