Viva Italia and Viva Israel! On Thursday evening, the Italian Embassy opened its National Day festivities with a gala reception at the home of Ambassador of Italy H.E. Mr. Francesco Maria Talo and his wife. Distinguished guests from Israel's diplomatic community, business and cultural leaders, and Italian expatriates, enjoyed Italian cuisine, and live music, and got to hear from the President of Israel, Mr. Reuven Rivlin.
The evening began with the national anthems of Israel, Italy, and the European Union, performed by Israeli youth from several organizations, including football clubs. Ambassador Talo greeted the capacity audience standing atop the terrace beside President Rivlin. He explained that the presence of the Israeli president at such an important event symbolized the strong connection between the two nations, describing President Rivlin as a bridge-builder. Ambassador Talo mentioned how much he had enjoyed the beauty, culture, and diversity of Israel during his five year stay, and his hope that politics could be melded to culture to build an even brighter future. He called for a renewed focus on humanistic values over political differences, and reminded the audience that the Golden Rule—treat others as you would wish to be treated, in various formulations, had old roots in the Middle East.
The ambassador reiterated his country's position against any form of boycott, and stressed that the opposite was true—a flourishing cooperation in culture and scientific research. Recognizing an "intrinsic link" between Jerusalem and the Jewish people, the ambassador quoted President Rivlin that residents are not "doomed to live together" but rather it is their "destiny"—signaling the potential for fruitful coexistence.
In closing, the ambassador reminisced fondly of his five years in Israel, his interactions with Israelis of all backgrounds, and his connections with Italian Jews living in Israel. He said that his two first stops here had been to Yad Vashem, the Holocaust memorial and educational center, to highlight responsibility for iniquities of the past, and to the Italian synagogue and museum in Jerusalem. The ambassador also firmly rejected the colonial heritage of Rome under which Jews and Italy had first come into contact, and affirmed that modern Italy was dedicated to pluralism—as Italians, and as members of the Mediterranean region and the European Union.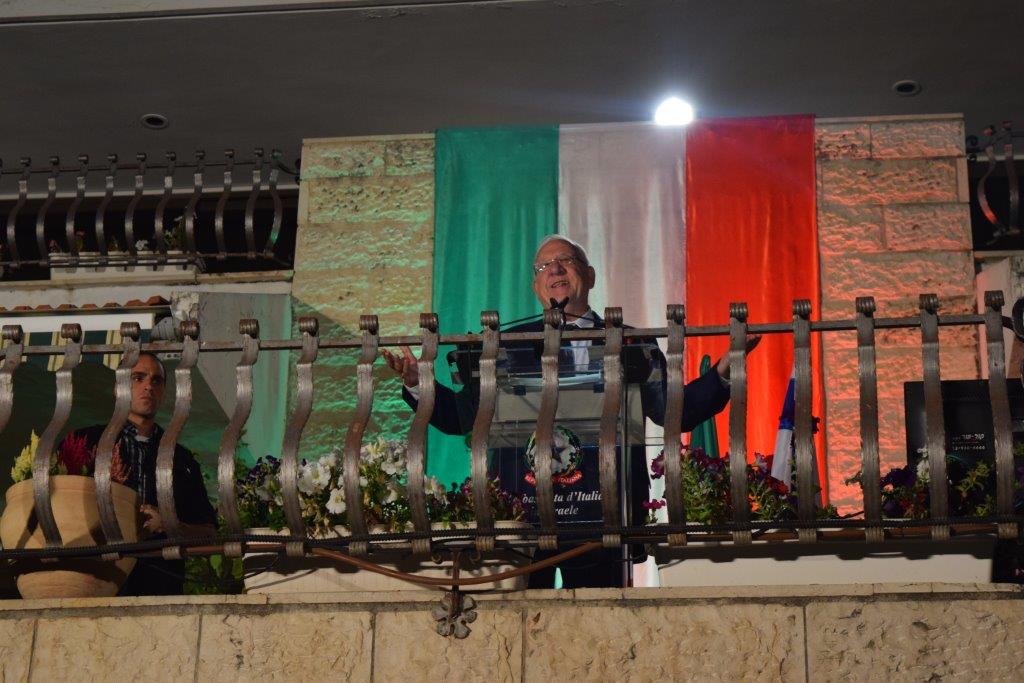 President Rivlin offered congratulations on behalf of the Israeli government and people on the occasion of Republic Day, when Italians voted for a republic form of governance following World War II. President Rivlin noted that freedom can be quite difficult. He joined Ambassador Talo in expressing solidarity with the United Kingdom, which had recently suffered several terror attacks, and said that Israel stood with all nations in the struggle to maintain freedom in the face of terror and other adversity.
The president discussed how the multi-faceted Israel-Italian connection had something for everyone, from food, to fashion to football. Thanking Ambassador Talo for his service, and Italy for its support and cooperation in various forums, the president had one more message, calling for Italy to recognize Jerusalem as the capital of Israel.
Both President Rivlin and Ambassador Talo made a point of extending Ramadan greetings to guests observing the Islamic month of fasting and good deeds. They also mentioned another group of important guests who were present—members of the Jewish Brigade which helped liberate Italy from Nazi Germany together with the British Army. The Italian Chamber of Deputies recently recognized these soldiers for their courage and valor, and in Israel their brave contributions to the war efforts are memorialized in a museum on Moshav Avihayil. Several of these veterans were in attendance—in uniform—with their families.
Following the speeches, Idan Raichel, an Israeli music star famous for fusing different cultures, performed for the guests, along with other performers. During the evening Ambassador Talo was also presented with an award by the Jewish National Fund—Keren Kayemet LeYisrael (JNF-KKL) for planting 125 trees in Israeli forests to offset the carbon footprint of the event.
The guest list for such an important event included Deputy Minister Dr. Michael Oren former minister and current Knesset member Yaakov Peri, and various politicians and diplomats, Cinzia Klein, the local representative of the Italian Academy of Cuisine. CEOs David Castel, Dan Proper, and other business leaders and the actor/model Michael Lewis .Guests enjoyed Italian—themed delicacies such as pasta, pizza, Italian wines and chocolates. The festivities were then opened to the broader Israeli public on Monday evening, with live performances of opera, jazz and pop music on the beach in Tel Aviv. President Rivlin's closing toast rang true this week—"Viva Israel, Viva Italia!"
Steven Aiello, founder of the Debate for Peace MUN program (debateforpeace.wordpress.com)
Photos Silvia G Golan