Society
Details
British Airways celebrates 80th anniversary in Israel – and refurbishes the Boeing 767s operated on the route
Investing over $40 million (£25m) to refurbish the cabin interiors of its B767 aircraft
British Airways began flying to Israel and the region in the 30's Since 1932


British Airways is marking these days its 80th anniversary in Israel: the airline, then "Imperial Airways," operated flights to the region already in 1932.

These early flights were operated by Scipio S17 flying boats, which landed on the Sea of Galilee.
Nowadays, British Airways operates two daily flights on the Tel Aviv-London Heathrow route, using Boeing 777 and 767 aircraft.
Details

The leaders, who head the various communities of hundreds of thousands of believers, met yesterday with the Minister of Tourism and leading figures from the Christian community in Israel.
The Ministry of Tourism is hosting this week a leading delegation of priests from Brazil. The delegation includes 18 priests, including Evangelical and Catholic leaders from around the state whom their communities comprises tens to hundreds of thousands of believers. This is the first time that a delegation of this magnitude is hosted in Israel.
The delegation touring includes Old Jaffa, Caessarea, Mount Tabor, Tiberias and the Sea of Galilee, Nazareth, Dead Sea and Jerusalem. Last night, Wednesday 9/5, the delegation met with the Minister of Tourism.
Brazil, plays a very important part when speaking of their economical growth, development and their great potential in tourism. In 2011, 57 thousand tourists from Brazil came to Israel – an increase of 9% compared to 2010. Most Brazilian citizens are followers of the Christian religion, when 43% of tourists who from Brazil to the Holy Land, come for religious reasons and for pilgrimage.
Details
Israel extends its condolences to the government of the Republic of the Congo and to the breaved families, and sends its wishes for recovery to those injured in the explosion that occurred in Brazzaville, in which over 200 people lost their lives and hundreds were wounded.
With the desire to contribute to the medical treatment of the wounded and hospitalized, Israel is sending today, through MASHAV (Israel's Agency for International Development Cooperation) and Israel's embassy in South Africa, and in cooperation with Magen David Adom, South Africa, emergency medical equipment to assist in treating burn injuries. The humanitarian aid shipment will be delivered to the Brazzaville Red Cross.
Details

Written by

British Embassy Israel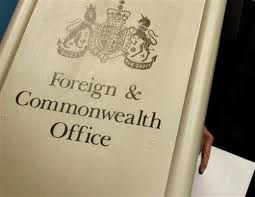 Foreign Secretary William Hague met Israeli Deputy Prime Minister Dan Meridor in London.On 19 March, Foreign Secretary William Hague had a working lunch with Israeli Deputy Prime Minister Dan Meridor, who was on a two-day official visit to the UK. During his visit Mr Meridor also met Minister for the Middle East Alistair Burt and National Security Adviser Sir Kim Darroch.Speaking after the meeting, the Foreign Secretary said:"The UK and Israel have a strong and deep relationship. I was delighted today to welcome Israeli Deputy Prime Minister Meridor".
Details
The Konrad-Adenauer-Stiftung Israel and the Jacob Blaustein Institutes for Desert Research
are pleased to announce their joint conference on Energy Security and Energy Strategies
which will take place in Sde Boker on March 18, 2012.
For information, confirmation and transportation please see below.