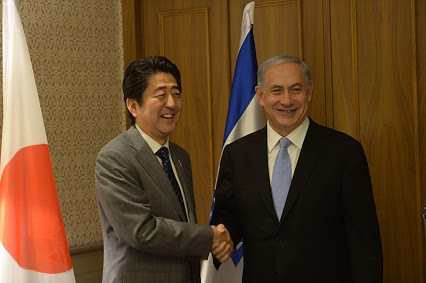 Joint press release (in the order of H.E. Mr. Benjamin Netanyahu, Prime Minister of the State of Israel and Prime Minister Shinzo Abe)
● Firstly, I would like to extend my deepest sympathy to the fact that Jewish people were the victims of the incident at a kosher grocery store in Paris. The international community will have to continue their commitment to working against terrorism.
● The visit to Japan by Prime Minister Netanyahu in May last year became an opportunity to comprehensively upgrade the bilateral relationship between the two countries. I have a genuine feeling that the relationship has been deepening in every field.
● Yesterday, I had a first meeting with Prime Minister Netanyahu, and held a meeting with the economic mission that accompanied me this time. I expect further advancement of the bilateral economic relationship such as more active interaction between the business worlds of both countries to be developed as a result of this visit.
● We value Israel's three-year plan towards the strengthening of the economic relationship as it contributes to the development of the overall bilateral relationship.
● I visited Yad Vashem earlier. This year marks the 70th anniversary of the liberation of Auschwitz, and I express my determination that we will never repeat such a tragedy.
● I have realized the significance of the achievement by Chiune Sugihara, who rescued thousands of Jews through the "Visa for Life." I have reaffirmed the long-standing bond between the Japanese and Jewish people.
● Based on this old bond and a new friendly relationship, Japan, as a friend of Israel, will continue to work on strengthening the relationship between the two countries.
● Whilst Japan understands the severe environment in Israel, it will continue to be actively involved in activities towards the stability of the region such as peace in the Middle East. Tomorrow, I will also visit Palestine, and I intend to continue providing my candid advice to both sides as their true friend.
Photo by Amos Ben Gershon GPO