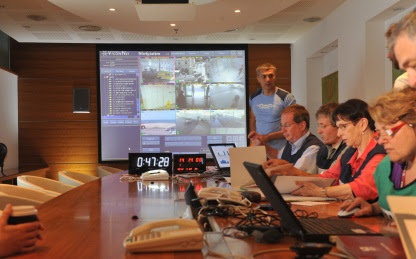 The Emergency Department of the Ministry of Health recently adopted one of the most advanced computerized information and control systems in the world—developed at Rambam Health Care Campus. With the beginning of "Protective Edge" it is now being used for the first time.
During emergency situations hospitals must quickly adapt to the circumstances. To that end, this award winning innovation, called emergency System, facilitates multi-tasking and rapid transfer to emergency operations throughout a hospital. It also enables informed decisions by hospital management under emergency situations, based on integrated real-time data received from all other hospital systems together with essential and scenario-based information.
Following the Second Lebanon War, the system was conceptualized under the visionary guidance of Professor Shimon Reisner, the Deputy Director and Director of Rambam under Emergency Situations, assisted by Leora Otitz, the hospital's emergency situations coordinator. The system was developed by Rambam's IT Department, headed by Sara Tzafrir. Prior to its first use by the Ministry of Health, the system was tested during various emergency drills in which Rambam participated.
Rambam's Computing Division customized the system for the Emergency Department of Israel's Ministry of Health. The ministry has expressed interest in integrating the system with Israeli hospitals to facilitate communication between emergency operations rooms nationwide.
The Ministry of Health is also utilizing another system developed by Rambam—"Adam." The Adam System automatically provides a full picture of patients received by hospitals during security incidents and helps decision-makers follow their care based on up-to-date information. This system is being used during operation "Protective Edge," enabling the ministry to receive updates on all casualties evacuated to hospitals over the past few weeks.
Photo : Rambam's Emergency Staff working with the emergency system during a drill
Photo credit: Ben Yuster
http://youtu.be/Ce9Pbq27Vf8