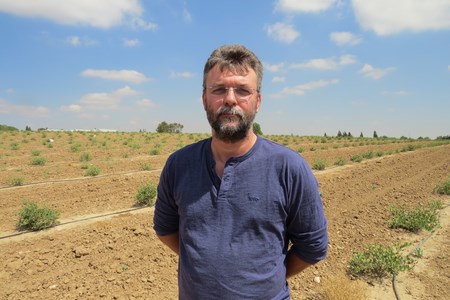 Clean Water for Advanced Agriculture in Kibbutz Bror Hayil
A pipeline for wastewater and an upgraded pumping system are about to solve the sewage problem in Kibbutz Bror Hayil, which is located near the Gaza perimeter. The project, which was undertaken with the support of Ma'alot 360, Friends of JNF in Victoria, Australia, is expected to be completed within a few weeks. The upgraded system will enable an influx of new residents, agricultural expansion, environmental protection and a higher standard of living for the people of the entire region.
"The new system is very important to us and to other rural communities in the vicinity as far as ecology and agriculture are concerned," said Simon Guthrie, the Economic Coordinator of Kibbutz Bror Hayil, regarding the upgraded sewage system. "The water is used for irrigating the fields, and without proper treatment of effluents, it would be impossible to absorb new residents and expand the kibbutz."
The old oxidation pools provided low quality water and did not meet the standards of the Ministry of Health. The new facility includes an upgraded pumping station and the installation of sewage pipelines, 1.2 kilometers long, that reach the regional wastewater treatment plant in Sderot. The water will be treated in the Sderot Wastewater Treatment Plant and conducted back to irrigate the fields of Sderot and the local rural communities. Upgrading the sewage system keeps the environment clean, ensures a high standard of living for the people and prevents sanitation problems that could inhibit expansion of the kibbutz.
https://youtu.be/Kr8Bkb2zGZM
Read more at :
http://www.kkl.org.il/eng/people-and-environment/kkl-jnf-projects-partners/bror-hayil-australia/
Photo Simon Guthrie in front of Jojoba groves
Credit.: Yoav Devir