Good News for Northern Israel: New Oncology Center Opens
The opening of this modern and spacious center marks another milestone in Rambam's ambitious West Campus development plan, bringing state-of-the-art and secure healthcare in environmentally sustainable facilities to benefit the citizens of Northern Israel.
When Haifa businessman Joseph Fishman (z"l) was treated for cancer at Rambam, he was both impressed by the caliber and dedication of the medical team, and dismayed by the conditions of the over-crowded and aging facilities. Mr. Fishman's legacy, supported by his family and carried out by Rambam's leadership, was to establish a new and modern center to benefit the hospital's cancer patients and the medical staff responsible for their care.
On June 30th, the new Joseph Fishman Oncology Center at Rambam Health Care Campus officially opened its doors, ready to provide excellent, secure and dignified care for thousands of cancer patients from throughout Northern Israel. The Department of Outpatient Chemotherapy and the chemo-pharmacy were the first to move in. Other departments and units will move into the new facility over the coming months. Professor Rafi Beyar, Director of Rambam Health Care Campus, addressed Israel's Minister of Health, Rabbi Yaakov Leizman, and the audience at the inauguration ceremony, emphasizing that, "cancer continues to be the most devastating illness we are contending with." The nine-floor, 10,000 square meter structure will eventually house inpatient departments, ambulatory and treatment clinics, cutting-edge radiation treatment technologies, and a complementary medicine clinic. The facilities are designed to maximize comfort and privacy, and enable patients to be accompanied by a family member or friend at all stages of treatment. According to Professor Ron Apelboim, Director of the Division of Oncology, "this is the beginning of a new era for thousands of patients."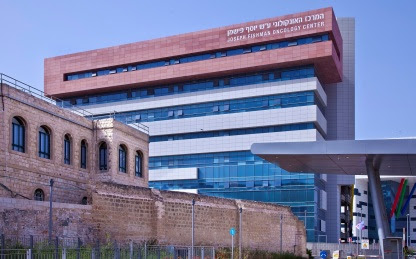 As part of Rambam's commitment to a healthy environment, the new center was built according to Israel's most stringent "green building" standards. Already at the planning stage, factors such as the use of environmentally sustainable and energy saving materials were designed into the project. Four linear accelerators will be permanently installed in the Sammy Ofer Fortified Underground Emergency Hospital—assuring access to radiation therapy under the most challenging of circumstances.
After an investment of some $30 Million to build and open the Fishman Oncology Center, Rambam is still seeking funds for additional equipment acquisition, staffing, and related expenses.
Photo description: Outside view of the Joseph Fishman Oncology Center at Rambam.
Photo credit: Micky Koren.