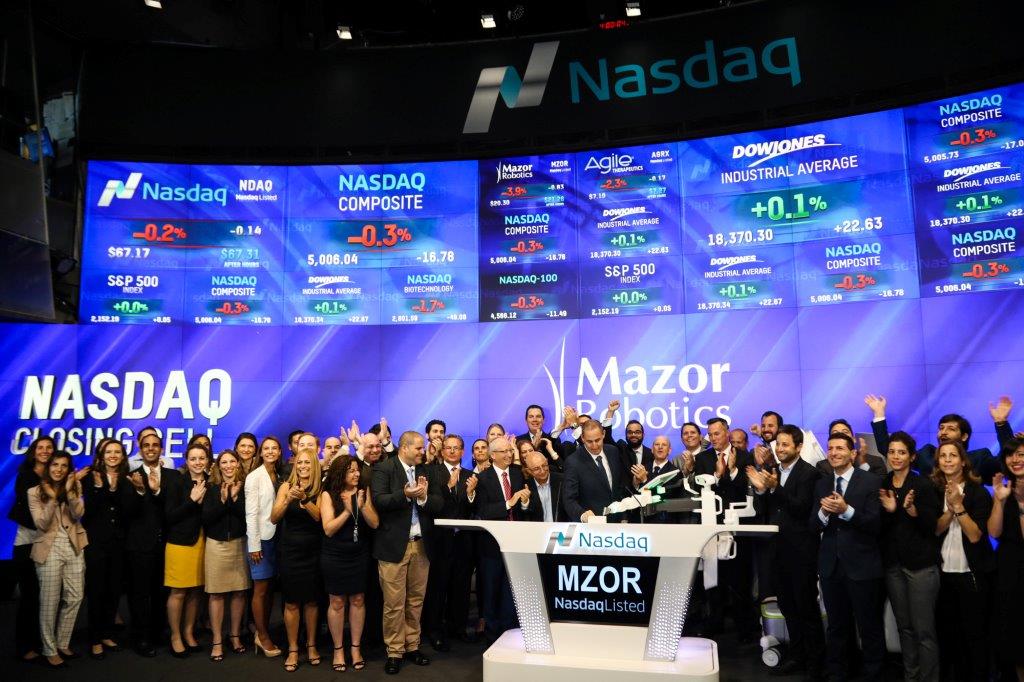 The Right to Ring Representatives of Mazor Robotics Ltd, which was born in Prof. Moshe Shoham's lab and the Technion incubator, attend the Closing Bell Ceremony at NASDAQ
Representatives of Mazor Robotics, founded at the Technion in 2001, attended the Closing Bell Ceremony at NASDAQ on Wednesday July 13. The representatives from Mazor, including CEO Ori Hadomi, COO & VP R&D Eli Zehavi and Prof. Moshe Shoham of the Technion, were greeted by NASDAQ officials and representatives of ATS - the American Technion Society.
Attending the Closing Bell Ceremony is a show of respect by NASDAQ, generally granted to its listed companies on the occasion of a milestone in their history. Mazor, traded on NASDAQ as MZOR since August 2013, was invited to ring the bell the day after the unveiling of its new robot, the Mazor X. The privilege of ringing the bell was given to Company CEO Ori Hadomi.
Mazor's technology was born in the medical robotics lab at the Technion Faculty of Mechanical Engineering. The head of the lab, Prof. Moshe Shoham, led the idea to commercial realization at the Technion incubator, together with student Michael Burman and Eli Zehavi, former director of engineering at Elscint (Israel) Elscint and currently COO & VP R&D at Mazor. The company was founded in 2001 at the Technion incubator and moved to the Caesarea industrial zone two years later.
Mazor Robotics develops robotic systems for back and brain surgery. Mazor's systems, including the Renaissance robot, are used for treating back problems such as spine deformity, herniated discs and spine instability, and brain disorders such as Parkinson's disease, which require accurate electrode insertion for deep brain stimulation (DBS). These systems, currently operating in over 120 hospitals, have been used in some 17,000 operations with more than 100,000 implants, and have never caused permanent nerve damage in any patient. The advantages of the system, according to Prof. Shoham, are its high precision, minimal invasiveness and the reduced dose of radiation for the patient and operating room staff. He said: "The launch of the Mazor X system, and the signing of an agreement with medical device giant Medtronics, is leading the company into a new era in terms of technology and in terms of the ability to realize our motto: Healing through Innovation."
https://www.youtube.com/watch?v=zF4dkKiHKNc
Photo credit: © Nasdaq 2016