Visits
Details

Written by

Silvia G Golan
Hundreds of Young Jews celebrated in the first ever Taglit Birthright Israel Mega Event in French
The celebration was held on August 6th throughout the day, ending with a Mega Event in the evening, in the presence of 700 young adult Jews from France at the "Wohl Amphitheater" in Ganey Yehoshua.
August 6th, 700 young Jews from France marked Taglit-Birthright Israel's 18th birthday in a special day of urban activations in Tel Aviv and a Mega Event in French. This is the first time such an event is organized especially for French speakers, with a record presence of 700 participants.
Participants attending the events in Tel-Aviv enjoyed a full day of unique activations including –Zumba classes and volleyball at the beach, a Mayumana show at the Abraham Hostel, self-navigated tours in the city and a colorful Mega Event at the evening. The Mega Event was held at the "Wohl Amphitheater" in Ganey Yehoshua.
1,800 French-speaking participants have arrived this summer season with Taglit Birthright Israel. They are arriving from different countries such as France, Belgium, Switzerland, and more. Most of the participants come from Paris and its suburbs, Marseille, Strasburg, Bordeaux, Toulouse, Lyon, and surroundings.
About Taglit-Birthright Israel
Birthright-Israel was founded in 1999 with the aim of strengthening Jewish identity among young Jews worldwide, enhancing their ties to their home Jewish communities and solidify their association with the state of Israel. BRI is a gift of the Jewish people to its young generation in form of a free educational trip in Israel. Since its establishment 18 years ago, over 650,000 young adults from 67 countries have enjoyed their free gift of an educational tour of Israel. Over 100,000 young Israeli soldiers and students have joined various groups on their tours. The trip wishes to establish an understanding, friendship and a lasting bond with the state and the people of Israel and to reinforce the solidarity of the Jewish people worldwide. Over the years, several studies have been conducted by Brandies University, demonstrating the lasting effect on Birthright Israel participants' Jewish identity, communities, and connection to Israel.
Photo credit - Birthright Israel
Details

Written by

Steven Aiello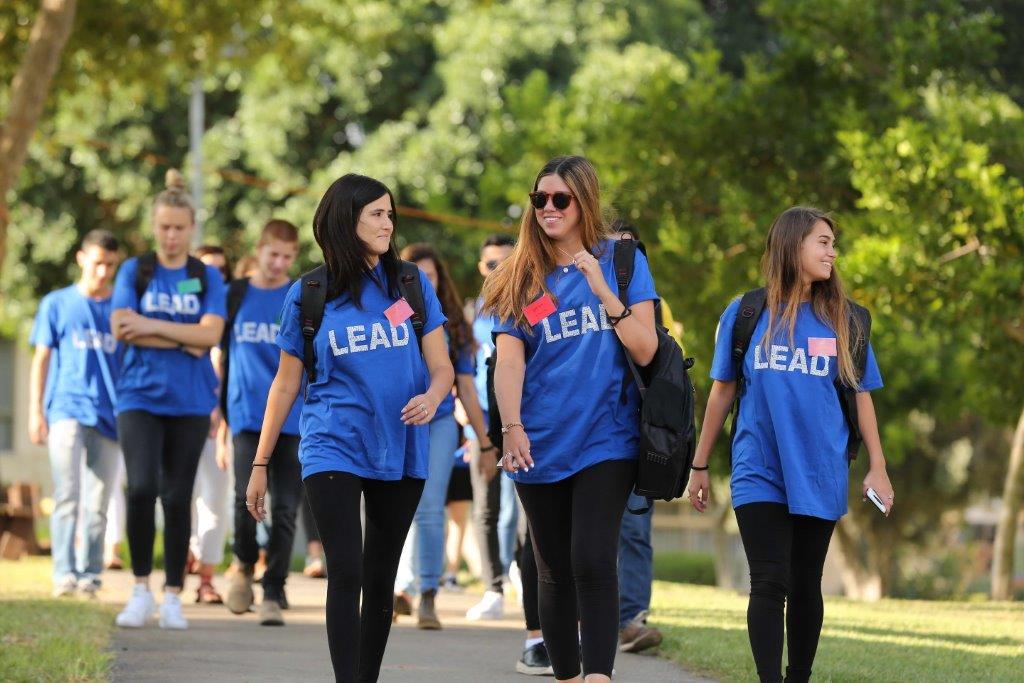 The future looks a bit brighter this week, with a historic visit from a group of Italian youth leaders to Israel. LEAD Italy (LEADIt) was founded in 2016 by Maria Elettra Favotto, and modeled after the innovative Israeli program LEAD. To celebrate the success of LEAD Italy and to strengthen ties between young leaders of both countries, Favotto led a delegation to Israel. The delegation, composed of 10 members of the first LEADIt cohort, is holding meetings with their Israeli LEAD peers to exchange ideas on leadership and learn about the challenges in each country.
LEAD is an innovative youth leadership program that puts a focus on empowering youth through education and opportunity. Led by organizational psychologist Eliav Zakay, LEAD focuses on building leaders and presenting youth with a choice: to become a leader, to make a change in society. With thousands of participants in 20 years and a robust alumni program, LEAD graduates have pioneered programs and initiatives impacting communities all over Israel.
More recently, the program's model has gone global. Five years ago LEAD partnered with Rotary Israel to organize a transformative conference for 140 youth from 24 countries. Favotto was one of the participants, and true to the LEAD model, she took the initiative when she returned home to Italy. After several return trips to Israel to get a better understanding of how LEAD works, Favotto founded LEADIt. Two years later, about 60 Italian youth from the Treviso region of Italy have participated, with many creating their own projects.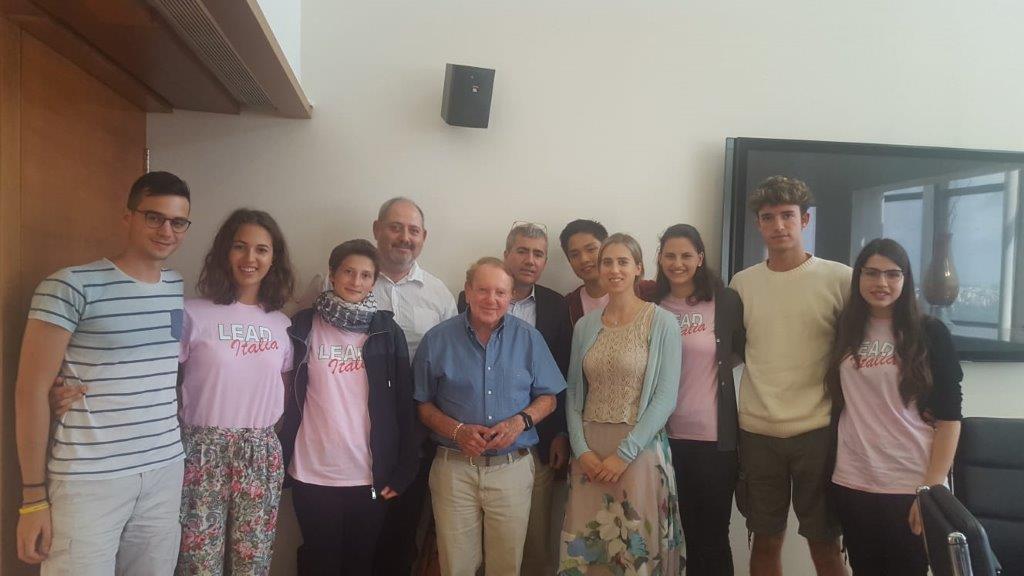 LEAD was founded in 1999 by philanthropist Morris Kahn, who was inspired by a youth leadership program he'd seen in the US. On Sunday, July 27, Kahn and Zakay met with the delegation, together with Deputy Ambassador Gianmarco Macchia from the Embassy of Italy. After Favotto presented an overview, each of the Italian members presented themselves and their projects: Massimiliano created a website for citizens to report infrastructural problems around their city, which could then be collected and presented to the local municipality; Pietro initiated a letter-writing campaign to remind people of the power of hand-written correspondence; Sara rejuvenated her town by creating a treasure hunt for children using local landmarks; Tosca's I-CHOOSE program gives meaning to school for primary school children through activities designed to promote emotional development and planning for the future; Greta helps teenagers to learn more about themselves, through introspection about values and who they really want to be; Francesco used his own experience from an immigrant home to construct a program connecting immigrant families and native Italians promoting intercultural learning and integration, and Martina's initiative offers vocational training for students at the end of high school to develop future goals and skills.
In concluding the presentation, Favotto explained her own involvement, from LEAD participant to LEADIt founder. She expressed her gratitude to Mr. Kahn for being the mastermind behind LEAD, and for his continued support to the program that has so inspired her. Favotto also outlined her vision for the future--for LEADIt to grow nationally, and then continentally, and eventually throughout Europe. Setting her sights even farther, she stressed that LEAD should be copied globally, given the uniqueness of the program.
Mr. Kahn applauded the LEADIt members on their hard work and success. Sharing a bit about how LEAD was created, Mr. Kahn offered a word of caution that growth requires careful planning, time, and resources, and encouraged support for the growth to continue at a steady and sustainable pace. He described their work as a stone dropped in the lake--creating a ripple effect that gets wider and wider.
Deputy Ambassador Macchia expressed his pride at seeing such enterprising and driven young Italians. He too congratulated Favotto, and thanked Mr. Kahn and LEAD for their role, and for hosting the meeting.
Favotto, who has been to Israel numerous times and has also lived in Canada and the United Kingdom, told Diplomacy about some of the cultural differences between Israel and Italy that have shaped LEADIt in particular. From her perspective, she sees Israeli youth as being more aware of the challenges within their country and societies, and overall more integrated citizens. In Italy, she explained, a generational gap means that youth feel excluded from societal involvement, and instead told to focus on school and finding a career, with their opportunity to contribute to society postponed for middle-age life. This is thus the first challenge that LEADIt tackles, convincing Italian youth that they have a role to play in improving society in the here and now, raising awareness of what needs to change, and only then empowering the youth to bring that change. Having seen the results of only two years, LEADIt is off to a great start, and a true embodiment of the LEAD model.
To learn more about LEAD: http://lead.org.il/en/
Photos by Sivan Farag
Steven Aiello
Founder--DebateforPeace
Details

Written by

Silvia G Golan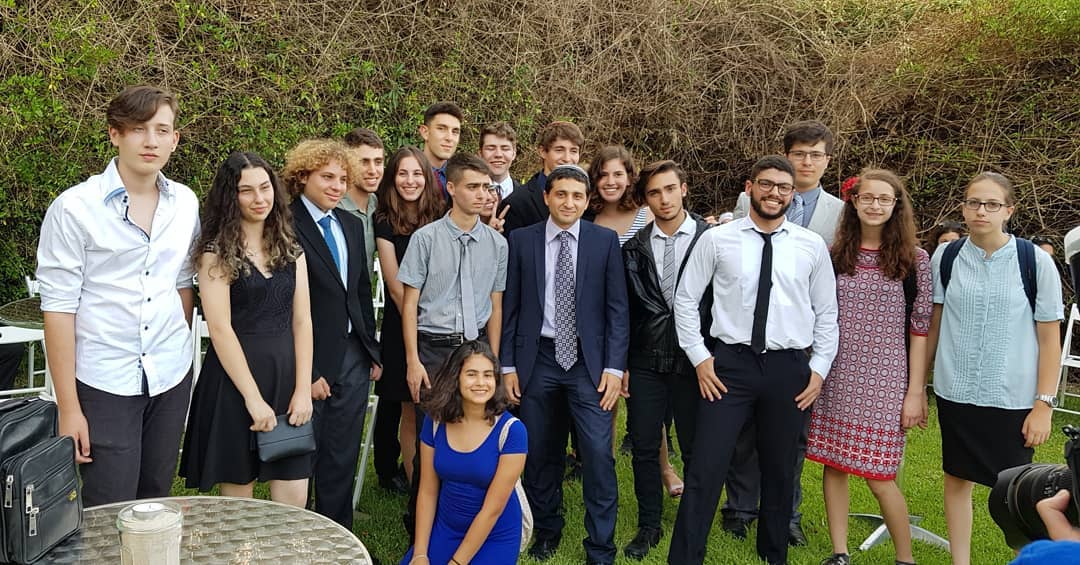 On Thursday, June 22, the Cultural Attaché at the U.S Embassy Jonathan Berger hosted an end-of-year reception to recognize the achievements of the Debate for Peace (DfP) Model United Nations program supported by the Public Diplomacy office. Nearly 100 Jewish and Arab students, parents, educators and representatives from various Embassies attended the reception at the Cultural Attaché's residence to honor and be inspired by the students and their achievements.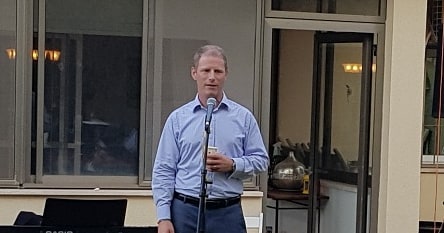 Cultural Attaché Jonathan Berger opened the evening by welcoming the guests and expressing his own admiration for the dedication for peace that he has witnessed from among the students in Debate for Peace. Following his remarks, Risa Levi, Cultural Program Specialist at the US Embassy moderated a panel titled "The MUN Impact from an Educational Perspective. Hassan Hassan, a teacher and MUN coordinator in the Negev and among the Bedouin sector, and Salah Fokra, a teacher and MUN coordinator at Bashaer high school, shared their experiences using Model UN to supplement learning in the classroom, and answered questions about the impact they have witnessed in their own students through participation in Debate for Peace programming.
In the second panel, Jewish and Arab students from six different cities discussed the Debate for Peace impact from the perspective of students. The panel, which was moderated by Yoni Eshpar, Political Affairs Officer at UNSCO, included Amalia Cedar Kellner, Avi Scharlat Baraa Massalha, Sharehan Alwakily, Yafa Nassar, and Yuval Zonensein. In addition to introducing the impact each has felt personally, the students answered questions from the moderator and the audience.
Dr. Yehuda Stolov, Director of the Interfaith Encounter Association (IEA), spoke in conclusion of the evening. Debate for Peace is one of the most active, and youngest, of the IEA's dozens of interfaith groups. Following Dr. Stolov's remarks, a number of students were called up to be recognized for outstanding participation in Debate for Peace: Omar Yaseen; Lea Sarsour; Yafa Nassar, Sharehan Alwakily, and Yuval Zonensein. Amalia Kellner was called up to receive the Best of Delegation award for the DfP delegation to the MEDIMUN conference in Cyprus.
Throughout the evening the guests enjoyed the musical performances of pianist Omri Weinstock, accompanied by singer Yonit Vareika, and a lavish reception provided by the US embassy. Distinguished guests included Ambassador Jean-Daniel Ruch (Embassy of Switzerland); Ambassador Esteban Penrod (Embassy of Costa Rica); DCM Ramunas Davidonis (Embassy of Lithuania); Jesse Shaw from the US Consular office; Dr. Rachel Tal, head of English Studies at the Amal network; Phil Saunders (European Platform for Middle East Dialogue); Steve Ganot (Israel Hayom); Karen Stiller (JCRC); Alona Timofeyeva (NYU Alumni club), and Mor Beer and Eyal Tur (IMUNA).
Debate for Peace is a youth empowerment and program that teaches leadership, conflict resolution, critical reasoning, debate, and other key skills using Model United Nations as a platform. Over the last two years, Debate for Peace has engaged nearly 1,000 Israeli and Palestinian students from about 60 different cities, towns, and schools; met with more than a dozen embassies; led Israel's first three Jewish-Arab youth MUN delegations abroad; been hosted at the European Parliament, and helped nearly 100 students get into international youth camps in the US, Europe, and Asia. In the coming academic year Debate for Peace already has MUN conferences planned for October and November, and delegations to London (November); Kosovo (December), Cyprus (February), and Belgium.
Mr. Yoni Eshpar, Political Affairs Officer at UNSCO, told Diplomacy:
"Over the past few years, I have seen Debate for Peace evolve into a very special and impressive Model UN programme. It brings together Jewish and Arab high school students, who otherwise have limited opportunities to get to know each other, and provides them with the knowledge, skills, and enthusiasm for becoming active participants in shaping the future of Israel, the region, and the world. It is inspiring to see how through learning and debating some of the toughest issues, they become more optimistic about advancing peace, and more eager to take part in that work. By empowering these youth and putting them on a path of peacebuilding based on education and dialogue, this programme truly embodies the vision of the UN"
https://www.youtube.com/watch?time_continue=2&v=KBVhPr6amDY
Steven Aiello
Founder--DebateforPeace
Photos by Silvia G. Golan
Details

Written by

The Peres Center for Peace and Innovation's

A statue in memory of Shimon Peres was dedicated in Tirana, Albania
The statue is in the shape of the Star of David and bears the Ninth President's image
Citizens of Albania, led by Prime Minister Edi Rama, expressed their love for Shimon Peres. Peres, who was the first Israeli leader to visit Albania during his tenure as Foreign Minister in 1995, was greatly admired and loved by the Albanian people.
The end of August will mark two years since President Peres' passing. To honor his memory, a large statue was erected in his honor in the center of Tirana. His son, Yoni Peres, attended the dedication ceremony, together with Deputy Ambassador Yuval Fischer, Chairman of the Albania-Israel Friendship Association Petrit Zorba, Honorary Consul of Israel in Albania Rudolph Jeliri, and more.
Yoni Peres: "Tirana is a wonderful city, and the people are warm and loving. It was a moving experience."
Yuval Fischer, Deputy Ambassador: "My initiative to name a square in Tirana after Shimon Peres is a tribute to the great friendship between these two countries."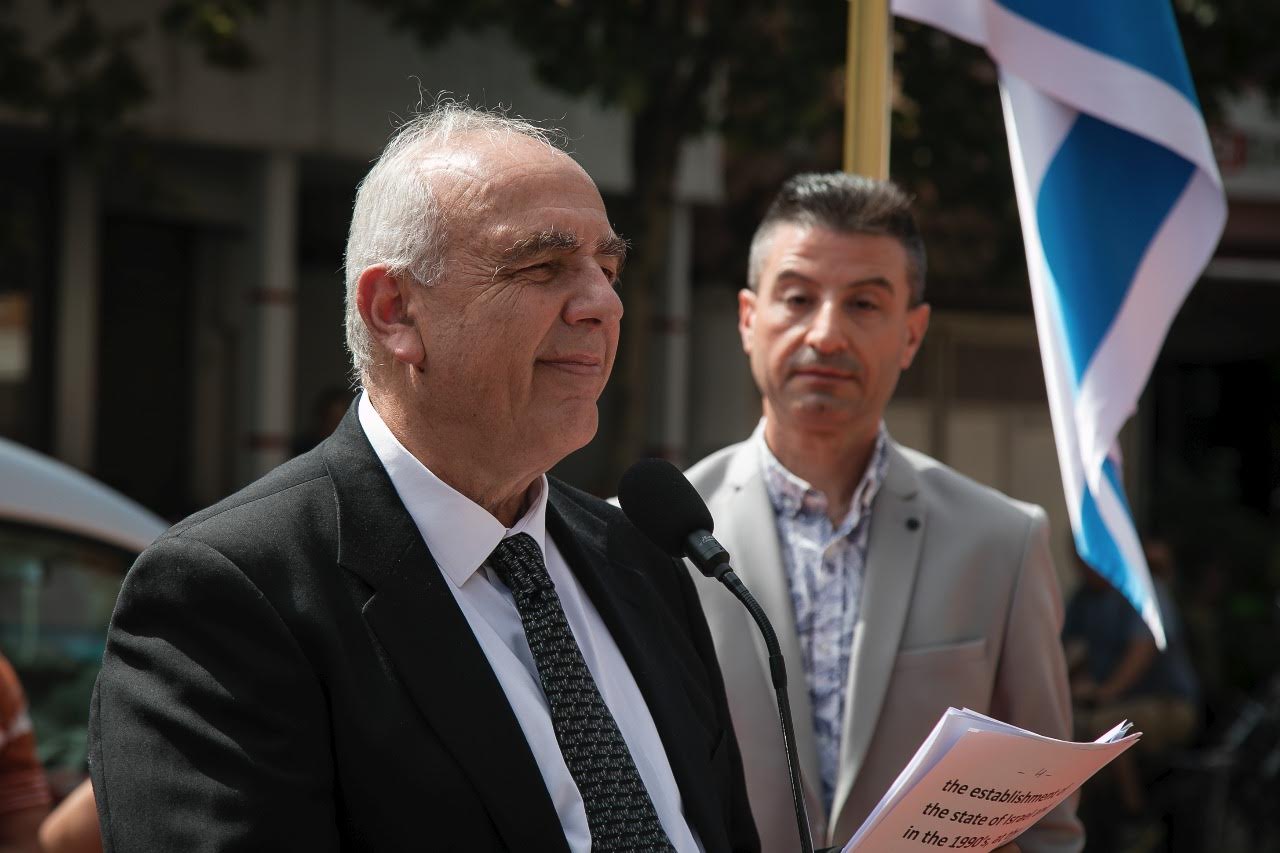 Photo Credit: GENTI
Details

Written by

Prime Minister's Media Adviser
PMO statement regarding US withdrawal from UNHRC
For years, the UNHRC has proven to be a biased, hostile, anti-Israel organization that has betrayed its mission of protecting human rights.
Israel thanks President Trump, Secretary Pompeo and Ambassador Haley for their courageous decision against the hypocrisy and the lies of the so-called UN Human Rights Council.

For years, the UNHRC has proven to be a biased, hostile, anti-Israel organization that has betrayed its mission of protecting human rights.

Instead of dealing with regimes that systematically violate human rights, the UNHRC obsessively focuses on Israel, the one genuine democracy in the Middle East.

The US decision to leave this prejudiced body is an unequivocal statement that enough is enough.

Israel welcomes the American announcement.