Society
Details

Written by

Silvia G Golan
"Last week in Teheran, they put a clock counting down to Israel's destruction- but we will be here long after their theocratic tyranny is just a part of history"
Said Prime Minister, Mr. Binyamin Netanyahu, to thousands of young Jews from around the world, who took part in Birthright Israel's annual Mega Event in Rishon Letzion
Details

Written by

Steven Aiello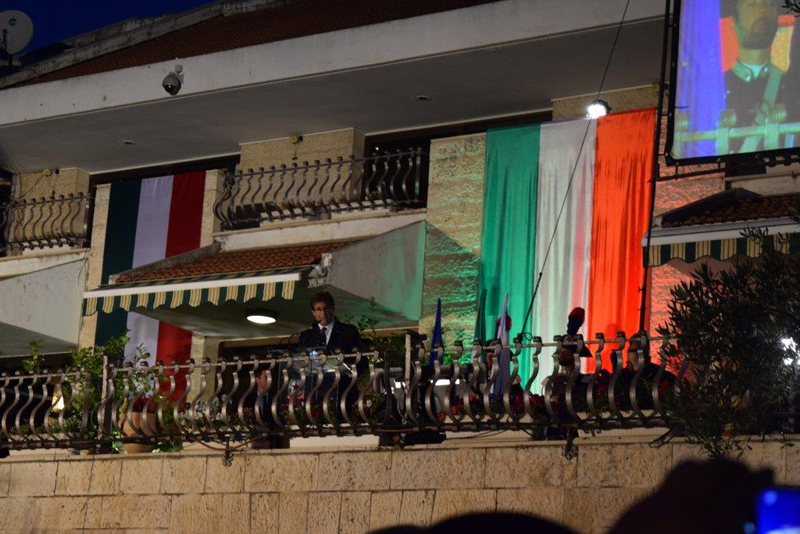 Viva Italia and Viva Israel! On Thursday evening, the Italian Embassy opened its National Day festivities with a gala reception at the home of Ambassador of Italy H.E. Mr. Francesco Maria Talo and his wife. Distinguished guests from Israel's diplomatic community, business and cultural leaders, and Italian expatriates, enjoyed Italian cuisine, and live music, and got to hear from the President of Israel, Mr. Reuven Rivlin.
Details

Written by

President's Media Advisor
President Rivlin this morning (Thursday), addressed a visiting delegation to Jerusalem, of more than 200 representatives of the Jewish Federation of New York marking 100 years since its founding. The President was greeted by Eric Goldstein, CEO of the UJA-Federation of New York.
President Rivlin welcomed all the delegates to Jerusalem, and congratulated them on marking the organization's centenary, and spoke of the important bond between the Jewish communities around the world. He said, "We are all one family. And being part of a family, means we all have the duty, and the obligation, to look after each other. We have the shared responsibility, to fight anti-Semitism. We have the shared responsibility, to educate our children about their Jewish identity. And we have the shared responsibility, to the State of Israel, our national home."
Details

Written by

President's Spokesperson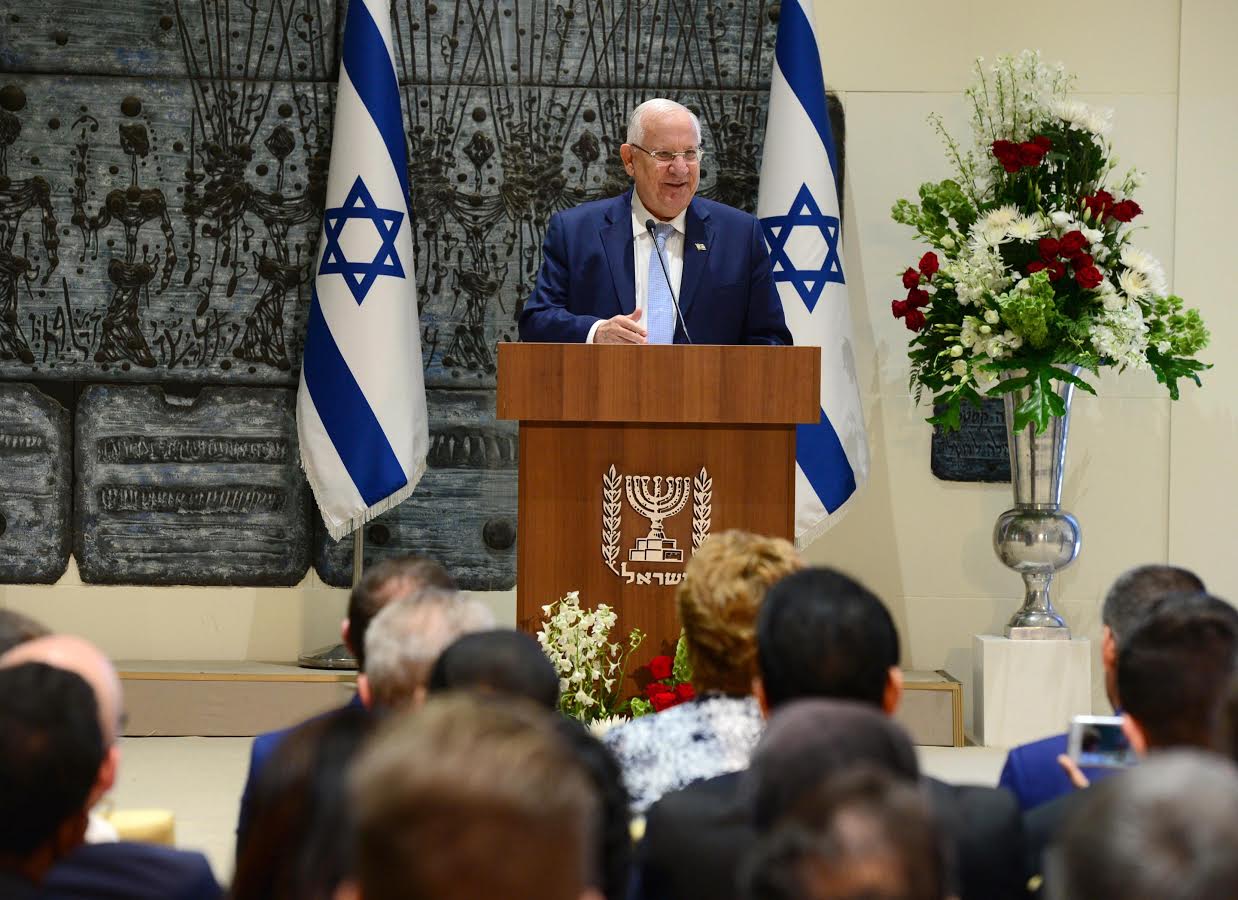 President Reuven Rivlin this morning met with at his residence with senior members of Christian communities around the world who support Israel. The delegation arranged by the Knesset Christian Caucus and the Jerusalem Prayer Breakfast movement, included representatives of around 200 communities in more than 50 countries, and included around 30 members of parliaments. The group was visiting Israel to mark 50 years since the reunification of Jerusalem. The meeting was also addressed by Chairman of the Knesset Christian Caucus, Robert Ilatov MK, and Lars Adaktusson, MEP for Sweden.
Details

Written by

KKL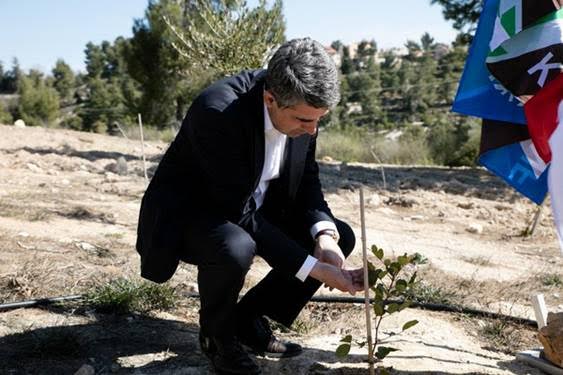 On Monday, February 20, 2017, H.E. Rosen Asenov Plevneliev, the former Presid ent of Bulgaria, planted a carob tree in the Jerusalem mountains, to stand alongside a tree planted in memory of his son Filip, who died suddenly at age 15 on August 8, 2015.
His Excellency Rosen Asenov Plevneliev served as president of Bulgaria from January 2013 until just a few weeks ago. When his son Filip died in 2015, his friend Eli Egosi, an Israeli businessman who built a mall in Sofia, asked KKL-JNF to plant a tree in Filip's memory. The President, who was very touched by this gesture, asked to see his son's tree and plant another tree next to it during his three-day visit in Israel.
KKL-JNF's VIP tree planting site, which is next to the Yad Kennedy Memorial in the mountains surrounding Jerusalem, was the site chosen for both trees.
The former President was greeted by KKL-JNF Chief of Protocol Andy Michelson, who said that not long ago, "we planted a tree here in memory of your son, and now you'll be planting a carob tree next to it. Carob trees take a lot of time to produce fruit, so planting one is an affirmation of life and an expression of our commitment to future generations. The tragedy of losing a son is incomprehensible. We can only hope that there is some small comfort in the fact that there is something growing and living in his memory."
KKL-JNF Director of International Relations and Conferences Karine Bolton-Laor welcomed the honored guest and said: "Your family's spirit will be forever in the mountains of Jerusalem". She described KKL-JNF's history and elaborated on KKL-JNF's commitment to sharing its knowledge with countries throughout the world. "KKL-JNF has achieved worldwide acclaim for its achievements in the fields of afforestation in semi-arid regions, combating desertification, forest planning, and more. People from everywhere come here to see what we have accomplished, and sharing our knowledge is part of our mission."
H.E. Rosen Asenov Plevneliev said that in his home county of Bulgaria, there is a saying that a man has to build one house, plant one tree and have one son. "I have built many houses, planted many trees and am the proud father of three boys. One of them is my angel in the sky. He died suddenly, at age fifteen, and that was the worst moment of my life. At that time, here in Israel, you planted a tree in his memory, and by doing so, you gave me a hand, you shared my pain. This act will stay in my heart forever. Standing here now, I want to thank you. I have planted over 6,000 trees in many different places, but planting this tree here is very special. Maybe it is the most special tree of all."
Eli Egosi, an old friend of the president, was the person behind the initiative to plant a tree in memory of the president's son. "I must be very honest. When disaster struck, I didn't have the courage to go to Bulgaria or to call the president. I thought about what I could do, and I had the idea of planting a tree. KKL-JNF was supportive from the first moment, and the ceremony was very, very moving. KKL-JNF gave us a beautiful spot to plant your son's tree, a holy spot, a spot overlooking Jerusalem. This is something small for Filip. He's always up there looking on us."
Speaking after the ceremony, the President said that his tenure had ended just five weeks ago. "This is my first trip abroad since then. I say abroad, not a trip to a foreign country, because for me, Israel is not a foreign country, it's like my home. I could have run for another term, but I felt that now is the time to build bridges in a different way. For me, what's important in life in general, and politics in particular, is giving, not taking. We must confront life and live it fully.
Photo 1 :Bulgarian Former President with his freshly planted tree; Credit: Leader photography
Photo 2 :Left to Right: Andy Michelson, Eli Egosi, H.E. Rosen Asenov Plevneliev, Karine Bolton and Rami Levy; Credit: Leader Photography