Visits
Details

Written by

Technion Spokesperson
Smart Wound Dressing Instead of sutures, a self-healing antibacterial polymer; instead of examining the wound, integrated smart monitoring
"Sutures? That's practically medieval!"
It is a staple of science fiction to mock sutures as outdated. The technique has, after all, been in use for at least 5,000 years. Surely medicine should have advanced since ancient Egypt. Professor Hossam Haick from the Wolfson Department of Chemical Engineering at the Technion has finally turned science fiction into reality. His lab succeeded in creating a smart sutureless dressing that binds the wound together, wards off infection, and reports on the wound's condition directly to the doctors' computers. Their study was published in Advanced Materials.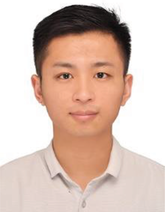 Current surgical procedures entail the surgeon cutting the human body, doing what needs to be done, and sewing the wound shut – an invasive procedure that damages surrounding healthy tissue. Some sutures degrade by themselves – or should degrade – as the wound heals. Others need to be manually removed. Dressing is then applied over the wound and medical personnel monitor the wound by removing the dressing to allow observation for signs of infection like swelling, redness, and heat. This procedure is painful to the patient, and disruptive to healing, but it is unavoidable. Working with these methods also mean that infection is often discovered late, since it takes time for visible signs to appear, and more time for the inspection to come round and see them. In developed countries, with good sanitation available, about 20% of patients develop infections post-surgery, necessitating additional treatment and extending the time to recovery. The figure and consequences are much worse in developing countries.

How will it work with Prof. Haick's new dressing?
Prior to beginning a procedure, the dressing – which is very much like a smart band-aid – developed by Prof. Haick's lab will be applied to the site of the planned incision. The incision will then be made through it. Following the surgery, the two ends of the wound will be brought together, and within three seconds the dressing will bind itself together, holding the wound closed, similarly to sutures. From then, the dressing will be continuously monitoring the wound, tracking the healing process, checking for signs of infection like changes in temperature, pH, and glucose levels, and report to the medical personnel's smartphones or other devices. The dressing will also itself release antibiotics onto the wound area, preventing infection.
"I was watching a movie on futuristic robotics with my kids late one night," said Prof. Haick, "and I thought, what if we could really make self-repairing sensors?"
Most people discard their late-night cinema-inspired ideas. Not Prof. Haick, who, the very next day after his Eureka moment, was researching and making plans. The first publication about a self-healing sensor came in 2015 (read more about it on the Technion website here). At that time, the sensor needed almost 24 hours to repair itself. By 2020, sensors were healing in under a minute (read about the study by Muhammad Khatib, a student in Prof. Haick's lab here), but while it had multiple applications, it was not yet biocompatible, that is, not usable in contact with skin and blood. Creating a polymer that would be both biocompatible and self-healing was the next step, and one that was achieved by postdoctoral fellow Dr. Ning Tang.
The new polymer is structured like a molecular zipper, made from sulfur and nitrogen: the surgeon's scalpel opens it; then pressed together, it closes and holds fast. Integrated carbon nanotubes provide electric conductivity and the integration of the sensor array. In experiments, wounds closed with the smart dressing healed as fast as those closed with sutures and showed reduced rates of infection.
"It's a new approach to wound treatment," said Prof. Haick. "We introduce the advances of the fourth industrial revolution – smart interconnected devices, into the day-to-day treatment of patients."
Prof. Haick is the head of the Laboratory for Nanomaterial-based Devices (LNBD) and the Dean of Undergraduate Studies at the Technion. Dr. Ning Tang was a postdoctoral fellow in Prof. Haick's laboratory and conducted this study as part of his fellowship. He has now been appointed an associate professor in Shanghai Jiao Tong University.
Pictures: Professor Hossam Haick / Dr. Ning Tang
Concept of MFWD, which can inhibit bacterial growth, close a wound in sutureless manner via biocompatible elastomer having self-healing ability, and monitor healing status by detecting wound-related biomarkers.
Photo of the sensing part of MFDW .Self-healing, antibacterial, and multifunctional wound dressing in action
Credit Technion Spokesperson
Details

Written by

Silvia G. Golan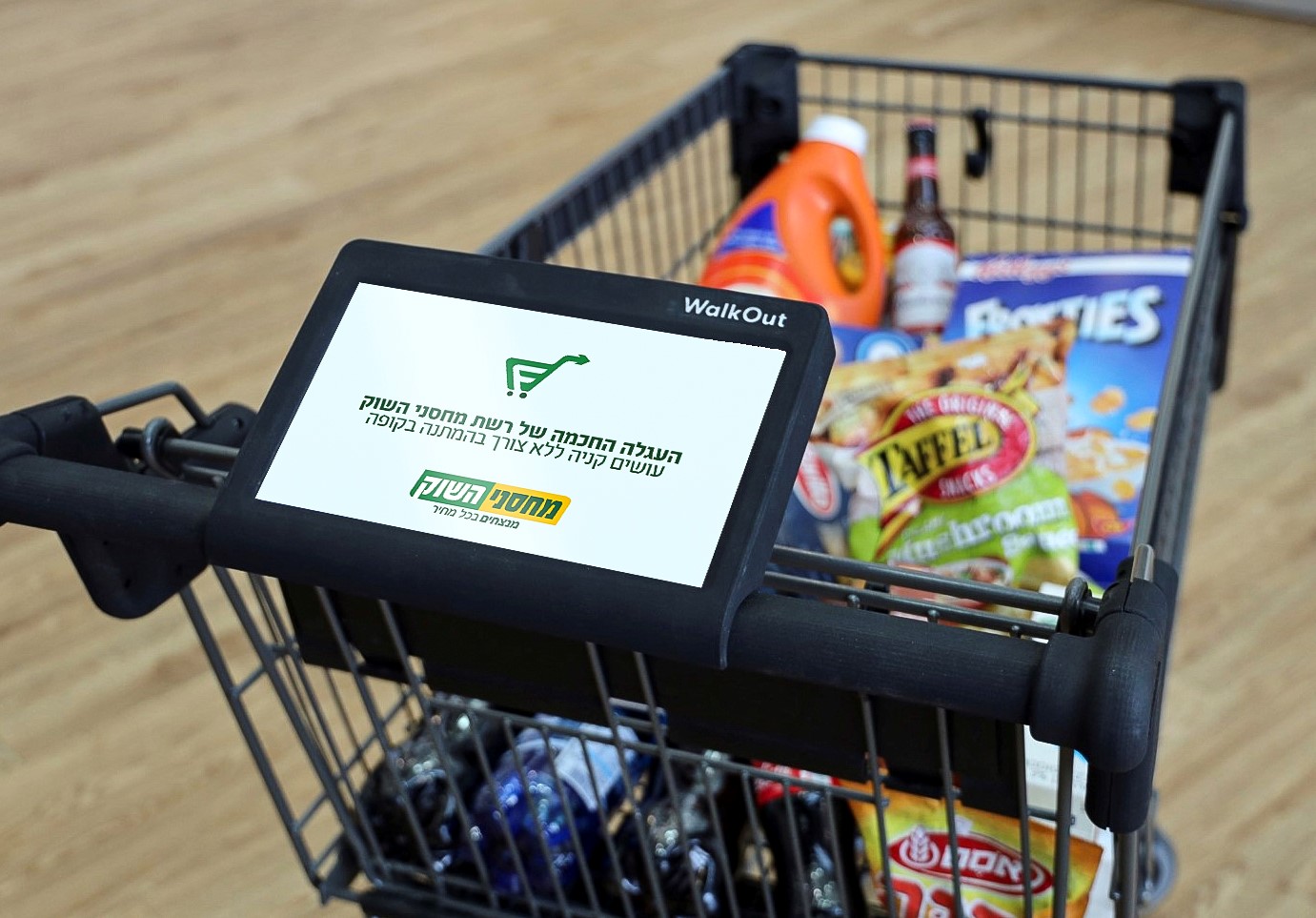 .
WalkOut has developed a system for smart carts that identifies products that are loaded and removed from the cart using cameras with the highest level of accuracy in the world (99.2%). Customers can also pay for the purchase without having to go to the checkout.
Tel Aviv, December, 2021 - The Israeli company WalkOut, the developer of an autonomous end-to-end frictionless shopping solution, announces an extensive cooperation agreement with Machsanei Hashuk, one of the largest supermarket chains in Israel. As part of the agreement, the chain will implement the fully autonomous checkout solution, considered the most accurate in the world's retail industry, in all 62 of its branches. Its deployment will begin as early as next month.
Although 61 percent of shoppers would prefer to purchase brands that also have a physical location, over 70 percent of shoppers report that standing in line for checkouts is frustrating and detracts from the shopping experience. Until the development of WalkOut's solution, no system has accompanied the customer throughout the entire purchase, which includes actual checkout.
WalkOut's retrofit smartcart solution offers a revolution in the shopping experience that addresses two main challenges that marketing chains face in the physical buying process.
The first is related to waiting in long queues at the checkout. The second is the inability to create a personalized shopping experience for each customer.
The company's first-ever truly seamless retrofitted solution in the retail industry requires no costly infrastructural changes to the store, while other solutions require the retailer to purchase new carts and most rely on barcode scanners and scales for item recognition. The mountable cart device's multiple high-precision cameras, which utilize many different proprietary algorithms to accurately recognize products, identify the items as shoppers load or remove them with 99.2 percent accuracy.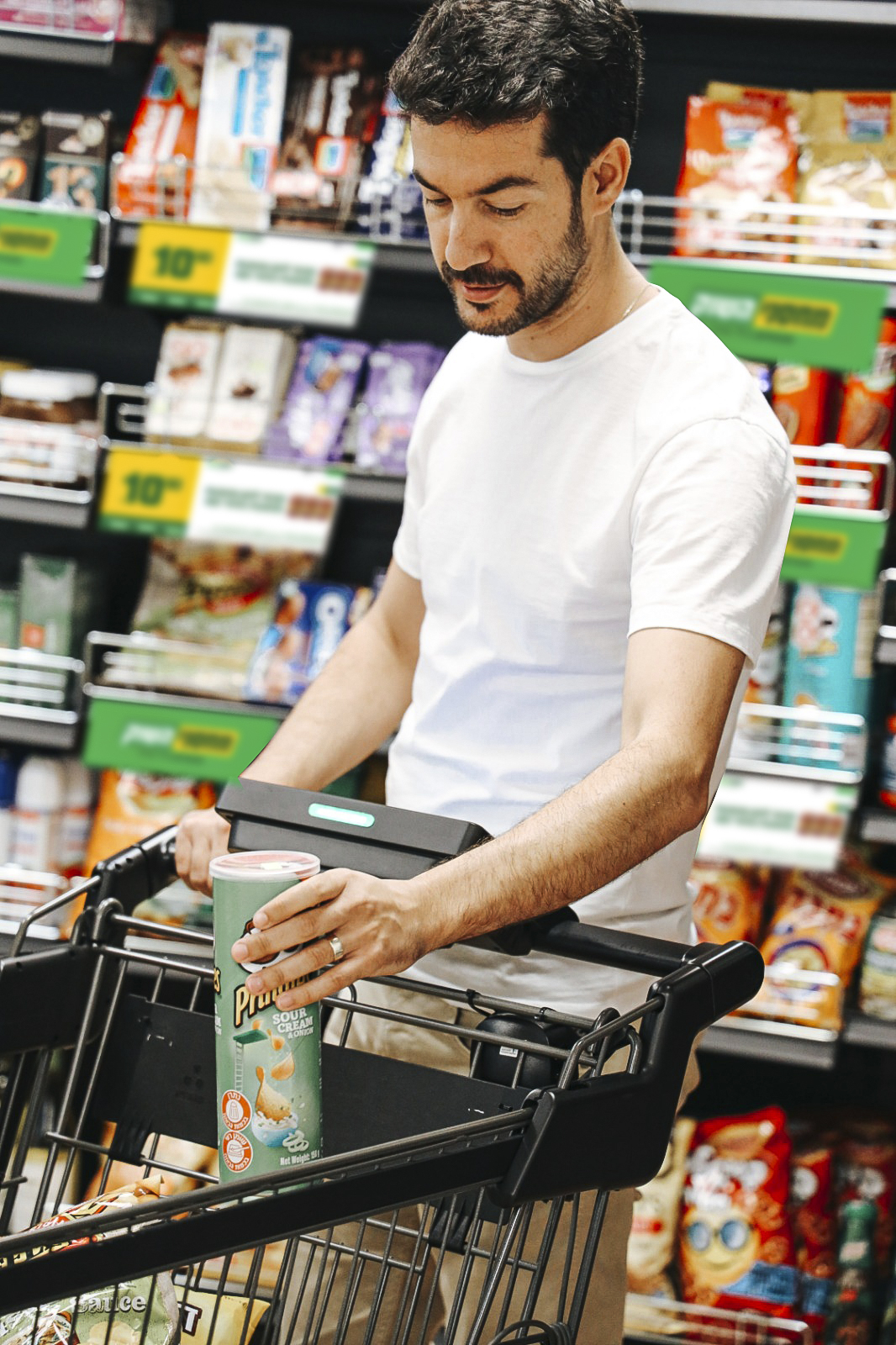 WalkOut's edge computing and machine-vision algorithms also curtail the need for costly on-cloud servers and high-bandwidth internet support. This use of single-sensor architecture and edge-computing allows retail stores to operate a much more robust and cost-effective solution. Through a large touchscreen, the device also communicates with the customer to offer personalized recommendations, store navigation, supplementary product information, and relevant promotions based on the shopper's history and location in the store.
"Connecting to one of the largest retail chains in Israel is an exciting opportunity and an important milestone for us," says Assaf Gedalia, CEO and Co-Founder of WalkOut. "The solution is futuristic, personalized, and at the same time preserves the customer's privacy. "
"As a chain that advocates innovative technologies, we wanted to offer our customers significant savings in waiting times at the checkouts and provide a more personal, accessible and efficient shopping experience," said Shalom Naaman, CEO and Owner of Machsanei Hashuk. "The WalkOut solution will significantly shorten the length of stay in the branches, help maximize our operational efficiency, and allow us to offer one of the most advanced shopping experiences in the world."
About WalkOut
WalkOut, founded in 2018, has set itself the goal of changing the way consumers purchase products in physical stores by placing the checkout directly on the shopping cart. The company's solution is based on machine vision technology capable of identifying any item placed or removed from the cart and calculating it in the final payment. In this way, the cart eliminates the need for a checkout and reduces the duration of the payment process to a minimum. The WalkOut solution includes a large touch screen located on the cart and combines a personalized shopping experience with offers and promotions based on each consumer's preferences, complementary products and the location of the products in the store. The WalkOut system is modular and can be installed on existing carts in stores without the need for significant changes on the part of the store.
About Machsanei Hashuk
Machsanei Hashuk is a leading marketing chain owned and managed by the Naaman & Cohen families that was first established in 1996 in the city of Beer Sheva. The chain currently has 62 branches nationwide from Safed to Eilat. In 2019, the chain acquired Co-op, and in doing so became one of the largest leading marketing chains in Israel. Co-op branches have since been converted into "Machsanei Hashuk sheli". The chain operates an advanced and accessible online site, in addition to its branches. It also offers its own Wincard+ credit card, in cooperation with Max, which combines regular card rewards with the chain's own promotions. Machsanei Hashuk operates a strong and active customer club with more than 400,000 loyal customers.
The chain is the official sponsor of the football team "Hapoel Machsanei Hashuk Beer-Sheva."
For more information, visit https://www.mck.co.il/
Photo: Maya Legotin
Details

Written by

Silvia G. Golan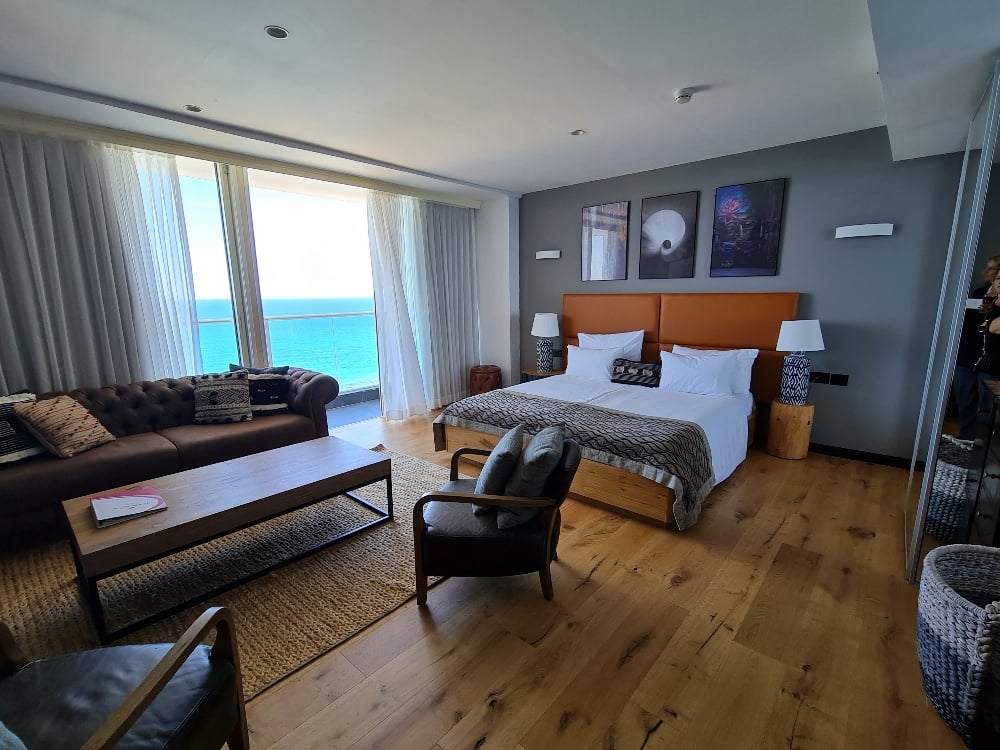 GREAT NEWS ISRAEL WELCOMES A NEW HOTEL CHAIN JACOB HOTELS
In the downtime when the country was quarantining during Covid-19, a new hotel chain appeared on
The Jacob Hotel Chain includes 5 unique hotels with a total of some 430 rooms covering more than 28,000 sq.m. (more than 300,000 square feet). Jacob Hotels are located in Jerusalem, Tel Aviv, Tiberias, Nahariya and Hadera. Each excels in its particularized character, and although differentiated from each other they nonetheless share certain traits, such as uncompromising standards, a warm, inviting aura, and top quality service. Each hotel is like a world of its own, each having a specific atmosphere which draws diverse types of guests. In this way, the chain offers a total experience to a wide range of people. Our focus on quality service, styling which pays attention to the finest of details, and the unique atmosphere of vacation felt in these hotels, delights and pampers our guests. Our hotel staff's courtesy assures guests that they will enjoy an unforgettable experience.
These hotels are privately owned by an Israeli businessman who decided to perpetuate and commemorate his late father's name by calling the hotel chain after him. The past few months have seen the hotels undergo wide scale upgrades and renovations to the tune of some NIS. 100 million! As the summer season opens, the Jacob Hotel Chain is ready to receive guests and provide outstanding service.
The Jacob Hotel Chain aims to set women in key and senior managerial roles. Some weeks ago the chain appointed Ms. Anat Shaul as CEO of the Ramada Hadera, and Ms. Tali Kadosh began her position as CEO of Sea Life Nahariya a week ago. Out of our 5 hotels, the CEOs of four are women. Overall, the chain's administration is 80% women.
The chain's employees are driven by their inherent love of people and their love of hosting. Jacob Hotels offer a warm and caring hosting experience that will make every guest feel wonderful.
Tali Pessach, representing the proprietors: "I'm excited to launch the Jacob Hotel Chain today. It's Israel's newest chain, numbering 5 hotels with a national spread earmarked for the Israeli public and its various preferences. Right now we're examining options for expanding the chain and look forward to Israelis filling our hotels, enjoying themselves, and appreciating quality that is true value for money."
The hotels:
Nahariya Sea Life Hotel
Sea Life Hotel is located on Israel's northern shore line. Every room overlooks the stunning Mediterranean sea, infusing the experience with the sense of being in a resort that presents the beachfront, open lawns facing the sea, an outdoor pool, and sun tanning and seating areas. The hotel's covered pool is open for use year round. Sea Life's spa is built around a unique concept with a natural salt room, the only one of its kind in Israel and imported specially from Romania. Salt rooms are known for their numerous health benefits. Sea Life Spa offers a range of body and facial treatments integrating minerals and salts which boost the health of your body and skin. Enjoy the Jacuzzi, the wet sauna and the dry sauna. With 64 rooms, choose from 40 overlooking the sea, or 24 stylized garden and terrace suites which give you a sense of privacy and comfort in a boutique structure. Conveniently located adjacent to tourist attractions and the recently renovated Nahariya pedestrian promenade, Nahariya Sea Life Hotel is also close to wonderful and highly popular treks and outings throughout the Galilee.
74 Haaliya Street, Nahariya. Details: *6367 | email | website
Hadera Ramada Resort Hotel
The Hadera Ramada Resort Hotel focuses on relaxation and leisure, spa options and luxury business solutions. It is located on one of Israel's most beautiful shorelines and is actually one of the few hotels in Israel that are almost on the beach. The hotel, fully renovated in the past few months at a cost of millions of shekels, bears the unique stylistic and elegant stamp of Emanuel Stern. Its touches of Mediterranean atmosphere are now ready to receive guests and provide you with a rich, well-appointed hosting experience as befits a premium hotel. Modern and accessorized, all 171 rooms face the sea with its stunning lagoon and picturesque vistas. The hotel's spa includes an outdoor pool, open in the summer and overlooking the sea, sun tanning lawns, the baths including the year round covered pool, Jacuzzi, Finnish sauna, wet sauna and gym. Near the hotel is the open air shopping area where you'll also find the first slide pool of its kind in Israel, an ice rink, children's games and amenities, and more. A few minutes' drive away you'll find the Alexander.
2 Rehavam Zevi Street, Hadera. Details: *6367 | email | website
Tel Aviv Shenkin Hotel
This boutique hotel is right in the throbbing heart of the world famous White City in one of the swankiest, hippest and mythological Tel Aviv neighborhoods. The hotel is literally surrounded by dozens of bars, restaurants and eateries of countless cuisines, and curiosity arousing boutiques and shops. The hotel's contemporary styling and superb chic integrate classic Israeli design with meticulous attention invested in every detail and object, all of which are carefully chosen to create a calm restful atmosphere which envelopes guests in a sense of endless tranquility. The patio, together with the hotel's delightful lobby café offering snacks on the house, makes these spaces inviting and relaxing. The hotel's 30 rooms present stylization with close attention to the finest details. Tel Aviv Shenkin also offers two spa areas for guests wanting relaxing treatments. Spacious and overlooking Tel Aviv's urban vistas, the hotel's rooftop is where you'll find sun tanning beds, seating areas, a Jacuzzi, and refreshing shower.
Tel Aviv Shenkin won the TripAdvisor's Travelers' Choice Award for its outstanding hosting to each and every guest.
21 Brenner Street, Tel Aviv. Details: *6367 | email | website
Jerusalem Bat Sheva
Bat Sheva Boutique Hotel is in Jerusalem's heart, and adjacent to all the leading sites, attractions and historic locations of importance, from the Great Synagogue to the Western Wall, the Mamilla Complex and the Mahane Yehuda Market, and everything else that makes up the vibrant holy city. Bat Sheva Hotel is a truly old-new encapsulation, simultaneously ancient and modern, a mosaic of tastes and aromas. The hotel's 79 rooms face the city of Jerusalem's historic views: the golden dome, the western wall, the city rooftops with their quirky and wonderful shapes. The hotel's stylistic concept is founded on capturing and freezing a moment in time in a city where its rich past become an evident and dominant motif, turning it into a contemporary Jerusalem language. The rooms are designed to convey nostalgia, warmth, and memories of times gone by, or as Dana Oberson, the project's architect, noted, "The hotel is the story of the bridging of eras, of a journey through time." The hotel's kitchen is ably managed by Chef Moshe Asoulin. You'll find unique breakfasts and brunches based on locally available food of the freshest and highest quality and offering you Jerusalem's unique flavors and scents. The hotel has an outfitted gym, a luxurious business lounge, conference and events hall for up to 80 people, and a stunning rooftop overlooking Jerusalem's amazing skyline where you can also rest in the pleasant seating area and enchanting atmosphere.
42 King George Street, Jerusalem. Details: *6367 | email | website
Tiberius Jacob Hotel
The Tiberius Jacob Hotel is situated in a historic Ottoman building in the city center. The hotel blends old and new, classic and contemporary. Yehuda Gedalyahu outfitted the hotel with European elegance seamlessly merged with the typically Ottoman architecture. The hotel's refined styling infuses a sense of otherworldliness and prestige. This hotel slips a modern twist into the historic city of Tiberius, an ancient location which makes up part of the most important holy sites for several religions. Tiberius Jacob Hotel overlooks the Sea of Galilee, its 78 spacious and comfortable rooms having been outfitted for the modern tourist. Of those, 18 rooms come with balconies overlooking the city of Tiberius. Rooms are air conditioned, outfitted with 32" TVs, everything you need to make yourself a hot drink whenever you feel like it, a work table and safe, minibar fridge, and bathroom with hair dryer and washing amenities suited to the lone traveler, couples or touring families. In the heart of the city and close to restaurants and numerous tourist attractions, the hotel is just a 10 minute walk from the Tiberius promenade and 15 minutes from the Sea of Galilee shores.
2 Ohel Yakov Street, Tiberius. Details: *6367 | email | website
Photo Silvia Golan
Details

Written by

Silvia G. Golan
i4Valley, The first and only entrepreneurship incubator in Israel for entrepreneurs living and breathing the fourth industrial revolution (i4.0) marked its first year founding
in Karmiel – with the participation of high-tech, industry and government executives.
i4Valley was established in Karmiel, with the aim of developing the high-tech industry in the Galilee and the State of Israel. The incubator serves as the first technological investment center of its kind in Israel for this industry
The Israeli government has identified the enormous economic potential of Industry 4.0, which is expected to add $ 25 billion to the state over the next five years
Industry 4.0 is a term that represents an organizational concept for managing factories and industrial processes in a smart and modern way while integrating technologies such as: the Internet of Things, real-time information analysis, Robotics, Artificial Intelligence and cyber protection.
The conference was attended by: Mayor of Karmiel, Moshe Koninsky, Prof. Arie Maharshak, President of the ORT Braude College of Engineering, Karina Rubinstein – Director of Business Development at Israel Innovation Authority,
Erel Margalit, Founder & Executive Chairman JVP and Margalit Startup City, Zuri Dabush , Chairman of Klil Industries, Sivan Yechieli, CEO of i4valley, Zvika Weinstock, CTO of i4valley and other senior executives from the industry.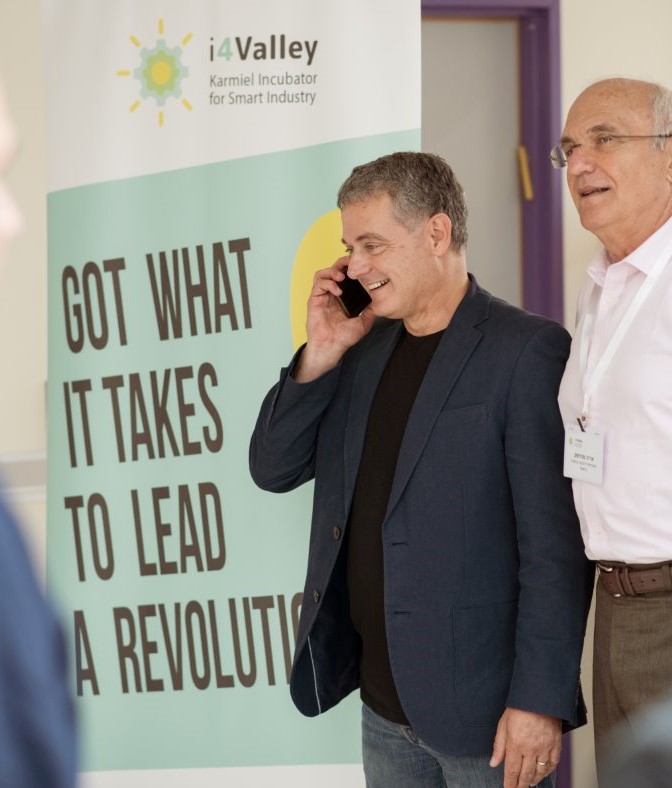 The technology incubator invests in early-stage start-up companies (Pre Seed and Seed, which are selected after careful sorting. The goal is to reach 6 to 8 companies a year in the areas of: cyber protection, AI, Cleantech, Virtual Reality, Robotics and more
I4valley CEO Sivan Yechieli said at the conference: "The technology incubator, which is the first technological investment center of its kind in Israel of Industry 4.0, creates great value for the Galilee and industry in the State of Israel. It is leading to an increase in the number of high-tech companies and leveraging innovation, entrepreneurship and human capital in the field"
Photos Courtesy: Michael Tomarkin.
From right to left: Mayor of Karmiel, Moshe Koninsky, Erel Margalit, Founder & Executive Chairman JVP and Margalit Startup City, Zuri Dabush, Chairman of Klil Industries and Sivan Yechieli, CEO of i4valley. (125)
Sivan Yechieli, CEO of i4valley with Prof. Arie Maharshak, President of the ORT Braude College of Engineering (32).
Details

Written by

Silvia Golan & Steven Aiello
Israeli Wissmann Holdings receives Outstanding Leader Award at the 2021 International Furniture Leadership Awards
The sustained excellence and clear vision of Wissmann Holdings, a furniture company founded by immigrants before the state of Israel had even been founded, was recognized recently when President Arie Wissmann received the Outstanding Leader award at the 2021 International Furniture Leadership Awards. This award, the latest in a long line of achievements for the Wissman family, shines a spotlight on a unique Israeli success story.
Ninety years ago, artisan Leo Wissmann, and his wife Yehudit, emigrated from pre-World War II Germany. Founding a furniture business in Jerusalem, they gradually built a reputation for quality craftsmanship. None other than Israel's first prime minister, David Ben Gurion, turned to the Wissmans to furnish his home, as did many of Israel's early ministers. Their handiwork was also used in many famous buildings around Israel, including the President's Residence, Hebrew University, Mormon University, Israel Museum, Hadassah and Shaare Zedek hospitals and the King David, Hilton and Four Seasons hotels. Internationally they carried out projects in Egypt, Iran, Mauritius and Africa.
Ensuring that their business would continue as a family affair, sons Arie and Nachum studied furniture and interior design before assuming leadership positions in the company. Today they are the Chair of the Board, and President, respectively. The company has grown to employ over 150 workers, with its US $10 million 7,700 square meter industrial center at Bar-Lev Park in Western Galilee.
The company goals include a target to have Wissmann furniture in every home in Israel, along with broadening their international impact. They provide a wide range of products, including imports from 16 countries, geared towards 35-65 years old customers living all over Israel, as well as abroad.
In addition to their longevity, growth, and local impact, the most recent award highlights the long-standing achievements of the Wissman furniture company on an international scale. In addition to the quality of their products, the family business turned industry leader prides itself on its customer service and attention to detail.
Chairman Arie Wissmann noted that over the years there have been many challenges, but that "our golden path was always, first of all, professionalism. There was no middle path for us. Success was achieved according to the rules. Honesty and fairness towards our employees and suppliers, who are partners on the road to success." The company further promotes social cohesion by employing both Arabs and Jews who work in harmony together.
Previous awards include the "Jerusalem Honored Citizen Award" awarded to Leo Wissman in 1976. Leo and both of his sons have all received the "Medal of Honor of Israeli Industry" - Leo in 1982, and his sons over three decades later, in 2013, in a rare instance in which both father and offspring were bestowed the award. Now there is one more award to add, a well-deserved honor.
Shomrat.Hazorea Facebook שמרת הזורע
Instagram shomrat_hazorea
Photo Carmit Boaz / Shomrat.Hazorea