Art & Culture
Details

Written by

Silvia G. Golan

.The Bible Lands Museum Is Open Again to the Public, with Special Exhibitions, Guided Tours and Exciting Lectures!
Visits and tickets for the museum activities are available by advance registration only, and in accordance with the "purple tag" guidelines.
For more information visit the museum website: www.blmj.org or contact us by phone: 02-5611066
Opening hours: Sun-Tue 9:30-17:00 | Wed 9:30-20:00 | Thu-Sat Closed
Bible Lands Museum, Shmuel Stephen Wise Str. 21, Jerusalem. Free parking is available in the museum's parking lot.
Following the new directives by the Government of Israel for reopening cultural institutions, starting on Tuesday, February 23rd 2021, and until further notice, the museum will reopen for visits within a set time frame and with advance registration. Additionally, guided tours in the museum will be offered without additional charge to the museum entrance fee.
Free entrance for children on Wednesdays – starting from 15:30pm.
This is an opportunity to visit our special exhibition, "Yemen: From Sheba to Jerusalem," that had opened only shortly before the coronavirus outbreak, and enjoy an enchanting visit to one of the most remote Bible lands. The exhibition presents the culture of ancient South Arabia (Yemen) – the source of the precious resins of frankincense and myrrh that reached the Land of Israel and the neighboring lands via the famous incense route. The rich and fascinating culture of Ancient South Arabia gave rise to the biblical story about the Queen of Sheba.
Guided tours in the museum and the exhibition will be held on the following days and times, in Hebrew and available by pre-registration only: Sun-Wed: 11:00, another tour by Wed: 17:00.
Guided tours for private groups or in additional languages can be arranged by pre-registration: 02-5955305
Museum visits without a guided tour are available on: Sun-Wed 9:30-11:00, 11:00-12:30, 12:30-14:00, 14:00-15:30, 15:30-17:00; Wed: 17:00-18:30, 18:30-20:00
Our Wednesday lecture series continues with a variety of fascinating talks on topics of archaeology, history, anthropology and the Bible, by leading museum professionals and renown scholars. Each lecture lasts about an hour and is held on Zoom. Free.
When: Wednesdays at 18:00
For details and registration: https://bit.ly/2EUiSza
* All programs are subject to change; updates will be available on our website and Facebook page.
A visit at the museum is limited to a specific time frame, in accordance with the Purple Tag guidelines: wearing a mask, having your temperature measured at the entrance, and social distancing.
Details

Written by

Tel Aviv-Yafo Muni
Tel Aviv-Yafo Municipality: Runners worldwide warm up for the Tel Aviv Samsung Marathon 2021
More than 20,000 participants from over 30 countries expected to join digital Tel Aviv Marathon * International challenge offers flights, entry to 2022 race *
More than 20,000 runners from over 30 countries are heading into the final straight of their preparations for the Tel Aviv Samsung Marathon 2021, which will commence February 19 in a digital format across the world.
Overcoming the challenges of the COVID-19 pandemic, the marathon will break down borders and virtually bring together running enthusiasts in countries including Israel, the United States, United Kingdom, Russia, Brazil and Italy.
The slogan "All Running Together Separately" is at the heart of the event, inviting all runners – amateurs and professionals alike – to excel and join thousands of other participants across the world at the same time, each one following a local course designed especially for him or her by a dedicated smartphone app.
The event, an initiative of Tel Aviv-Yafo Municipality and produced by Kapaim, will include the following distances: Marathon (42.195 km.), half-marathon (21.1 km.), 10 km. and 5 km. Participants can run their chosen distance from February 19 at 6 a.m. (IST) to February 25 at 9 p.m. (IST).
Runners across the world are also encouraged to join the Tel Aviv Samsung Marathon 2021 challenge – Feet Abroad, Heart In Tel Aviv – to stand a chance of winning free flights sponsored by the Israel Ministry of Tourism and entry to the Tel Aviv Marathon 2022.
Ron Huldai, Mayor of Tel Aviv-Yafo: "If we needed proof that this city, Tel Aviv-Yafo, is the nonstop city, then the marathon is the best evidence. Even during this incredibly challenging year, when the reality of our lives changed entirely, we are not giving up on this much-loved event. Tel Aviv-Yafo is one of the first cities in the world to hold a digital marathon, befitting the city that is the Start-Up City of the Start-Up Nation. I wish all the runners joining us from New York to Dubai, from Moscow to London, and from Mexico City to Madrid, good luck and, above all, stay healthy."
Ronen Salem, VP Marketing, Samsung Israel: "Samsung Israel is proud to lead the largest sports event in the country for an eighth time, especially during this complex year. Holding the marathon this year, in a digital and innovative format, symbolizes more than anything our victory as a society and community over the limitations of the current period. This year, all the participants will run alone, but as together as possible, using an innovative app which enables each runner to reach the limit of their abilities and win. Good luck and health to all participants."
Prior to race week, runners will receive a link to download a smartphone race app and participation instructions. The app will design a localized running route, broadcast a start line ceremony, offer interactive monitoring of race times, provide encouraging messages and playlists, and enable viewing and sharing of photos captured along race routes. The app will also design a personalized certificate upon finishing the race.
Full race kits have been sent to participants worldwide, including a drawstring bag, an official marathon running shirt, a personal runner number, a medal, a "finisher" sticker and various gifts.
Looking ahead to the Tel Aviv 2022 marathon, Tel Aviv Global & Tourism has launched this year's marathon challenge – Feet Abroad, Heart In Tel Aviv. To win free flight tickets sponsored by the Israel Ministry of Tourism and entry to next year's marathon, participants simply need to order the official marathon runner's kit, wear their marathon shirt and send us a video or picture as they sprint through their hometown on race day.
An international team of prominent running and fitness influencers will also run in the marathon, bringing the event to a large audience across social media. Leading influencers include Milind Usha Soman (India), Tatiana Serur (Mexico), Courtney Pruce (UK) and Elizabeth Savetsky (USA).
Tel Aviv-Yafo is excited to welcome runners back to the city for the 2022 marathon. The race, recognized as one of the world's top winter sporting events due to the city's warm year-long climate, sees participants enjoy a stunning 42 km. route winding its way through the beating heart of the city, running through Sarona, Rabin Square, Old Jaffa and alongside the white sandy beaches of the Mediterranean Sea.
Registration is open until 13.2.21: https://www.tlvmarathon.co.il/MenuDefault_en.aspx?Id=6770
Details

Written by

Silvia
."From Victory Avenue to Hollywood" - Dov Hoenig at Romanian Café online series
The Romanian Cultural Institute in Tel Aviv is honored to invite you to a new edition of Romanian Cafe online series, which will take place online on January 19, 2021, at 17:00, in Hebrew, with live streaming on our official Facebook page: https://www.facebook.com/icr.telaviv/
The event will be dedicated to the book launch of the Hebrew translation of the novel "Rue du Triomphe" by Dov Hoenig, renowned international film editor, director and writer. The book was published in Israel by Yedioth Books in December 2020.
The guests of the event, moderated by Martin Salamon – director of the Romanian Cultural Institute in Tel Aviv, will be the author of the novel, Doe Hoenig, together with Keren Neizer-Cohen, literary critic, translator and lecturer.
Inspired by his own childhood and adolescence in Romania, "Rue du Triomphe" is the first novel by Dov Hoenig, who, during his internationally acclaimed career as film editor and director, has worked with some of the most talented cinema professionals, such as Michael Mann and Andrew Davies.
The novel "Rue du Triomphe" was written and first published in French in 2018 byEditions Robert Laffont in Paris and was candidate for the prestigious Stanislas award (Prix Stanislas) for the best debut novel.
In "Rue du Triomphe", Dov Hoenig paints with a brush of an artist Bernard's world in Bucharest, his youth, aroused sexuality, his first love, his ambitions and despairs, and his parents' experiences in Fălticeni, a province town in north eastern Romania, in the turmoil years of WWI, into an original and captivating novel that presents humanity in all its facades with generosity, softness and humor.
Dov Hoenig has made Aliya to Eretz Israel as part of the Ha'Shomer Hatzair youth movement. Following several years in a kibbutz working in agriculture, he was drawn to the young Israeli cinema industry and has become a film editor, editing over 40 films, including
Israeli classics, such as "Cazablan" and "Operation Thunderbolt" ("Entebbe") by Menahem Golan, and "I love you Rosa", and "The House on Chelouchet Street" by Moshe Mizrahi. Hoenig later moved to Hollywood where he edited Michael Mann's films "Thief", "Man Hunter", "The Last of the Mohicans" and "Heat", as well as Andrew Davies' film "The Fugitive" – and became the first ever Israeli candidate to an Oscar award for editing "The Fugitive".
At present, Hoenig is entirely dedicated to writing.
https://www.facebook.com/icr.telaviv
https://twitter.com/ICRBucuresti
https://www.youtube.com/user/ICRpromo
Institutul Cultural Român de la Tel Aviv
B-dul Shaul Hamelech nr. 8, 64733
Tel Aviv, Israel
Tel.: +972-3-696 17 46,
+972-3-691 12 05
Fax: +972-3-691 12 04
E-mail: This email address is being protected from spambots. You need JavaScript enabled to view it.
Details

Written by

Pamela Hickman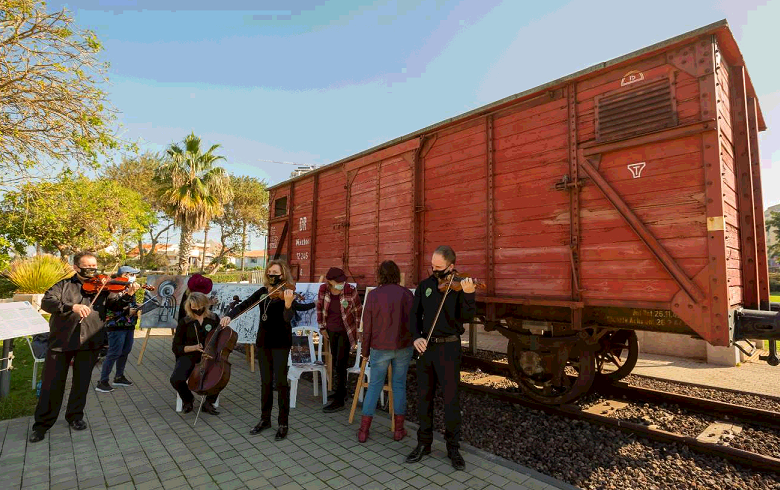 International Holocaust Remembrance Day 2021 commemorated in a unique way by the Israel Netanya Kibbutz Orchestra
On January 27th 1945, Auschwitz-Birkenau, the largest Nazi concentration- and death camp, was liberated by the Red Army. Today, International Holocaust Remembrance Day, marking the tragedy of the Holocaust in the Second World War, resulting in the deaths of 6 million Jews and 11 million others at the hands of the Nazi regime and its collaborators, takes place annually on January 27th. In light of restrictions imposed on concert performance in Israel due to the current Covid-19 pandemic, the Israel Netanya Kibbutz Orchestra presented a unique and meaningful event to commemorate International Holocaust Remembrance Day, 2021. One of the people behind the program, entrepreneur and site preservation expert Roni Dotan, spoke of the decision to carry out this year's commemorative event in a very different manner - to perform a few representative works in an authentic German railway carriage built in Germany at the beginning of the 20th century and used by the Nazis to transport Jews to the extermination camps.
The cattle carriage was brought to Netanya in January 2014. The car, known as "munchen12-246" was found in 2013 by Roni Dotan and Tatiana Ruge, Ms. Ruge specializing in commemoration of the Holocaust. It now stands in the precincts of Beit Yad Lebanim, Netanya. Roni Dotan explains: "While researching my family history, I visited a museum in Berlin, where they provided me with documents about family members I had no idea had perished in the Holocaust. Working with Tatiana Ruge, we found all of the material documenting how they had met their untimely and heinous deaths. It was then that I decided that, from this point on, my work would revolve around the spiritual satisfaction from this discovery. Thanks to Netanya Mayor Feirberg-Ikar, non-profit organizations and good people such as the Friedman family, who all rallied to support this project, we were able to bring the car to Netanya…"
The 2021 memorial concert was performed by four members of the NKO - concertmaster Gilad Hildesheim-violin, Svetlana Kaminsky-violin, Pavel Levin-viola and Irena Sokolov-'cello. Works played included the theme song composed by John Williams for "Schindler's List", two Yiddish songs arranged by Pavel Levin and "Hatikvah" (the Israeli national anthem). Some eighty years ago, the sounds emanating from this carriage would have been those of pain and despair. Here, hearing these fine instrumentalists in playing that was inspired and thought-provoking, poetic and moving, provides the listener with the opportunity to remember and think back to those people deported to the camps in such carriages.
Roni Dotan reminds us that music was played in the camps as prisoners left for a day's hard labour and as they returned. Today this music is played in memory of those who perished in the Holocaust and in honour of those who survived. The film also shows a number of Netanya artists busy at their easels outside the carriage, drawing inspiration for their painting from the music played by the quartet inside the carriage.
NKO CEO Hila Dagan adds that it is the moral human duty of all of us to pay tribute to the memory of the millions of victims who perished in the Holocaust and to honour those who survived.
Photographs: Nurit Mozes
http://pamelahickmansblog.blogspot.com
http://pamelahickmansmusicinterviews.blogspot.com
...
Details

Written by

Silvia G Golan
.Historic event: The first Holocaust Museum to be inaugurated in Oporto, Portugal.
On January 20th the new Holocaust Museum (presentation here: https://youtu.be/eg2mio5GbAA) will start with a sentimental ceremony, opened by Dias Ben-Zion, President of the Jewish Community of Oporto, and by Rui Moreira, Oporto's Mayor.
It will be attended by the ambassadors of the countries that participated in the Second World War and Israel, Karel Fracapane (UNESCO Focal Point for Holocaust Education), Ambassador Luíz Barreiros (Head of the Portuguese delegation to the IHRA – International Holocaust Remembrance Alliance), Marta Santos País, commissioner of the Projeto Nunca Esquecer - Programa Nacional em torno da Memória do Holocausto (Never Forget Project – National Programme for Remembrance of the Holocaust), the Bishop of Oporto and the President of the Muslim community of this city. The Government will be represented by the Secretary of State for Culture.
The Oporto Holocaust Museum was created by the Jewish Community of Oporto and portrays Jewish life before the Holocaust, Nazism, Nazi expansion in Europe, the Ghettos, refugees, concentration, labor and extermination camps, the Final Solution, the Death Marches, Liberation, the Jewish population in the post-war period, the Foundation of the State of Israel, Winning or dying of hunger, The Righteous among Nations.
On 27 January 27th, to celebrate the International Day in Memory of Holocaust Victims, the Museum will be visited by a large number of students from schools in the region of Porto.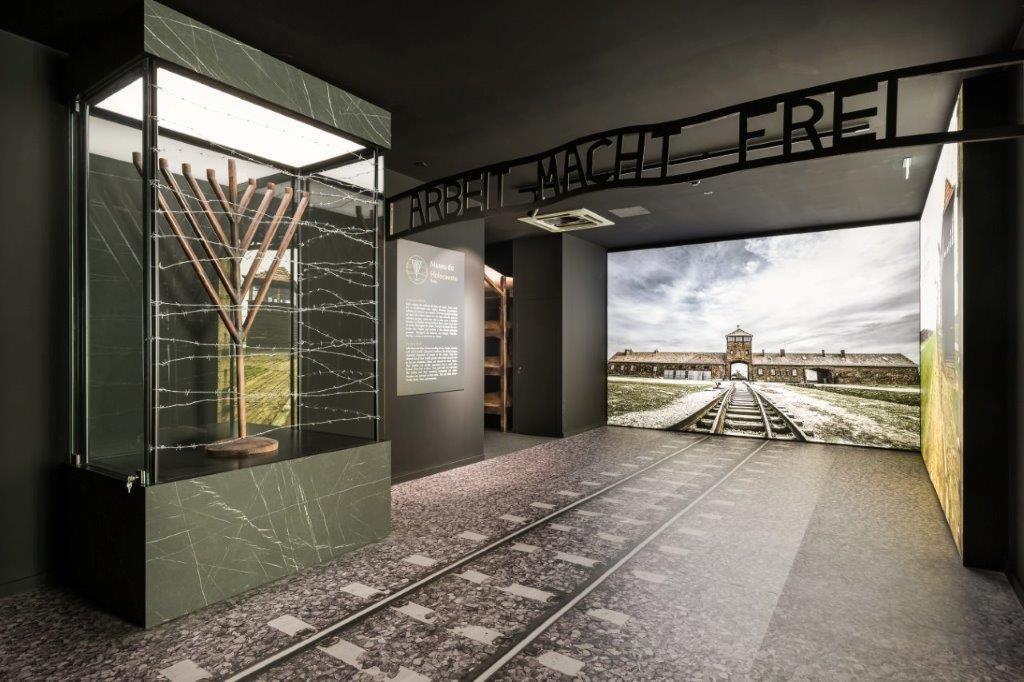 Under the auspices of members of the Oporto Jewish community whose parents, grandparents, and relatives were victims of the Holocaust, the Oporto Holocaust Museum will develop cooperation partnerships with Holocaust museums in Moscow, Hong Kong, the United States, and Europe, contributing to a memory that cannot be erased.
https://www.youtube.com/watch?v=eg2mio5GbAA&feature=youtu.be
Photos Courtesy:
the Jewish Community of Oporto