Visits
Details

Written by

Prime Minister's Office and the Health Ministry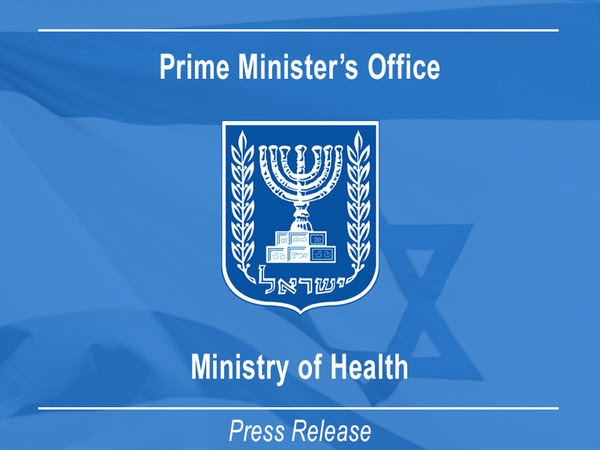 Pursuant to its meeting last Thursday, the Corona Cabinet yesterday afternoon (Friday, 30 October 2020), before the start of Shabbat, in a conference call, approved the detailed regulations as submitted by the Health Ministry:
* It will be possible to hold training and competitions for competitive athletes, children and youth, and in swimming and motor sports, for adults as well.
* It will be possible to hold driving lessons subject to the instructions for traveling in a private vehicle – a driver and up to two passengers in the vehicle.
* It will be possible operate social affairs institutions and additional social services enumerated in article 11b of the law, that are not solely for essential social care. This amendment will, inter alia, allow the operation of services in the context of 'day centers and senior citizens clubs' and services to counteract loneliness designated for senior citizens including those who are not in social service frameworks operated by local councils, as well as libraries for the blind.
* It shall be permitted to operate a venue for training or competition for professional and competitive athletes.
* In addition to the operation of nature reserves and national parks, it shall also be permitted to operate open spaces at heritage sites and antiquities sites.
* B&B's: It shall be possible to operate a lodgings compound with up to four completely separate guest units, with each unit serving people who live together only. Operating a lodgings compound in a manner that contravenes these conditions constitutes an offense the fine for which will be NIS 5,000.
* It will be possible to operate places for providing non-medical treatment to the human body such as barbershops/hair salons, beauty treatments and cosmetics, as well as complementary medical care, subject to the conditions determined in the regulations, including the requirement of advance coordination. Included herein are treatments such as riding therapy, mental or emotional therapies and use of therapeutic pools.
* Areas for screening drive-in films may be operated.
* Prayers: Up to 10 people shall be allowed in structures and up to 20 people in open areas. It should be emphasized that the foregoing means prayers only. Prayers in a house of worship by more people than is permitted constitutes a criminal offense (the fine for which is NIS 500 for each person present).
* Events such as weddings, parties, organized trips or ceremonies may be held with up to 10 participants in structures or 20 participants outside.
* Organizing or participating in events such as sporting events, conferences, festivals or entertainment and arts shows are prohibited.
* Persons operating public, commercial and private venues are prohibited from holding forbidden events; people providing services (such as photography, catering, music, lighting and infrastructures) shall likewise be barred from providing services for a forbidden event or an event in which the number of participants shall exceed that which is permitted. Violating this directive is subject to a fine of NIS 5,000.
* Persons operating public or commercial venues, the entry to which is to be coordinated or is by advance invitation shall be obligated to keep information in order to deliver it if necessary in order to carry out an epidemiological test (such as places for providing non-medical or complementary medical treatments on the human body).
These regulations shall be valid until 14 November 2020.
These regulations shall take effect at 06:00 tomorrow (Sunday, 1 November 2020). The regulation regarding limits on events and possible criminal offenses shall take effect at 14:00 tomorrow. The regulation regarding operation of a training venue for competitive or professional athletes shall take effect today (Saturday, 31 October 2020).
Details

Written by

Steven Aiello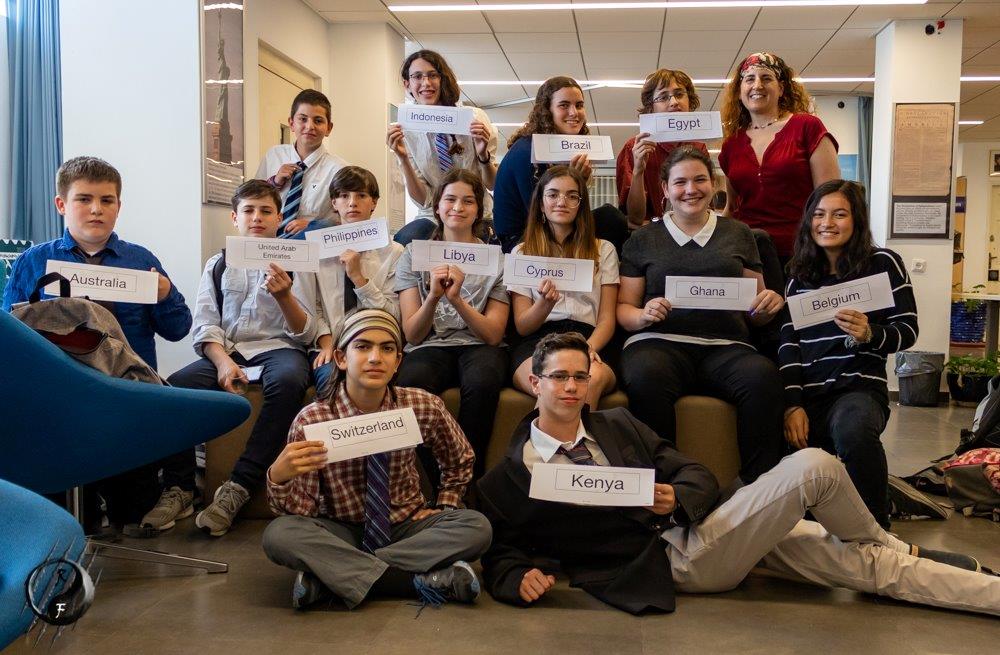 The final Model UN conference of the academic year was JEMMUN, hosted at the American Center Jerusalem on Tuesday, June 18th, with participation from 80 students from all over Israel. The conference was a joint effort of the US Embassy supported Debate for Peace program, and the Hand in Hand school, located in Jerusalem.
The conference theme was Education. Israeli and Palestinian students in grades 7 through 12 debated in separate committees designed for beginners and advanced delegates, while younger students participated in a separate committee held in Hebrew.
The majority of the students were participating in their first MUN conference and were filled with excitement and some nervousness leading up to the conference. Their chairs, Daniel, Hannah and Sindian in UNESCO, David and Nour in the UNGA English, and Gaia in the Hebrew UNGA, went to great lengths to make this a positive learning experience. Rivka Bronner (Hand in Hand school) said: "It was really fun. In the beginning, I was stressed but then I just started getting into it and I completely forgot about the stress and just had lots of fun."
For many students, this was not just their first MUN experience, but also their first time competing with a Jewish or Arab peer, or engaging in a full day conference held in English. Nadav Qvit (Assif Misgav Upper School) said that "the Jerusalem MUN was amazing. I had so much fun talking and negotiating with the other delegates. It was really fun and interesting to speak in English the whole day. It was an amazing experience and I am definitely going to do more of these." Lior Sattarov (Young Ambassadors school) shared that "It is not always possible to reach a compromise, but it is always possible to understand and to continue living in spite of the differences, in order for us to live in harmony and peace."
Through several hours of debate, the students came up with a number of creative ideas. After continuing to negotiate, they eventually voted on these ideas. While only some solutions survived to the final resolution, all provided inspiration that youth can solve difficult challenges: from using education to close gender and socio-economic gaps, to combating illegal animal trafficking.
At the closing ceremony, the director of the American Center Jerusalem, Lisa Wishman, welcomed the students and told them how impressed she was by their drive to succeed through educational experiences. She invited the students to return to the center to take advantage of more learning enrichment opportunities.
The chairs of each committee were then called up to summarize their committees and read out awards for top performances. In the UNESCO committee, Romeo Zaid (Ecuador), Melilah Sinclair (Iraq), and Segev Fistel (Kenya) received Outstanding Delegate awards, while Rivka Bronner (Costa Rica) received the Best Delegate award. In the UNGA English, Alon Mor (France), Issam Shihabi (Guatemala), and Michael Backlund (Saudi Arabia) were Outstanding Delegates, while Ariel Talmor (Belgium) was the Best Delegate. In the UNGA Hebrew committee, Maya Gerbi (Czech Republic), Yuval Barak (Japan), Eviatar Sayada (Kenya), and Rotem Getraide (USA) received Outstanding Delegate awards, while Lior Brill (China) was the Best Delegate.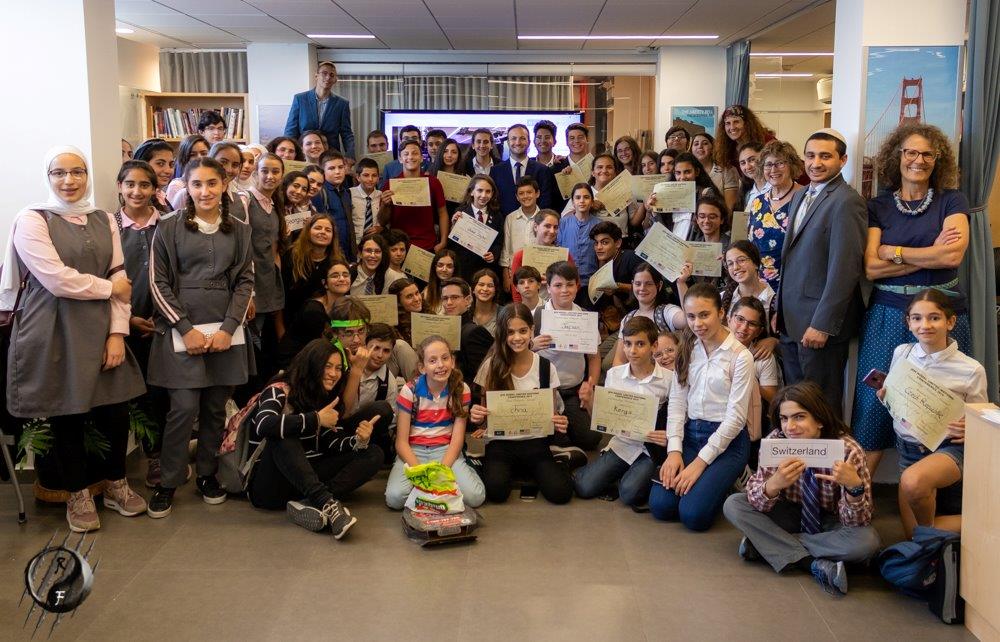 JEMMUN Director Elene Segal said "I was very worried about organizing our first MUN conference. However, thanks to my remarkable steering committee, Steven and Daniel, the conference was an enormous success. JemMun will become a tradition!" Nave Teller (Assif Misgav Upper School) added "I liked speaking in English all day. I also think that MUN is a great experience. For teens who think that they may want to become diplomats or work at the Embassy in the future, they need to attend a MUN conference!"
Diplomacy.co.il congratulates all of the participants and wishes them success in the upcoming MUN conferences. For more information visit Debateforpeace.org
Photos Hand in Hand school
Details

Written by

President's Spokesperson's Office
President Rivlin:
"I promise you: we will not, and we must not let the Code Red alarm become a routine. Red will remain the color of the wildflowers that grow in the area."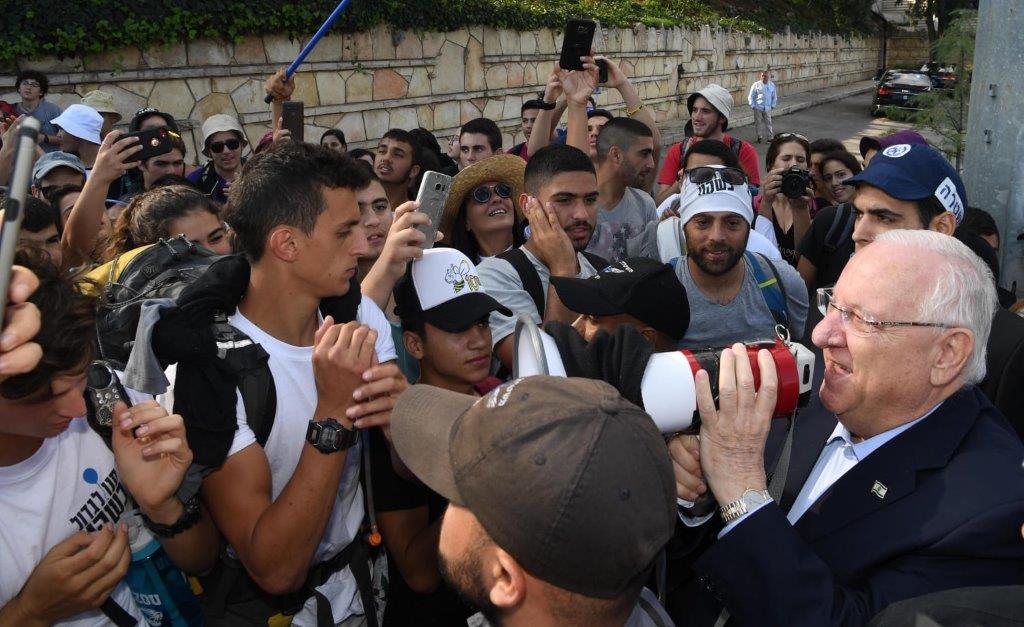 President Reuven (Ruvi) Rivlin today, 8 November / 30 Cheshvan, met the young people marching to Jerusalem from the area around Gaza as they entered the city today.
The President told the group: "I came to march with you on behalf of every citizen of Israel who is following you and is marching with you in spirit."
"Happy is the people whose young people march at its head, and happy are the parents who raised their children with such a feeling of national pride, of the love of the country, of such a meaningful connection to our wonderful country. You are not the young people of the area around Gaza, you are the young people that embrace the whole country. We hear your call and it breaks our hearts. I promise you: we will not, and we must not let the Code Red alarm become a routine. Red will remain the color of the wildflowers that grow in the area."
The president marched with the young people who continued from there towards the Knesset.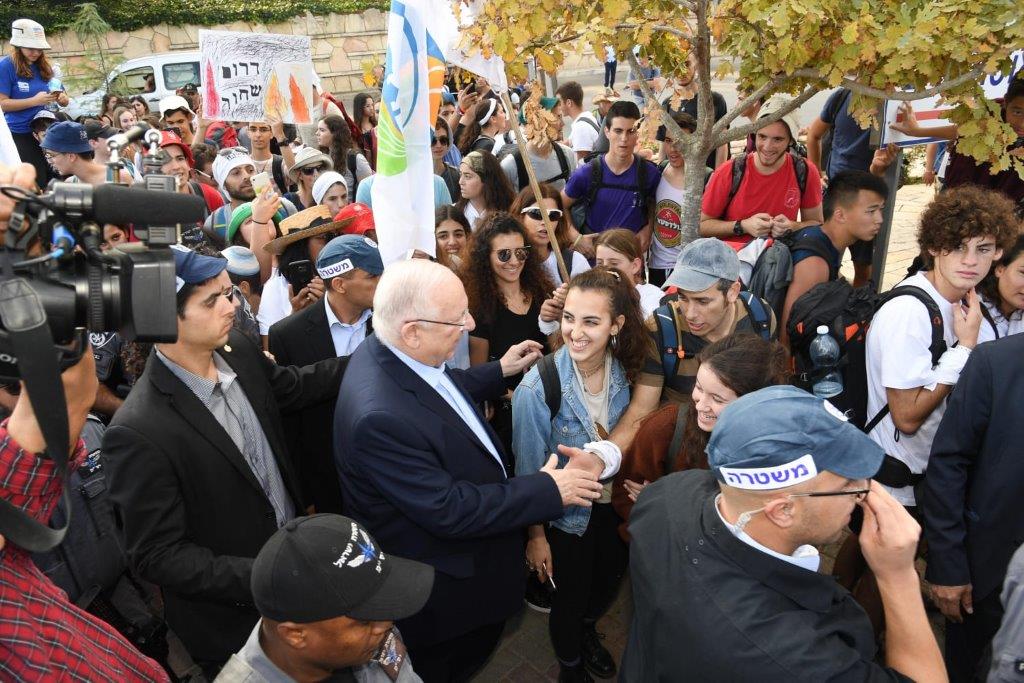 Photos by Haim Zach, GPO
Details

Written by

Silvia
Loss Affects Cost of Living: Increases Food Prices by 11%
An average family in Israel wastes $890 worth of food per year: equivalent to a month and a half of household food consumption expenditure
According to Report: Israeli households second most wasteful as compared to the EU-27 countries
Raanana, Israel – March 5, 2019: Leket Israel, in partnership with BDO, released its Fourth Annual Food Waste and Rescue Report. The report presents, for the first time in Israel, a detailed model for the estimation of food loss in the household consumption sector, its value and impact on households in Israel and how Israelis compare to other countries around the world.
The Food Waste and Rescue Report reveals that food loss in Israel this year amounts to 2.5 million tons (5.5 billion pounds) with a market value of NIS 19.7 billion (US $5.5 billion), 35% of all food produced. Almost half of this loss, 1.2 million tons (2.6 billion pounds), is rescuable and valued at NIS 7 billion (US $2 billion).
The findings of the Report show that the loss in household consumption in Israel amounts to approximately 880,000 tons (1,940 million pounds) of food, at a value of NIS 7.9 billion (US $2.2 billion). An average Israeli family throws out food worth NIS 3,200 (US $890) per year, equivalent to a month and a half of household food consumption expenditure. The majority of the wasted food are fruits and vegetables, with Israeli households wasting 23% as compared to the US at 28% and Europe at 19%.
The Report reveals the impact of food loss on the cost of living: the effects of loss at all stages of the value chain increases food prices by 11% and the loss of food impairs productivity in the economy due to production and labor loss.
To close the food insecurity gap in Israel, necessitates the rescue of 20% of food wasted worth approximately NIS 3 billion (US $834 million). Food rescue makes this possible at a cost of only NIS 830 million (US $230 million), 72% of the cost. This can be accomplished without even quantifying its environmental benefits.
According to Gidi Kroch, CEO of Leket Israel: "The Report brings to light that the average Israeli family is throwing away a month and a half's worth of food consumption every year at a value of NIS 3,200 (US $890). Instead of providing a targeted solution, such as fighting the prices of cottage cheese and dairy products, the State of Israel must recognize the many advantages of food rescue and formulate a national policy, set goals and prepare a budget. The national plan should cover the entire food value chain – from agriculture to retail and marketing to household consumption. In October 2018, the Knesset acknowledged the multiple benefits of food rescue and approved the law, "The Food Donation Act." It is the responsibility of the next government to formally adopt food rescue as the primary solution to eliminating food insecurity in Israel and to place this crisis as a central issue on its agenda – economic, social and environmental."
According to Chen Herzog, Chief Economist at BDO: "The cost of food loss, ultimately directly impacts the consumers' pockets and affects the cost of living in Israel, causing an 11% increase in food prices. In addition, food loss impairs productivity in the economy due to production and labor loss. Therefore, policy for food rescue and redistributing it to disadvantaged sectors of the population is an effective economic plan in Israel, where a large part of household expenditure is on food. Food rescue is a winning solution, which closes the food insecurity gap by a direct savings of NIS 2.2 billion (US $604 million). When quantifying the social and environmental benefits, it's a saving to the economy of more than NIS 4.5 billion (US $1.2 billion)."
For Full Report, Report Summary and Complete Media Kit: https://foodwastereport.leket.org/en/
About Leket Israel: In 2018, Leket Israel rescued 2.2 million cooked meals from IDF army bases, hotels catering companies, and restaurants and 15.5 thousand tons (51 million pounds) of agricultural produce worth NIS 150 million (US $41.5 million). All this rescued food was then redistributed to 175,000 needy people weekly through Leket Israel's network of 200 nonprofit agency partners throughout Israel. For more information, please visit www.leket.org/en.
Facebook לקט ישראל Leket Israel
https://www.instagram.com/leket_israel/
Details

Written by

President's Spokesperson's Office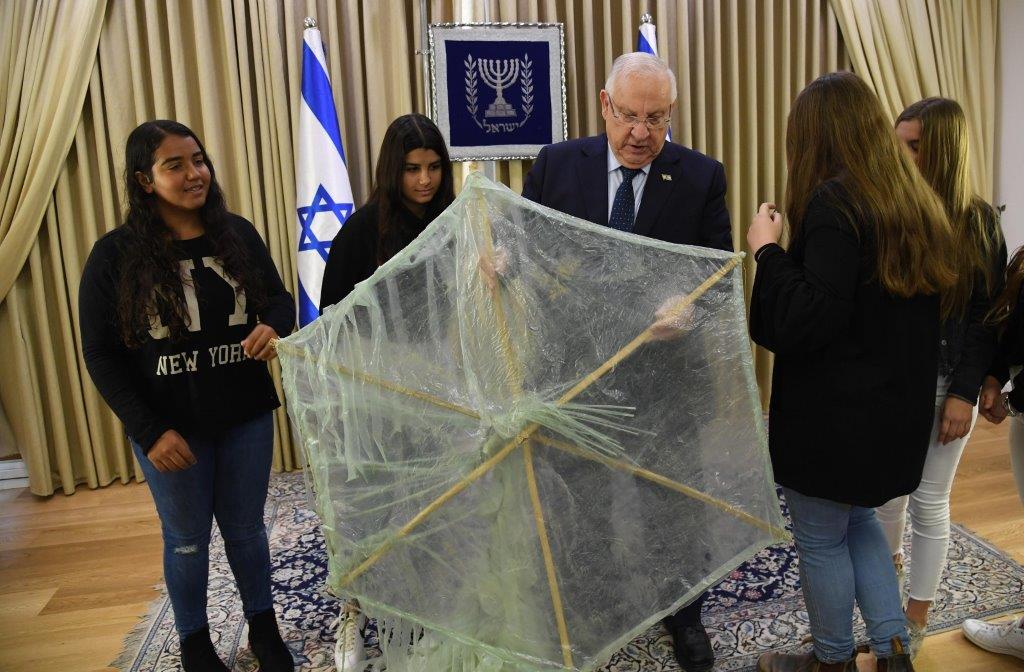 President Reuven (Ruvi) Rivlin today, Tuesday 6 November / 28 Cheshvan, met members of the Otef.gaza Instagram page who live in Israeli communities around the Gaza Strip, at the President's Residence. The page, which opened two weeks ago to give expression to their lives as residents of the area, already has 61,100 followers. The members who came to the President's Residence were May Caspi, Meshi Elmakays, Yam Yefet, Shani Peretz, Lee Cohen and Kim Ovitz who are administrators of the page. The girls were given a tour of the President's Residence by the visitors' center that recently opened to the public, and then met with the president for a conversation.
Meshi Elmakays from Kerem Shalom said, "we opened the page after we went on a hike, and we heard that big changes start with little steps. We thought we would have one hundred followers and that that would be amazing."
The president welcomed the girls to Jerusalem and said, "I am so happy to meet you, the wonderful girls of the Israeli communities around Gaza. You show the world what we have to deal with, and at the same time show that there is someone to take care of us and that we know how to stand tall. Every one of my grandchildren follows you constantly, and that's really great."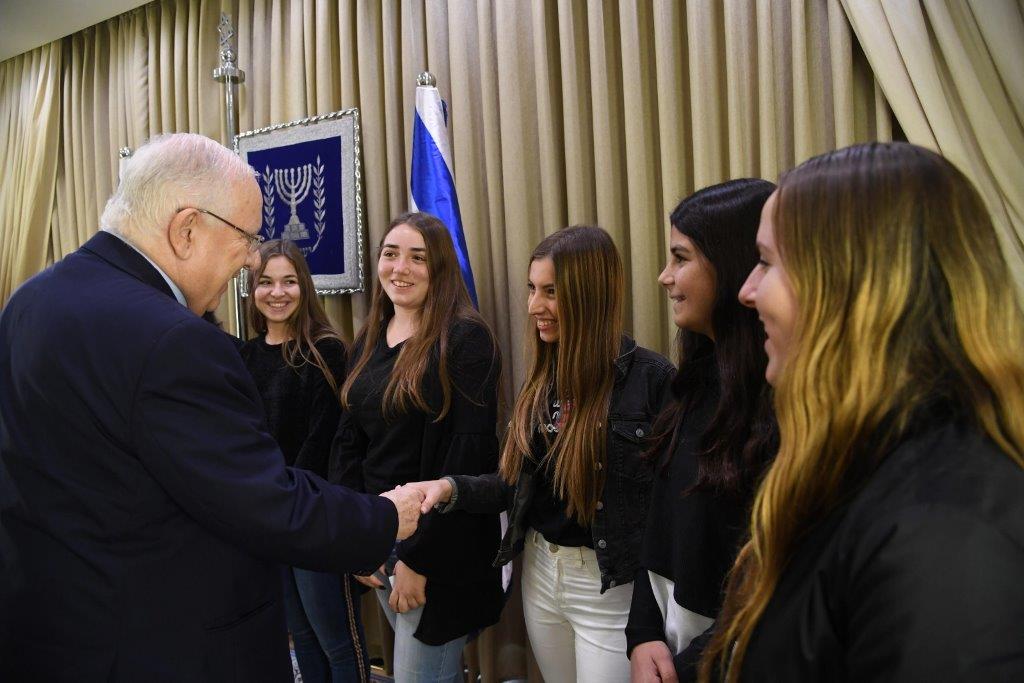 President told the girls about his childhood in Jerusalem, saying "I also grew up under fire. I was a kid when Jerusalem was under siege when the Etzion Bloc fell when Jordanian shells were fired on us and we asked why things like this were happening. At the same time, we understood that our big brothers and our parents were fighting and we knew that they would make sure that we would get to the situation where we could secure our independence."
"I understand that it is hard, very hard, to hear the Code Red alert," said the president, "and that it's very hard to know that you are going to school but don't know if the alarm will go off on the way there, or that a shell or a mortar will fall. I understand you and we are all with you in these difficulties and know that you are the ones who ensure that normal daily life can continue in Israel because of your resilience."
The girls brought one of the terror kites sent from Gaza to the Israeli communities in the area, and the president said, "these kites are supposed to be the dream of every child, playing with them in the breeze. Under Hamas, these toys have become weapons of war. I so hope that weapons go back to being toys soon."
Photo by Haim Zach, GPO