Visits
Details

Written by

Silvia G Golan
This August, a Debate for Peace delegation visited California for the first time. Sharehan Alwakily (Be'er Mashish), Amalia Cedar Kellner (Tel Aviv), Baraa Massalha (Daburiya), and Yafa Nassar (Arraba) spent a week meeting with interfaith activists, youth organizations, and community leaders, presenting their perspectives after a year of Debate for Peace activities and an intensive two-week interfaith experience at the Jerusalem Peacebuilders camp in Houston, Texas.
The four girls are some of the most active members of Debate for Peace. Following 12 days of teambuilding, interfaith and intercultural learning, and environmentalism studies with Christian, Jewish and Muslim peers, they flew to San Francisco to present Debate for Peace in the Bay Area for the first time. The visit to the Bay Area was facilitated by the JCRC-SF, and its Invest in Peace program.
On the first day, the group met with the Islamic Network Group (ING) for an in-depth discussion of the challenges that the Israeli-Palestinian conflict poses, and the role that youth can play in changing the paradigm. That evening they were hosted for dinner at Congregation Etz Chaim in Palo Alto, for an hour of discussion. Afterwards, they joined an interfaith text-based study.
After a day of tourism, the group toured the Alice 97.3 radio station,where they were interviewed and had lunch with talk show host Hooman Khalili. The group then attended an interfaith gathering held in their honor, where they introduced themselves and answered questions.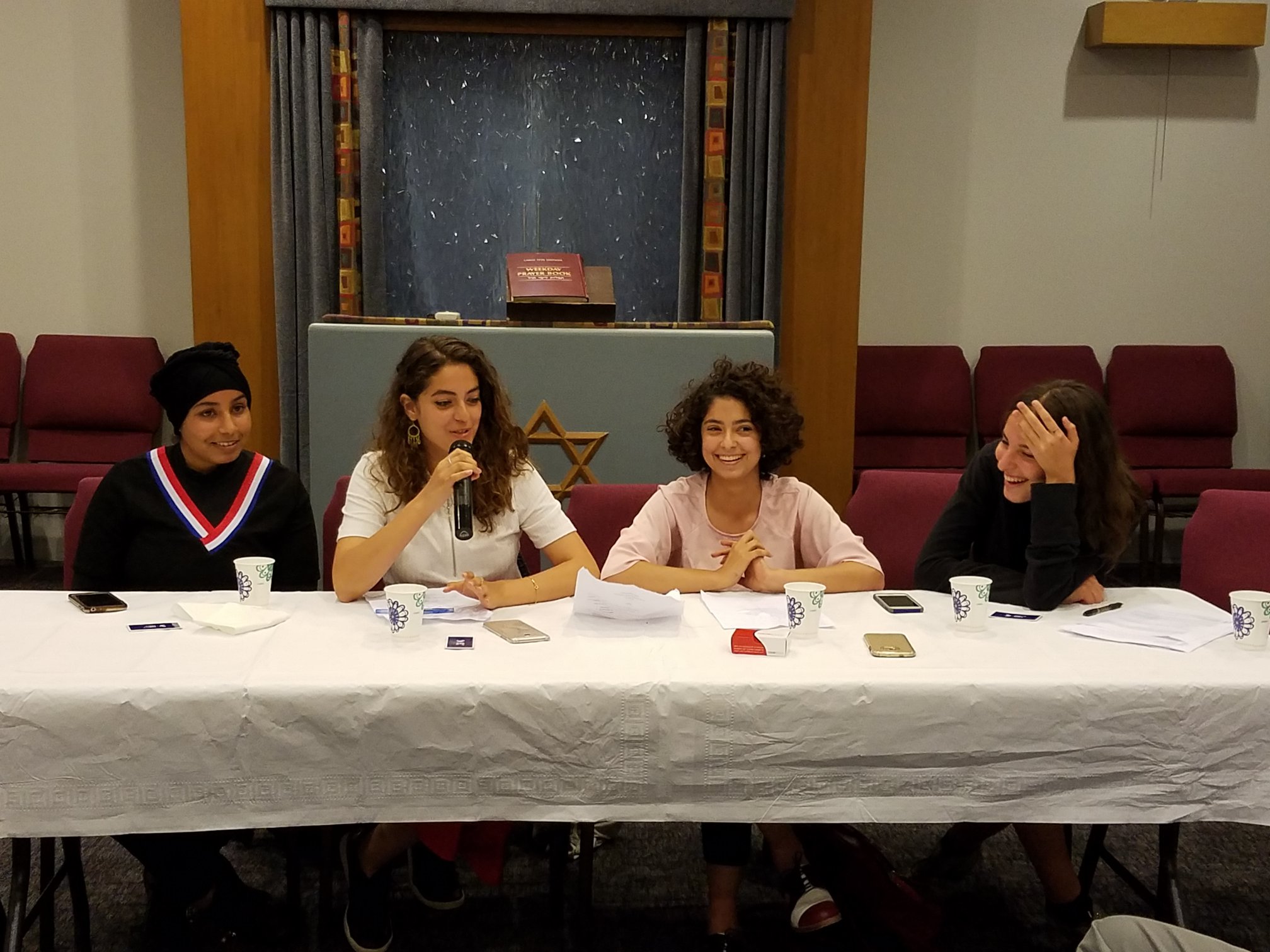 On Thursday, August 16th, the JCRC hosted a meeting to introduce Debate for Peace to community members. The students sat on a panel, presented an overview of the organization, and were available for questions from the audience. From there they continued to Project Level, an after school program that teaches youth entrepreneurship and empowerment through the arts. The Debate for Peace delegation met with Project Level organizers and student leaders and shared ideas on youth leadership and empowerment. Afterwards they participated in a round-table discussion with activists from local African-American and Latino communities. The full day program concluded at Temple Beth Abraham in Oakland, with an introduction from the JCRC, and a debate presentation by Debate for Peace members, along with a Q & A.
On the last day of meetings, the Debate for Peace delegation met with the San Francisco Youth Commission and the San Francisco Youth Council Human Rights Mission for a discussion on how youth can contribute to improving the world.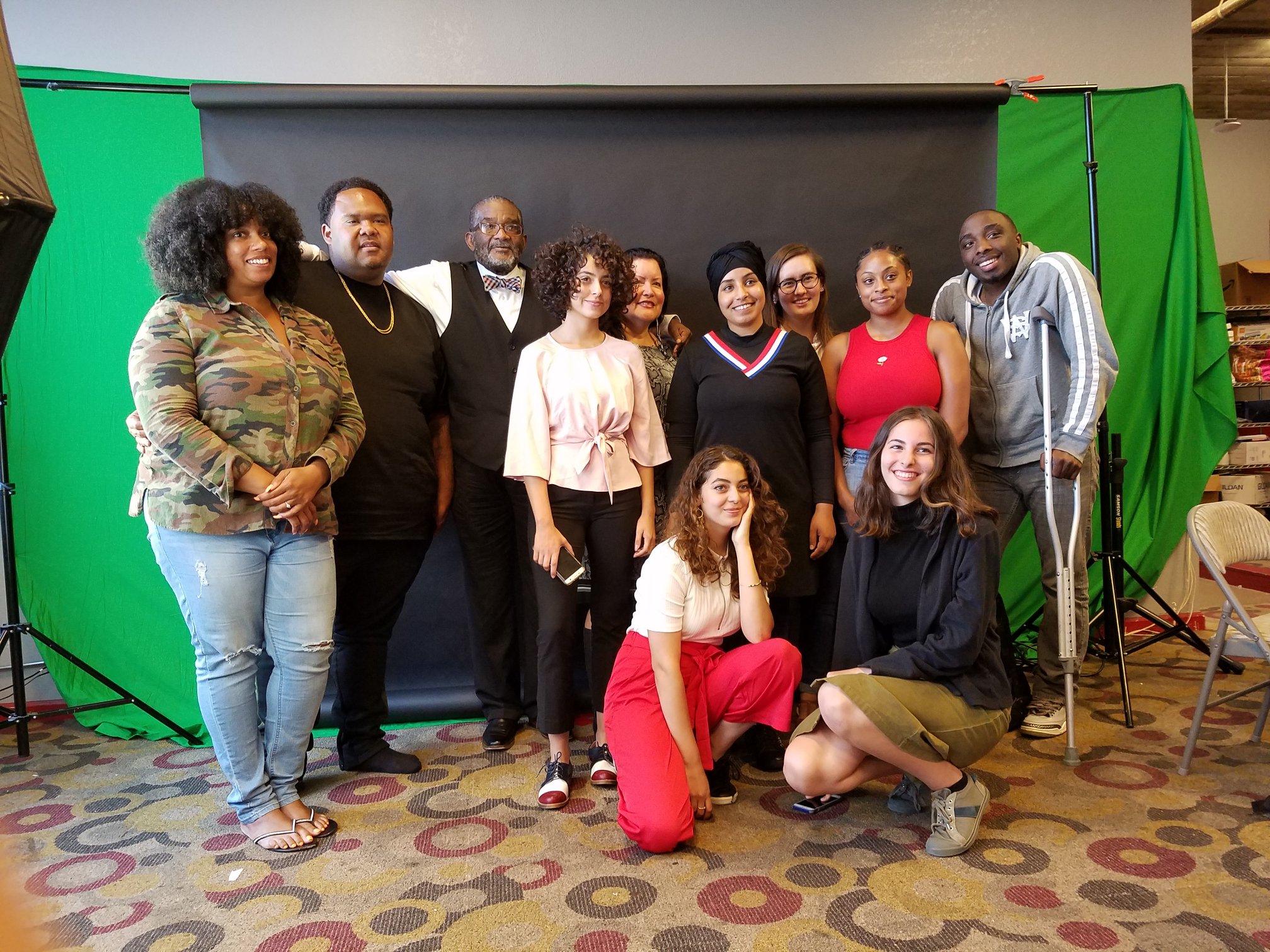 Karen Stiller, Director of the Middle East project for the JCRC told Diplomacy that it was a tremendous privilege spending a week with student leaders from Debate for Peace. "They brought a fresh sense of optimism," she said, "despite the challenges their societies face, and were a credit to the organization's unique work to bring together future leaders to directly discuss the most controversial issues of the Israeli-Palestinian conflict. I felt a lot more hope for a peaceful future for Israelis and Palestinians after a week with Yafa, Sharehan, Amalia and Bara'a."
Debate for Peace director Steven Aiello expressed his deep appreciation for the local hosts, especially the Liron-Kahn family, and the JCRC, for their support. He added that he was proud of the students for helping to showcase the diversity of views and backgrounds that make up Debate for Peace to new communities.
Debate For Peace is a unique conflict resolution and youth empowerment program for Israeli and Palestinian teenagers of all backgrounds. Debate for Peace is part of the Interfaith Encounter Association, and supported by the US Embassy in Israel.
See more here: https://debateforpeace.wordpress.com/
Photos by JCRC

Details

Written by

Silvia G Golan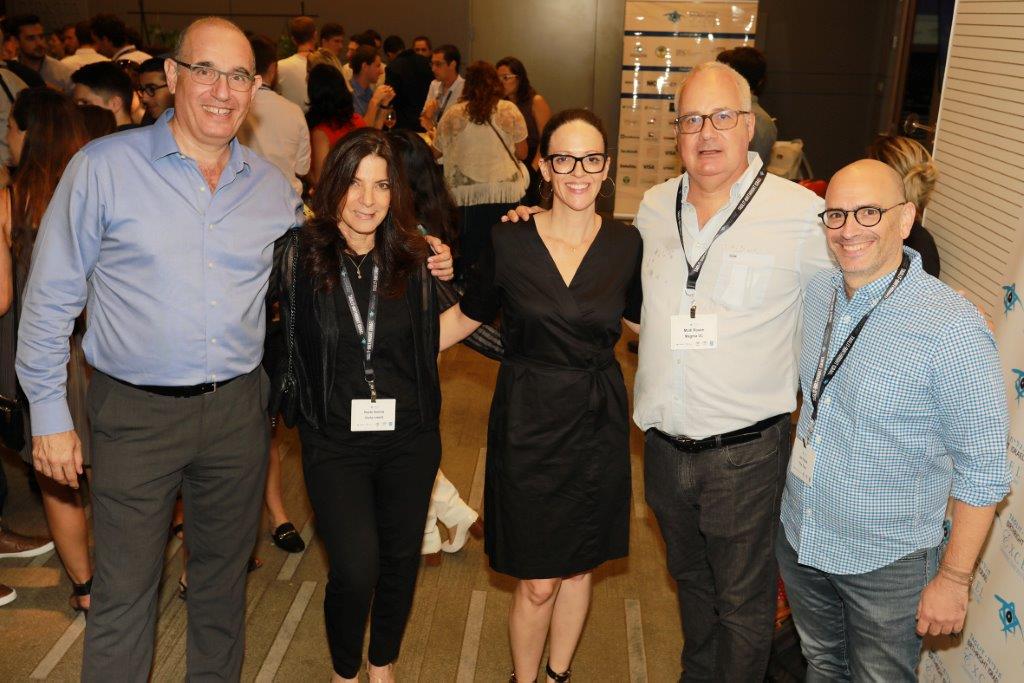 Birthright Israel Knows Business
Prominent Israeli Business Executives celebrated with Students and Young Professionals from the US, Canada, Mexico and Israel who took part in the Annual Birthright Israel Excel Program
The fellows enjoyed a unique internship at leading companies and professional training & mentorship from Israel's top executives endowing them with a =deep understanding of the Startup Nation's business scene
Birthright Israel's business leadership program, Birthright Israel Excel, held its closing ceremony last week (July 8), at its Center for Israeli Innovation in partnership with the Tel Aviv Stock Exchange. The ceremony was held in the presence of managing partner at EY Israel and chairman of Birthright Excel,Yoram Tietz, Co-founder of Magma Venture Partners, Modi Rosen, General Partner & Founder at Viola Credit in Israel, Ruthi Simha, CEO at The Time Ido Pollak, Founder & CEO at FairFly, Aviel Siman-Tov and Gidi Mark, International CEO of Birthright Israel, as well as Excel Fellows, benefactors, mentors, partners and entrepreneurs.
At the closing ceremony of Birthright Israel Excel's 2018 cohort, top Israeli chief executives celebrated with 54 students from 30 top universities in the US, Canada, and Mexico the conclusion of their 10-week professional business internship or startup pre-accelerator experience. During the course of their internships, the students received professional and personal mentoring from the companies' leaders. The students were accompanied by 54 Israeli students and IDF officers who also took part in the program this summer.
The students, who were carefully chosen from thousands of candidates by Birthright Israel Excel, stayed in Tel Aviv for two months, during which, they got to meet with Israeli leaders from various fields, take part in tours and professional workshops and go through personal business mentorships and professional-academic internships that allowed them to get to know the Israeli business sector firsthand. CEOs from Israel's top companies who met with the program's participants included: CEO at Facebook Israel, Adi Sofer Teeni, Microsoft CEO of R&D Assaf Rappaport, Yossi Matias, Vice President, Engineering, at Google and the Managing Director of Google's R&D Center in Israel, CEO at LeumiTech, Yifat Oron, Founder, CEO at Healthy.io Digital Healthcare Yonatan Adiri, CEO at The Time Ido Pollak, Journalist and Creator of the TV show "Fauda" Avi Issacharoff among many others.
Upon their return to the United States, Canada and Mexico, the participants will join Birthright Israel Excel's broad community of Fellows, of approximately 700 members, where they will deepen their involvement with the community and focus on social and business activities. They will enjoy professional and personal mentorship provided by the fellowship's advisors, who consist of senior businesspeople and philanthropists involved with the Jewish community and Israel.
Photo Avishai Finkelstein
Details

Written by

Steven Aiello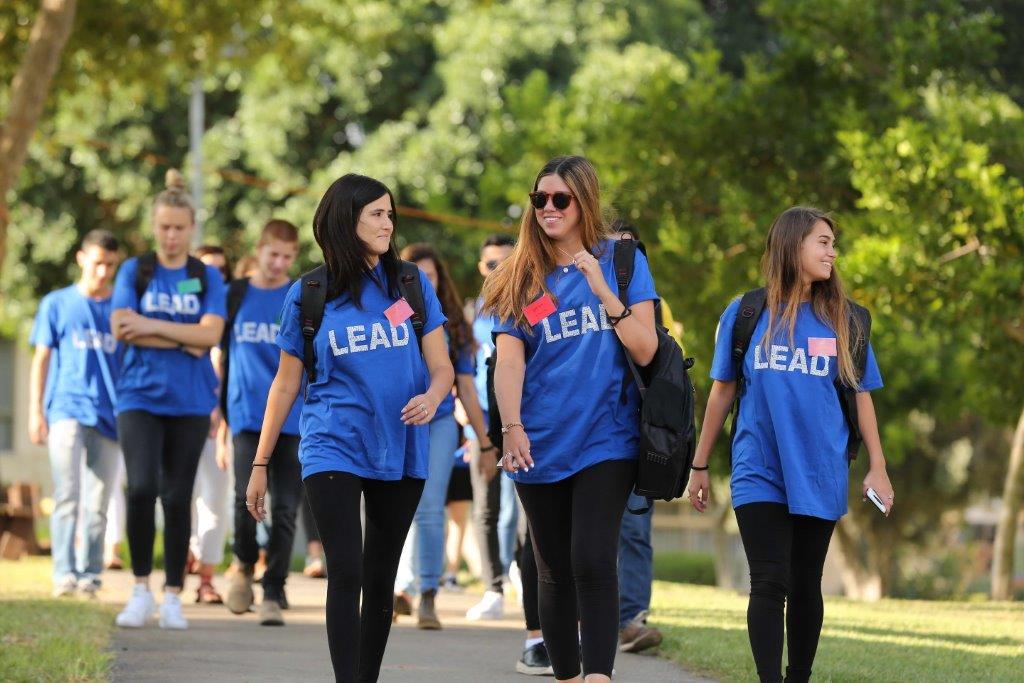 The future looks a bit brighter this week, with a historic visit from a group of Italian youth leaders to Israel. LEAD Italy (LEADIt) was founded in 2016 by Maria Elettra Favotto, and modeled after the innovative Israeli program LEAD. To celebrate the success of LEAD Italy and to strengthen ties between young leaders of both countries, Favotto led a delegation to Israel. The delegation, composed of 10 members of the first LEADIt cohort, is holding meetings with their Israeli LEAD peers to exchange ideas on leadership and learn about the challenges in each country.
LEAD is an innovative youth leadership program that puts a focus on empowering youth through education and opportunity. Led by organizational psychologist Eliav Zakay, LEAD focuses on building leaders and presenting youth with a choice: to become a leader, to make a change in society. With thousands of participants in 20 years and a robust alumni program, LEAD graduates have pioneered programs and initiatives impacting communities all over Israel.
More recently, the program's model has gone global. Five years ago LEAD partnered with Rotary Israel to organize a transformative conference for 140 youth from 24 countries. Favotto was one of the participants, and true to the LEAD model, she took the initiative when she returned home to Italy. After several return trips to Israel to get a better understanding of how LEAD works, Favotto founded LEADIt. Two years later, about 60 Italian youth from the Treviso region of Italy have participated, with many creating their own projects.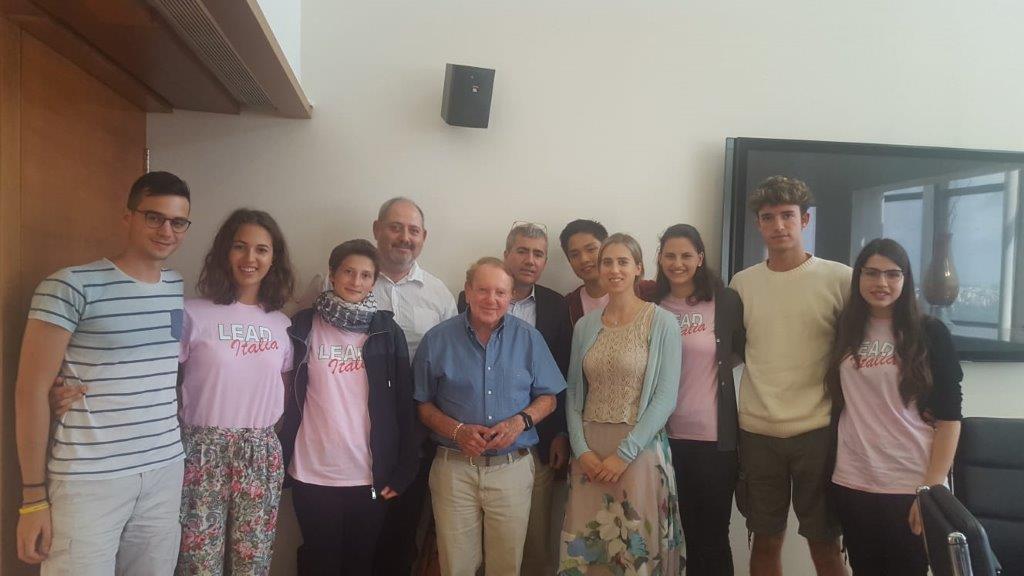 LEAD was founded in 1999 by philanthropist Morris Kahn, who was inspired by a youth leadership program he'd seen in the US. On Sunday, July 27, Kahn and Zakay met with the delegation, together with Deputy Ambassador Gianmarco Macchia from the Embassy of Italy. After Favotto presented an overview, each of the Italian members presented themselves and their projects: Massimiliano created a website for citizens to report infrastructural problems around their city, which could then be collected and presented to the local municipality; Pietro initiated a letter-writing campaign to remind people of the power of hand-written correspondence; Sara rejuvenated her town by creating a treasure hunt for children using local landmarks; Tosca's I-CHOOSE program gives meaning to school for primary school children through activities designed to promote emotional development and planning for the future; Greta helps teenagers to learn more about themselves, through introspection about values and who they really want to be; Francesco used his own experience from an immigrant home to construct a program connecting immigrant families and native Italians promoting intercultural learning and integration, and Martina's initiative offers vocational training for students at the end of high school to develop future goals and skills.
In concluding the presentation, Favotto explained her own involvement, from LEAD participant to LEADIt founder. She expressed her gratitude to Mr. Kahn for being the mastermind behind LEAD, and for his continued support to the program that has so inspired her. Favotto also outlined her vision for the future--for LEADIt to grow nationally, and then continentally, and eventually throughout Europe. Setting her sights even farther, she stressed that LEAD should be copied globally, given the uniqueness of the program.
Mr. Kahn applauded the LEADIt members on their hard work and success. Sharing a bit about how LEAD was created, Mr. Kahn offered a word of caution that growth requires careful planning, time, and resources, and encouraged support for the growth to continue at a steady and sustainable pace. He described their work as a stone dropped in the lake--creating a ripple effect that gets wider and wider.
Deputy Ambassador Macchia expressed his pride at seeing such enterprising and driven young Italians. He too congratulated Favotto, and thanked Mr. Kahn and LEAD for their role, and for hosting the meeting.
Favotto, who has been to Israel numerous times and has also lived in Canada and the United Kingdom, told Diplomacy about some of the cultural differences between Israel and Italy that have shaped LEADIt in particular. From her perspective, she sees Israeli youth as being more aware of the challenges within their country and societies, and overall more integrated citizens. In Italy, she explained, a generational gap means that youth feel excluded from societal involvement, and instead told to focus on school and finding a career, with their opportunity to contribute to society postponed for middle-age life. This is thus the first challenge that LEADIt tackles, convincing Italian youth that they have a role to play in improving society in the here and now, raising awareness of what needs to change, and only then empowering the youth to bring that change. Having seen the results of only two years, LEADIt is off to a great start, and a true embodiment of the LEAD model.
To learn more about LEAD: http://lead.org.il/en/
Photos by Sivan Farag
Steven Aiello
Founder--DebateforPeace
Details

Written by

Silvia G Golan
Hundreds of Young Jews celebrated in the first ever Taglit Birthright Israel Mega Event in French
The celebration was held on August 6th throughout the day, ending with a Mega Event in the evening, in the presence of 700 young adult Jews from France at the "Wohl Amphitheater" in Ganey Yehoshua.
August 6th, 700 young Jews from France marked Taglit-Birthright Israel's 18th birthday in a special day of urban activations in Tel Aviv and a Mega Event in French. This is the first time such an event is organized especially for French speakers, with a record presence of 700 participants.
Participants attending the events in Tel-Aviv enjoyed a full day of unique activations including –Zumba classes and volleyball at the beach, a Mayumana show at the Abraham Hostel, self-navigated tours in the city and a colorful Mega Event at the evening. The Mega Event was held at the "Wohl Amphitheater" in Ganey Yehoshua.
1,800 French-speaking participants have arrived this summer season with Taglit Birthright Israel. They are arriving from different countries such as France, Belgium, Switzerland, and more. Most of the participants come from Paris and its suburbs, Marseille, Strasburg, Bordeaux, Toulouse, Lyon, and surroundings.
About Taglit-Birthright Israel
Birthright-Israel was founded in 1999 with the aim of strengthening Jewish identity among young Jews worldwide, enhancing their ties to their home Jewish communities and solidify their association with the state of Israel. BRI is a gift of the Jewish people to its young generation in form of a free educational trip in Israel. Since its establishment 18 years ago, over 650,000 young adults from 67 countries have enjoyed their free gift of an educational tour of Israel. Over 100,000 young Israeli soldiers and students have joined various groups on their tours. The trip wishes to establish an understanding, friendship and a lasting bond with the state and the people of Israel and to reinforce the solidarity of the Jewish people worldwide. Over the years, several studies have been conducted by Brandies University, demonstrating the lasting effect on Birthright Israel participants' Jewish identity, communities, and connection to Israel.
Photo credit - Birthright Israel
Details

Written by

The Peres Center for Peace and Innovation's

A statue in memory of Shimon Peres was dedicated in Tirana, Albania
The statue is in the shape of the Star of David and bears the Ninth President's image
Citizens of Albania, led by Prime Minister Edi Rama, expressed their love for Shimon Peres. Peres, who was the first Israeli leader to visit Albania during his tenure as Foreign Minister in 1995, was greatly admired and loved by the Albanian people.
The end of August will mark two years since President Peres' passing. To honor his memory, a large statue was erected in his honor in the center of Tirana. His son, Yoni Peres, attended the dedication ceremony, together with Deputy Ambassador Yuval Fischer, Chairman of the Albania-Israel Friendship Association Petrit Zorba, Honorary Consul of Israel in Albania Rudolph Jeliri, and more.
Yoni Peres: "Tirana is a wonderful city, and the people are warm and loving. It was a moving experience."
Yuval Fischer, Deputy Ambassador: "My initiative to name a square in Tirana after Shimon Peres is a tribute to the great friendship between these two countries."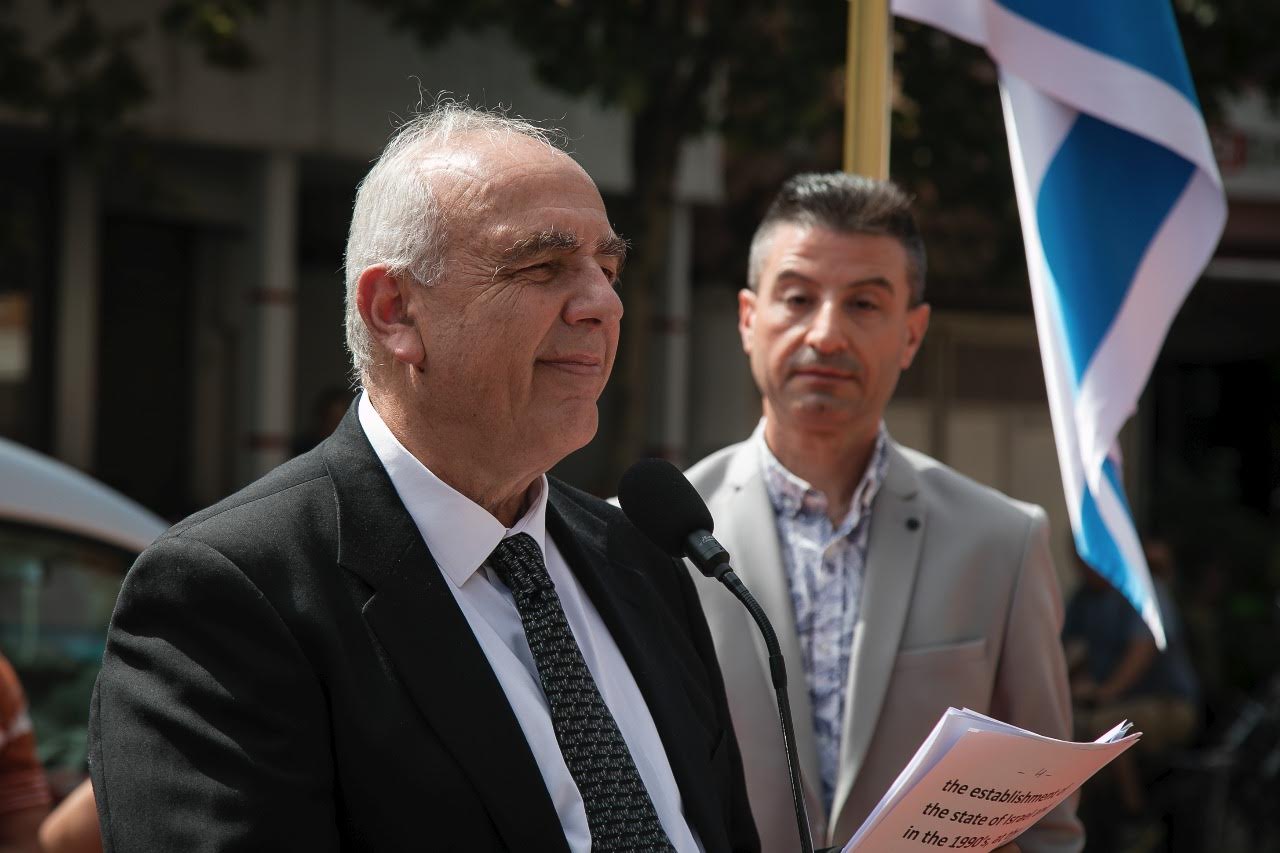 Photo Credit: GENTI