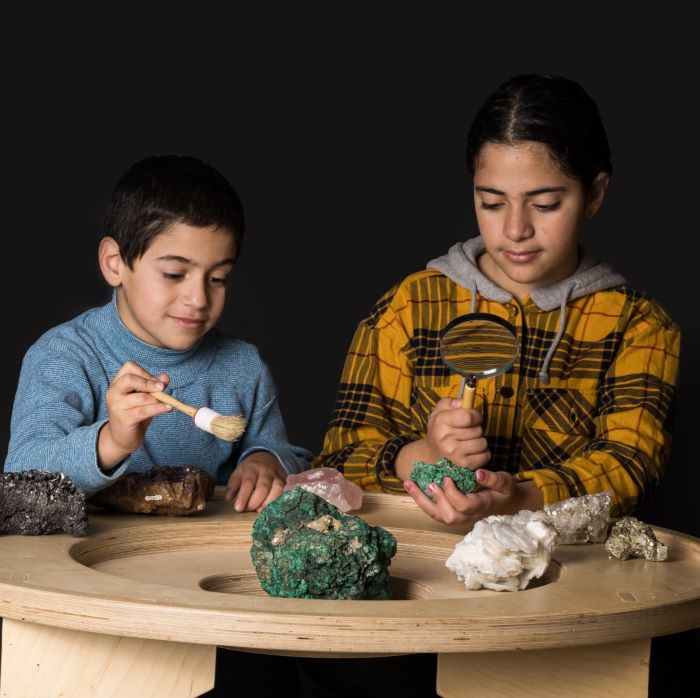 Treasures of the Earth Discover the stones, crystals, and natural wonders hidden deep under the ground through a variety of unique workshops,
art installations, and demonstrations!
* Sand Pendulum* Earth Labyrinth * Electrifying Crystals *
* Mandala Complex * Clay Making * Crystal Research Lab*
* Magic Sand & Stone Workshop *
* Art Exhibit by Betzalel Graduates *
And much more….
A Passover event for the whole family at the Bloomfield Science Museum Jerusalem 20.3 - 4.4
Every day we step on it, dig foundations in it, and run pipes through it. We drill, carve, extract, and pump. We are tied to it, fight for it, and swear by it …but what do we really know about the land beneath our feet?
This Passover, the Bloomfield Science Museum Jerusalem invites the whole family- young and old alike- to get their hands dirty! Come discover the natural wonders hidden below our feet with a variety of demonstrations, workshops, and art installations, including: a sand pendulum, a huge earth maze (c 80 sq.m!), electrifying crystals, a mandala complex built by artist and designer Roi Aminoff, a clay-making activity, a crystal research laboratory, a "magic" sand and stone workshop, an exhibition of earth art, and more!
Sand pendulum
An interactive exhibit whose movement produces complex and beautiful sand paintings. Once all the sand in the pendulum has run out, you can collect it and refill the container over and over. Be warned- it's addictive!
Earth Labyrinth
In this "puzzle of paths", the thrill of the unknown and the possibility of not finding the way out invites young visitors to summon their courage and face their greatest fear and deepest desire: walking the path alone. Visitors are invited to walk the labyrinth by themselves, to even get lost for a moment, and finally, to solve the puzzle. At the "Treasures of the Earth" event, children will be able to touch the earthen walls that surround them as they search for the solution and as they find their way back to "safety" - their parents. Boys and girls will be able to run around, explore, and perhaps rest for a moment between the mud walls. The giant maze will be built by Ofer Robbins, an expert in the construction of mud and straw homes. From age of 3 to 10
Electrifying crystals
Demonstrations with models and genuine objects that reveal the connection between crystals and familiar electronic devices such as air purifiers, lighters, speakers, clocks, and miniature motors. Visitors will learn about how piezoelectricity- discovered by Pierre Curie in 1880- is a trait peculiar to crystals, and how the passage of an electrical current through crystals causes them to vibrate (and vice versa).
From age of 8 and up
Mandala Complex
Artist and designer Roy Aminoff creates fascinating spaces and art installations, in which the viewer is transported to inner worlds through colors, shapes, and textures. Aminoff and his team will arrive at the Museum over Passover (20.3—23.3) and build a huge mandala from various types of earth and clay in the Museum's entrance courtyard.
As mentioned, from March 20 through 23, the artist will build the mandala in front of the audience. During the rest of the event, visitors can view the spectacular result.
.
What's the Matter? - Clay Workshop
A hands-on learning experience designed for families but aimed particularly at children. Children will experience the process of creating clay from raw materials. They will crush rock in a mortar and pestle, strain it, and add water to create a product that will become part of a collaborative work. Participants will learn about the properties of the materials around us – including kitchen utensils, floor tiles, and even works of art. They will discover where the materials came from and what needs to be done so that it can be processed and used. The workshop will be accessible and suitable for all ages (from the age of one and a half).
Crystal Research Laboratory
From kitchen salt to the most valuable gemstones, not a day goes by without us using mineral crystals! In the Crystal Research Laboratory, visitors will be able to discover for themselves the special properties of various types of crystals - fizzing crystals, magnetizing crystals, polarizing crystals, and more. In addition, children and parents are invited to solve the mystery of white crystals, and enjoy a spectacular display of beautiful crystals borrowed from the national collections of the Hebrew University.
Workshop - Magic with Sand and Stones
How can a stone submerged in sand be made to rise and "float" on the sand, without actually touching the sand or stone? In this workshop, participants will discover a surprising way to do it! The answer is based on a scientific phenomenon called the "Brazil Nut Effect", which occurs in your box of cornflakes, mudslides, snow drifts, and many other places.
Earth Art
Bezalel graduates present an exhibition of works of art created from raw materials of the earth, such as ceramics and glass. At the exhibition, visitors will encounter "out-of-this-world" art- created from materials found deep within it!
The Bloomfield Science Museum Jerusalem, is the ultimate in entertainment for the whole family. In addition to the Passover event, the Museum features more than 10 unique interactive exhibits that appeal to a wide range of ages.
In keeping with the Ministry of Health's requirements for the "Purple Pass", the Museum has been carefully organized and modified: At the entrance a temperature test will be performed, visitors must wear masks during their entire stay, keep a distance of 2 meters, and obey the instructions of the guides.
"Treasures of the Earth"- Passover at the Bloomberg Science Museum Jerusalem
March 20 - April 4, 2021
Hours: Sun-Thurs 11:00-17:00, Fri 10:00-14:00, Sat 10:00-16:00
The Museum will be closed Saturday 26.3, Passover eve
Ticket Prices:
Children up to age 5- free, 5 and up/adult- 45 NIS
Family ticket (parents/grandparents with their kids/grandchildren)- 160 NIS
Discounts available for 'Jerusalem' resident card holders, soldiers,
security forces, disabled, retirees, and customer clubs
Tickets must be purchased and visits coordinated IN ADVANCE ONLY through the website: www.mada.org.il
For further information, call 02-654-4888
Photo Yonatan Ben Chaim