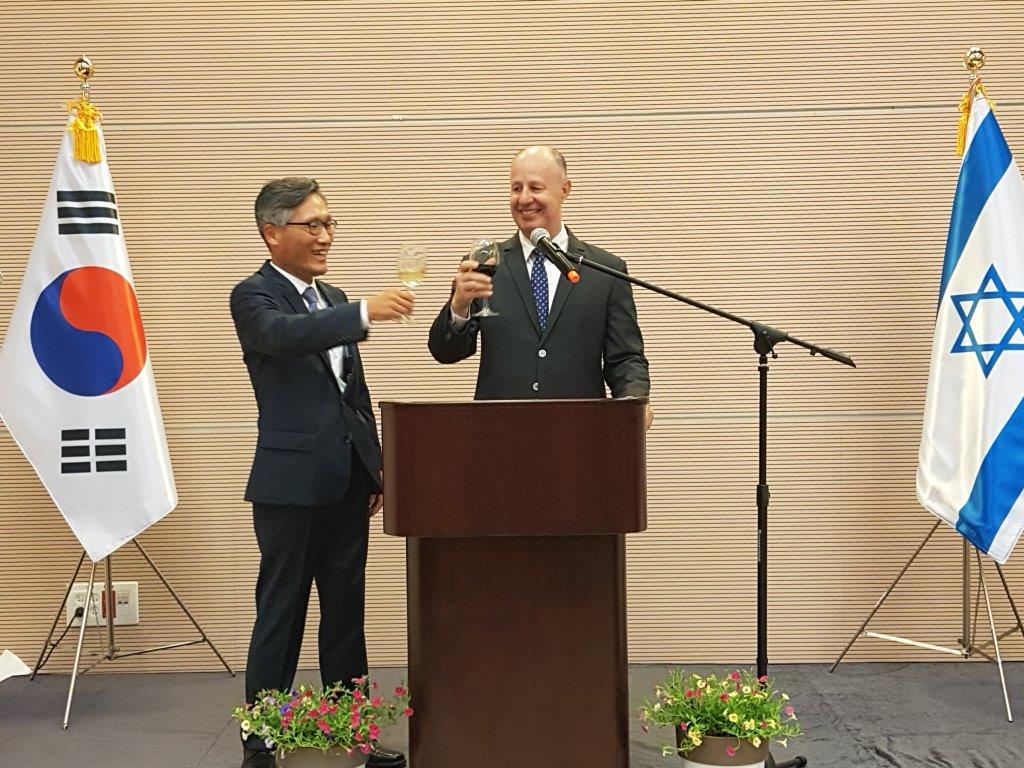 On Tuesday evening, October 9, the Korean embassy in Israel celebrated its national day, with a festive reception at the Embassy in Herzliya. The evening celebrated past and present Korean achievements, marking Korea's national day with traditional Korean food, a display of Samsung innovations, and a dance performance that mixed the past with the contemporary.
Korean singer Lee DamJi opened the evening by performing the national anthems of both Israel and the Republic of Korea.
H.E. Mr. Choi Yong-hwan then welcomed the guests to Embassy, noting that this year marks 70 years for both Israel and Korea as modern states. The ambassador pointed out that during those 70 years, relations between North and South Korea have been up and down. The ambassador expressed his optimism in light of recent diplomatic developments between the governments of North and South Korea and emphasized his hope for a peaceful future for the Korean peninsula, as well as for Israel.
Ambassador Choi Yong-hwan emphasized the link between Israel and Korea in having robust democracies and market economies, which have led both countries to flourish in the last 70 years. This has also led to closer ties since diplomatic relations between the two countries was established in 1962. The ambassador noted that Korean car-producers (Hyundai and Kia) have been the top two in new car sales in Israel for the last three years, along with the popularity of Samsung and LG phones and other appliances. Acknowledging Israeli technological innovation as well, the ambassador recognized the Korea-Israel Industrial R&D Foundation (KORIL-RDF) for its success in raising $57 million in joint funding for R&D projects, as well as a Free Trade Agreement, now in its final stage, that is expected to increase Israeli-Korean economic cooperation even more.
Moving to the cultural side, the ambassador mentioned the annual K-pop contest, now in its 7th year, which is attended by Israeli fans of Korean music. He pointed out that Neta Barzilai, Israel's Eurovision winner this year, had in fact been inspired by K-pop music with her own winning Eurovision entry. Noting many more opportunities for cultural sharing, such as food and cosmetics, the ambassador cited a Korean expression, which translates to "If you want to go fast, go alone; if you want to go far, go together."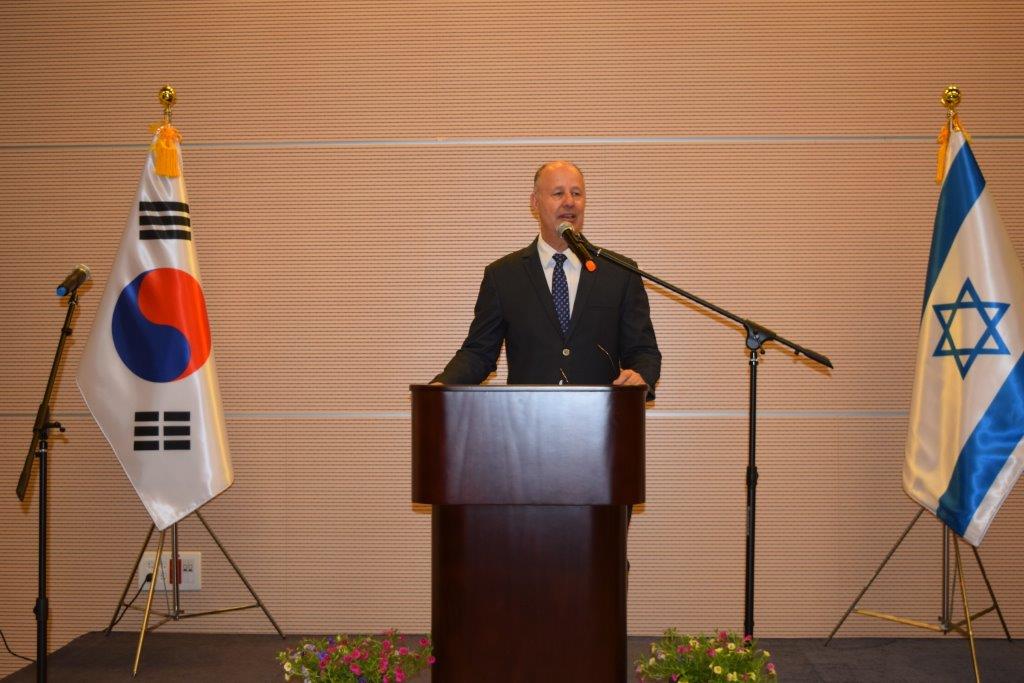 Minister of Regional Cooperation Tsachi Hanegbi spoke on behalf of the Israeli government. The minister noted that although the countries are geographically far, they are close in many other ways, with shared values and similar stories of perseverance over adversity.
The minister reiterated the success of both Korean and Israeli technological innovation, of free trade between the two nations, and of joint technological research ventures. He also remarked upon the rise in tourism, with a 20% increase in Korean visits to Israel in the last year. Finally, minister Hanegbi noted the cooperation between the two countries in the area of national security and military defense technology. The minister finished his remarks by offering congratulations, and his blessings for peace and prosperity in Korea.
Following the speeches, guests enjoyed a contemporary dance performance, itself a collaboration between an Israeli and Korean dancer, who acted out a traditional Korean fairy tale. Traditional Korean dishes were then served for dinner.
Along with numerous members of the Israeli and international diplomatic corps, the distinguished guests in attendance included Major General (Res.) and former ambassador Matan Vilnai;Honorary Consul of France Nathalie Mimoun; Ambassador Yitzhak Eldan, head of the Israeli Center for Young Leaders and the Israel School for Young Ambassadors; Ambassador Meron Reuven, Chief of Protocol for the Israeli Ministry of Foreign Affairs; Dr. Lihi Yariv-Laor, former head of the department of Asian studies at Hebrew University (which offers Israel's only BA in Korean studies);Ehud Rassabi, Chairman of the Board of Ilan, the Israel Foundation for Handicapped Children; Samsung Managing Director Koh and business manager Daniel Rhee, and Dan Crivolotti of YONACO - Korea business experts.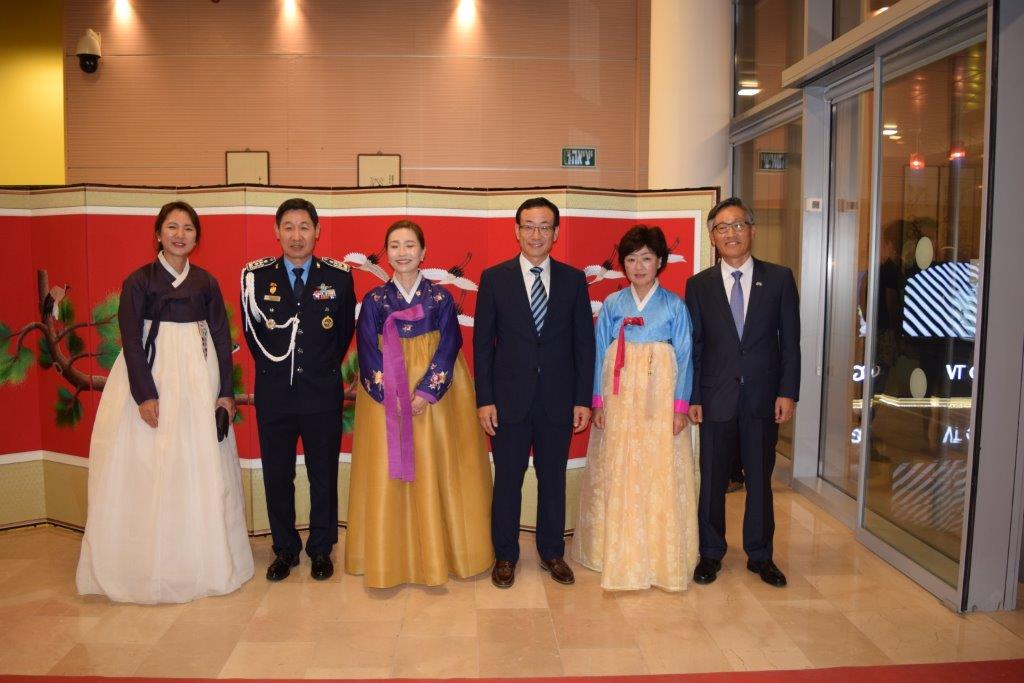 Diplomacy.co.il
offers congratulations to the embassy of the Republic of
Korea
on this important anniversary, and best wishes for years of peace and prosperity.
Photo Silvia Golan