The Republic of Kazakhstan is celebrating its independence day this week. His Excellency Satybaldy Burshakov, the Ambassador of the Republic of Kazakhstan to the State of Israel and his wife Mrs. Maira Karakeshova held a lavish gala evening in honor of this special day at Dan Hotel in Tel Aviv.
The evening opened with the sound of the national anthems of the two countries filled the air and the crowd stood in silence, respectful of both nations, Kazakhstan and Israel.
Ambassador Burshakov greeted and welcomed his guests to the celebratory evening. In his address to his guests, the Ambassador recounted how Kazakhstan and Israel enjoy excellent bilateral relations, further strengthened following the fruitful official visit by Prime Minister Benjamin Netanyahu to Kazakhstan in 2016 and meeting of the Joint Trade and Economic Commission in Jerusalem in 2017 led by Minister Elkin. H.E. Ambassador Burshakov made a commitment as new Ambassador of Kazakhstan to Israel, to do his utmost to promote a successful agenda. The Ambassador noted that Israel is the tenth largest trading partner of Kazakhstan among Asian partners.
Ambassador Burshakov remarked:

"We invite our Israeli partners to intensify cooperation with Kazakhstan in innovation development, new technologies, medical exchanges, to invest in the agricultural sector, water supplying infrastructure and many other areas.
Today the Israeli citizens enjoy the visa-free regime to travel to Kazakhstan, introduced since 2017 by unilaterally by the Kazakh Government. Our experts now working on a draft agreement which might also allow in the future for Kazakh citizens to visit Israel without visas. To open direct flights between the two countries another important task of our agenda. Thus we have a lot to offer both to tourists and business.
Next year Kazakh capital Nur-Sultan will host 12th Ministerial Conference of the World Trade Organisation and will celebrate, also with the participation of Kazakh Embassies, 175 Anniversary of the great poet and thinker Abai Kunanbayev, as well as 1150 Anniversary of world-known philosopher Al-Farabi. Our Israelian partners are invited to join us in these milestone events;
Other important aspect of our ties include Olim – Jewish community originated from Kazakhstan, who remain our compatriots by their spirit and strong bridge to the bilateral cooperation"... In conclusion the Ambassador added " We are ready for more close coordination with Israeli partners for improving the legal framework of economic cooperation, promoting economic diplomacy, attracting foreign investment, supporting mutual trade, interacting with international institutions of economics and finance, increasing tourist attractiveness, etc.
Israeli Minister of Jerusalem Affairs and Minister of Environmental Protection Zeev Elkin responded in a congenial manner which reflected the good relationship between Israel and Kazakhstan.

He reflected that Israel can never forget the people of Kazakhstan for having provided shelter and salvation to Jews fleeing the horrors of World War II. His remarks spoke to the present-day reputation that Kazakhstan has as a nation of particular religious tolerance. He emphasized that b

oth countries have developed friendly relations with each other and cooperation over many areas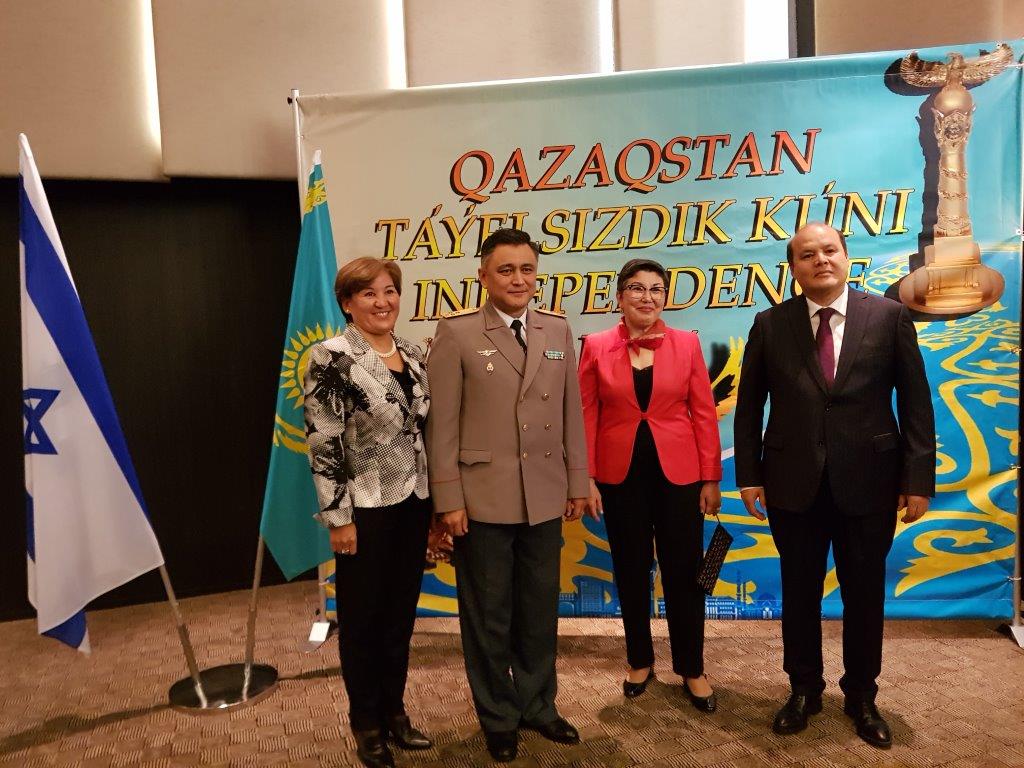 The assembled guests were a cross-section of the diplomatic, political and business communities within Israel. There was a large delegation of ambassadors from many countries from around the world. Israeli Minister Yoav Galant, and Member of Knesset Konstantin (Yoel) Razvozov were distinguished guests. Their Excellencies Ran Ichay, Israel Mey-Ami, Eliyahu Tasman and Mikhail Brodsky who in different years held the office of the Ambassador of Israel to Kazakhstan, honored the occasion with their presence. Dan Catarivas Director-General of foreign trade and international relations for the Manufacturers' Association of Israel, former Prime Minister of Israel Ehud Olmert, Ambassador Yitzhak Eldan, President of the Ambassador's Club; and Yair Stern
Director of the Jerusalem Symphony Orchestra were also among the influential guests, as well as many diplomats, several military attaches and member of the clergy, most notable the Patriarch of Jerusalem
Food and beverages were plentiful with delicious schnitzels and beef served with traditional side dishes and salads. Sumptuous desserts were offered through the conclusion of the evening and were paired with an assortment of coffees and teas. The guests lingered and enjoyed the congenial conversation.
www.diplomacy.co.il extends best wishes to the Embassy of Kazakhstan on the occasion of its National Day
Photos by Silvia G. Golan