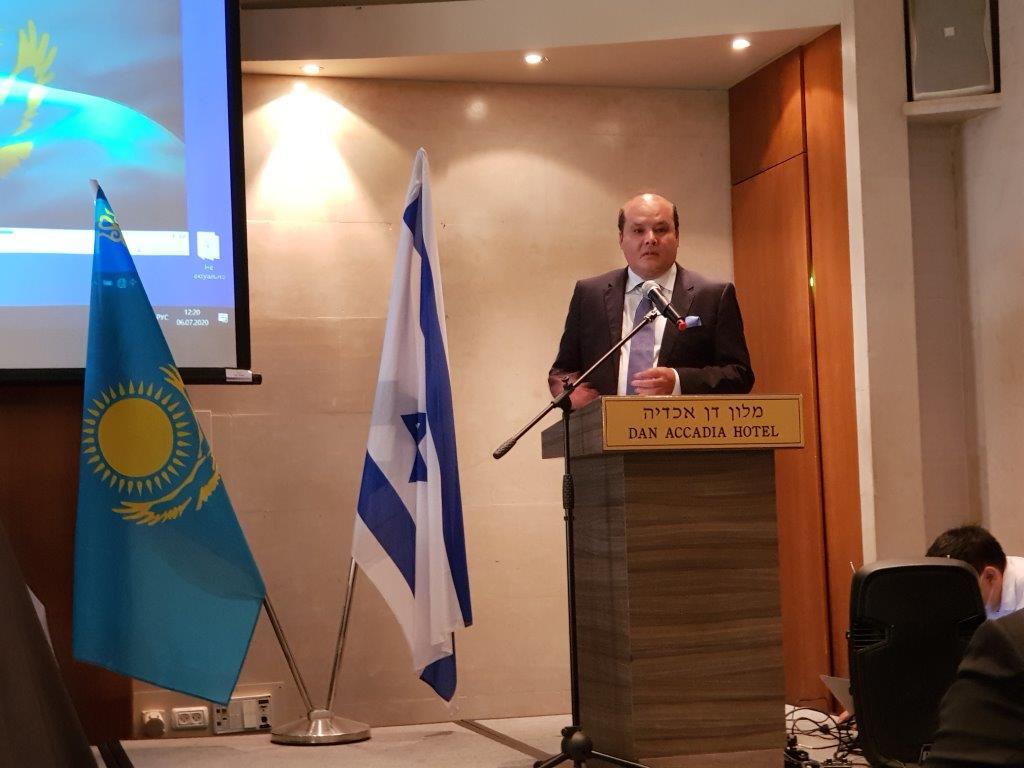 The embassy of the Republic of Kazakhstan celebrated Capital City Day and the 80th anniversary of the founding President of Kazakhstan, H.E. Mr. Nursultan Nazarbayev, with a panel featuring multiple former prime ministers of Israel. Despite the Covid-19 challenges, a limited audience of VIPs joined in marking the momentous occasion of the octocententenial of one of the world's most influential world leaders with a roundtable of panelists, live music, and tasty lunch at the Dan Accadia hotel in Herzliya.
The afternoon opened with a short video highlighting the splendors of Nur-Sultan, the capital city of Kazakhstan, named for H.E. Mr. Nursultan Nazarbayev, one of the world's longest serving presidents, who presided over Kazakhstan's growth and success for nearly 30 years, including the remarkable transfer of Kazakhstan's capital city from Almaty to Astana, then renamed Nursultan.
H.E. Satybaldy Burshakov , the Ambassador of Kazakhstan to Israel, opened his remarks by recalling the fateful decision in 1994 to move the capital of Kazakhstan to then-Astana, which had a mere 300,000 residents at the time. The ambassador noted that while initial reactions within Kazakhstan and abroad were mixed, the decision was both calculated and prescient -- a deliberate effort to bolster Kazakhstan's diplomatic and commercial ties in the new post-Soviet Union Eurasian order, and a bold investment in bringing Kazakhstan into the future with a modern city. Today the undeniable success of Nur-Sultan is a testament to the vision of its namesake
Former Israeli prime minister Mr. Ehud Barak noted that in addition to being a personal friend and a good friend of Israel, President Nazarbayev must be credited for his historic role in shaping the future of his nation. He remarked that with the important position as the first president of Kazakhstan following independence, President Nazarbayev acted with courage as a true leader in making untold decisions critical to the direction of his country. Having visited Kazakhstan himself, Mr. Barak described the success in creating a capital city that is both innovative and quintessentially Kazakhstani. He recalled meeting American students at the molecular biology department of Nazarbayev university who had come to do research in the cutting-edge labs. In closing, the former prime minister described President Nazarbayev as a true friend of Israel and wished him, his family and his nation many years of health and success.
Former Ambassador of Israel to Kazakhstan H.E. Ambassador called President Nazarbayev "one of the most significant and influential political leaders of our times," contributing to the formation of the new world order in Central Asia and Eurasia generally, and laying the ground for Kazakhstan's economic, diplomatic, and political development.
Dr. Haim Ben Yaakov spoke in both Hebrew and Russian. He spoke about the flourishing people to people ties between Kazakhstan and Israel. Dr. Ben Yaakov informed the audience that Kazakhstan, as a Muslim nation and led by President Nazarbayev, played an important role in exemplifying the warm ties possible between Jews and Muslims, as it has throughout the history of the Kazakhi people. Several meetings of Jewish and Muslim religious leaders have been held in Kazakhstan to this effect.
Professor Victor Raditsky, who has met President Nazarbayev numerous times in his role as a translator, seconded this point. Recalling numerous meetings of important Jewish and Muslim leaders to which he had been personally witness, he noted that they were reviving a historical tradition of religious pluralism and Jewish-Muslim dialogue. This includes such illustrious Jewish sages as Maimonides and his son Abraham, who incorporated Islamic philosophical and mystical approaches into Jewish texts and practice, and also reflects the moderate ethos of Kazakhstan and Central Asian heritage.
The final panelist was former Israeli prime minister Ehud Olmert. Mr. Olmert, who also visited Kazakhstan numerous times during his political career, described the broad influence of President Nazerbayev on Kazakhstan and Central Asia. He commended the president for successfully navigating the post-USSR world and establishing good relations with both Russia and the United States and their respective allies. Mr. Olmert said that he considered it a privilege to have signed the first trade cooperation between Israel and Kazakhstan, as a minister back in 2003, and noted that both he and his Kazakhstani counterpart ended up becoming prime ministers of their respective countries. In closing, Mr. Olmert offered his own blessing to President Nazarbayev to enjoy health and happiness "until 120 years of age" as per Jewish tradition.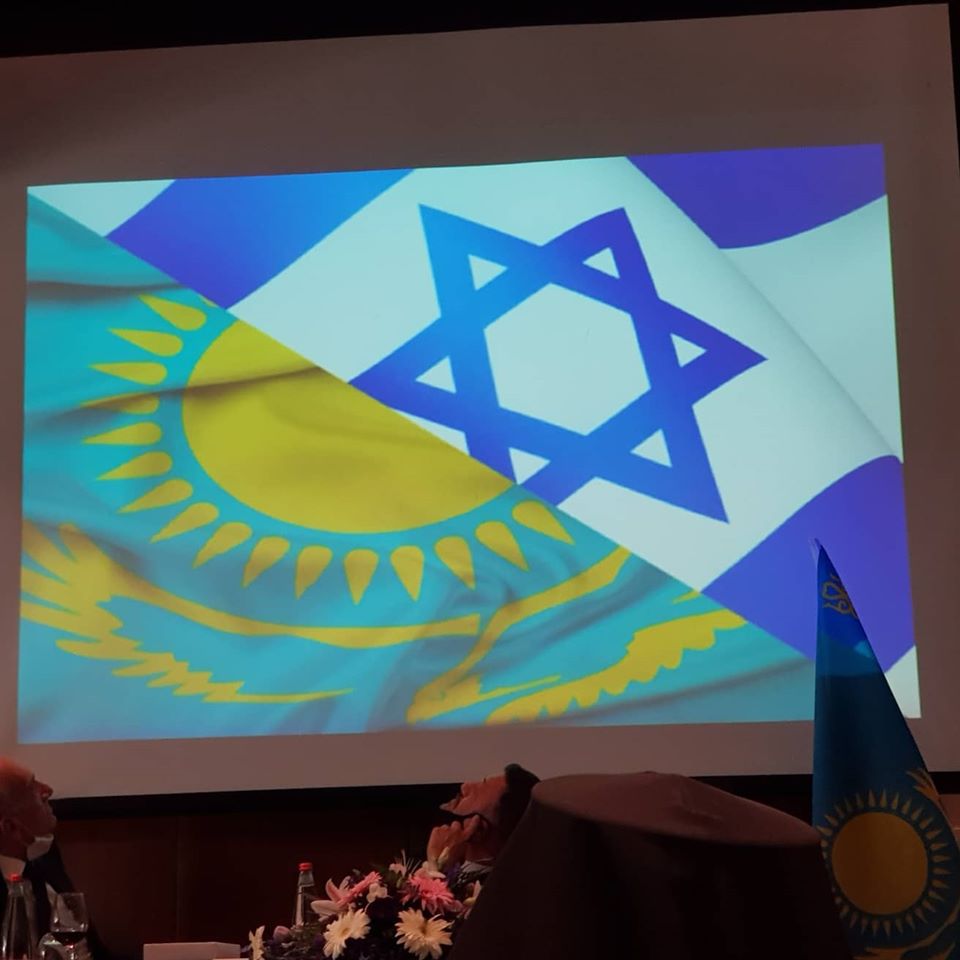 Following the panel, guests were invited to a sumptuous catered lunch in the outdoor garden. There they also enjoyed live music performed by Expessia Show, with electric violins, and a photo montage showcasing vivid images of the city of Nursultan. Numerous books about Kazakhstan and President Nazarbayev were available for guests to take home to read, as well as a special newspaper insert in Hebrew dedicated to Kazakhstan. Kazakhstani handicrafts added to the vibrant atmosphere, and the hotel staff did an excellent job providing a luxurious experience while maintaining Ministry of Health regulations.
The distinguished guests included former prime ministers of Israel Ehud Barak and Ehud Olmert, the Archbishop of the Greek Orthodox church in Jerusalem, Ambassador Michael Brodsky, Minister-Counsellor of the Eurasia and Balkans division of the Israeli Ministry of Foreign Affairs, Dr. Alexander Tsinker, president of the International Center for Electoral Systems, Professor Victor Raditsky, Dr. Haim Ben Yaakov, CEO of the Euro-Asian Jewish Congress, Tony Levy, External Relations, R&D Support - HIT – Holon Institute of Technology and other diplomats and civil society leaders.
Diplomacy.co.il congratulates President Nazarbayev, Ambassador Satybaldy Burshakov and the nation of Kazakhstan on this momentous occasion, and offers best wishes for future success and bilateral cooperation.