In her first appearance at an Israeli university, Brazilian Ambassador to Israel - H.E. Maria Elisa Berenguer - addressed guests at Tel Aviv University and discussed the special relationship between Israel and Brazil as well as Brazil's newly accelerated diplomatic efforts across the Middle East.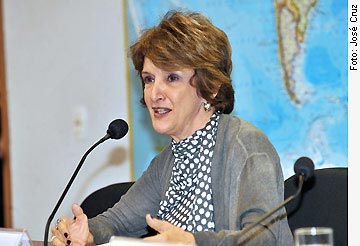 Assuming the post as ambassador only four months ago, Ambassador Berenguer expressed her amazement at both the fast paced environment in Israel and how regional events themselves are rapidly changing on a day to day basis. Mixed with its surging economy, it is these rapid developments that have motivated Brazil in undertaking a new diplomatic track as opposed to the country's previously held strategy of 'quiet diplomacy'.


Those familiar with the latest current events in Brazil know that Latin America's most populated and largest country has become a thriving economic force as it has established itself as one of the top ten economic giants across the globe (as measured by GDP). With this, Brazil can only assume a greater role in world diplomacy while trying to expand its "friendly neighbor" policy worldwide and with special attention to the Middle East.


In specifically addressing Brazil's foreign policy efforts towards Iran, Ambassador Berenguer explained that Brazil is adamant in its belief that all nation's have the right to a peaceful nuclear energy program and that her country is attempting a new strategy in approaching the Iranian government with regards to its nuclear program.


Referring to the recent meeting between Brazilian President Lula da Silva and Mahmoud Ahmadinejad, Ms. Berenguer explained that, "He [President da Silva] had long conversations with Ahmadinejad about the Jewish people and stressed the importance in not denying the Holocaust."


As Dilma Rousseff is set to assume the Brazilian presidency on January 1st (she will be the first woman to fill that role), Ambassador Berenguer stressed the importance in continuing to pursue a similar diplomatic policy towards the region. "Brazil has been a long time friend of Israel and worked very hard behind the scenes in favor of the UN's resolution, which lead to the establishment of the State of Israel," stated Ms. Berenguer.


And although many Israelis may feel uncomfortable with Brazil's extended hand towards the Iranian regime, Ambassador Berenguer made it clear that Brazil will continue to pursue an agenda that publicly stresses the importance of Israel's security.

Ms. Berenguer said she is looking forward to her stay in Israel and expressed her commitment to maintaining and strengthening the overall ties between her country and Israel.



For more on the Brazilian diplomatic mission to Tel Aviv, visit http://www.brazilianembassy.org.il/


Photo Jose Cruz
Add a comment