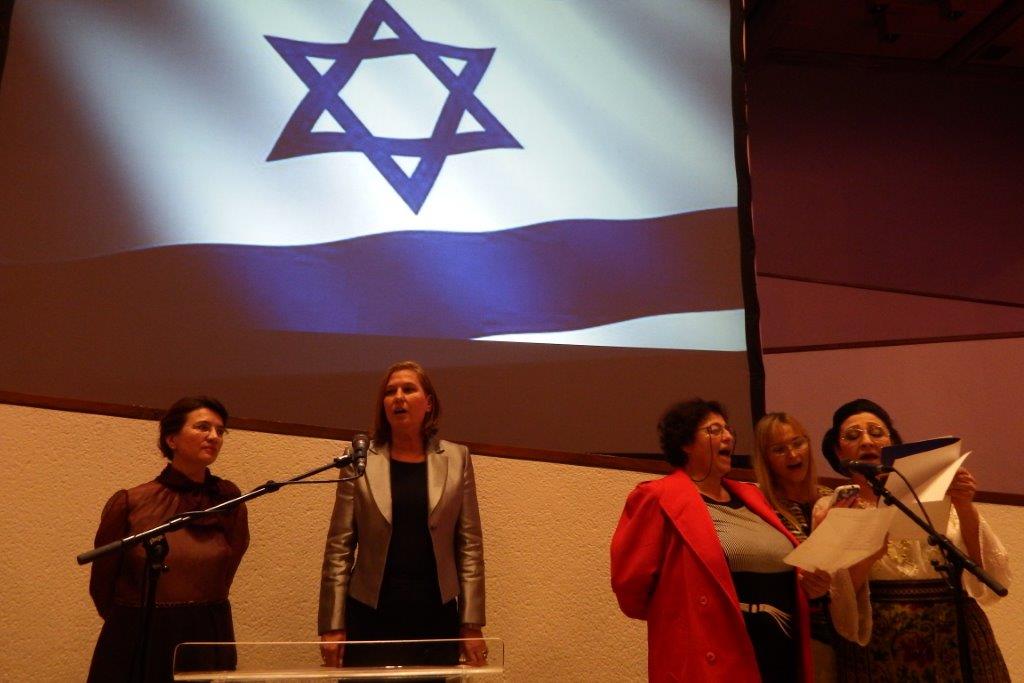 The Meshulam Riklis Lobby of the Tel Aviv Museum of Art was the scene of an elegant gathering of the Israeli Diplomatic corps and other VIPs on Monday evening on the occasion of the National Day of Romania. The event was hosted by her Excellency Ambassador Andreea Păstârnac and her husband. Among the many ambassadors, consular officials and society VIPs present were Fr. Angelo Beda Ison, representing the Vatican Embassy; Colette Avital, Romanian-born Israeli diplomat and politician; Mordechai Paltzur, former Israeli ambassador and the person responsible for developing diplomatic relations for Israel with several Eastern European countries (and subsequently Israel's first ambassador to Poland after reestablishment of diplomatic relations between the two countries); Nitzan Chen, the Director of the Israel Government Press Office; Nanci Brandes, Romanian-born Israeli musician, conductor, comedian, entertainer and composer; and many others. Notably missing were two of Romania's Honorary Consuls in Israel, Benny (Binyamin) Baratz and Bruno Landsberg, both unable to attend. As always, the various military attaches in their smart uniforms, with their escorts, added a special sparkle to this beautiful event.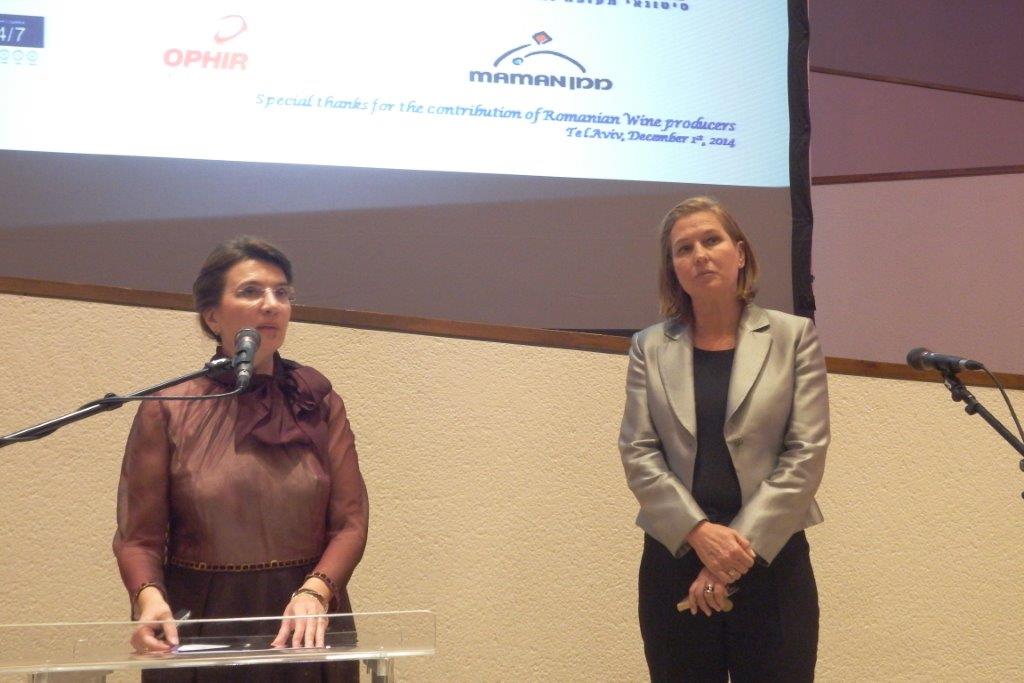 Guests enjoyed a rich buffet of snacks while mingling and renewing friendships and making new ones. Besides soft and other drinks, a range of superior Romanian wines was on offer, to the delight of all present. We particularly enjoyed the Nomad Feteasca Neagra 2009, as well as the crisp whites. Several large companies, Romanian and Israeli, added their cache to the event, proving sponsorships and support, TAROM being the major sponsor. Others included the Ben Haim and Carmel Wineries, Sixt, Sano, Israel Aircraft Industries, Bank Leumi and Zim, and more.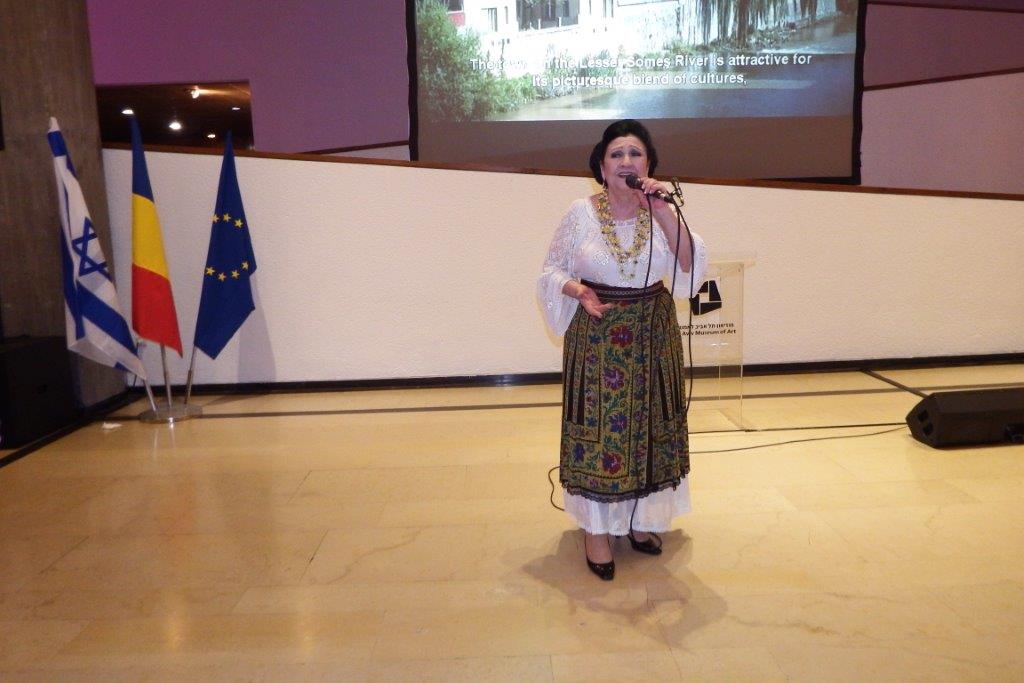 After a brief introduction, the Romanian singer and entertainer Stefania Rares performed beautiful renditions of both the Romanian and the Israeli national anthems. (Ms. Rares later performed a selection of Romanian folk songs for our entertainment, to appreciative applause from the guests.)
Her Excellency Ambassador Păstârnac then addressed the audience - In fluent Hebrew! She began by briefly touching on the historical background of Romanian independence and development. Madame Păstârnac spoke on the excellent relationship – which has survived through thick and thin – between her country and the State of Israel. She mentioned the large number of Romanian immigrant descendants living in Israel today, and of their dynamic and fundamental contribution, not only to Israeli society, but to the economy and well-being of Israel. She reminded us of the historical importance of Romanian immigrants to then Turkish Palestine over 200 years ago. They where instrumental in founding the Carmel Wineries and some of their descenedants, seven and eight generations later, still reside in the Zichron Yaakov area. The Ambassador's message to Israel was one of deep friendship and appreciation for the strong bi-lateral relations the two countries enjoy.
On behalf of the State of Israel, MK Tzipi Livni, Israel's Minister of Justice, responded. She opened her address in English, but noted that the Romanian Ambassador had requested that she address the audience in Hebrew, which she then continued to do. Ms. Livni's greetings to Romania were warm and friendly. She stressed that Romania's continued support and friendship for Israel are not taken for granted, and that Israel appreciates the excellent bilateral relations. "There are some 400,000 Israelis of Romanian descent, which means Israel and Romania are linked not only diplomatically, but at a very societal level too". Israel, she said, is a country for all its citizens, but that does not mean that different societies and cultures must be merged in the giant melting pot. "There is still place for individuality". As an aside, Ms. Livni touched on a facet of the misunderstanding in the world today; the difference between what the world thinks of Israel, and what Israel really is. In conclusion she asked the Ambassador to extend warm best wishes and congratulations to the Romanian Government and people, from the people of Israel.
The entertainment provided by Ms. Rares brought the celebrations to a fitting end.
Photos by Silvia G Golan