On December 4th, 2014, the new Ambassador of Japan to Israel Mr. Shigeo Matsutomi and Mrs. Kaori Matsutomi offered a reception at their residence in Herzliya Pituach to celebrate the 81st Birthday. of His Majesty the Emperor (In Japan, the emperor is never referred to by his given name, but rather is referred to as "His Imperial Majesty the Emperor" which may be shortened to "His Imperial Majesty").

A lavish buffet dinner featuring Japanese dishes: Plates of delicious Sushi, delicious meats, vegetables, fruits, cakes, and even Kosher Food prepared for the religious Jews. The menu was accompanied by Sake, bear and a range of Liqueurs, alcoholic and other beverages. Sake has played a central role in Japanese life and culture for the past 2,000 years.

As we entered to the Ambassador's official residence, we were invited to participate at a Japanese tea ceremony. We loved the special taste of the Matcha Green Tea (a fine-ground, powdered, high-quality green tea).

The distinguished guest list included Dr. Yaacov Cohen - Former Israel Ambassador in Japan, Yehuda Meshi-Zahav, ZAKA Chairman (Disaster Victim Identification), Hezi Bezalel - One of the leading Israeli entrepreneurs operating in Africa, members of the diplomatic corps, business and commercial leaders, dignitaries of the Japanese community in Israel, Israeli political leaders and other "who's who" of the Israel social calendar.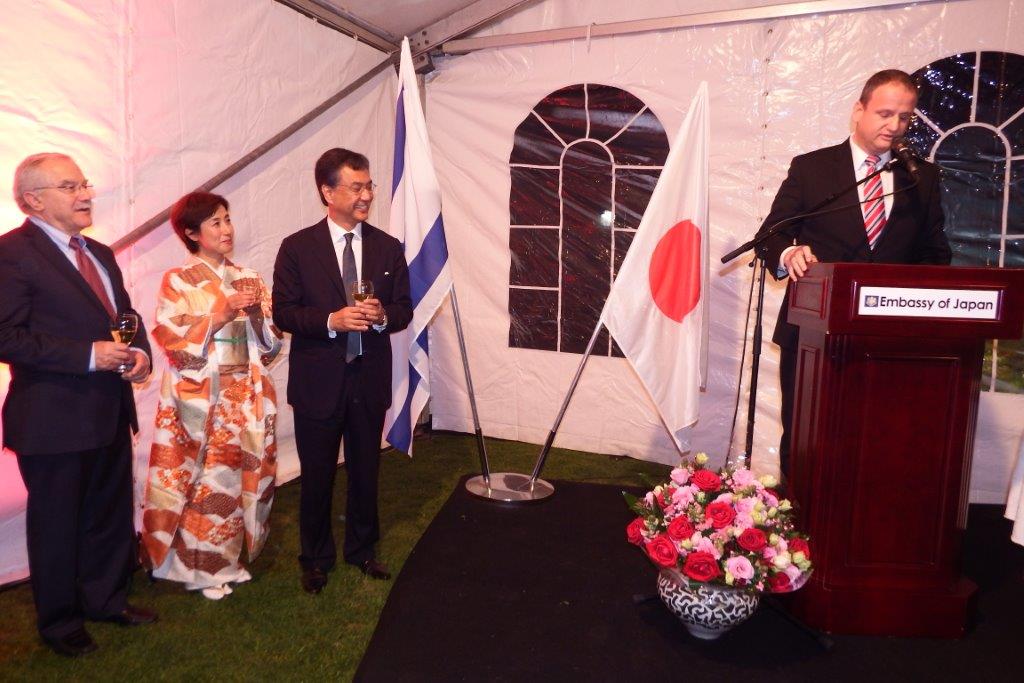 The formal part of the event started with violinist playing the national anthems of both countries, followed by the speech of the Japanese Ambassador, welcoming the guests.

Ambassador Matsutomi thanked everyone, for participating in the celebration for the Birthday of His Majesty the Emperor. He welcomed the honorable guests of Israel government: Minister Ya'ir Shamir - Minister of Agriculture and Rural Development, Director-Generals, Ambassadors and all distinguished guests and said the following:

"His Majesty, Emperor Akihito, will observe his 81st birthday this month. The Emperor today still continues to play his role as the unifying figure of our nation.
Since arrival at Israel on August, my wife Kaori and I have been enjoying both exciting work and everyday life in Israel.
The year 2014 has been a good year. We have witnessed many high level exchanges in both political and economic fields.
I wish to build upon those achievements and thoroughly follow up each, even to do homework, so as to make the bilateral ties even closer.
Also in the Cultural field, Japanese artists, from modern ballets (contemporary dance) to even Sumo wrestlers, charmed Israeli people.
This October, "Japan Cultural Week" in Jerusalem alone attracted more than 7,000 visitors. In Japan, the Israel Philharmonic Orchestra fascinated thousands of Japanese in November at its annual performances.

In both countries we have now a season of elections. Prime Minister Abe is asking for a general election to be scheduled on 14th next week to ask the Japanese public about his economic policy (Abenomics).

In Israel, needless to say, March 17th. I believe our bilateral ties will not be affected by political developments anyway.
I'm determined to do my best to promote our bilateral ties together with our Embassy staff. I ask your cooperation for that.
In conclusion, I wish to propose a toast to the continued good health of Their Majesties as well as each one of you present here, and to an even more fruitful friendship between our two countries."

After the Ambassador's speech, Mr. Ya'ir Shamir - Minister of Agriculture and Rural Development, said the following:

"Your Excellency the Ambassador of Japan and Mrs. Kaori Matsutami, Distinguished Ambassadors and Members of the Diplomatic Missions in Israel, Honorable Guests, Ladies and Gentlemen.

I am pleased and honored to represent the Government and People of Israel at this joyous celebration of the 81th Birthday of His Imperial Majesty Emperor Akihito.

This year, Israel and Japan are marking the 62nd anniversary of the establishment of diplomatic relations between our countries. Japan was the first nation in Asia to establish formal relations with Israel, and Israel, in turn, was the first nation in the Middle East to establish diplomatic relations with Japan in 1952.

The bonds between our peoples extend beyond the founding of the State of Israel. Following the First World War, Japan took part in the in the San Remo Conference, in which the idea of self-determination for the Jewish people was formally approved. Years later, Vice Consul Chiune Sugihara saved the lives of thousands of Polish and Lithuanian Jews by providing them with exit visas to Kobe, Japan during World War Two, and today there are more than 40,000 descendants of these Jews living across the globe thanks Vice Consul Sugihara's courage.
Today, the special relationship between our peoples can be seen by the number of high-level visits between our governments. Notably, Prime Minister Netanyahu visited Japan in May, and together with Prime Minister Shinzō Abe released a joint statement celebrating the significant upgrading of bilateral relations between our countries.

Last June, Menachem Kidron, who serves as the Director of the Israel Space Agency in the Ministry of Science and Technology, also visited Japan. Mr. Kidron's meeting with his counterpart in the Japanese Government resulted in an agreement to strengthen the cooperation between our countries in research in the field of Space exploration.
In addition to two Japanese delegations that visited Israel last July, Israel was proud to welcome on separate visits Minister of Internal Affairs and Communications Yoshitaka Shindō and Minister for Economy, Trade, and Industry Toshimitsu Motegi, whose visit culminated with the signing of an agreement of cooperation in industrial research and development.

And, speaking for myself, I was proud to have represented Israel in the prestigious Science and Technology in Society annual meeting in Kyoto last month.

This coming month, the annual political dialogue will take place in Tokyo, and Israel looks forward to continuing the ongoing fruitful cooperation that has developed between us.
Based on democratic values, hard work, and investments in education and research, Japan and Israel have both created strong and developed open societies for the benefit of all. In 2011, bilateral trade between our countries valued more than $1.7 billion, of which $1.1 billion was imported to Israel from Japan. Japanese businesses can be found throughout Israel, and I am especially pleased that companies like Sony, Hitachia, and Toshiba have Research and Development centers here.

Interest in Japanese culture is also taking hold throughout Israel. Across the country, thousands of students practice Judo and Karate, and many more study the Japanese language in High School and University. More and more Japanese books are being translated into Hebrew, and Sushi has become one of the most popular foods in Israel.

This interest in Japanese culture is also well illustrated by the success of Japanese Cultural week in Jerusalem just a few weeks ago. Organized by the embassy of Japan and in coordination with the City of Jerusalem and the Ministry of Foreign Affairs, this festival celebrated Japanese culture in Israel.

To the north in Haifa, the Tikotin Museum of Japanese Art stands as the only one of its kind in the Middle East. Israel is immensely proud of its partnerships with Japan, both cultural and economic, and looks forward to bettering relationships and building new ones in the years to come.

However, the value placed on friendship between two peoples is not only seen in times of joy and prosperity, but also in times of great tragedy and sadness. When the Fukishima Disaster struck Japan in March 2011, Israel was the only country to send a medical team of 70 personnel to the area that was most affected, as well as medical supplies and equipment donated to local Japanese hospitals. This vital aid helped Japan to respond, though in a modest way, to the disaster, and Israel was pleased to have done what it could to aid the Japanese people in this time of great trial.

Before I conclude, I do want to take a moment to mention the peace process in the Middle East. Along with the United States and the European Union, Japan one of the most important contributors to the cause of peace in the Middle East, and since 1992 has contributed $1.3 billion in projects aimed at breaking down the barriers in the way of peace. The flagship project is known as the Corridor for Peace and Prosperity, an agricultural-industrial park in Jericho, and there are many other civilian projects throughout the West Bank and Gaza.

It is also noteworthy that Japan helps to finance the Multinational Force of Observers in the Sinai Peninsula, and that 30 Japanese Soldiers are deployed to the United Nations Disengagement Observer Force in the Golan Heights. Israel is deeply appreciative to Japan's commitment to its security and the stability of the region.

I also want to take a moment to express my gratitude on behalf of the Israeli government and people to Mr. Yutaka Uemura, the outgoing Special Envoy to the Middle East peace process from Japan, and to wish great success to the incoming Envoy Yohei Kono. Israel is confident that Mr. Kono will continue the excellent work of Mr. Uemura in his new role.

Mr. Ambassador, please allow me to conclude by asking you to convey our best wishes to His Majesty the Emperor, and to the Government and People of Japan on your National Day. May the bonds between our nations continue to grow in the years ahead."
Representing the Prime Minister of Israel, Harel Locker, Said the following:

"Com ban wa,

Ladies and Gentlemen, I am the director general of the prime minister office of Israel, and I would like to read to you this evening, Prime Minister Netanyahu's greeting on the occasion of the Emperor's birthday celebrations.

Ambassador and Mrs. Matsutomi, Friends, I join you in celebrating the birthday of His Majesty, Emperor Akihito.

Japan and Israel are two democracies at the opposite ends of the Asian continent. But our two countries and our two peoples are joined together in a very special friendship.
A friendship I experienced first-hand during my visit to Japan earlier this year when I met with senior Japanese officials, including Prime Minister Abe.

Though our countries already enjoy a strong partnership, I am convinced that there remains great untapped potential for cooperation between Israeli businesses and Japanese businesses; and between the government of Japan and the government of Israel. We both have much to gain by working together even more closely.

Japan has demonstrated remarkable industrial success, advanced science, internationally renowned quality control, consistently creative new ideas and a massive global reach.
Israel has a proven capacity for innovation, which produces unexpected and innovative thinking. The potential is clear. I see it. I believe that Prime Minister Abe sees it too.
We must work together to realize our shared potential for the benefit of both our peoples.

Ambassador and Mrs. Matsutomi, On behalf of the government of Israel; I join the people of Japan in celebrating the birthday of your Emperor.
May Japan and Israel enjoy the blessings of prosperity and peace. These were the words of Prime Minister Netanyahu.

On a personal note I, Harel Locker, would like to say, that it was a great honor to visit Japan as part of an official economic Israeli delegation, a few weeks ago.
We could sense that a new, exciting era of Japan-Israel relations is coming. Japan is one of the most technological and productive states in the world.

Israel's economy is very innovative in every field - medical devices, Agritech, Fintech, Cyber Security, renewable energy, homeland security and many other fields.
Our economies are complementary, and therefore cooperation is natural. You can be the senior partner. We could be the junior one.

Ladies and Gentleman, I'm certain that in addition to our great friendship, we will have also a great business partnership together. Together we can seize the future.
Thank you very much. Mazal Tov and Domo arigato."

In this event, we felt deeply the strong friendship between the people of both countries – Japan and Israel – which was evident in the speeches and atmosphere.
Best wishes for many more years of mutual cooperation and success for the two countries Japan and Israel!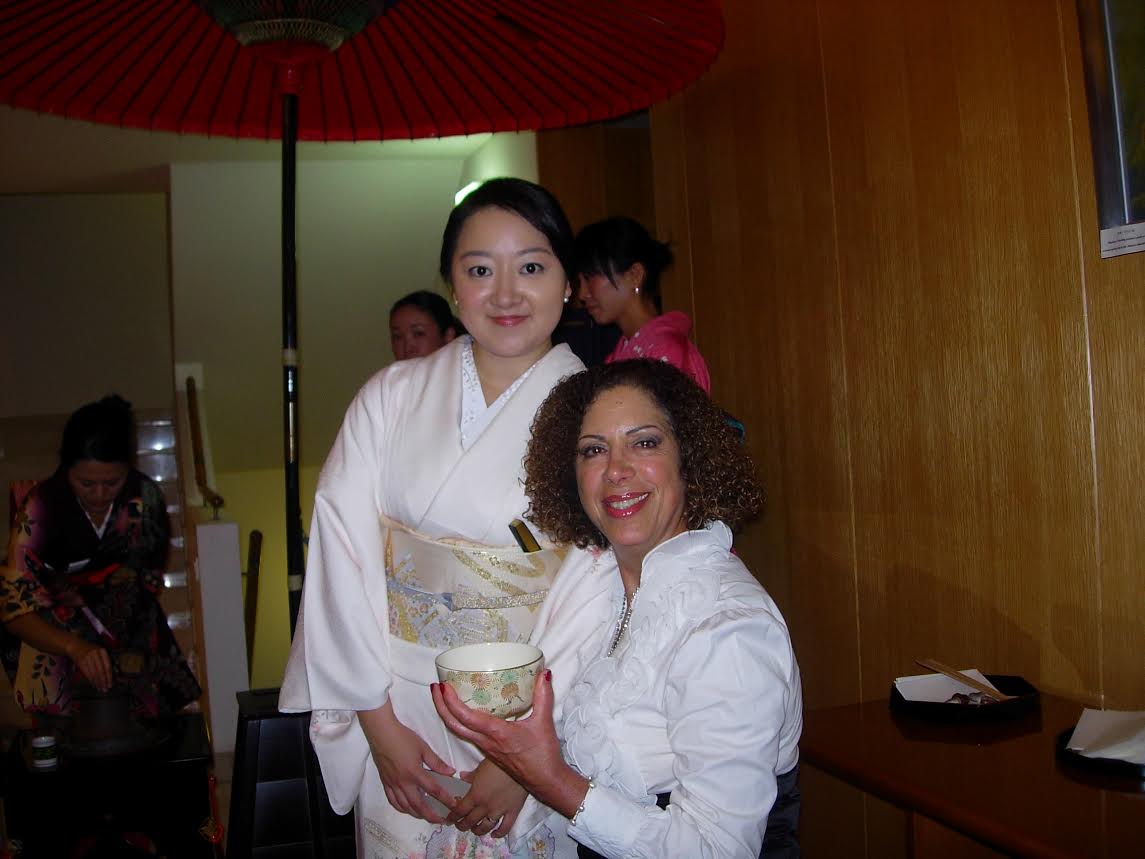 About Harel's role on the Japanese issue

Harel Locker, Director General of the Prime Minister's Office of Israel was appointed by the PM to Promote economic ties with Japan.

3 weeks ago he headed an economic delegation of 30 members - Government high ranking officials, leaders of the business sector and leading academics.
PM Netanyahu concluded with PM Abe upon his visit in Japan during May to promote exchange of delegations between the countries. The Japanese METI Minister
headed a delegation to Israel and now we reciprocate with an economic delegation to Japan.

The delegation conducted a 4 day visit to Kansai region and to Tokyo. Met and visited many Japanese enterprises, the Keidanren, Members of parliament and of the METI Ministry.
Representing the Government: Israel Prime Minister's Office, Ministry of Economy, Israel Ministry of Transportation, Israel Cyber Bureau, "The Fuel Choices Initiative".

Business organizations: Israel Export and International Cooperation Institute, Manufacturers Association of Israel. Israel-Japan Chamber of Commerce, Association of Craft & Industry in Israel.

Business Sector: TEVA, Amdocs, IBM Israel, Q-Core Medical, EMC, SAP Israel, IAI- Israel Aerospace Industries, 3M, Security Dam, Raphael, IMI. Academy: Tel Aviv University Center for Nano-science and Nano-technology.
Photos Silvia Golan