The Socialist Republic of Vietnam Celebrates.
And not just any celebration; but the 70th anniversary of the National Day of the country. The invited guests gathered to celebrate in the elegant ballroom of Tel Aviv's Dan Hotel. On giant screens, a video showing the extent of Vietnam's advances (and the tribulations which were overcome) over the years. The country has much of which to be proud.
While cocktails and snacks were served, members of the Diplomatic Corps mingled with the top echelons of Israeli and Vietnamese military, scientific, educational, agricultural and VIP society. Among those present were many Ambassadors (to mention just three: Sri Lanka, South Africa, Croatia); Mark Sofer, Deputy Director General of the Ministry of Foreign Affairs; Igor Zakashansky, Head of the Wing Chun Kung Fu Federation of Israel; Prof. Uriel Reichmann of the Herzliya Interdisciplinary Center, and the Honorary Consul of Vietnam Mr. Igal Ahouvi with his partner, TV personality and model Galit Guttmann, and many others.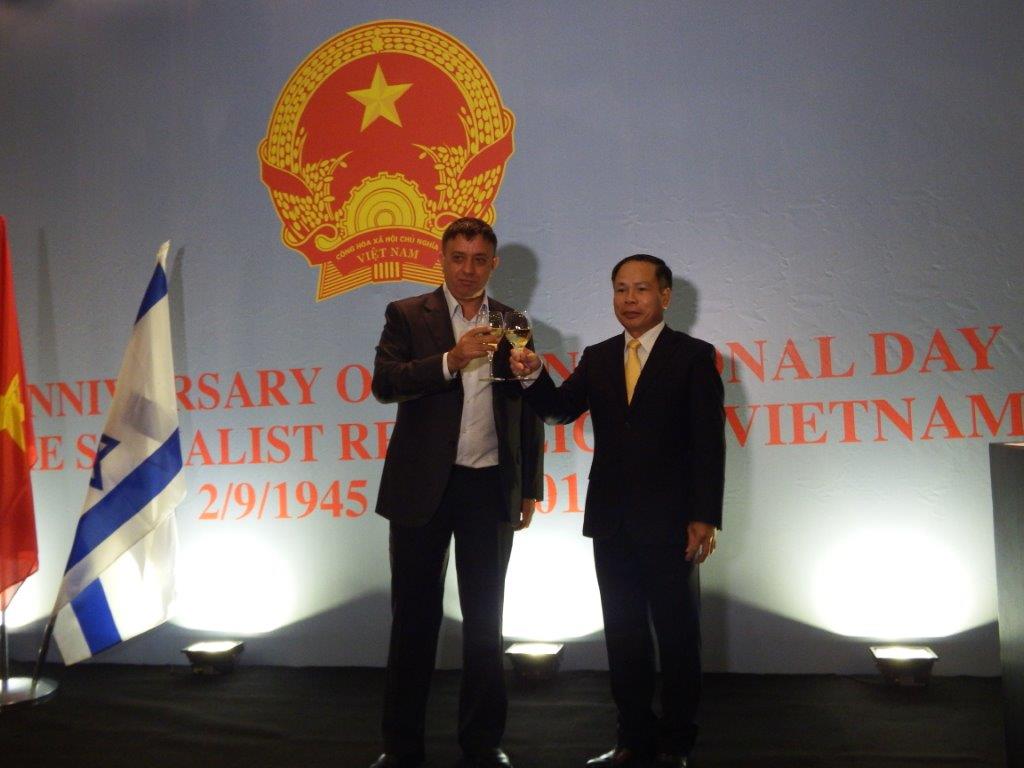 His Excellency Ambassador Ta Duy Chinh welcomed his guests in a moving address. He spoke of the establishment of the country (the declaration of independence 70 years ago by then President Ho Chi Minh), the difficulties and successes of the country and its warm people. "Over the past 70 years, with a solid unity and unwavering determination, Vietnamese people have heroically overcome all kinds of challenges and difficulties, tirelessly endeavored toward that end and have recorded outstanding achievements". His Excellency noted that the country is no longer at war, and has become an attractive tourist destination. "From a country with a name hardly found in the world maps a century ago, Vietnam today enjoys the diplomatic relations with 185 countries including all five permanent member of UN Security Council". No small achievement. The Ambassador mentioned the trade, economic and business ties with more than 200 countries and territories. "With the outstanding achievements and contribution over the past 70 years, Vietnam today becomes an important player for peace, security, stability and development and a pro-active, responsible and reliable partner in the international community".
His Excellency ended his address: "On this auspicious occasion, on behalf of the state and people of Vietnam, I would like to express our deep gratitude to all the friends of Vietnamese people all over the world for their precious friendship, supports and cooperation given to our people over the past 70 years. Vietnam and Israel share many common values and similarities and since the establishment of the diplomatic relations 22 years ago, our friendship and cooperation have been steadily strengthened and deepened. Our political ties and mutual understanding are growing. With these remarkable achievements, we have every reason to believe that Vietnam and the State of Israel can further work together to bring our bilateral relationships to a higher stage for the interests of our two countries and for peace, security and prosperity in the region and in the world. The steadily growing relations between our two countries are only made possible thanks to the endeavors by both peoples and governments, and by our business and think-tank communities". He then proposed a toast to the National Day of Vietnam; to an ever-growing friendship and cooperation between Vietnam and the State of Israel; and to [y]our good health and happiness.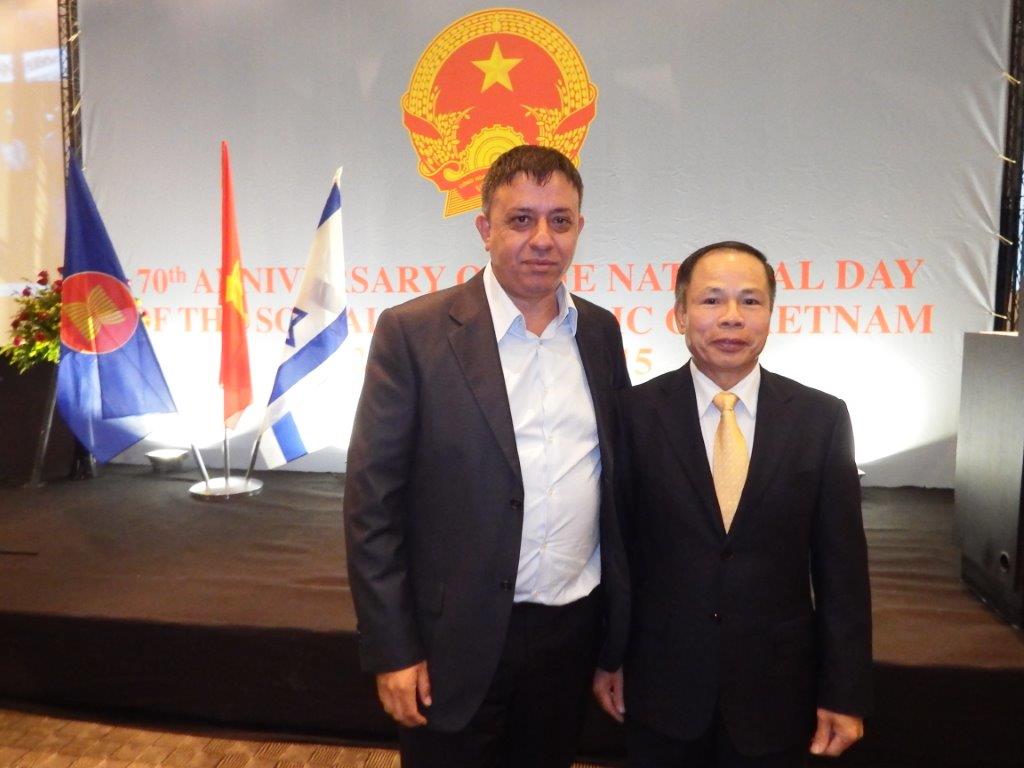 Minister Avi Gabai, Israel's Minister of Environmental Protection, then responded on behalf of the State of Israel. He thanked Ambassador Ta Duy Chinh for his kind words and then added: "This July, Israel and Vietnam marked 22 years since the establishment of diplomatic relations. We have introduced real content into our relationship over a range issues such as economic, agriculture, science, technology and more". Minister Gabai mentioned the model dairy farm that the Israeli "MASHAV" institute has established in Ho Chi Minh City in cooperation with the Provincial Government, all based on Israeli knowledge and equipment. The farm functions as a demonstration center for farmers in the region. He also mentioned that: "Last year, over 850 students from Vietnam attended an 11-month long agricultural training program in Israel and next year we are expecting 700 students from Vietnam to attend an agricultural 'learning through experience' program".
Trade and cooperation between the two countries has expanded as bilateral relations have expanded. The Minister ended his address by reemphasizing Israel's deep commitment towards Vietnam, and expressed the hope that cooperation between the countries would expand further. "As Minister of Environmental Protection, let me add that we would be pleased to see cooperation expand also to environmental issues. On behalf of the State of Israel, its people and its Government, I ask you, Mr. Ambassador, to please convey our warmest congratulations to the Vietnamese people".
The speeches were followed by a live rendition of the national anthems of both countries, after which a rich buffet dinner, in grand style and with many typically Vietnamese dishes, was offered to the guests.
Vietnam-Israel diplomatic relations - 22 years and counting …

Vietnam's independence – 70 years, and blessings for many many more.
Photos: Silvia G. Golan