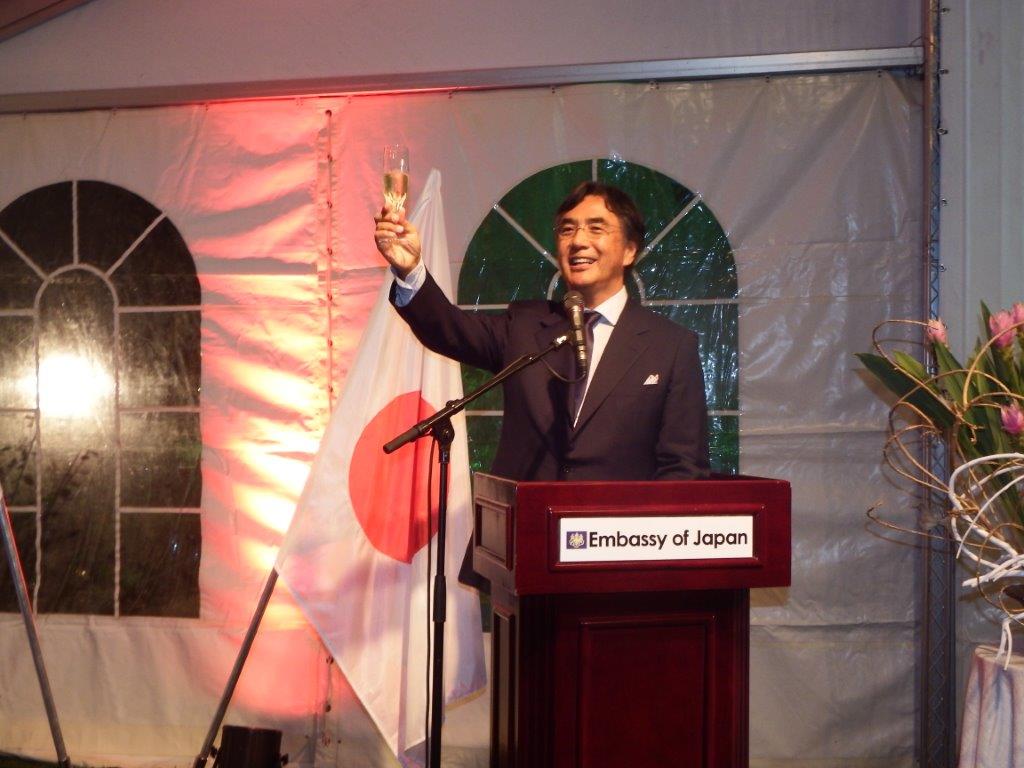 A truly glittering gathering of diplomats, celebrities, society leaders and business associates assembled at the ambassadorial residence of his Excellency Shigeo Matsutori, Ambassador of Japan to the State of Israel, and his wife Mrs. Kaori Matsutomi, at their lovely Herzlia Pituach home. The celebration was in honor of the 82nd birthday of His Imperial Majesty, Emperor Akihito of Japan. Needless to say, Japanese art and culture were everywhere. For Israelis, the classic formal greetings and bows between the Japanese (and between in-the-know westerners and their Japanese counterparts) are a breath of fresh air. There was much fresh air that evening, which added to the grace and charm.
Also adding to the charm was the display of a genuine formal tea ceremony by properly-clad Japanese hostesses; not to mention the wide array of saké, Japanese beers, wines and other beverages at the generous bar. Guests mingled and chatted, renewing old friendships and making news ones as snacks and drinks were served before the formal speeches and dinner. Among the guests were their Excellencies the Ambassadors of Spain, Zambia, Thailand, Georgia, Panama, Myanmar, South Africa and many others; the charges d'affaires and cultural and military attaches of many embassies in Israel; present and former members of the Knesset and other Israeli governmental officials. To mention just three important attendees by name: Eli Lancman, Chairman of the Israel-Japan Friendship Society; Ehud Rassabi, Honorary President of the Society and the Chamber of Commerce; and Ze'ev Lavie, Director of the Israeli Federation of Chambers of Commerce.
Entertaining the guests during the cocktails were an accomplished flautist and violinist, playing Japanese melodies. The formal segment of the evening began by them playing beautiful renditions of the Japanese national anthem, followed by that of Israel.
His Excellency the Japanese Ambassador opened his remarks by thanking everyone for attending, mentioning in particular Israel's Minister of Environmental Protection, Avi Gabai, and Israel's Attorney-General, Yehuda Weinstein. Ambassador Matsutori made special mention of, and sent his condolences to the victims of, the "sorrowful incident" of terror in Paris. He added: "In this context, I believe we have a lot to learn from Israel in its spirit and resolution, defying terror, fighting back terror and making progress way forwards for nation building." He also spoke of Japan's interest in furthering a possible two-state solution leading to peace between Israel and the Palestinian Authority, noting that Japan also has problems and disputes with some of its neighboring countries and adding that: "I hope both Israel and the Palestine Authority will pedal more vigorously and visibly towards the peace."
The Ambassador spoke of the excellent bilateral relations between his country and Israel: "I would like to emphasize that, thanks to mutual visits at the highest level, there has been great progress in the bilateral relationship in the political, economic and cultural arenas, particularly economic and business interaction is coming to a next dimension." He noted that a Japanese airline began flights to Tel Aviv under a code-share agreement in October; new visa systems have been introduced, first for qualified engineers, with more to come (next for students); Japanese mega businesses have started coming to Israel while their corporate profits reach historic highs; and that a bilateral investment treaty is being negotiated, "the first of the kind Israel ever has with liberalization compacts. We are at a final stage and I hope it will come soon."
On a note of sadness Ambassador Matsutori noted that he has only four more weeks to serve in his post in Israel and that: "My wife Kaori and I are very sorry to leave now just as our bilateral relationship is taking high momentum, and also in private life, my wife and myself, have so much enjoyed staying here in Israel. We're very sad to be separated from many good friends …. In conclusion, I wish to propose a toast to the continued good health of Their Majesties as well as each one of you present here, and to an even more fruitful friendship between our two countries."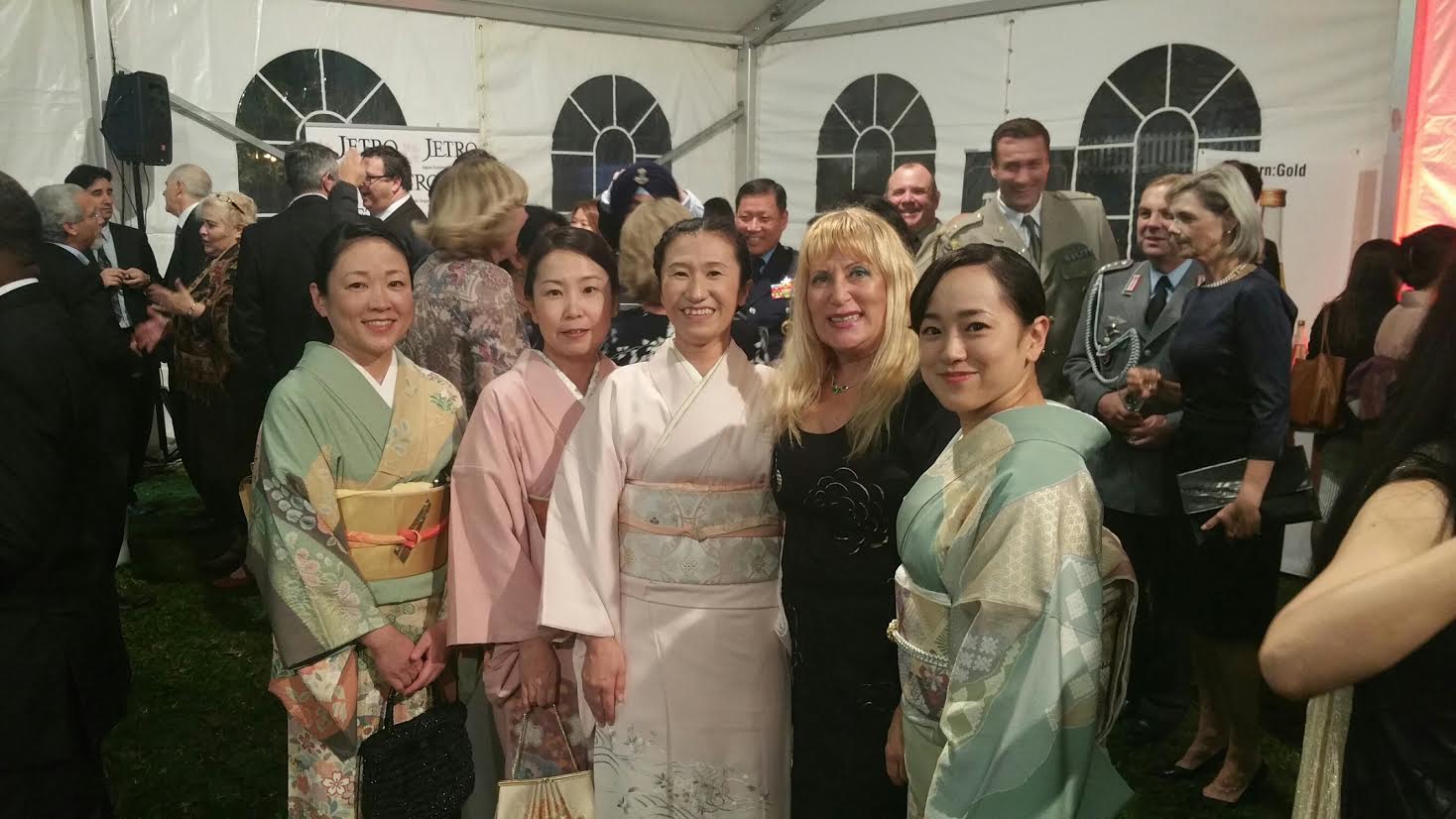 Minister Gabai responded on behalf of the Government and the State of Israel and its people. He followed his warm congratulations by noting that although Japan and Israel are geographically at the two extreme opposite ends of Asia, the two countries have very warm and close ties. "Japan is a good friend, a like-minded country. There are mutual interests and investments, and these have led to good and lasting bilateral ties". The Minister added that he had attended several diplomatic events in the past, but could not recall such a well-attended and beautiful one.
"The direct dialogue between our leaderships has allowed us to reach important agreements, mainly in the areas of science, technological innovation, cyber and homeland security. This is why among other things, Israel decided to extend and widen its activities throughout Japan. Just a few days ago, on November 16th, we opened a new Trade Office in Osaka. To add to that, an agreement for encouraging mutual investments will be signed soon and will send a strong signal to both sides. Japan has been for many years at the cutting edge of environmental technology and innovation – an inspiration worldwide. Japan is also at the forefront in moving from waste to sound materials management and I, as the Minister of Environmental Protection, believe we could learn a lot from your knowledge and experience. We are committed to continue and strengthen the good relations which exist between us."
He asked the Ambassador to convey respectful good wishes and congratulations to the Emperor and to the people of Japan.
Needless to say, sushi, tempura and yakitori featured on the dinner buffet that followed, but also Spanish paella, Chinese dim-sum and American beef. Not to mention a special section featuring kosher dishes for observant guests. The saké flowed like water, and guests were offered a recipe leaflet to enable them to try the Japanese dishes at home. Maguro namerou, anyone?
Photos : Silvia G. Golan