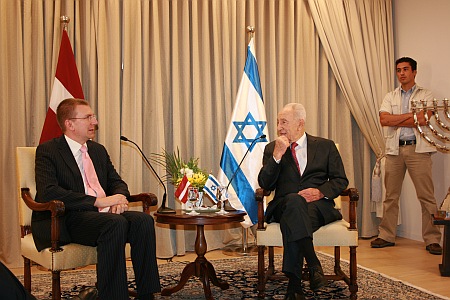 During his visit in Israel from 29 to 31 October, the Minister of Foreign Affairs Edgars Rinkēvičs called on Israeli officials for the development of economic and trade contacts between both countries and support for the accession of Latvia to the Organisation for Economic Co-operation and Development (OECD). Foreign Minister Rinkēvičs met with the President of the State of Israel, Shimon Peres, and extended to him an invitation from President Bērziņš to visit Latvia. Minister Rinkēvičs and President Peres shared the opinion on key importance of education and knowledge-based economies for the development of small countries. "This opens excellent opportunities for our future cooperation," Minister Rinkēvičs concluded. President Peres commended economic achievements of Latvia and expressed his support for strengthening relations with Latvia.
The Foreign Minister of Israel, Avigdor Liberman, also confirmed that Israel was interested in forging closer relations with Latvia. Minister Rinkēvičs accentuated that the year 2012 had a special importance – it saw the 20th anniversary of the establishment of diplomatic relations between Latvia and Israel. Latvian and Israeli Foreign Ministers expressed their commitment to strengthen economic and trade cooperation, including contacts between business people of both countries.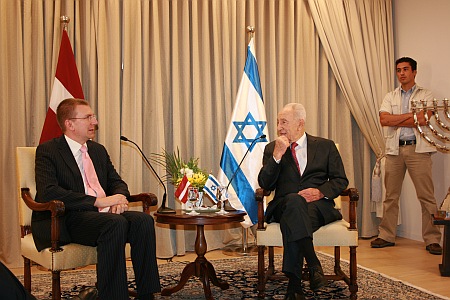 Latvian Foreign Minister urged to continue efforts on expanding the legal framework between Latvia and Israel: to finalise the coordination of the updated programme for cooperation in the field of education, culture and science, as well as the draft agreement on land transport.
"The Jewish community of Latvia plays an important role in promoting cooperation between both countries," Minister Rinkēvičs noted. "Moreover, this year we mark 450 years since Jewish communities first settled in the present territory of Latvia". In response to the Israeli Foreign Minister's questions concerning the restitution of former Jewish communal property, Minister Rinkēvičs told about the dialogue between the Government of Latvia and the Jewish community and emphasised that the issue called for a political and social consensus.
The Foreign Minister of Israel accentuated the interest of Israel to strengthen cooperation with the European Union. Mr Liberman commended the decision of the European Parliament of 23 October on the ratification of the Agreement on Conformity Assessment and Acceptance of Industrial Products, which will facilitate EU-Israeli trade.
The parties discussed in detail the developments in the Middle East, in particular, the situation in Syria, as well as the progress with the Middle East peace Process. Minister Rinkēvičs reiterated support to the two-state solution, which can be achieved through direct negotiations between Israel and the Palestinian National Authority. "Unilateral steps will not advance the process," said the Foreign Minister of Latvia.
As part of his visit, Minister Rinkēvičs also met with the head of Israel's National Security Council, Yaacov Amidror, and saw the memorial of Israel's Holocaust Remembrance Organisation, Yad Vashem. Besides, Minister Rinkēvičs gave a number of interviews to the Israeli media.