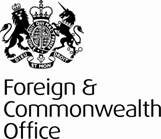 The UK's Foreign Office Minister for the Middle East Alistair Burt kicked off a coexistence football project in Jerusalem today. The Minister was joined by the English FA's Chairman, David Bernstein, the former captain of the Israeli national football team, Avi Nimni, and the British Ambassador to Israel, Matthew Gould.
The event brought together Arab and Jewish Israeli and Palestinian children for a football game in southwest Jerusalem through the Neighbourhood League organisation. The Neighbourhood League is a sporting organisation which aims to improve the quality of life through football and education for children from Jewish, Arab and Palestinian communities.
The Minister joined the children in a football match. For most of the participants, it was a chance to play with children from other backgrounds that they would not ordinarily meet.
Commenting on the event, the Minister said:
"We have ambitious plans to launch a coexistence project in Israel working closely with the FA. We want to use football as a tool to bring together Arab and Jewish Israelis, and Palestinians, closer together. We are determined to give children the skills they need to become better footballers, while fulfilling an educational role and advancing the core values of living in peace and having respect for each other."
David Bernstein, Chairman of The FA said: "The FA fully supports projects such as we have seen today which encourage integration and social inclusion through football.

"We endorse the initiative of the Foreign & Commonwealth Office and its Embassy here in Israel in engaging with football experts and local communities to give children from all backgrounds the opportunity to come together through the shared values of our sport".