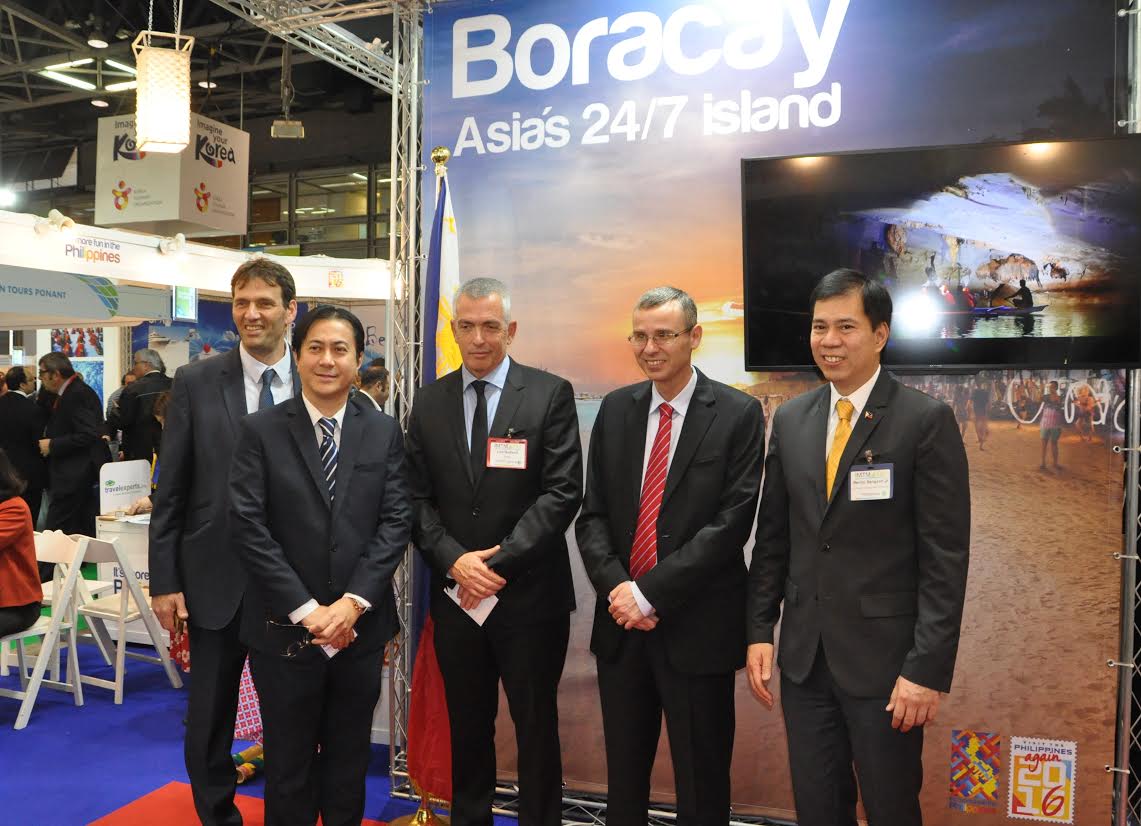 Philippine Pavilion Wows Crowd at Israel's International Tourism Fair
11 February 2016, Tel Aviv, State of Israel – The Philippine pavilion at the annual International Mediterranean Tourism Market (IMTM) instantly stood out as a crowd winner during the fair's 22nd edition, which was recently held at the Tel Aviv Convention Center.
The panoramic views of destinations adorning the pavilion, beautiful and upbeat videos, rich taste of Filipino delicacies, and the variety of song and dance performances, including flair bartending, attracted hundreds of visitors and showed them that, truly, "It's More Fun in the Philippines."
The Philippine pavilion was formally opened by Department of Tourism Undersecretary for Tourism Development Benito C. Bengzon, Jr., who led the first DOT delegation to the IMTM, and Philippine Ambassador to Israel Neal Imperial. Joining them were other DOT officials and partner travel agencies from the Philippines such as Annset Holidays, Inc., Flyeast Philippines, Intas Destination Management, Inc., Maman Aviation, Ltd., and Travel Experts, Inc.
Israeli Tourism Minister Yariv Gideon Levin also visited the Philippine pavilion during the first day of the travel fair and was delighted to watch the "Tinikling" performed by members of the Filipino community in Israel.
DOT officials also held a Country Presentation on the second day of the fair. Around 50 travel and tour agencies, including business organizations, attended the event. Through videos, photos, and cultural performances, DOT officials showed why the Philippines is the next best destination for Israelis in Asia.
This is the fourth time that the Philippines has participated in the IMTM. Previous participations were done through partnership between the Philippine Embassy and the Israel-Philippines Tourism Chamber. However, this is the first time that a Philippine pavilion was organized and led by DOT which has made Israel as one of its priority markets.
In an interview with the Israeli media, Undersecretary Bengzon said: "We are trying to position the Philippines as one of the newest, most exciting, and most fun destination in Asia. Last year we had about 12,000 tourists from Israel and we grew by about 34 or 35 percent. So for us, this is a very good sign. It's an indication that the Israeli outbound travelers who, by the way, are very very sophisticated are starting to see the potential of the Philippines as an exciting destination in Asia." --