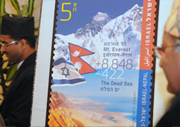 What is common to the Dead Sea and Mount Everest? After 52 years of diplomacy, Israel and Nepal issued a joint stamp - The Highest and Lowest Places on Earth.
After 52 years of diplomacy, Israel and Nepal issued a
joint stamp
, expressing the fruitful cooperation between the two countries in many fields. The stamp is dedicated to the lowest place on earth - the Dead Sea - and the highest - Mount Everest.
As customary in the case of a joint issue, the stamp was issued on the same day - Tuesday, September 4, 2012 - in both countries. In Israel, a festive ceremony was held at the Ministry of Foreign Affairs, with the participation of Deputy Foreign Minister Danny Ayalon, Chairman of the Israel Postal Service Sassi Shilo, Nepalese Ambassador to Israel H.E. Prahlad Kumar Prasai, MK Rachel Adatto, and Director of the Israel Philatelic Service Yaron Ratzon.
Israel and Nepal established full diplomatic relations in 1960. The Prime Ministers at the time were David Ben Gurion of Israel and B.P. Koirala of Nepal. Nepal was among the first Asian countries to establish relations with Israel. Over the years, the two countries have created a diverse network of cooperation and close ties in various areas.
Nepal is located in the Himalaya Mountains and includes Mt. Everest - the earth's highest mountain, and Israel is home to the lowest place on earth - the Dead Sea.
The Dead Sea, 422 meters below sea level, the lowest place on earth
The Dead Sea is a salt lake located in eastern Israel. The Kingdom of Jordan lies on its eastern border. The Dead Sea - a national and worldwide natural treasure - is the largest spa in the world, drawing tourists and extreme sports fans. The Dead Sea's hypersalinity provides a unique floating experience and the health benefits of the minerals found in its water and mud, are immense. It is a breathtakingly beautiful area which includes wadis, cliffs and an extraordinary zoological and botanical population. The Dead Sea and the surrounding area have great religious and historic significance and represent a turbulent chapter in the history of Israel.
Mt. Everest, 8,848 meters above sea level, the highest place on earth
Mt. Everest is located in the eastern portion of the Himalaya Mountains, on the border between Nepal and China. Most of the mountain lies in Tibet, which is part of China, while the southern portion is located within the borders of the Sagarmatha National Park in Nepal.
On May 29, 1953 New Zealander Sir Edmund Hillary and Nepalese Sherpa Tenzing Norgay became the first climbers confirmed to have reached the summit of Mt. Everest. Mt. Everest, as well as Nepal's other mountain ranges, make it a popular tourist destination.