More

Life Style
Life Style
Details

Written by

Silvia G Golan
The Dan Hotel chain enriches their hotel's and restaurant buffets with menus that will combine a selection of favorite Thai dishes which Israeli guests and tourists love.


As part of the move, the network has sent two of its top chefs, chef Ofir Kedem at the Dan Eilat and chef Eric Porat from the Dan Acadia to study at the "Cordon Bleu" in Bangkok and experience professional tours in hotels and restaurants in Thailand to learn the secrets of the Thai cuisine to bring back with them to the guests at the Dan Hotels in Israel.


Upon returning to Israel, chefs Kedem and Porat preceded by a special seminar which included 14 of the top chefs from the Dan hotels and guided them to the secrets of Thai cuisine. In addition, the Thai chef Swalli Eldar participated in the workshop and gave her Thai kitchen tips.
Haim Spiegel, director of food and beverage hotels Dan said: "Thai cuisine has won over a large body of fans in Israel with the eclipse of Chinese restaurants. At the Dan hotels we were happy to 'take up the challenge', we sent two top chefs to study in Thailand and we are pleased to have our Far Eastern cuisines included at canteens and restaurants,"


The Dan Hotel chain enriches their hotel's and restaurant buffets with menus that will combine a selection of favorite Thai dishes which Israeli guests and tourists love.


The honorable ambassador of Thailand Mrs.Angsana Sihapitak and members of the embassy was also present at the event , as well as Eyal Katzdan CEO of "F lying Carpet" tourism, and Stella Yudko producer and headliner of the exciting concert "Unforgettable".
I recommend it !!!!!!!!
Photos Silvia Golan
Details

Written by

MFA
https://youtu.be/ltMlx8yhpUk
VIDEO: Jerusalem biking festival combines sports and fun
This year, over 5,000 bikers took part in the Tour Jerusalem annual biking event.
Jerusalem Biking festival combines Sports & Fun

Biking up and down across Jerusalem's hills, while enjoying the iconic walls of the old city and the many green parks is a unique experience. This year, over 5,000 bikers took part in the Tour Jerusalem annual biking event, which is being held for the third consecutive year.
https://www.youtube.com/watch?v=ltMlx8yhpUk&feature=youtu.be
credit of this video the MFA.
Details

Written by

Taly Sharon
Bar Giora Restaurant announces a new menu. The well-established restaurant that is located just a step from Dizengof Center mall is very popular and offers a wide selection of excellent meals, beverages and entertainment.

The restaurant is not new; it opened sixteen years ago and was purchased by Emanuel and Hugo Jorlette, two Belgian brothers, a couple of years ago. Emanuel and Hugo have enhanced the activities and concerts and now offer a new and improved menu with many unique entrees and a wide selection of alcoholic beverages.

Bar Giora has a nice open-air terrace that enjoys a pleasant breeze from the sea. It has a great atmosphere and is well-suited for business meetings, for a good meal after shopping, and also features romantic seating areas. There is also an indoors dining area with a trendy bar, and an Indy concert venue. It is also open for small events.
The new menu offers tasty starters and entrees, many of them are unique to Bar Giora and they are all worth tasting! The new menu includes also vegetarian/vegan dishes. Here are a few examples from the new menu:
Chicken Liver Pate – served with Melba toasts and home-made pumpkin conserve.

Fried Mushroom & Cauliflower – fried in beer dough, served with spicy mayonnaise and teriyaki chili.

Sweet potato baked in the oven with warm lentils salad, spinach and roasted red onion.

Beet & Feta Salad – grated fresh beetroot with tomatoes, red onion, rocket leaves, grated feta cheese and a decoration of walnuts.

Surprise burger – Freshly ground beef, stuffed with goat cheese or Emmental, served with vegetables and fries.

Salmon burger – freshly ground Norwegian salmon, with caramelized onions, garlic confit, and herbs, served in a bread roll with vegetables and fries.

Steak & Egg sandwich – thinly sliced pieces of Entrecote with Dijon mustard, mayonnaise, red onion, tomato, rocket leaves, sunny side up and fried onion.

Tofu Tortilla – tofu covered with bread-crumbs served over guacamole, tomato, cucumber, and red pepper with a basket of tomatoes.

Peter Luger Cookie – home-made chocolate chip cake, served with vanilla ice cream and chocolate sauce.

Cadaif basket – served with mascarpone cream and seasonal fruit.

Noa Berry – spicy rum shaked with lemon, crème de casis, lychee liquor, and vanilla extract served with berries. Just the look of this will make you dizzy!

The full review in English:
http://eatrelaxenjoy.com/bar-giora-restaurant
The full review in Hebrew: Bar Giora Retaurant

Article written by Taly Sharon

Eat Relax Enjoy
Photos Silvia Golan
Details

Written by

Silvia G Golan
Raman Winery invites you to taste the good life.

Raman Winery is celebrating its 10th anniversary and the winning of a silver medal in the "Eshkol Hazahav 2015" competition. Raman is inviting you to spend your Saturday in a different, pastoral atmosphere, accompanied by wine tasting and boutique cheeses.
The event will be held on:

Saturday, June 6th, at Raman Winery, Moshav Nir Banim.

Entry and tastings are free of charge.

During the event wine will be sold at discounted prices.

For more information: 0542-099663, 0508-674505
Raman winery:

Raman Winery is a family boutique winery (with a capacity of 10,000 bottles per year. It is located in Moshav Nir Banim. The winery was founded in 2005 by Yair Raman, out of his passion for fine wine and the desire to involve his family with the business. Yair is the chief winemaker, an attorney by profession and has degrees in Accounting and Finance. Yair believes that winemaking is a type of art, and that for him winemaking is a combination of art and therapy.
Photo provided by Raman Winery PR
Details

Written by

Sima Lahat
Sarona grows and flourishes in the heart of Tel Aviv.
In the past – a Templar settlement, and today – a center of shopping and entertainment.
Ambassadors and their spouses arrived (despite of the hot weather) to a festive visit, to get a taste of the past, and experience the present of Sarona.
The event was organized by Israel's Diplomatic Portal (www.diplomacy.co.il), directed by Ms. Silvia Golan, in association with Sarona's Management Company under the chairmanship of General Manager Iris Rar-Berz.
We met in the "Tasting Room" to taste Israeli wines.
We continued with Ms. Paul Kedem-Racover - certified and experienced tour guide, specialized in guided tours in Tel Aviv.
We toured between the picturesque balconies, lawns and parks, the pool with water flowers, the stores, and sport facilities.
Ms. Kedem-Racover started by presenting the history of the place; she told us about Sarona, which was the fourth settlement that the German Templers built in Israel in 1871, by the west bank of the Ayalon river.
The Templers were members of the "Temple Society"- a German Protestant sect, with roots in the religious movement of the Lutheran Church Protestant, originated in the middle of the 19th century. The founder of this movement, Christoph Hoffmann, intended to promote spiritual cooperation to advance the rebuilding of the Temple in the Holy land - Palestine at that time - believing that this foundation will promote the second coming of Christ.
When the Nazi regime took power in Germany, members of the Templar community in Israel started to be involved in Nazi political activities. The British mandate government put them in confined camps, and considered them as enemies (spies) and deported many of them to Australia. The British also liberated some of them in exchange to Jewish people with Israeli citizenship that were held in concentration camps in Europe. The Templers' possessions, including the high-valued real estate of their settlements, were transferred to the management of the trustee of absentees' properties.
In 1948 the Hagana forces conquered the Waldheim and Galilean Bethlehem, and the last Templar's settlers were deported from Israel.
The process of transfer of compensations to the Templers lasted about ten years. Up to 1962, the Israeli government paid 54 million German marks to the Templers and their successors - about 13 million dollars, as compensations for their lands and possessions.
And finally…

We completed our tour with a lunch picnic in the Sarona lawns, under the auspices of the Little Italy restaurant. We enjoyed the pizzas and Italian pasta, and excellent champagne.
Who needs more than all this to learn from Ms. Kedem-Racover about the past, and enjoy Sarona in the present?
The ambassadors thanked the tour organizers, and expressed their pleasure for the enrichment of their knowledge about the Templar period and the delicious culinary.
Link to the original article in Hebrew, written by Sima Lahat:

http://www.sima-blog.com/#!שרונה-–-מהטמפלרים-לכפר-קניות-ובילוי/c1kod/555c8c340cf21fee13a20f0b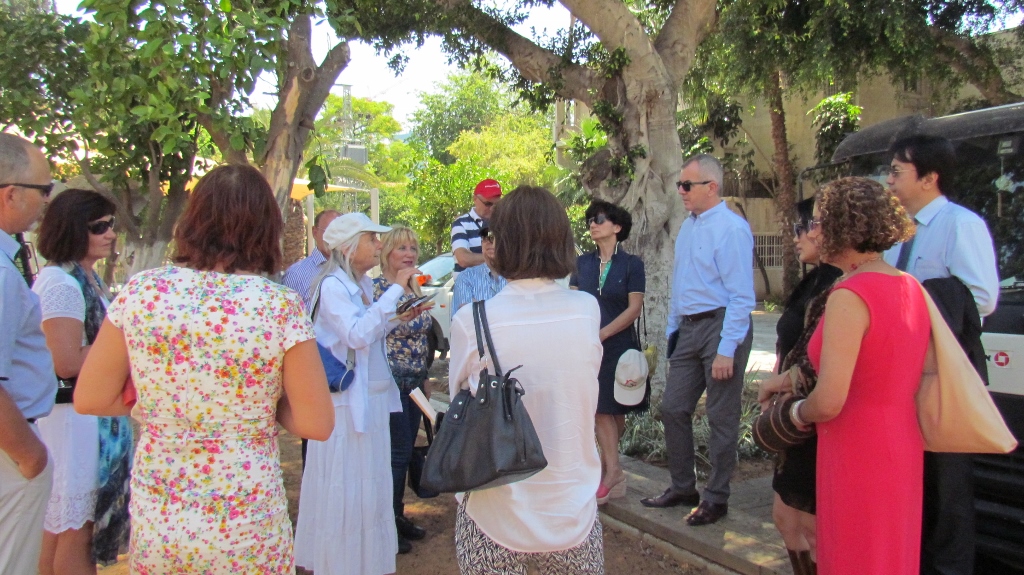 Photos Silvia Golan