More

Life Style
Life Style
Details

Written by

Silvia G Golan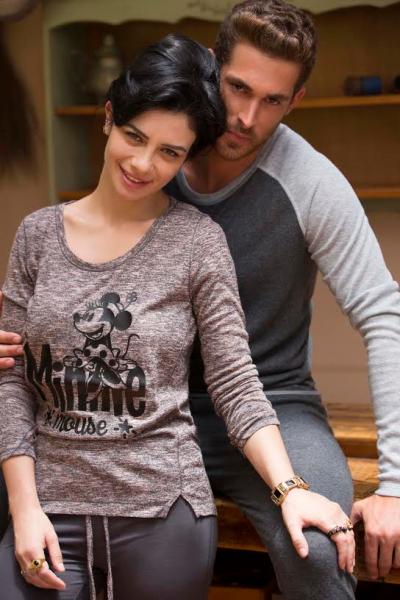 Delta israeli clothing company widens its operation and launches its 2014-15 winter collection, and shows a glimpse to its innovation for the years 2015-16.
Delta's cooperation with the Israeli company Cupron widens, for launching a series of special underwear (מאצ'תונים) for soldiers, which incorporates new technology in the production of underwear for men. Cupron also enters the production of clothes for women during and after pregnancy branded "Nearly Nude Maternity".
Zvika Shwimmer, Delta-Israel's CEO, said that "launching innovative technology is the company's cutting edge. We intend to continue and bring to our customers the technological innovations in the field of underwear clothing for women and men. This season, for the first time, we will let our customers a glimpse to part of the innovations expected in the coming year."
Shwimmer pointed out that Delta will enter in the category of clothes for women during and after pregnancy branded "Nearly Nude Maternity".
He also added that: "among the remarkable innovations, within the cooperation with Cupron, Delta will launch special underwear (מאצ'תונים) that include copper fibers, which provide the underwear with anti-bacterial qualities, renew the skin cells, and evaporate sweat, during the whole product life".
He announces that: "Delta opens a new store, following the revolution that we led last year. This store will provide a special buying experience and a division in worlds of contents (intimate world, house world and active world). This is one of the stores that underwent an innovative transformation. Until 2016, all Delta's stores will undergo this transformation."
About Delta
Delta Marketing
Delta Israel is a subsidiary of Delta Galil Industries Ltd., a private label world wide manufacturer of Intimate Apparel, Men's wear and Socks. Delta Galil is a provider to major leading retailers such as Walmart, Marks & Spencer, Hema, JC Penny, Target, GAP, C&A and more... Delta also provides to leading brands such as Victoria's Secret, Calvin Klein, Tommy Hilfiger, Nike, Hugo Boss and more... Delta also holds her own brand DELTA - the local brand in Israel.
Delta Galil was established in 1975 in the north of Israel and today is spread over four continents with manufacturing centers in the Middle East, the Far East and East Europe, marketing offices in NY, NJ, London and Israel, with a total workforce of over 10,000 associates, and a million products produced daily and shipped to the finest stores world wide. Our customers receive the finest products as Delta is known for it's great innovation, design, high technology and fabric development.
Delta's main share holder, Chairman and CEO is Mr. Isaac Dabah, owner of GMM Capital LLC. Mr. Dabah has enterd Delta in 2005 after purchasing Sara Lee's shares. In 2007 he completed his control by purchasing most of the shares held by Dov Lautman, founder of the company and Chairman until July 2007. Mr. Dabah holds a long years experience in the Textile industry; among his former roles are CEO of Gloria Vanderblit and CEO Jones Apparel Group.
ESTABLISHED IN 1975, DELTA GALIL INDUSTRIES IS A GLOBAL MANUFACTURER AND MARKETER OF PRIVATE LABEL APPAREL PRODUCTS FOR MEN, WOMEN AND CHILDREN

At Delta Galil our experts leverage the company's vast knowledge base and core manufacturing competencies, to deliver comprehensive solutions that address the dynamic changes in the industry.
FOLLOWING OUR BODY-BEFORE-FABRIC PHILOSOPHY, WE PLACE EQUAL EMPHASIS ON COMFORT, AESTHETICS AND QUALITY

We anticipate new fashion trends and develop cutting edge technologies and fabrics, all in-house and all built on a 37 year tradition of uncompromised excellence in manufacturing, marketing and service.
SERVICING THE WHO'S & WHO'S OF THE GLOBAL APPAREL INDUSTRY

Ever aware of the pulse of the marketplace, Delta Galil is depended on by leading apparel designers and retailers worldwide to help them introduce new products and innovative manufacturing solutions that answer consumer demands and help grow their market share. With an eclectic offering of made-to-order products, Delta Galil's range includes: intimate apparel for men & women, active wear, socks and kids & baby wear. We are proud to have contributed to the success of: Wal-Mart, Marks & Spencer, and Target as well as leading fashion brands such as Calvin Klein, Nike, Hugo Boss and Victoria's Secret. In addition Delta Galil sells its products under brand names licensed to the company, these include: Wilson, Maidenform, Tommy Hilfiger and others.
THREE DECADES OF DESIGN & INNOVATION

From our original base in Israel, in over 3 decades we have established strategically located design, development and manufacturing centers spread across four continents. We employ 9000 people worldwide and serve over 50 industry-leading customers in the US, UK, and Europe. At Delta Galil we are proud of our global spread and multi-cultural nature. We employ individuals from all over the world and believe in mutual respect and co-existence, amongst ourselves and within the communities and environments in which we work.
DELTA FACTS SHEET
Established in 1975

Manufacturing and marketing is spread of 20 countries

Multi cultural workforce of 9000 employees worldwide

Human and professional diversity

Over $32M are invested in R&D per year

500 M products are sold yearly by the Company

4 years of consistent growth

Sustainability driven, GRI approved
Photo Yariv Fain & Guy Koshi
Details

Written by

Silvia G Golan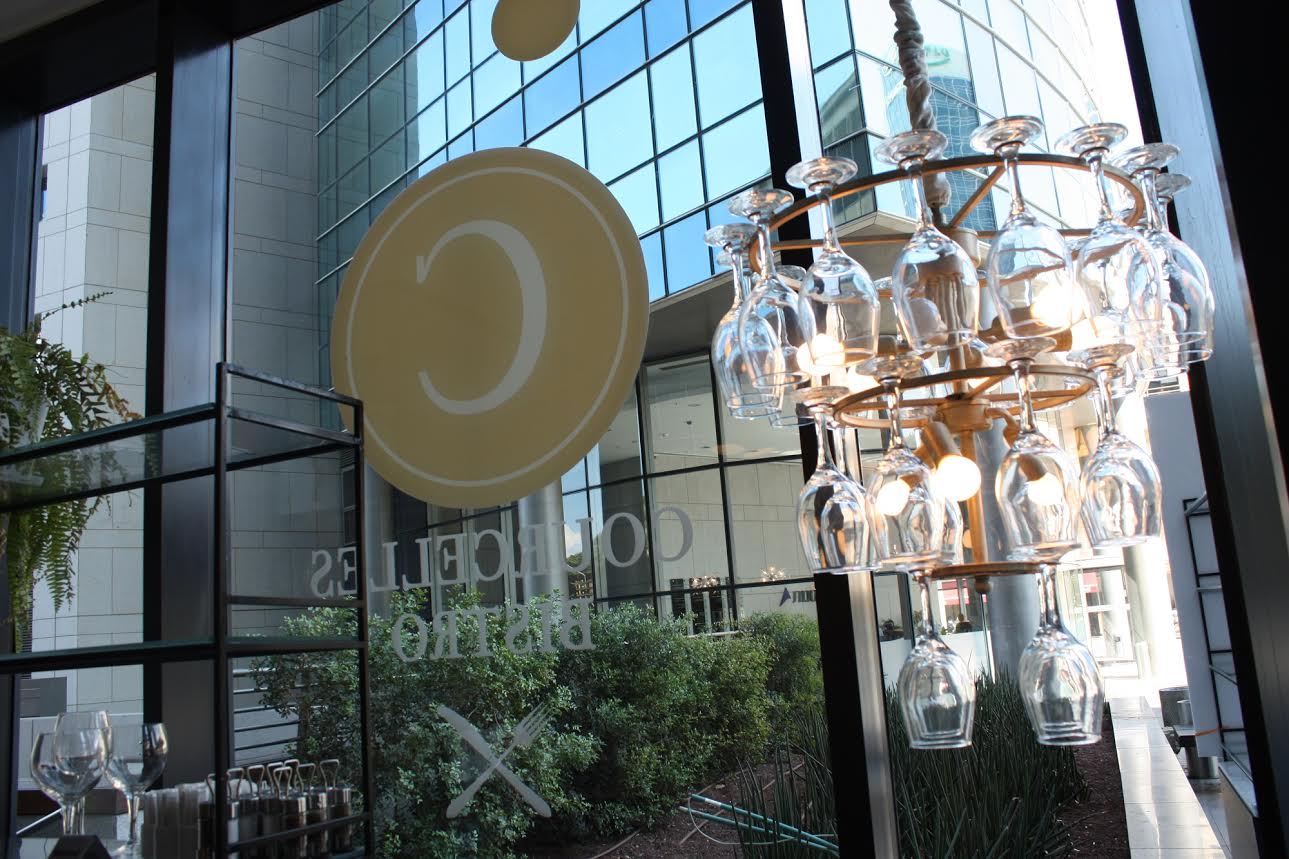 The Courcelles Patisserie French chain, which offers French desserts and pastry, has grown and opened its 6th branch in #1 Rothschild Boulevard, Tel Aviv. The 1st branch opened in Dizengoff Avenue, Tel Aviv, in 2010. Following the success of this branch, additional branches opened in Ben-Yehuda and Ibn Gvirol Avenues in Tel Aviv, and in Raanana and Givatayim. The new branch in Rothschild Boulevard offers, besides pastry, other specialties of the French cuisine.
The new bistro menu is rich and offers a large variety of special French food. Among the special first dishes, we can find Feuillete, salty pastry based on flaky dough that combines spinach, Emmental cheese or Peta cheese and tomatoes. Additional dish straight from the French cuisine is salmon hamburger, with special salad in Bernaise sauce. For dessert, we can choose any of the great variety of Courcelles Patisserie's cakes and pastries
The tastes, smell and atmosphere in the new branch make the customers feel as like they arrived to Paris. The patisserie offers a culinary experience different and special, unlike any other place in Israel.
The festive opening of the branch in #1 Rothschild Boulevard was honored by the presence of the French Ambassador to Israel, and guests from the culinary and bakery fields. As in the best tradition, delicacies of the French cuisine with special cocktails were served.
Michael Kabrit, General Manager of Courcelles Patisserie, thanked the guests for their presence in the opening event and said: "I arrived to Israel with my family 10 years ago due to my feeling of Zionism and love for the country. We asked ourselves what we could do in the county, where there is everything - "country filled with milk and honey"!
He pointed out that Courcelles Patisserie's vision is to learn the strict rules of French art of bakery. This in order to spread the quality of the French bistro dishes throughout Israel. "Our goal for the two coming years is to open more branches of our chain in the country, and our main project is to open a school of bakery in cooperation with an important French bakery firm.
1 Blvd Rotschild , Tel Aviv
Tel 03- 5221346
Photos Silvia Golan
Details

Written by

Silvia G Golan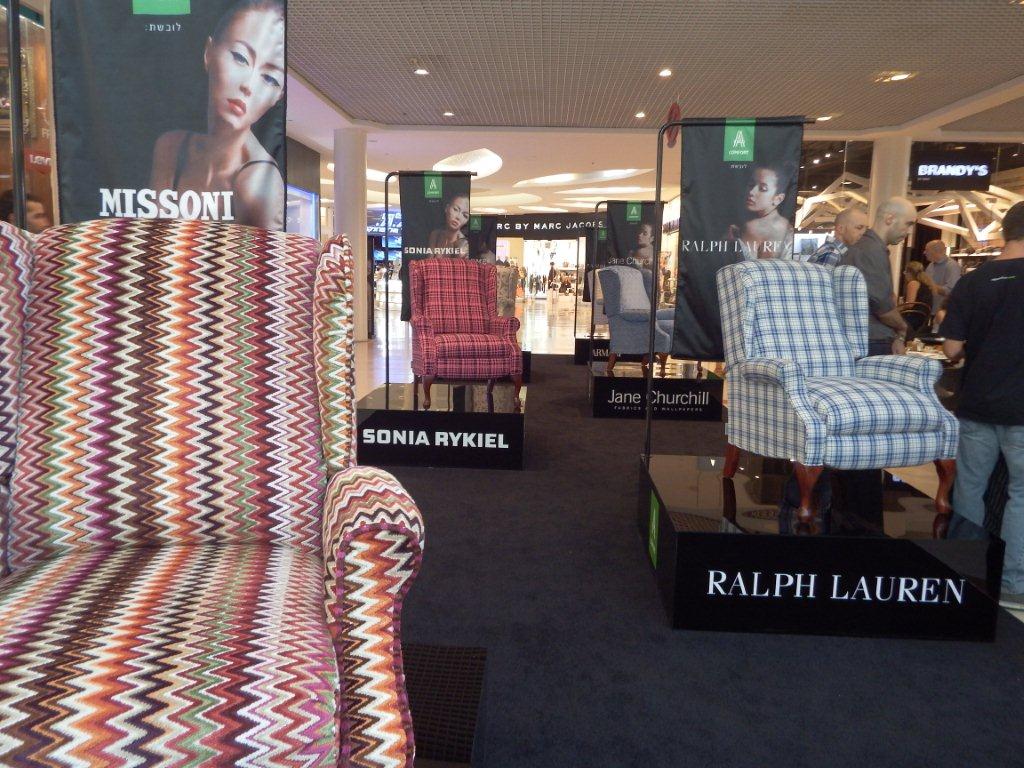 American Comfort presents: Designed comfort for home
American Comfort launches a line of fabrics of top designers for home TV arm chairs
Hermes, Missoni, Armani, Ralph Lauren, Sonia Rykiel, and more.
American Comfort arm chairs are manufactured using advance technology and offer quality of life, comfort and pampering.
Roni Schwartz, Aminach Group's CEO, said: the variety of the designer fabrics provide design upgrade to the comfortable and pampering arm chairs of American Comfort. If in the past, selection was made between design and comfort, today, design and comfort can be combined with no compromise. The line of fabrics arrives from the leading designers in their fields, and fit the different design styles".
American Comfort launches a line of fabrics of top designers, for the design of a line of home TV arm chairs of the Hampton model. This model is designed in a circular classic line that does not get out of fashion, and has accessories that provide an advanced multi-position mechanism. Besides comfort, the designed arm chairs add an interesting and special look to every space and style. The arm chair price starts at 6,900 NIS (depending on the designer).
Eran Guri, American Comfort home designer, said: "The modern Israeli home is changing in accordance with an updated lifestyle influenced by the world new trends. The consciousness to design and aesthetics is at its top, synergy and fitness are the name of the game, and one of the dominant changes is the partial erasure of the limits between fashion and product design. In this process we actually define anew the concept of home dressing, fit the newest word in haute couture to the product, and sew suits of fabrics designed by top designers to the TV arm chairs that the Israeli clients like so much".
Photo Silvia G Golan
Details

Written by

Silvia G Golan
The Waldorf Astoria Hotel offers now the possibility to experience a sensational breakfast experience accessible to the general public.

The menu combines specialties from the Palace Restaurant together with a reach buffet that includes different types of fish, bread, salads, yoghurts, cheese, seasonal fruits, natural juices and desserts.
The Jerusalem Waldorf Astoria Hotel offers its breakfast to the general public. The menu combines specialties from the Palace Restaurant together with a reach variety of the best dishes in the frame of an aristocratic atmosphere.
The menu includes, amongst others, omelets with salmon, champignons, goat cheese, mozzarella and pecorino, benedict eggs with hollandaise sauce accompanied by smoked salmon and spinach, fresh pastries, Belgian waffles and even oat cereals with blueberries, raspberries, strawberries and seasonal fruits for the lovers of healthy food.
Besides the above, the Palace Restaurant offers the most extensive breakfast buffet ever seen in Israel. This buffet includes various types of fresh and smoked fish (smoked and coiled herring, smoked salmon, tuna fish, halibut, mackerel and home maid garb lacks) as well as a series of fresh salads, warm dishes, different seasonal vegetables, soft and hard cheeses (Manchego, Camembert, Brie, Saint Moor, Grana Padano, Gouda, red wine goat cheeses), a variety of yoghurts and seasonal fruits.
Guy Kleiman, the manager director, stressed that "Those who are looking to enjoy an extraordinary breakfast adventure, either a romantic encounter or a business meeting, will have the pleasure to meet a unique experience never seen in Israel before. The aristocratic international atmosphere, the unique gastronomic variety as well as the outstanding service assure the guests an unforgettable experience".
In addition, a healthy corner provides sugar free tarts, gluten free bread, a big variety of exotic dried fruits, vegetables, etc. The cost per person is 144 New Shekels.
Breakfast times:
Sunday to Friday: 06.30 to 10.30 hs.
Reservations: Tel. 02-5423353 – Address: Irgun St. 26, Jerusalem
It is advisable to reserve places in advance.
The Waldorf Astoria Hotel that was built on the foundations of the re-known Palace Hotel in Jerusalem, is considered the most expensive hotelier project in Israel. Its cost required an investment of about 150 million dollars. The hotel, the first and only international prestigious hotel in Jerusalem, counts with 226 rooms, 29 of which are suites, an elegant dancehall, high elaborated meeting rooms, gourmet restaurants and a highly qualified service that was not yet seen in Israel.
In order to make a reservation to the Waldorf Astoria Hotel in Jerusalem or to learn about the Waldorf Astoria chain of hotels all over the world you are invited to visit the site www.waldorfastoria.com .
For additional information about the chain please look into the following web address http://news.waldofastoria.com.
Details

Written by

Sima Lahat & Silvia Golan
Castro placed an additional flag on the Israeli Fashion map, when it exposed its Autumn-Winter Collection 2014-15 in an amazingly beautiful display.
Castro's experienced model, Gal Gadot, was not present on the exhibition lane due to previous commitments in Hollywood. The exhibit opened with the model Liraz Dror, and the men collection was led by Omer Dror. It was an aesthetic feast reflecting on all senses.
Castro is Israel's response to world fashion. In its designs, it displays love and respect for its customers by fashion, quality and design; while stressing out Israel's special way of life. When Castro build a new collection and design new models, they don't compromise for Israel's lifestyle, favorite outfits for work and recreation, favorite colors, comfortable and updated dressing patterns.
The solution for Castro's customers, is expressed in three main lines:
· Red line - casual and young-age fashion for high school and university students.
· Black line - sophisticated and elegant line for people in the career world.
· Blue line - Jeans line in different patterns that upgrade the body look.
Moreover, if this is not enough, there are complementary collections, from shoes to bags, passing through inner clothing, eye-glasses, jewelry, and even bicycles and accessories; this, along with Castro's children line. The variety and richness of the collections, enables Castro to accompany its customers during the day and in the evening, during vacation and at work, from student to carrier outfits, in the small moments and grand events.
The inspiration for the exhibit lane collection selected this season, by Castro's fashion designers, is a combination of eastern and western cultures, while integrating their own point of view. The astonishing textiles used in the collection design derived from near and far places (such as Turkey, India and China), but the design is carried out in Castro's studio in Israel.
In the women collection, the designers chose to create a winning combination: ethnic, oriental and bohemian look, with a modern and sportive touch. The patterns are based on traditional and basic lines, such as rectangles and squares, kimonos, binding technique, envelopes, and square sleeves combined with flowered prints, oriental elements combined with embroidery in cloth. The collection coloring includes caramel, olive and mustard, combined with patterns, with a look that varies from oriental to kaleidoscope and stained glass.
In the men collection, the shapes, textures and materials, are based on the Levant world of concepts. Coloring varies from marine blue and petrol to shades of Boudreaux, olive green and mustard, combined with textures, and black with stone, with touches of white. For the silhouettes, classical and oriental shapes were used, such as "basic work kimono"; these become updated items using a variety of lengths and shades, which creates a western interpretation to oriental clothing and vice versa.
Castro designers learn their lessons and reach conclusions. Following the success achieved by their exhibit lane collection in the summer, they enlarged their unique collection, which is manufactured in limited editions.
How about acquisition possibilities?
Immediately after the fashion show, most of the exhibit lane collection is provided for online acquisition in Castro's website, and it is also displayed for sale in Castro's main store in Tel Aviv and its store in Ramat Aviv. The exhibition lane collection is sold online in the website using a new, friendly and easy-to-use technology, which enables quick viewing and acquisition of each item, while viewing the exhibit video.
Congratulations to Castro, pride of Israel, for the continued renewal, and for leading the world fashion adapted to its customer needs, in all kinds of fashion and lifestyle, while keeping fair prices.
Photos : Silvia G.Golan