More

Life Style
Life Style
Details

Written by

Talma Gotteiner
Tourism in Sderot is a fairly new concept and is largely due to its growing student population. These have infused the city with a very sociable lifestyle that has generated several recreational and social activities, that tourists can enjoy as well. In no other post have I suggested so many activities that enable you to meet the people.
I was privileged to join a tour, courtesy of the Ministry of Tourism and Municipality of Sderot, that has enabled me to bring forward these offerings to your attention. Mayor Alon Davidi came especially to welcome us and tell us about the abundant projects that the city is working on with respect to tourism. They are all currently in progress so you have a lot to look forward to. Hopefully, if you come to Sderot to one of the major events you'll meet him too. He certainly extends his welcome to you.
Trip Agenda Options
Café Guté – a social café
A Historic Tour of the City
'Rokmot' - The local Ethiopian embroidery club
The Ultimate Lunch Stop

Pub Sderot
Dhaba
Meital Healthy Kitchen (in Hebrew 'Meital Mitbach Bari')
Pasta and That's It (in Hebrew 'Pasta Vezehu').

The Students' Village
Sderot Adama Movement and Dance Center
Upcoming events and attractions
Trip Anchors
A Historic Tour of the City
What better way to get to know a city than to walk through it while hearing authentic stories from its residents! Our tour started from the site of the initial transit camp in 1951, throughout the initial permanent neighborhoods, the largest swimming pool in the south, the Yeshiva with its incredible rooftop view and all the way to what is currently known as 'Kobi's hill'. On the way we met Gilad, one of the first inhabitants, a male nurse sent by his employers to the wild wild south to help the first settlers and of course Kobi, the city's famous security officer who can tell a bit more about 'Operation Cast Lead' that ended in 2009.
Trip Reservation Phone: 08-6612739
'Rokmot' - The Local Ethiopian Embroidery Club
The local club in Sderot brings together 16 Ethiopian women who specialize in the authentic embroidery techniques and patterns used in Ethiopia as well as 2 experienced basket weavers. Together they enjoy a social interaction that allows them to both preserve their ethnic traditions while providing a decent livelihood for their families and contributing back to the community.
The club is open every Sunday between 9:00-12:00 and is open to visitors.
To reserve a visit: Gili 052-3968706 or Ester 054-7608773.
I bought something too. It says "Shalom"!
Sderot Adama Movement and Dance Center
When I saw Nir Ben Gal enter the room I thought to myself that Sderot was indeed becoming a cultural hot spot. Nir Ben Gal and Liat Dror are two famous choreographers who have performed in leading dance groups over the years and have won several international prizes for their compositions. In 2000 they opened their Adama movement and dance center in Mitzpe Ramon and have recently relocated it to Sderot where they teach and perform dance and film projects.
The center is currently planning their début festival in Sderot where they will be offering a full program for visitors that includes workshops, meals prepared by the local mamas and performances. It is located within 6 min walking distance from the train station and will be easy to reach.
For more information on the festival, click here.
https://adama.org.il/en/the-festival/
I'm linking a short piece of a dance routine that was presented to us for your benefit. Enjoy!
And…I got my selfie with Nir Ben Gal 😊.
Additional Options
Café Guté – A Social Café
'Café Guté is the result of a social project led by the Gvanim organization that is focused on integrating youth at risk or youth with physical limitations into society. Café Guté is one of their achievements. Currently it employs ~ 15 such youngsters, who are empowered by their ability to work in a normal environment. The skills that they gain during their employement help them take control over their lives.
From your perspective, Café Guté is a kosher dairy restaurant (type of kosher: 'mehadrin') located within the cinematheque complex that you may reach during several of the planned events. It's an interesting stopover that can be enhanced either by a movie or by inclusion in a tour arranged by the Gvanim organization that will allow you to meet some of the youngsters in their program.
My photo depicts Tal, who works at Café Gute:
Gvanim Contact for Social Tours: Shoshi 054-5501514 or Adi 052-8875175
Café Guté Phone: 08-6515761 or 054-9773604
Café Guté Address: 4 Hadegel St., Sderot
The Students' Village
The students' village is another social project led by the Ayalim Association in Sderot in which students live together and volunteer in the city in various ways. Most of the students study at the Sapir Academic College near Sderot. Others at the University of Beer Sheva and additional institutions in the south. One of the volunteer efforts is in a care center for children that uses animals and is located right across the village complex.
A visit to the village includes a tour of about 1-1.5 hrs with a short film and refreshments in which the students explain about their lifestyle, and the program. We met Rinat. The tour should be reserved in advance.
Phone: 08-6550850
The Ultimate Lunch Stop
You're already familiar with these restaurants since I wrote about them in my post entitled "Darom Adom Festival Preview – What it is and Where to go". Like I wrote before, these your restaurateurs are eager to accommodate visitors so I was lucky to get second helpings and meet my friends from Pub Sderot, Dhaba,
Meital Healthy Kitchen (in Hebrew 'Meital Mitbach Bari')
10 HaHistadrut St.
Phone: 050-9001510
and Pasta and That's It (in Hebrew 'Pasta Vezehu').
12 HaHistadrut St.
Phone: 08-6333789
Upcoming Events
The Annual South Cinema Festival, 3-7 June 2018
The festival is held every year at the initiative of the School of Sound and Screen Arts at Sapir Academic College and takes place mostly in various halls in Sderot from the morning till late at night. The festival hosts dance directors and artists from Israel who screen their films at a premiere on a national level. We met Benny Cohen, the Director of the Cinematheque at Sderot who will be hosting several of the events.
The First Accessible Blues and Beer Festival in Sderot, 25-26 July 2018
The city of Sderot has issued several beloved Israeli musicians such as Kobi Oz (Tipex), Haim Oliel (Sfatayim) and other.
The Blues Festival in Sderot will combine international and local jazz concerts, blues ensembles and veteran Israeli and international bands ranging from the Mississippi to Sderot.
The festival will include musical films, lectures, sketches, master classes, dances and children's events alongside a drink fair and stands. There will be open shows, a central stage, bar performances, special restaurant menus, a film screening under the stars, a blues film show at the cinematheque, a music workshop and a children's dance workshop with musicians from Sderot and the surrounding area. Entrance to all shows will be FREE OF CHARGE.
Moreover, the festival will be the first accessible festival in Israel for visually impaired and blind people, hearing impaired and deaf people and people with physical disabilities. Accessibility will be implemented by the following features:
Inclusion of blind musicians in the performances.
Accompanying people who are blind or have visual impairments from the train station or from home to the festival area and during the festival.
Sign language translation for lectures for deaf people or people with hearing impairments.
An accessible website with a recorded program, a Braille program and more.
Food
See above. This post is all inclusive.
Accomodation
A hotel within Sderot is under the planned activities. Currently, nearby accommodation is based on B&Bs. You are welcome to refer to my page 'Best B&B'.
My timeline
I spent a day. I only put in three locations because not all the locations are marked on google maps, but since most of the tours are guided anyway it shouldn't be a problem. Moreover, most of these locations are around the ones that I marked. Café Gute and the Ethiopian Club are near the Cinematheque. The other restaurants are near the municipality of Sderot.
This is what it looks like on the map:
I don't think any of my previous posts can compare with respect to the level of social interaction that you can achieve while visiting. A trip to Sderot is all about the people, which needless to say is amazing.
Photos Talma Gotteiner
Details

Written by

Leket Org
AMOUNT OF FOOD LOSS IN ISRAEL THIS YEAR: 2.3 MILLION TONS 33% OF ALL FOOD PRODUCED IN THE COUNTRY AT A VALUE OF 19.3 BILLION SHEKELS (US $5.6 BILLION)
4.2 MILLION SHEKELS (US $1.2 billion) – FOOD LOSS IN THE RETAIL AND DISTRIBUTION SECTORS
The main causes of food loss in the retail and distribution sectors: expired or short shelf life food, aesthetic defects in packaging or product, and damage in the marketing process
ACCORDING TO LEKET ISRAEL & BDO'S THIRD NATIONAL FOOD WASTE AND RESCUE IN ISRAEL REPORT
TEL AVIV, ISRAEL – March 13, 2018 - Leket Israel in partnership with BDO, released its Third National Report on Food Waste and Rescue in Israel. The press conference was held today at Leonardo City Tower Hotel, a member of the Fattal hotels franchise.
The report presents, for the first time in Israel, a detailed model for the estimation of food loss in the retail and distribution sectors: in retail chains, open markets, local grocery stores and small retailers.
The Food Waste and Rescue in Israel Report reveals that food loss in Israel this year amounts to 2.3 million tons with a market value of NIS 19.3 billion (US $5.6 billion). A large part of the loss is rescuable; approximately 1.1 million tons, valued at NIS 7 billion (US $2 billion). Almost half of the value of salvageable food is found in the retail and distribution sectors, with total food loss in these segments amounting to 400,000 tons this year, worth 4.2 billion shekels (US $1.2 billion).
The loss in the retail and distribution sectors is of particularly high economic value, since it includes the entire investment: growth, production, packaging and transportation. This refers specifically to food that is produced for marketing and consumption and is lost even before reaching the consumer. Due to the characteristics of the loss at this stage, the vast majority of the food is rescuable and can be prevented from becoming waste. Of the NIS 7 billion (US $2 billion) worth of food that can be saved, NIS 3.5 billion (US $1 billion) is in the retail and distribution sectors.
The report also reveals that rescuing 470,000 tons of food loss each year, constituting about 20% of the total amount of food loss in Israel, will fill the gap between food consumption and the normative expenditure of the Israeli population living in food insecurity.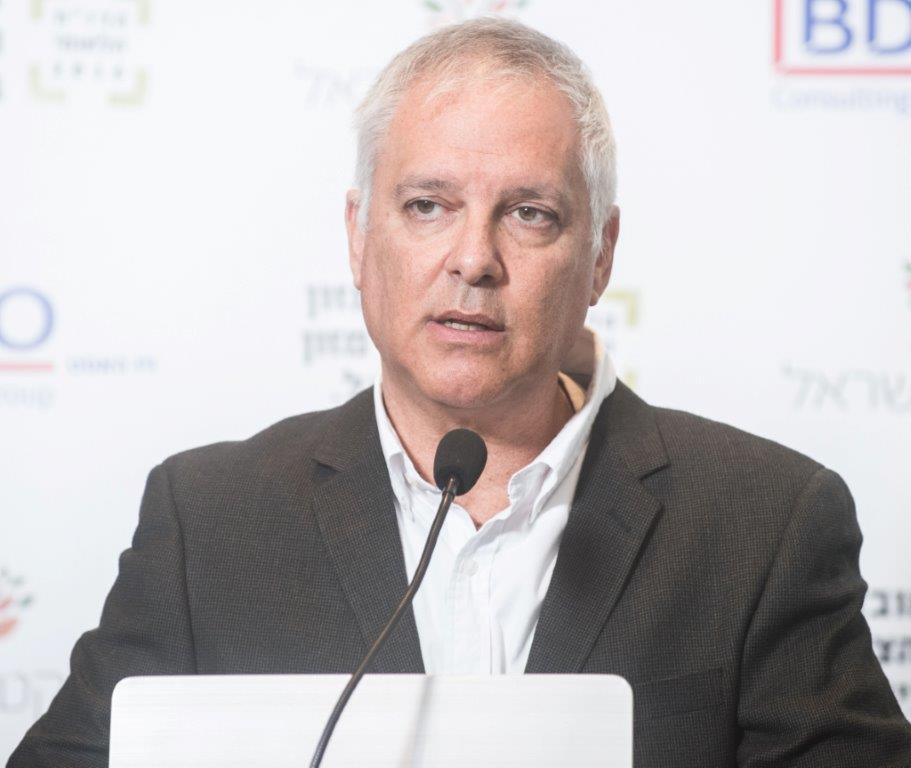 According to Gidi Kroch, CEO of Leket Israel: "The report brings to light that there is enormous levels of food waste that can be saved, if only there was a greater level of public awareness and the implementation of adequate governmental regulation. 18% of the population in Israel lives in food insecurity, when Israel ranks 18th in food insecurity as compared to other OECD countries, and places ninth in expenditure on food in private consumption spending.
This year, Leket Israel rescued 15,500 tons of fruits and vegetables and 2.3 million cooked meals valued at NIS 150 million (US $43 million) and Leket continues its efforts to raise the profile on food waste in Israel. Since the publication of the Inaugural Food Waste and Rescue in Israel Report, two years ago, Leket Israel initiated and implemented new programs for food rescue with the support and through partnerships with the Ministries of Agriculture and Welfare. I am calling on the other government offices to advance this issue, to create a national program that will work to reduce food waste, increase food rescue and actively promote the enactment of the law to encourage food rescue.
It is imperative that Israel set a national goal similar to the UN's resolution of a 50% reduction in food waste by 2030, since adopted by other nations including the US administration," concludes Kroch.
According to Chen Herzog, Chief Economist at BDO: "Israel is lagging behind Western countries in formulating a national policy on food rescue, and as a result, the national economy loses NIS 4.5 billion (US $1.2 billion) every year. Israel, more than any other country, has an economic advantage in rescuing food, due to the combination of high expenditure on food and the growing levels of inequality across the demographic. Food rescue is one of the most effective policy measures to reduce social gaps in the economy, and it is a critical oversight that the government has not yet formulated a comprehensive national plan to rescue food."
Herzog continues: "Retail chains and food manufacturers lost NIS 3.5 billion (US $1 billion) worth of products this year, which is taken directly out of the consumer's pocket. Surplus food in the retail and distribution sectors is inevitable, since retailers are required to ensure a wide, varied and readily available food supply at all times. However, the reality in which excess food is thrown away instead of being donated to the needy is a serious failure on economic, social and environmental levels."
To read the full report and report highlights: https://www.leket.org/en/food-waste-and-rescue-report/
Photo of Gidi Kroch, Leket Israel's CEO – Photo Credit: Yossef Cohen
About Leket Israel: Leket Israel – The National Food Bank is the leading food rescue non-profit organization that rescues fresh, perishable food, which would otherwise be considered waste from farms, hotels, military bases and corporate cafeterias in an effort to aid the quarter of the country's population the lives below the poverty line. Leket works with 200 nonprofit agencies in Israel, providing food to 175,000+ Israelis in need weekly. For more information, please visit: www.leket.org.
Details

Written by

Silvia G Golan & Stella Spira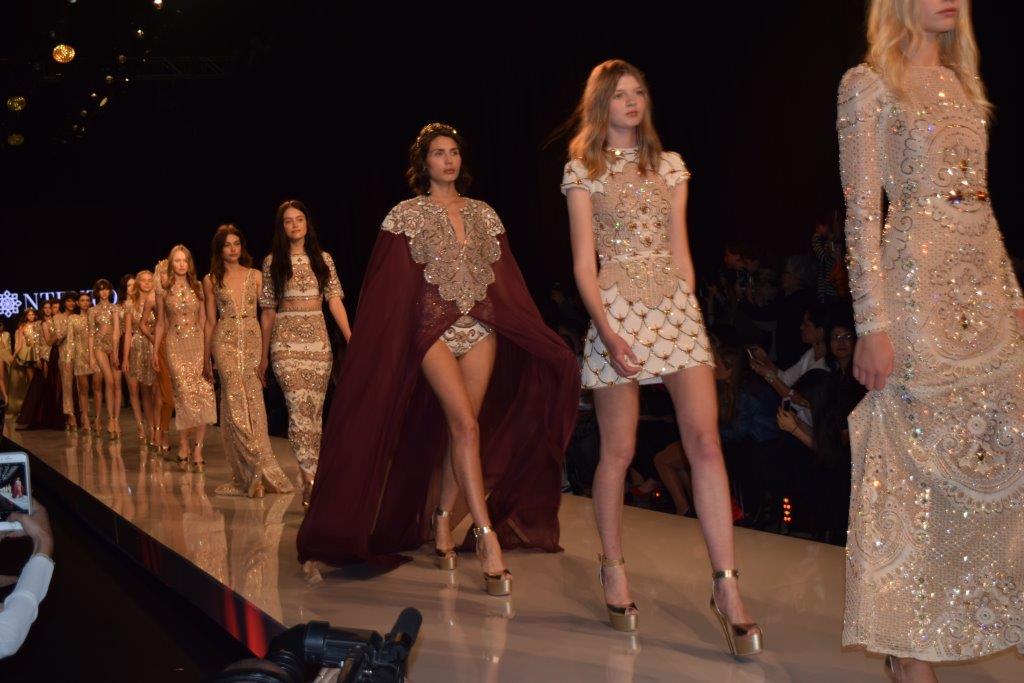 Fashion Week Tel Aviv is returning on March 10th for the 6th time since its initiation in 2011. Israel's biggest fashion event will be held from March 10 - 13 on the historical Hatahana Compound by the seashore of Tel Aviv.
Tel Aviv Fashion Week is supported by the Municipality of Tel Aviv-Yafo, the Export Institute and the Ministry of Foreign Affairs, which are instrumental in helping host international media, buyers and other influential personalities in the global fashion field.
Fashion Week will open with a gala event in partnership with the world's leading jewelry brand PANDORA, attended by Tel Aviv Mayor Ron Huldai and other dignitaries. The event will expose the SHINE collection as part of the largest international brand launch. The SHINE collection presents sterling silver 18K gold plated items in intricate designs and combines traditional techniques with high-end modern jewelry and available price range. 25 Israeli women of all ages, including artists, actresses, singers, models and others, will walk the runway wearing PANDORA's new collection. 25 leading Israeli fashion designers of different backgrounds and styles will personally design gold and silver dresses inspired by the PANDORA SHINE collection, specifically for the show.
"This year, for the first time in Israel and around the world, Fashion Week will feature models of all ages, sizes, colors and religions. I believe I'm involved in great changes happening today in the fashion world and beyond. Fashion Week Tel Aviv will introduce a different beauty standard, which will be visible throughout most of the shows", said Motty Reif, founder and producer of Tel Aviv Fashion Week Tel Aviv about his disruptive vision for the fashion industry.
The line-up of designers and brands showcasing their collections at Fashion Week Tel Aviv 2018 includes: Alon Livne , Lara Rosnovsky together with Magnolia jewelry, Holyland Civilians (Dor Chen and Anat Meshulam), Shenkar fashion design department, Dror Contento, "Turning Tables" - a unique project to help women get out of the cycle of prostitution in collaboration with Yvel jewelry brand, G.R.A.S. jewelry, Twentyfourseven, Dorin Frankfurt and others.
UPCOMING DESIGNERS:
For the third time fashion week will feature the winners of the National Lottery competition for emerging designers, including: Shahar Avnet, Ariel Bassan, Adi Benjo, Eran Shani, Dana Cohen and Moriel Dezaldeti.
Other special shows will display the collections by Idan Laros, Gideon Oberson and Karen Oberson KO, Rima Romano in cooperation with the international shoe brand Reebok, a fashion show by jewelry designer Maya Geller, and other graduates from the National Lottery competition, which went on to establish their own brand: Gal Shenfeld - Mews, Nadav Rosenberg - Northern Star and Hili and Ari - Hili Ari.
Talented brands such as SAMPLE by designer sisters Einav Zini and Nofar Mahluf, Chana Marelus abd Maoz Dahan NOUVEAU RICHE DOG will be back, furthermore, Evyatar Myor, a new designer, will showcase his new collection. Fashion week will end with a festive show by Vivi Bellaish.
Events
Sunday, March 11th
14:30 – 20:00
Showroom of selected designers, some of which are doing their first ever pop-up. Showroom will carry streetwear, accessories and shoes.
Monday, March 12th
10:00 – 20:00
Showroom
16:00
Fashion Show by upcoming designers for Tel Aviv Digital card holders
18:30
Book Launch Event with author, Adam Katz Sinding at Story
Tuesday, March 13th
10:00 – 20:00
Showroom
17:00
Fashion Tech Event at Ultima Studio
Photo Silvia G. Golan
Details

Written by

Buzzy Gordon
The Israel chapter of the Italian Academy of Cuisine (l'Accademia Italiana della Cucina) held its first and only meal ever outside the greater Tel Aviv area on March 9, 2018, at Manuella Ristorante Italiano, in Zikhron Yaakov.
The Academy visited Manuella in the framework of an outing to the wine country city. The day began with a guided tour of the Beit Aaronsohn NILI Museum, whose exhibits are dedicated to the exploits of the Aaronsohn family and the NILI espionage ring that it founded; the NILI underground operated in pre-state Israel during World War I in support of the British against the Ottoman Empire, and on behalf of the local Jewish population. Following the visit to the museum, Academy members proceeded to the restaurant, off the city's downtown pedestrian mall.
Manuella is a family-owned restaurant whose love for Italy stems from the refuge that Bosnian Jewish refugees found from the Holocaust in that country; the Italian nobleman who hid the family was subsequently recognized by Yad Vashem as one of the Righteous Among the Nations.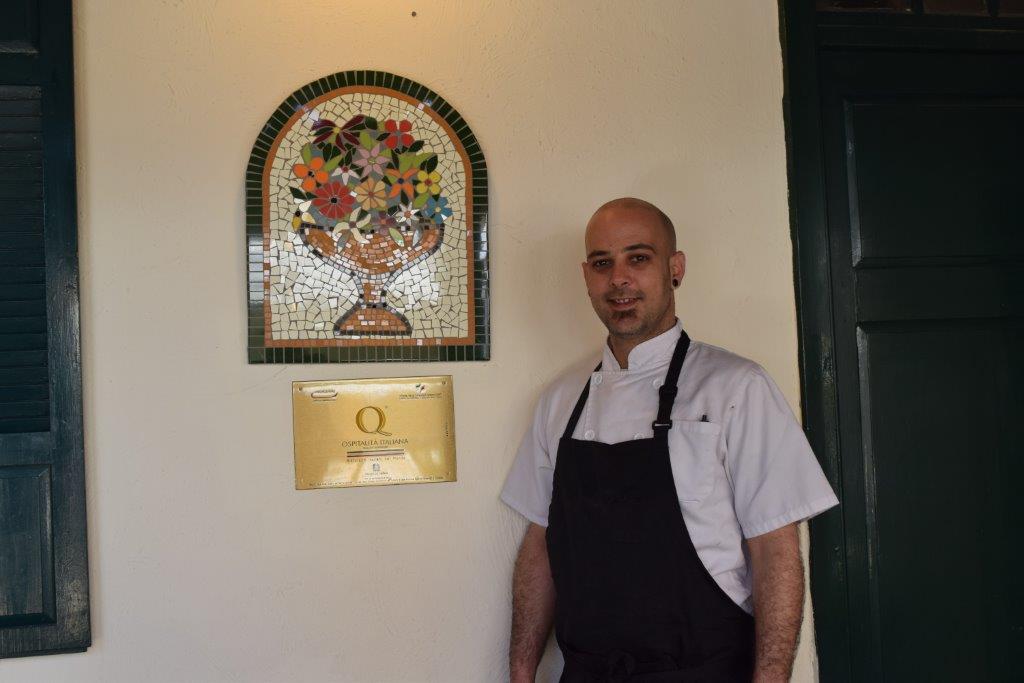 Chef Raz Nadav studied in Italy and opened Manuella with his mother in 2010. In 2014, he took third place in a nationwide pizza contest sponsored by the Italian Embassy in Israel. A handsome bronze plaque also identifies the restaurant as the proud recipient of the Ospitalita Italiana award, bestowed by the embassy in recognition of the authenticity of Manuella's cuisine.
"There are only seven restaurants in the country with this designation," says Chef Nadav, "and we are the only restaurant outside of Tel Aviv to be honored in this way."
The Academy luncheon at Manuella commenced with the arrival of the Ambassador of Italy in Israel, His Excellency Gianluigi Benedetti and his wife Sabina. The event was chaired by Academy Delegate Cinzia Klein, and the symposiarchs were Vice Delegate Sabrina Fadlun and ANSA bureau chief Dr. Massimo Lomonaco.
The menu comprised five courses, beginning with an aperitivo consisting of slices of focaccia topped with a ceviche of white fish, and continuing with no fewer than four antipasti: the house focaccia with three condiments (tomato concasse, a zucchini spread, and garlic confit); a panzanella salad of croutons and cherry tomatoes; fried cubes of polenta with sautéed portobello mushrooms in a balsamic reduction; and a green salad of lettuce, asparagus and walnuts in a champagne vinaigrette,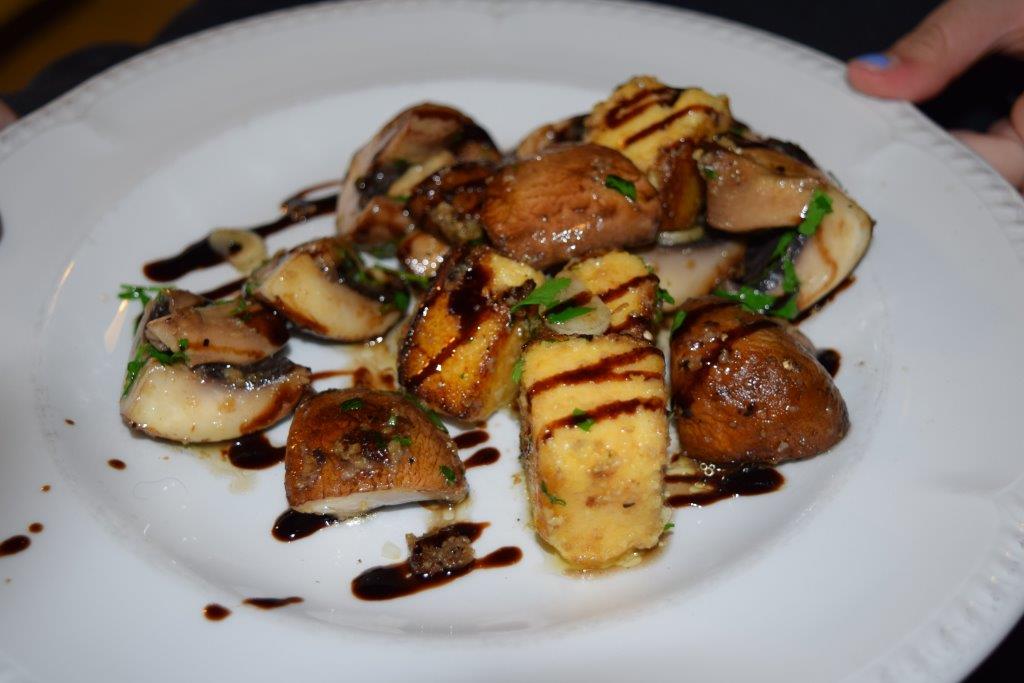 The two pasta dishes served as primi were gnocchi with flakes of fish in a tomato sauce, and sweet potato ravioli in a butter sauce, with shaved Sardinian pecorino.
There were both fish and meat main courses, with diners able to enjoy both and not have to choose between them: meagre fish with steamed spinach and artichoke cream, and beef filet cooked sous vide, with a salad of arugula in a balsamic vinaigrette.
The dessert course encompassed an attractive assortment of small pastries: hazelnut eclairs, Florentine cookies, strawberry vanilla tarts and pistachio tarts
The red and white wines accompanying the meal were imported from Italy: Frascati from Lazio and Valpolicella from Veneto.
At the conclusion of the meal, there was applause for the chef, who was presented with the gift of a book on the role of cheese in traditional Italian cuisine.
Among the distinguished guests attending the luncheon were Dr. Massimo Sarti, director of the Italian Cultural Institute in Tel Aviv; Architect Arie Sonnino; Sabina Mayer, Esq.; Professor Stefano Boccaletti, science attaché at the embassy of Italy; and Dr. Roberto della Rocca, president of the Italian Chamber of Commerce in Israel.
Photos by Silvia Golan
Details

Written by

GPO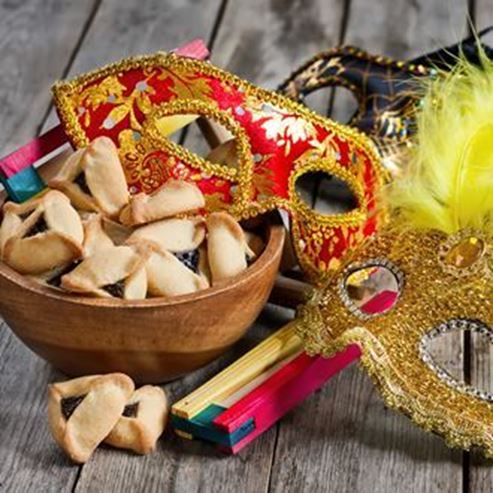 Purim, one of Judaism's more colorful and popular holidays, is celebrated this year between sunset on Wednesday, 28 February, and sunset on Thursday, 1 March, in most of Israel – excluding Jerusalem where Purim will be celebrated from sunset on Thursday, 1 March, until sunset on Friday, 2 March (see below). Purim is not a public holiday in Israel, but many offices, shops, and public institutions (including the GPO) will operate on a reduced basis. Schools will be closed, but public transportation will operate as usual, and newspapers will be published.
Background to Purim
Purim commemorates the events described in the Book of Esther. In Esther 3:8, the anti-Semitic Haman, Grand Vizier of the Persian Empire, tells Persian King Ahasuerus that, "There is a certain people scattered abroad and dispersed among all the peoples... in your kingdom. Their laws are different from those of every people, neither do they keep the king's laws. Therefore, it does the king no profit to suffer them. If it please the king, let it be written that they be destroyed..." Thus, Haman coined one of the most infamous anti-Semitic canards: That the Jews are a clannish and alien people who do not obey the laws of the land. At Haman's contrivance, a decree is then issued for all Jews in the Persian Empire to be massacred. But, as the Book of Esther subsequently relates, Haman's plot was foiled and, "The Jews had light and gladness, and joy and honor...a feast and a good day." (8:16-17)
Throughout the centuries, Purim – which celebrates the miraculous salvation of the Jews and the thwarting of Haman's genocidal plot – has traditionally symbolized the victory of the Jewish people over antisemitic tyranny. As such, Purim is a happy, carnival-like holiday.
The Fast of Esther
The day before Purim (Wednesday, 28 February this year) is a fast day known as the Fast of Esther, commemorating (inter alia) the fact that Queen Esther – the heroine of the Book of Esther – and the entire Persian Jewish community fasted (4:16) in advance of Queen Esther's appeal for King Ahasuerus not to implement Haman's genocidal plot. The fast will extend from before sunrise in the morning until sunset. Special prayers and scriptural readings are inserted into the synagogue service.
When the day before Purim falls on Shabbat, as it did last year, the Fast of Esther is brought forward to the preceding Thursday.
Purim
After sunset on Wednesday evening, 28 February, festive prayers will take place in synagogues, where the Book of Esther will also be read aloud. It is customary for people, especially children, to come to synagogue dressed in costume. During the reading of the Book of Esther, whenever Haman's name is mentioned, congregants traditionally make as much noise as possible in order to drown out his name – a reflection of God's promise (Exodus 17:14) to, "blot out," the Amalekite nation, of which Haman was a descendant; special Purim noisemakers may be used for this purpose. The Book of Esther will be read again during morning prayers on Thursday, 1 March. A special Purim prayer is inserted into the daily prayers and the blessing after meals.
On Purim, Jews are enjoined by the Book of Esther (9:22) to send gifts of food to each other, make special contributions to the poor, and have a festive holiday meal in the afternoon. To this end, the day is also marked by collections for various charities, and by people visiting neighbors and friends to deliver baskets of food, prominent among which are small, three-cornered, fruit-filled pastries known as Oznei Haman in Hebrew (Haman's ears) orHamantaschen in Yiddish (Haman's pockets).
At the festive meal, some maintain the custom of becoming so inebriated that they cannot distinguish between, "Blessed is Mordechai," (Esther's uncle and the hero of the Book of Esther) and, "Cursed is Haman."
Shushan Purim
In Jerusalem, Purim is ordinarily celebrated one day later than it is in the rest of the world; accordingly, all Purim-related observances are postponed by one day. This practice originates from the fact that an extra day was prescribed for the Jews of Shushan (the modern Susa, one of the Persian Empire's four capitals) to defend themselves against their enemies. This second day is known as Shushan Purim. As mentioned in the Book of Esther itself (9:16-19), Jews living in walled cities (later defined by rabbinical authorities to mean walled cities at the time that Joshua entered the Land of Israel) celebrate Purim one day later than Jews living in unwalled cities. There are several other such cities in Israel where Shushan Purim is celebrated. In some cities whose status is in doubt, the Book of Esther will actually be read on both days.
In many places in Israel, Purim is marked by special parades; the most famous of these takes place in Tel Aviv. Many kindergartens, schools, synagogues, and towns will also host special Purim parties and carnivals.
Purim in Film
Following are clips from six films (courtesy of the Steven Spielberg Jewish Film Archive) that depict the various ways in which Purim has been celebrated:
Adloyada 1960 – Color scenes of the colorful procession in Tel Aviv 55 years ago.
Faces of Freedom (1960) – New immigrants are absorbed into Israeli society at the beginning of the 1960s. The film begins with a Purim carnival.
Springtime in Palestine (1928) - Comprehensive survey of the developing country in the 1920s. Includes a Bukharian Purim feast and scenes of the 1928 carnival in which Baruch Agadati appears with Tzipporah Tzabari, the first Purim queen of Tel Aviv (from 11:33 min).
Eretz Yisrael: Building Up the Jewish National Home (1934) – The film begins with scenes of the Adloyada in Tel Aviv. It continues with agricultural scenes in Kibbutz Ein Harod, Deganya A and the women's agricultural school in Nahalal.
Edge of the West (1961) – A color film surveying Jewish life in Morocco in the early 1960s, including Purim celebrations (from 28:35 min.)
Hassidic Music (1994) – From the series "A People and Its Music" which depicts various Jewish music traditions. Includes scenes of Lubavitch Hassidim celebrating Purim (from 23:22 min.)
Purim Events in Jerusalem
https://www.jerusalem.muni.il/en/Visitors/Pages/Default.aspx
Purim Events in Tel Aviv
The Tel Aviv-Yafo Municipality, along with its many cultural institutions and partners, invites the general public to celebrate the Purim holiday throughout the city. A variety of performances, street carnivals and workshops will be held, catering to every possible age and interest.
Tel Aviv-Yafo is known for its vibrant and celebratory Purim atmosphere, and looks forward to creating it again this year for the many thousands of residents and visitors that come to the city to celebrate the holiday.
A curated selection of events is listed below, but a directory including many more can be found on the Municipality website (in Hebrew).
Purim Street Party
Friday, March 2 from 11:00-17:00
Kikar Hamedina, Tel Aviv-Yafo
The Purim Street Party is held annually by the Tel Aviv Yafo Municipality at Kikar Hamedina, in the North of the city. The 2017 event attracted over 100,000 people who came dressed in costumes to enjoy quality electronic music in a happening and positive atmosphere, and a similar turnout is expected this year. Leading DJs in the Tel Aviv music scene will play on a 360 degree stage erected in the center of the square, including performances by Muki and Subliminal.
An urban street show will also be held in the square, featuring a variety of merchandise for purchase. There will be an emphasis on ecologically friendly or recycled products, street culture and urban design.
The event is open to the general public at no charge, and will not be held in the case of rain.
Yafo Purim Carnival
Thursday, March 1 from 15:00-19:00
Davidoff Park, Ed Koch 10, Tel Aviv-Yafo
This Purim carnival held at Davidoff Park will feature a variety of family friendly attractions, including a mini amusement park with inflatable structures, fair stands and games, balloon-making, and circus and juggling workshops.
The event will also feature a bilingual stage show by the Almaina Theatre and performances by singer Adi Beatty and children's performer Roy Boy.
The event is open to the general public at no charge.
Purim at "Hatachana" Tel Aviv's Old Railway Station
Thursday, March 1 and Saturday, March 3, various times
HaTachana - David Remez 4, Tel Aviv-Yafo
A variety of family friendly entertainment will be held at HaTachana (also known as The First Station,) Tel Aviv's old railway station. Festivities begin at 10:30 am and include games, art activities and workshops for all ages. Entertainment will include an interactive magic show by Shai the Magician, a performance by the Neve Tzedek Community Center hip-hop band and "Miri Teshiri", an inspiring musical adventure with a moral message.
The event is open to the general public at no charge.
Purim at the Opera House
Thursday, March 1 - Saturday, March 3, various times
28 Leonardo da Vinci, Tel Aviv-Yafo
The Tel Aviv Opera House will stage several children's shows during the Purim weekend as part of the Yaron festival. "Alice in Wonderland" will be featured, along with "What about the deer?", a musical fantasy based on some of the most beloved Israeli songs of all time.
The shows are appropriate for ages 4 and up, and tickets can be purchased for 65 NIS at the Opera website: http://www.israel-opera.co.il/
70s Disco Party in Givon Square
Saturday, March 3 at 12:00
Givon Square, Tel Aviv-Yafo
A Purim party for parents and children who share a love of dancing. Families are invited to Givon square to let loose and jam to some throwback tunes together.
The event is open to the general public at no charge.
Purim Adventures at the Tel Aviv Museum of Art
February 28 from 10:00-13:00
24 King Shaul Street, Tel Aviv-Yafo
This Purim, the Tel Aviv Museum of Art is hosting a schedule of art workshops for kids. A variety of different mediums will be explored, including self-portrait, landscape painting and mask making. The activities are suggested for ages 7-12.
In addition, entrance to the new "Soft Worlds" exhibition will be free for children up to the age of 18. The exhibition is an tactile exploration of soft material in sculpture, and visitors are invited to touch, squeeze and interact with the pieces on display.
Tickets are available at the museum or by phone: 03-6077020
Purim Salsa Party
February 26 from 20:00-23:00
69 Shlomo Ibn Gabirol, Tel Aviv-Yafo
This free event held at the Tel Aviv Municipality Building is a wonderful opportunity for dancers of every level to meet and celebrate Purim in a unique way. The first hour of the event will feature group salsa lessons led by volunteer organization Media Noche Tel Aviv/Menta. A salsa dance party will start at 21:00, giving participants an opportunity to show off their new skills.
The event is open to the general public at no charge.
https://www.facebook.com/events/555437191485224/
Photo Ministry of Tourism