Life Style
Details

Written by

Silvia G Golan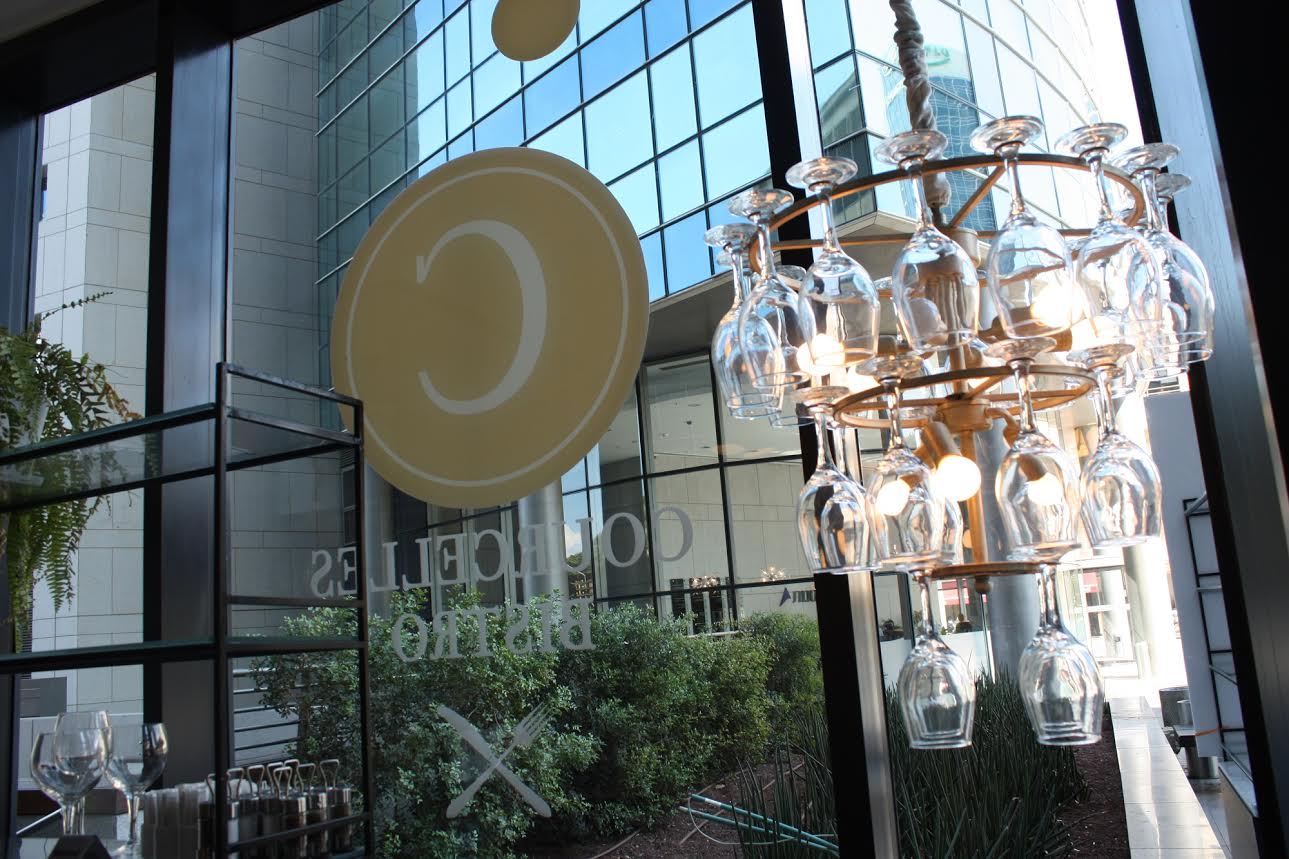 The Courcelles Patisserie French chain, which offers French desserts and pastry, has grown and opened its 6th branch in #1 Rothschild Boulevard, Tel Aviv. The 1st branch opened in Dizengoff Avenue, Tel Aviv, in 2010. Following the success of this branch, additional branches opened in Ben-Yehuda and Ibn Gvirol Avenues in Tel Aviv, and in Raanana and Givatayim. The new branch in Rothschild Boulevard offers, besides pastry, other specialties of the French cuisine.
The new bistro menu is rich and offers a large variety of special French food. Among the special first dishes, we can find Feuillete, salty pastry based on flaky dough that combines spinach, Emmental cheese or Peta cheese and tomatoes. Additional dish straight from the French cuisine is salmon hamburger, with special salad in Bernaise sauce. For dessert, we can choose any of the great variety of Courcelles Patisserie's cakes and pastries
The tastes, smell and atmosphere in the new branch make the customers feel as like they arrived to Paris. The patisserie offers a culinary experience different and special, unlike any other place in Israel.
The festive opening of the branch in #1 Rothschild Boulevard was honored by the presence of the French Ambassador to Israel, and guests from the culinary and bakery fields. As in the best tradition, delicacies of the French cuisine with special cocktails were served.
Michael Kabrit, General Manager of Courcelles Patisserie, thanked the guests for their presence in the opening event and said: "I arrived to Israel with my family 10 years ago due to my feeling of Zionism and love for the country. We asked ourselves what we could do in the county, where there is everything - "country filled with milk and honey"!
He pointed out that Courcelles Patisserie's vision is to learn the strict rules of French art of bakery. This in order to spread the quality of the French bistro dishes throughout Israel. "Our goal for the two coming years is to open more branches of our chain in the country, and our main project is to open a school of bakery in cooperation with an important French bakery firm.
1 Blvd Rotschild , Tel Aviv
Tel 03- 5221346
Photos Silvia Golan
Details

Written by

Silvia G Golan
The Waldorf Astoria Hotel offers now the possibility to experience a sensational breakfast experience accessible to the general public.

The menu combines specialties from the Palace Restaurant together with a reach buffet that includes different types of fish, bread, salads, yoghurts, cheese, seasonal fruits, natural juices and desserts.
The Jerusalem Waldorf Astoria Hotel offers its breakfast to the general public. The menu combines specialties from the Palace Restaurant together with a reach variety of the best dishes in the frame of an aristocratic atmosphere.
The menu includes, amongst others, omelets with salmon, champignons, goat cheese, mozzarella and pecorino, benedict eggs with hollandaise sauce accompanied by smoked salmon and spinach, fresh pastries, Belgian waffles and even oat cereals with blueberries, raspberries, strawberries and seasonal fruits for the lovers of healthy food.
Besides the above, the Palace Restaurant offers the most extensive breakfast buffet ever seen in Israel. This buffet includes various types of fresh and smoked fish (smoked and coiled herring, smoked salmon, tuna fish, halibut, mackerel and home maid garb lacks) as well as a series of fresh salads, warm dishes, different seasonal vegetables, soft and hard cheeses (Manchego, Camembert, Brie, Saint Moor, Grana Padano, Gouda, red wine goat cheeses), a variety of yoghurts and seasonal fruits.
Guy Kleiman, the manager director, stressed that "Those who are looking to enjoy an extraordinary breakfast adventure, either a romantic encounter or a business meeting, will have the pleasure to meet a unique experience never seen in Israel before. The aristocratic international atmosphere, the unique gastronomic variety as well as the outstanding service assure the guests an unforgettable experience".
In addition, a healthy corner provides sugar free tarts, gluten free bread, a big variety of exotic dried fruits, vegetables, etc. The cost per person is 144 New Shekels.
Breakfast times:
Sunday to Friday: 06.30 to 10.30 hs.
Reservations: Tel. 02-5423353 – Address: Irgun St. 26, Jerusalem
It is advisable to reserve places in advance.
The Waldorf Astoria Hotel that was built on the foundations of the re-known Palace Hotel in Jerusalem, is considered the most expensive hotelier project in Israel. Its cost required an investment of about 150 million dollars. The hotel, the first and only international prestigious hotel in Jerusalem, counts with 226 rooms, 29 of which are suites, an elegant dancehall, high elaborated meeting rooms, gourmet restaurants and a highly qualified service that was not yet seen in Israel.
In order to make a reservation to the Waldorf Astoria Hotel in Jerusalem or to learn about the Waldorf Astoria chain of hotels all over the world you are invited to visit the site www.waldorfastoria.com .
For additional information about the chain please look into the following web address http://news.waldofastoria.com.
Details

Written by

Jonathan Danilowitz
A Czech, a Kenyan, a Costa Rican and a Canadian meet at an Israeli wedding. Who has the most fun? That's easy – the Australian of course!
Diplomats reading this know that www.diplomacy.co.il would never reveal the answer and thus risk favoring (or insulting) someone. For the non-diplomats, let me reveal that .... uhhh you need to have more information.
The truth of the matter is that it's not a joke, and that it all depends on where the wedding was held. The standard answer to the question concerning real estate – and in this case, event venues – is location, location, location.
This August alone, no less than 14 weddings for couples with French roots were held at one of Israel's premier wedding and event locations, "The Villa at Gan Oranim". Without going into the whys and wherefores of French culinary arts and chic, 14 events for French people in one month at one location has to tell us something about the place. 14 events where the hosts discovered the location only by word of mouth.
It's the background. Gourmet meals and haute cuisine are the hallmarks of French culinary artistry and hospitality, and herein lies the secret: Firstly, Chef Colin Gillon, Israeli born but French trained, orchestrates every event at The Villa. Chef Colin trained at the renowned Paris culinary institution "Le Cordon Bleu", where he was subsequently awarded "Le Grande Diplome" (the highest ranking for graduates). He later gained experienced at the 3-Michelin-star "Taillevent" restaurant, the 2-star Apicius (no small achievement) and worked at Fouchon and the very prestigious George V Hotel, also in Paris.
It was at Taillevent that he first met, rather casually, the present owner of "The Villa", Norbert Attali, who was then still a resident of Paris. In their wildest dreams, neither Chef Colin nor psychiatrist Dr. Attali foresaw them cooperating in Tel Aviv at an events location. Sometimes, truth is stranger than fiction.
When he retired some 6 years ago, Dr. Attali (he prefers to be called Norbert) and his family immigrated to Israel. Norbert, who was born and raised in Algeria but lived in France from age 11, became the silent partner of the then owners of Gan Oranim, a successful wedding venue in North Tel Aviv. Through a quirk of fate (ask Norbert one day, he'll tell you the details) he suddenly found himself to be the sole owner and active manager! The psychiatrist began a catering business; is it any wonder that he soon engaged the likes of Chef Colin and a team of experts to help him?
Norbert's classical, exclusive European finesse, with just an elegant touch of Algiers – a touch that highlights the venue's prestige – is everywhere at the Villa,. Norbert is one of those rare personalities who put you at ease at once. (Did we mention psychiatrist?) His has published several books (alas, in French only) in which he examines such issues as "Judaism and Sexuality" "Psychiatry and the Cinema" and – how not? – issues of food and satisfaction. A self-made man, he and his wife are at the forefront of aiding those less fortunate than themselves or in need of support – at this very time his social welfare efforts are magnificently directed at soldiers fighting on the front lines in Israel's struggle against terrorists.
We were delighted at the exalted standards of every aspect of the "Villa". It seemed casually extravagant, but befitting the Villa's slogan "The Best or Nothing".
Isn't that what Diplomacy is all about?
Photos Silvia G Golan
Details

Written by

Sima Lahat & Silvia Golan
Castro placed an additional flag on the Israeli Fashion map, when it exposed its Autumn-Winter Collection 2014-15 in an amazingly beautiful display.
Castro's experienced model, Gal Gadot, was not present on the exhibition lane due to previous commitments in Hollywood. The exhibit opened with the model Liraz Dror, and the men collection was led by Omer Dror. It was an aesthetic feast reflecting on all senses.
Castro is Israel's response to world fashion. In its designs, it displays love and respect for its customers by fashion, quality and design; while stressing out Israel's special way of life. When Castro build a new collection and design new models, they don't compromise for Israel's lifestyle, favorite outfits for work and recreation, favorite colors, comfortable and updated dressing patterns.
The solution for Castro's customers, is expressed in three main lines:
· Red line - casual and young-age fashion for high school and university students.
· Black line - sophisticated and elegant line for people in the career world.
· Blue line - Jeans line in different patterns that upgrade the body look.
Moreover, if this is not enough, there are complementary collections, from shoes to bags, passing through inner clothing, eye-glasses, jewelry, and even bicycles and accessories; this, along with Castro's children line. The variety and richness of the collections, enables Castro to accompany its customers during the day and in the evening, during vacation and at work, from student to carrier outfits, in the small moments and grand events.
The inspiration for the exhibit lane collection selected this season, by Castro's fashion designers, is a combination of eastern and western cultures, while integrating their own point of view. The astonishing textiles used in the collection design derived from near and far places (such as Turkey, India and China), but the design is carried out in Castro's studio in Israel.
In the women collection, the designers chose to create a winning combination: ethnic, oriental and bohemian look, with a modern and sportive touch. The patterns are based on traditional and basic lines, such as rectangles and squares, kimonos, binding technique, envelopes, and square sleeves combined with flowered prints, oriental elements combined with embroidery in cloth. The collection coloring includes caramel, olive and mustard, combined with patterns, with a look that varies from oriental to kaleidoscope and stained glass.
In the men collection, the shapes, textures and materials, are based on the Levant world of concepts. Coloring varies from marine blue and petrol to shades of Boudreaux, olive green and mustard, combined with textures, and black with stone, with touches of white. For the silhouettes, classical and oriental shapes were used, such as "basic work kimono"; these become updated items using a variety of lengths and shades, which creates a western interpretation to oriental clothing and vice versa.
Castro designers learn their lessons and reach conclusions. Following the success achieved by their exhibit lane collection in the summer, they enlarged their unique collection, which is manufactured in limited editions.
How about acquisition possibilities?
Immediately after the fashion show, most of the exhibit lane collection is provided for online acquisition in Castro's website, and it is also displayed for sale in Castro's main store in Tel Aviv and its store in Ramat Aviv. The exhibition lane collection is sold online in the website using a new, friendly and easy-to-use technology, which enables quick viewing and acquisition of each item, while viewing the exhibit video.
Congratulations to Castro, pride of Israel, for the continued renewal, and for leading the world fashion adapted to its customer needs, in all kinds of fashion and lifestyle, while keeping fair prices.
Photos : Silvia G.Golan
Details

Written by

Sima Lahat & Silvia Golan
A Passage to India A look at Indian Culinary at its best through Tandoori Restaurant
The chain of Tandoori Restaurants in Herzliya and Tel Aviv serves authentic Indian food prepared by the loving hands with the charming laugh of Chef Reena Pushkarna.
The traditional dishes, the kind service and the unique design of the restaurants, make the visit a feast of taste, color, and exotic aesthetics.
Chef Reena Pushkarna serves authentic Indian food, which doesn't change with fashions, and doesn't try to flatter the guests. She is strict with the selection of the quality of the raw materials, the traditional cooking techniques and the precision of the rich food taste.
The rich menu includes dishes from different regions in the country, and it seems that even ten visits to the restaurant won't be enough to taste the great variety of delicacies prepared by the skilled hands of the chef.
Tandoori is the perfect place for an indulging lunch, wrk meeting, rich dinner and family meals, in a different atmosphere. The kind and attentive staff will turn the visit to an even more pleasant occasion. The fans of Indian food will be able to fulfill all their culinary and vegetarian dreams. Vegans and health-food fans will find here a gastronomic paradise of rich tastes.
Tandoori offers as well delivery services, preparation of private events on site, and catering services, which will bring the eastern fragrance an tastes to all private and business events.
For more information, see our website: www.tandoori.co.il.
Photos provided by Reena Pushkarna / Tandoori