More

Life Style
Life Style
Details

Written by

Jonathan Danilowitz
A Czech, a Kenyan, a Costa Rican and a Canadian meet at an Israeli wedding. Who has the most fun? That's easy – the Australian of course!
Diplomats reading this know that www.diplomacy.co.il would never reveal the answer and thus risk favoring (or insulting) someone. For the non-diplomats, let me reveal that .... uhhh you need to have more information.
The truth of the matter is that it's not a joke, and that it all depends on where the wedding was held. The standard answer to the question concerning real estate – and in this case, event venues – is location, location, location.
This August alone, no less than 14 weddings for couples with French roots were held at one of Israel's premier wedding and event locations, "The Villa at Gan Oranim". Without going into the whys and wherefores of French culinary arts and chic, 14 events for French people in one month at one location has to tell us something about the place. 14 events where the hosts discovered the location only by word of mouth.
It's the background. Gourmet meals and haute cuisine are the hallmarks of French culinary artistry and hospitality, and herein lies the secret: Firstly, Chef Colin Gillon, Israeli born but French trained, orchestrates every event at The Villa. Chef Colin trained at the renowned Paris culinary institution "Le Cordon Bleu", where he was subsequently awarded "Le Grande Diplome" (the highest ranking for graduates). He later gained experienced at the 3-Michelin-star "Taillevent" restaurant, the 2-star Apicius (no small achievement) and worked at Fouchon and the very prestigious George V Hotel, also in Paris.
It was at Taillevent that he first met, rather casually, the present owner of "The Villa", Norbert Attali, who was then still a resident of Paris. In their wildest dreams, neither Chef Colin nor psychiatrist Dr. Attali foresaw them cooperating in Tel Aviv at an events location. Sometimes, truth is stranger than fiction.
When he retired some 6 years ago, Dr. Attali (he prefers to be called Norbert) and his family immigrated to Israel. Norbert, who was born and raised in Algeria but lived in France from age 11, became the silent partner of the then owners of Gan Oranim, a successful wedding venue in North Tel Aviv. Through a quirk of fate (ask Norbert one day, he'll tell you the details) he suddenly found himself to be the sole owner and active manager! The psychiatrist began a catering business; is it any wonder that he soon engaged the likes of Chef Colin and a team of experts to help him?
Norbert's classical, exclusive European finesse, with just an elegant touch of Algiers – a touch that highlights the venue's prestige – is everywhere at the Villa,. Norbert is one of those rare personalities who put you at ease at once. (Did we mention psychiatrist?) His has published several books (alas, in French only) in which he examines such issues as "Judaism and Sexuality" "Psychiatry and the Cinema" and – how not? – issues of food and satisfaction. A self-made man, he and his wife are at the forefront of aiding those less fortunate than themselves or in need of support – at this very time his social welfare efforts are magnificently directed at soldiers fighting on the front lines in Israel's struggle against terrorists.
We were delighted at the exalted standards of every aspect of the "Villa". It seemed casually extravagant, but befitting the Villa's slogan "The Best or Nothing".
Isn't that what Diplomacy is all about?
Photos Silvia G Golan
Details

Written by

Sima Lahat & Silvia Golan
A Passage to India A look at Indian Culinary at its best through Tandoori Restaurant
The chain of Tandoori Restaurants in Herzliya and Tel Aviv serves authentic Indian food prepared by the loving hands with the charming laugh of Chef Reena Pushkarna.
The traditional dishes, the kind service and the unique design of the restaurants, make the visit a feast of taste, color, and exotic aesthetics.
Chef Reena Pushkarna serves authentic Indian food, which doesn't change with fashions, and doesn't try to flatter the guests. She is strict with the selection of the quality of the raw materials, the traditional cooking techniques and the precision of the rich food taste.
The rich menu includes dishes from different regions in the country, and it seems that even ten visits to the restaurant won't be enough to taste the great variety of delicacies prepared by the skilled hands of the chef.
Tandoori is the perfect place for an indulging lunch, wrk meeting, rich dinner and family meals, in a different atmosphere. The kind and attentive staff will turn the visit to an even more pleasant occasion. The fans of Indian food will be able to fulfill all their culinary and vegetarian dreams. Vegans and health-food fans will find here a gastronomic paradise of rich tastes.
Tandoori offers as well delivery services, preparation of private events on site, and catering services, which will bring the eastern fragrance an tastes to all private and business events.
For more information, see our website: www.tandoori.co.il.
Photos provided by Reena Pushkarna / Tandoori
Details

Written by

Silvia G Golan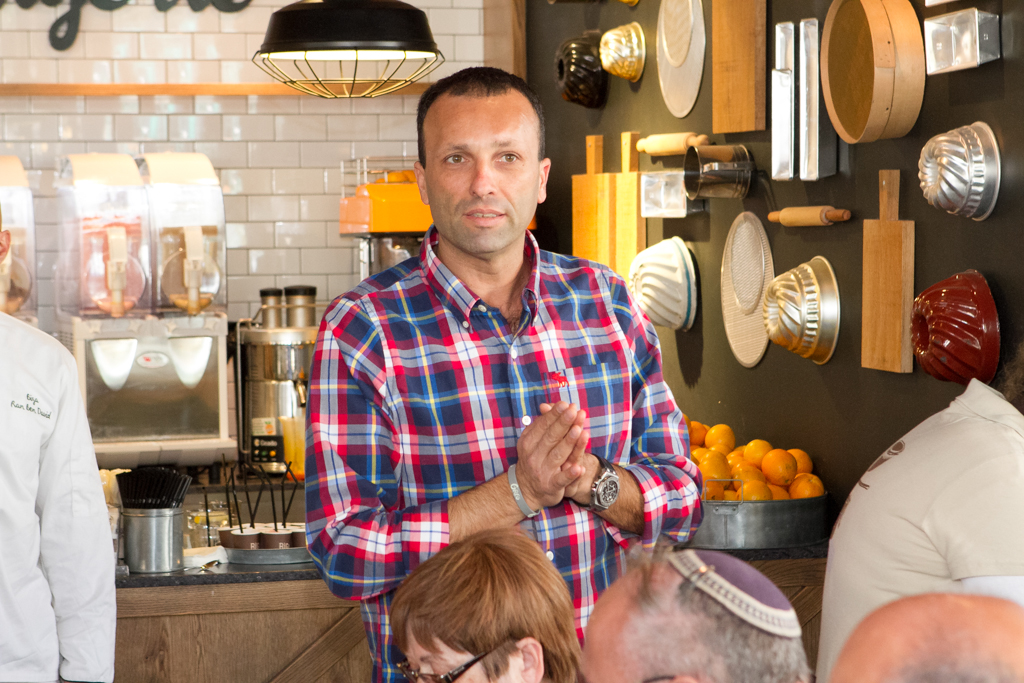 Yair Malca: "Following the success of the vegan menu that we launched a year ago, we decided to enlarge it, and it will include, from now, 22 portions, including vegan desserts and home utensils".
With the launching of the new menu, the chain starts a wide campaign evaluated in 1 million NIS
The Greg chain, owned by Yair Malca, Gilad Almog and Nir Edri, is launching, in about 94 branches throughout the country, an rich and varied summer menu, composed by leading chefs, such as Nadav Marom.
This menu includes 40% of new dishes, and is based on inspirations and tastes from the whole world. Among these cuisines: Italian, Asian, American, Balkan, Suisse, Mexican, and, of course, Israeli, which are served in a fully vegan menu, health dishes, vegan desserts, cocktails and even home utensils.
The chain also offers in its 94 branches take away dishes, in new and especially designed packages, with no need for waiting.
Photo Asaf Levi
Details

Written by

Silvia G Golan
"Desert Oasis", beautiful estate of Health and Spa, provides:
· 9 large and especially designed treatment rooms, and beautiful lobby.
· Large variety of health treatments, among the most advanced in Israel, provided by specialized masseurs.
· 2 special treatment rooms for couples, which include private Jacuzzi tubs that provide intimate, romantic and relaxing atmosphere.

· VIP Spa site - private Spa facilities and especially designed lawn, which includes sun-tanning terrace, comfortable sun tanning with outdoor Jacuzzi and Spa.
· "Spa in the Desert" is suitable for private events, fun days and social celebrations.
· Culinary experience, lead by the chef chain of Guy Peretz, Eli Uzan – a variety of traditional and new menus per order.
"Desert Oasis", the estate of Health and Spa, is located in the Ramat Negev region, 20-minute drive south of Beer-Sheva, and covers an area of 8000 square meters. It launches these days the "Spa in the Desert", a new and elegant Spa site. This new site has a unique design, which provides its visitors with a feeling of entrance to a calm, harmonic and charming world. This Spa site was built with an investment of 3 million NIS.
"Spa in the Desert" is a secluded site within the "Desert Oasis" estate, and the entrance to this site is allowed to the Spa visitors only. This site is roofed, and has a vast parlor at its center. It includes 9 especially designed treatment rooms that inspire a relaxing atmosphere, where light food and refreshment are served. Two of the treatment rooms are dedicated to couples, and include private 2 beds and Jacuzzi tubs that provide intimate and romantic atmosphere for a few hours.
The Spa treatments include: Medicinal massage, massage with hot stones, massage with hot sesame oil, Ayurveda massage, massage of body extremities, and body massage combined with feet massage.
The VIP Spa site is located outside the roofed "Spa in the Desert" site. It is open and limited to the VIP guests. It includes private Jacuzzi and sauna, sitting spots and sun-tanning terrace in a calm and relaxing atmosphere. The Spa guests are provided with personal dressing rooms, which include two bathing rooms and personal lockers, so they can walk around comfortably within the site. Each VIP guest receives at the entrance an elegant robe and personal Spa shoes.
Among the first guests at the VIP Spa site inauguration, was President Shimon Peres, who invited the president house workers and their families, about 70 people, to a charming and relaxing evening that included a variety of indulgences, dinner and public singing in the "Desert Oasis" estate and the new Spa site.
Udi Zilberstein, "Desert Oasis" CEO, said: "This new Spa site is one of the most prestigious in Israel and we invested millions of NIS in its construction. The site was planned and designed to provide the Spa guests a special physical and spiritual experience, so that along with the professional treatments, they can enjoy the unique, inviting and relaxing design. The site provides suitable solutions for guests interested in privacy and enjoyment of personal Spa facility, and for others that prefer social celebrations in this estate."
I strongly recommend it !!!
Photos courtesy of Spa in the Desert
Details

Written by

Silvia G Golan
During this event, a selection of aging wines in limited stock will be offered for sale in the winery store, in wine stores and in selected restaurants between March 15 and April 14
Passover, a holiday of a lot of food and wine, provides a great opportunity for wine lovers to open and enjoy festive wines, unique and unusual, which integrate perfectly in the holiday atmosphere.
Honoring this holiday, Ramat Hagolan Winery will open its basement and archive to wine in a feast of aging wines from grape harvest years 2000 till 2007, among these the unusual years 2003, 2004 and 2007. The wine variety offered will be especially great and impressive, including wines that express the whole region, and also wines from a particular winery, in 750 milliliters, magnum and double magnum. This event is a unique and unusual opportunity to become exposed and enjoy the best-kept treasured wines in the winery.
About the winery and aging wine:
The aging capability of a wine is a sign of its quality, and tells a lot about its history, concerning the grape growth and processing, and the professionalism of the vine grower and the wine maker.
The wines of Ramat Hagolan Winery, part of which will be offered for sale in this unique event, have great and unusual aging capability in the Israeli wine scene.
The winery invests the best means and resources, both human and technological, in an uncompromising ambition to produce most of the potential contained in the raw material – wine grapes, involving lot of consideration in each of the wine production stages, and close look at each of the small details related to the production process. Besides, the wine quality depends highly on the strictness of the group of vine growers relating the growth of quality vine strains suited to the vine growth region, and on the uncompromising attention of the wine producers along the whole manufacturing process.