Life Style
Details

Written by

Silvia G Golan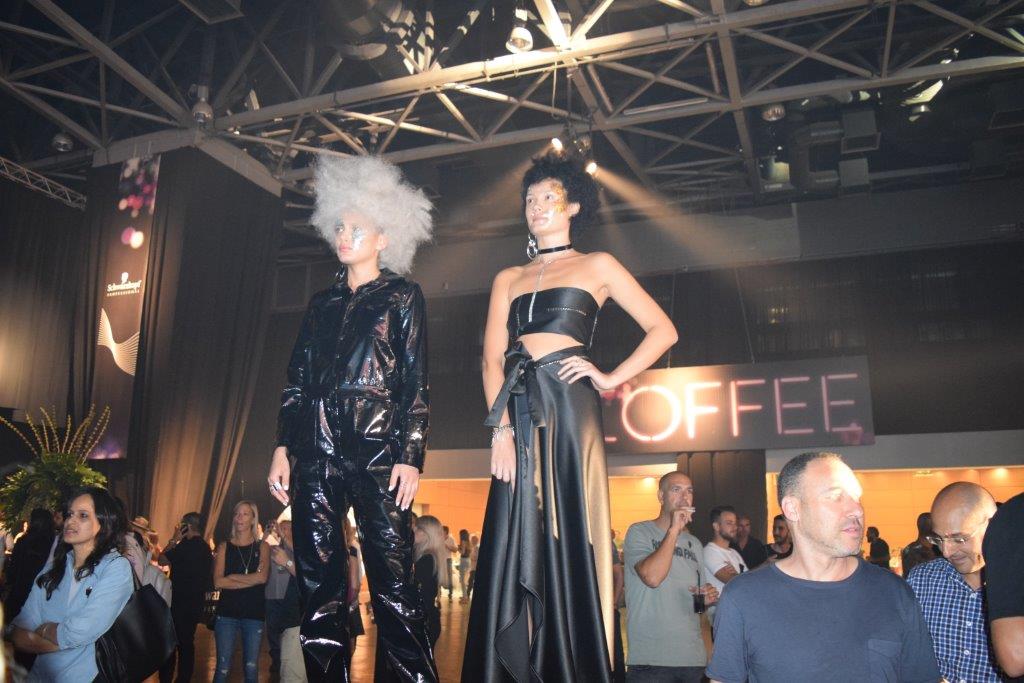 On Monday September 11th, Shwarzkopf Professional brought an international twist to the biggest party of the year.
The event included a senior delegation from Turkey for its first visit, and the presence of Richard Ashforth, the company's international hairstyling ambassador from the UK, together with local brand ambassadors, for the largest hair show that Israel has ever seen. Over 3,500 guests were invited to see the more than 60 models in a powerful, grandiose hair show.
Ania Bukstein sang in the opening performance, Liron Ravivo marched onstage, and dozens of celebrities danced to the tunes of DJ Tomer Meisner and VINI VICI. With elaborate background lighting and video-art, music and dancing well into the early hours of the morning, the party was said to the most impressive, in quantity and quality, that Israel has ever seen!
A lavish dinner, including cuisine from all over the world and a full assortment of alcoholic beverages, was accompanied by live entertainment, including acrobats, stilt-walkers, fire performers and other artists, and was broadcast live via 4 radio stations.
Schwartzkopf Professional continues to redefine expectations, with more than 3,500 guests gathering at the Tel Aviv Fairgrounds for the most outrageous party of the year. Among the firsts: a visit from a senior delegation from Turkey who after hearing about previous events decided they wanted to experience the Shwartzkopf Professional in Israel experience for themselves. The delegation included Viki Motero, CEO of Shwartzkopf Professional in Turkey; Shilah Hefer, marketing manager of Shwartzkopf Professional Turkey, and about 50 leading hairstylists from Turkey who came to participate in the extraordinary event. Morley Sondar, the Middle East-North Africa regional manager for Shwartzkopf International also came to honor this exceptional event, along with Shmulik Cohen, CEO of Shwartzkopf International Israel, and Debby Pesah, the marketing and training director.
Richard Ashforth, the company's international styling ambassador, also came from abroad, along with a large staff to help prepare the models. Richard is one of the leading hairstylists in the UK, and responsible for preparing the hair in various displays of international fashion during Fashion Week.
A full week was spent preparing the models for the big event, with the large international staff, including Ashforth, Rafael Teplov, Sivan Madmoni, Kobi Borochov, Idan Bar, and Yigal Biton. laboring to prepare the hair of 60 professional models.

The VIP section included Oz Zehavi, Chen Amsalem with Maor Zaguri, Ana Aronov, Shir Elmaleh, Dana Grotzki, Liran Cohener, Liron Revivo and her fiance, Maya Dagan, and Yuval Sharif. Nearby, a radio stand with Amira Buzgalu broadcast the party live to 4 radio stations until midnight: Radio Tel Aviv, Radio Haifa, Radio South, and FM 101.5. The broadcast included feedback from broadcaster Daniel Zioni.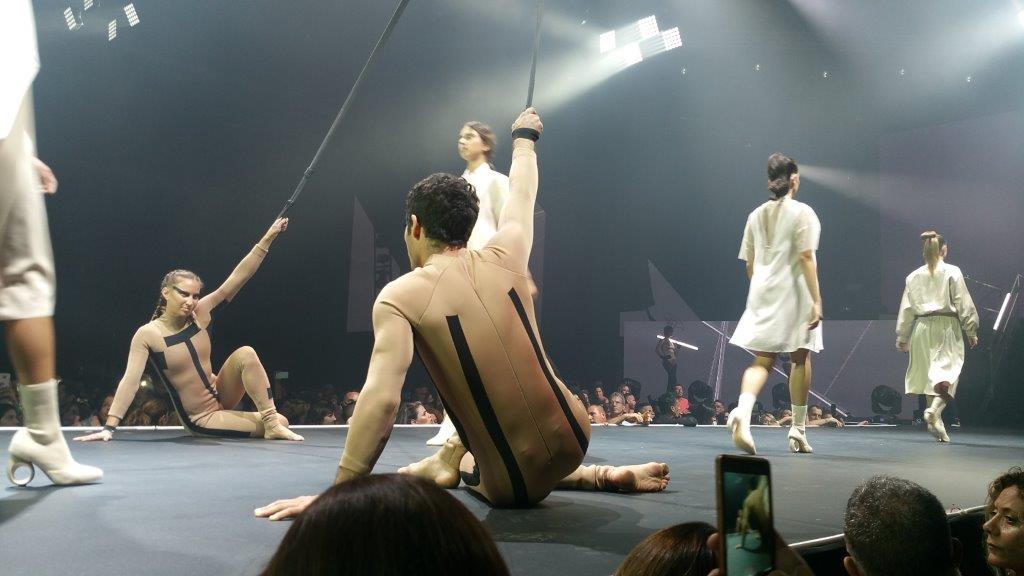 The hair fashion show was divided into 3 large displays, by trends: Black Diamond, Purity, and Tribal, with each then subdivided into 3 individual performances. Black Diamond presented the mysterious, sensual side of the hair, using various techniques to create an aura of mystique and hypnotic appearance.

Purity featured a clean and geometric look, created using a careful combination of colors and fabrics to match the models. Tribal was a tribute to VINI VICI, with the models displaying braiding in a variety of styles and lengths, inspired by African tribes with some Chinese and Mongolian influences.

Just when the show seemed to be over, the lights dimmed and then came back on to reveal all 60 models on podiums, with VINI VICI playing new songs that hadn't yet been played for the public

Shmulik Cohen, CEO of Shwartzkopf International Israel said that "The tradition continues, with 6 years of success and growth. Shwartzkopf International has become the leading brand in Israel, providing high quality products to a diverse clientele. We are the only company in Israel to produce internationally acclaimed parties for 6 years running, and this time we've proven conclusively that we are number 1!"

Debby Pesah, the Marketing and Training Director, added "We're excited to present the largest hair show ever brought to Israel! Our performance this year is on part with the largest shows that Shwartzkopf International has held anywhere in the world. We are the number 1 company, and will continue to maintain that standard."

Director: Shai Touboul; Production: Ishonim Production; PR: Harel Moradi
Photos Silvia Golan
Details

Written by

Buzzy Gordon
On the eve of the Shavuot holiday, the Society for the Promotion of Tourism in Herzliya, in conjunction with the Grape Man, is hosting the White Summer White Wine Festival at the Herzliya Marina. The largest white wine festival in Israel will take place on the plaza of the marina on Wednesday and Thursday, May 24-25, 2017.
Details

Written by

Silvia
Socca Market in Tel Aviv has brought a new concept in dining to its unique venue for weddings, parties and major events. Instead of the standard fixed menu and waiter service, guests are invited to make the rounds of food stalls, each one featuring cuisine from different corners of the globe.
Drawing its inspiration from London's Borough Market, New York's Chelsea Market and Barcelona's La Boqueria -- and more recently, Tel Aviv's Sarona Market and Shuk Tzafon -- Socca Market comprises stalls that serve food representing the following cuisines:
Israeli (Mediterranean) - hummus, tehina, lamb kabab, skewers of shishlik and sabih
Italian - pastas, focaccias, antipasti (grilled vegetables) and bruschettas
Greek - souvlaki, dolmades (stuffed grape leaves) Greek salad, gyros, fried red mullet
Asian - dim sum dumplings, stir-fried noodles, bao sandwiches, Asian cabbage salad
American - fresh grilled hamburgers from prime beef, coleslaw, French fries
A delicious spread of desserts is served, featuring brownies with hot fudge sauce, chocolate chip cookies, hot apple crumble with pareve vanilla ice cream, meringues with berry sauce, lemon meringue tarts, and assorted pastries.
There is a full bar serving cocktails, sangria, and soft drinks, and a separate bar for wines.
Socca Market, which is certified kosher, is located in a trendy district of lofts and studios in south Tel Aviv.
Address: 27 Shocken Sreet (entrance from Shvil Hameretz)
Website: http://soccatlv.co.il
Tel. (073) 248-0313
Details

Written by

Silvia G Golan
International Women's Day was celebrated this year in the MAUSNER fashion house with a display of respect, love and appreciation for Israeli women.
"This year we are proud to launch the 2017 summer collection synchronized with International Women's Day, and for a good reason" remarked Rivka Mausner, the principal designer and the co-owner. "We praise the achievements of brave women throughout history, and choose to indicate in this manner our contribution to the development of women's fashion and implementation of women's style, especially with the launching of the 2017 summer collection.
Details

Written by

Buzzy Gordon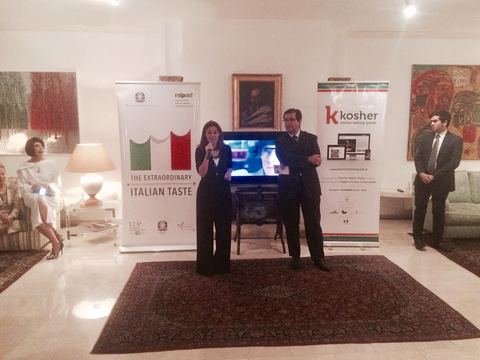 Italian embassies around the world this week are marking "The First Week of Italian Cuisine in the World," an initiative of that country's Ministry of Economic Development to promote Italy's famous cuisine, which represents an industry estimated to be worth USD 60 billion annually; in Israel, The First Week of Italian Cuisine in the World was launched by Ambassador Francesco M. Talò at a reception held at his residence in Ramat Gan on November 21.
In his remarks to the assembled guests, Ambassador Talò introduced the slogan of The First Week of Italian Cuisine in the World -- "the extraordinary Italian taste" -- and inaugurated an app designed especially for the Israeli market: the kosher Italian eating guide (www.kosheritalianguide.it).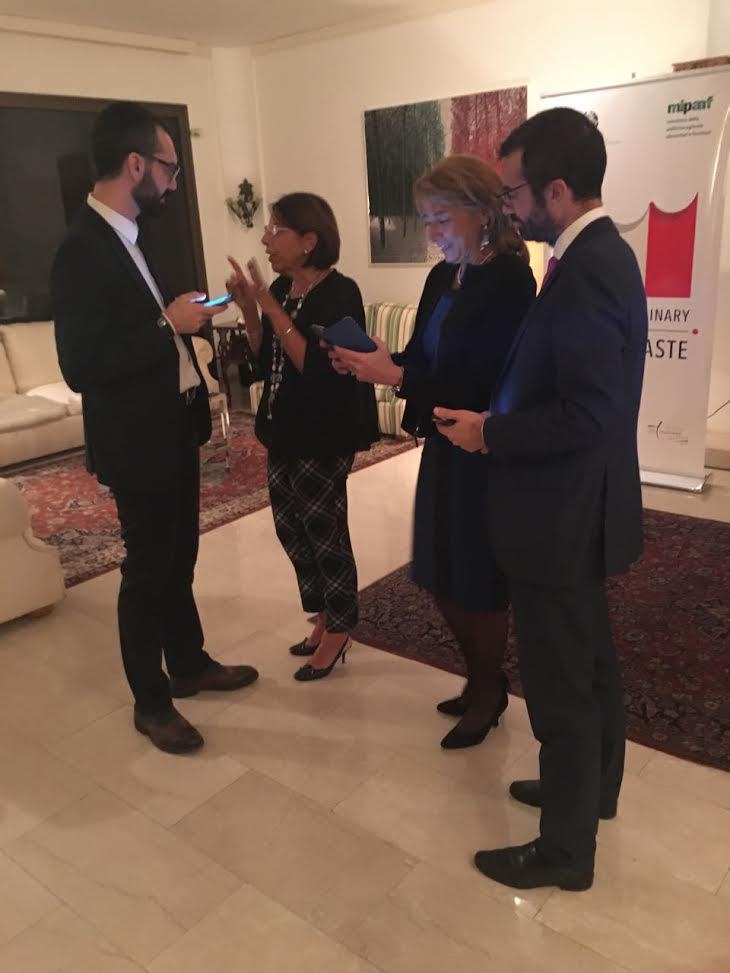 Also addressing the reception was a special guest from Italy, Elena Toselli of the Ministry of Economic Development, who explained that the new app featured a database of 500 purveyors of Italian foodstuffs that are certified kosher.
Guests received a pamphlet outlining special events -- lectures, demonstrations, cooking classes, movies and tasting -- revolving around Italian cuisine taking place in Israel the week of November 21-29. The evening concluded with a three-course banquet of Italian delicacies -- antipasti, pastas and desserts -- prepared by visiting Chef Laura Ravaioli, in collaboration with local chefs Massimiliano Di Matteo, a winner of the Master Chef television competition, and Michele Bozzetto, of the Sheraton Hotel's Olive Leaf restaurant.
The reception attendees largely comprised Israeli residents of Italian descent, including Cinzia Klein, the local representative of the Italian Academy of Cuisine.
Photos provided by Massimiliano Guido , Italian Embassy
Photo 1 Ambassador Francesco Maria Talò and Elena Toselli (Ministry of Economic Development)
Photo 2: Marcella Pedroni (Fiere di Parma), Jacqueline Fellus (Union of Italian Jewish Communities), Giovanni Delle Donne (Federation of Food and Drinks Industries), Massimiliano Guido (Italian Trade Commissioner)
Photo 3 Chef Massimiliano Di Matteo and Chef Laura Ravaioli