Life Style
Details

Written by

Buzzy Gordon
The Cafe Rothschild chain has opened in newest restaurant in the suburb of Givatayim, a block away from the municipal border with Tel Aviv. The kosher chain, which serves dairy but no meat dishes, has been expanding rapidly into the center of the country from its base in the North.
Cafe Rothschild, whose slogan is b'n'divut -- meaning, "generously" -- is known for its freebies, large portions and value. Guests are greeted with a complimentary drink on arrival, and free popcorn is distributed in the evenings. Instead of the conventional happy hour, beer (part of an alcohol menu that includes spirits and wine) is always two-for-one.
The categories of the bilingual menu comprise breakfast, salads, pastas, appetizers, sandwiches, tortillas, pizzas, focaccias and fish dishes. In addition to the usual hot and cold beverages, there are fresh-squeezed juices, smoothies and shakes. Vegan and gluten-free options are also available.
Desserts appear on a Hebrew-only menu, but can be explained in English by the staff. The super-sized sweets are prepared by pastry chefs off-site.
Among the special offerings of Cafe Rothschild are Italian Tuesdays -- when pasta is NIS 29 and glasses of wine NIS 10 -- and Greek Fridays, featuring mezze.
Website: http://www.rothschild-cafe.co.il/
Photos Silvia Golan
Details

Written by

Buzzy Gordon
Mateh Yehudah Wine Festival Celebrates the Judean Terroir
Mateh Yehudah, a region extending from the hills just west of Jerusalem to the valleys southwest of Beit Shemesh, will be hosting a wine festival extending over the three weekends between October 27 and November 12, 2016. The festival, which boasts the participation of 35 wineries, is one of Israel's most prestigious annual wine festivals, now marking its 18th consecutive year.
The wineries involved in the festival range from some of Israel's largest, producing more than 100,000 bottles a year, to some of the country's newest boutique wineries. Many are known for their award-winning wines, encompassing both kosher and non-kosher labels, as well as white, red and rosé wines.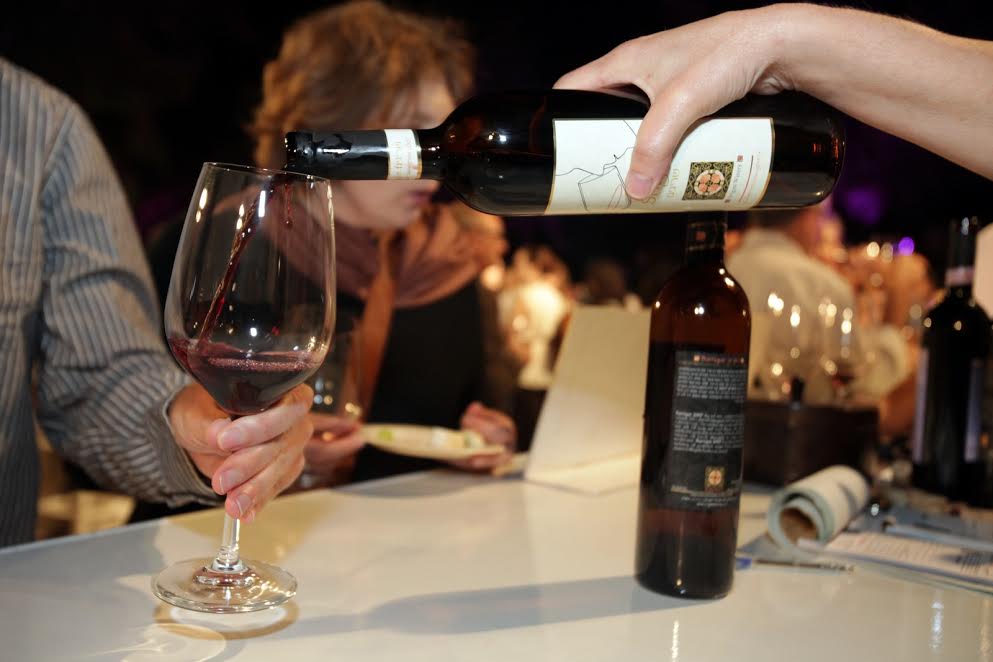 The festival will kick off with an evening of tasting to be held on 27.10.16 at the Yad Shmona Country Hotel in Kibbutz Yad Shmona. A number of the wines to be served during the event and the festival are being introduced to the public for the first time.
A noteworthy innovation of the festival this year is an initiative being sponsored by festival organizers together with local hotels and B&Bs: free transportation to and from tasting events and participating lodgings, so that visitors may imbibe wine without needing to drive afterwards. Designated drivers also enjoy special discounts.
The region, which is rich in Biblical history, is home to numerous fine restaurants, as well as artists' studios. Another popular culinary aspect of the festival is home-cooked ethnic meals served in hosts' houses.
For more information, visit the Hebrew website www.tour-yehuda.org.il.
Photo Inval Ros / Haim Ros
Details

Written by

Silvia G Golan
Lifestyle: Opening of the New Central of Hair Center Chain
The Hair Center chain of hairdressing shops, owned by businessman Zahi Revivo, opened its new center in Tel Aviv, at 14 Ahad Haam St., facing Kolbo Shalom, which is the fifth branch of this chain, together with those in Haifa, Natania, Rishon LeZion and Beer Sheva. This new center includes, besides the regular rooms, five VIP rooms for private reception.
Founded in 2015, Hair Center always leads the high technology in Israel relating hair treatment and care. Next year Zahi Revivo plans to open three new branches in Tel Aviv and three abroad.
Hair Center Israel is an integral center de of hair treatments, such as hair restoration, extension, mesotherapy, filling and preservation (for women and men). It also provides coloring, cuts, hairdressing, and advanced hair designs, such as straightening, curling, filling, etc.
Hair Center Israel brought to Israel the most advanced method for hair extension using laser and Keratin treatment, widely used in Hollywood, lasting 4 to 6 months.
http://www.haircenter.co.il/
Phones * 27597 * 8959 *
Facebook www.facebook.com/haircenter.il
Instagram #haircenterehadhaam Haircenter_il
Youtube https://youtu.be/HN3qbsrxMBg
http://www.silviagolan.com/l…/358-haircenter-14-1-haircenter
Photos Silvia Golan
Details

Written by

Jonathan Danilowitz
Once again, for the 22nd successive year, the International Mediterranean Tourism Market (IMTM) will take place at the Convention Center of the Tel Aviv fairgrounds 9-10 February 2016
The successful ITN – ORTRA team is organizing the event again. Israel Travel News (ITN – publishers of tourism magazines, websites and newsletters) and ORTRA (Israel's premier conference organizers) make sure that the fair, which has grown in leaps and bounds from year to year, will be a grand success.
The Israeli public is hungry for travel news on new destinations and also on the old favorites. IMTM is the perfect solution. As always there will be an interesting range of special presentations, screenings, lectures and discussions, some by invitation only, but most open to the general public. This year two interesting presentations will focus on medical tourism, incoming and outgoing. This hot topic is being given center stage at IMTM for the first time. There are multiple aspects and the discussions promise to be absorbing.
One of the desirable "by invitation only" events is the lavish pre-opening breakfast on the first day, exclusively for ambassadors serving in Israel. All ambassadors have already received an invitation. Ambassadors who have not yet responded ("RSVP") are reminded to do so as soon as possible.
Once again, a series of start-ups under the title of "Digital Travel Dome" (designated separately in the catalog, distributed free) display the ingenuity of Israel, the "start-up nation", in the field of digital apps that make information easy to find on your smartphone. If for no other reason (and there are plenty of other reasons), make sure to get your catalog when you visit the fair.
No need to say that Israel is going through trying times, so the promised success and numerous exhibitors is a real indication of the attraction that IMTM has for travel-industry professionals worldwide. Cross-border travel is the hallmark of peaceful coexistence. Can tourism will be the flashpoint of peace in the Middle East? Perhaps for world peace as well? Time will tell.
Silvia Golan, the Executive Director of www.diplomacy.co.il , and yours truly, will be at IMTM 2016. We hope to see you there.
The Tel Aviv Convention Center, commonly known as Ganey Hataarukha, is located on Rokach Boulevard in northern Tel Aviv, Israel, adjacent to the Tel Aviv University Railway Station.

Address: Rokach Blvd 101, Tel Aviv-Yafo
Details

Written by

Bat-Zion Susskind-Sacks
An Evening to Remember - Yaron Minkowski at Gindi TLV Fashion Week

The glamour surrounding the Israeli Fashion week was an integral part of last Tuesday's event where a very unique experience awaited the guests. It was a twofold one.

The first was the line by top Israeli fashion designer, Yaron Minkowski. In the midst of strife, suffering and pain which has been an inseparable part of life in the middle east for Arabs and Israelis, Yaron was able to inject a ray of sunshine, a ray of Hope.
Yaron's talent and vision joined hands to craft and forge a cemented alliance through the breath of art via the convergence of the ultimate defining symbols of garb, The Kaffiya, the traditional fabric worn by Arabs and his ingenious craftsmanship.

Minkowski envisioned an alternative solution to the current raging conflict. By fusing fashion with the prospects of collaboration between the feuding sides, Minkowski paved the way to Peace on the catwalk.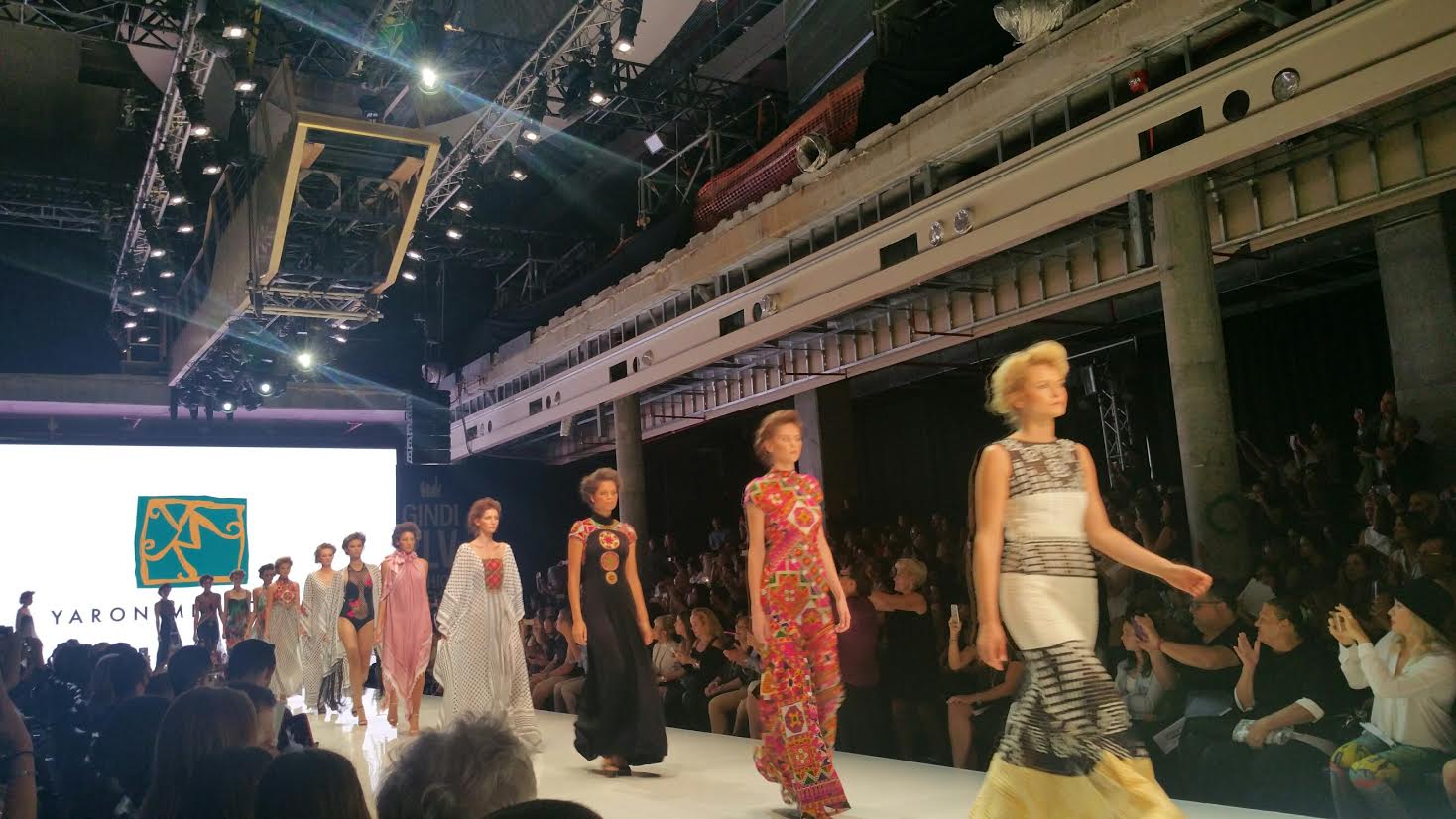 The models wore the colorful Kaffiya fabric design as glam dresses. The fabrics originated in Hebron and East Jerusalem and were hand delivered to Minkowski's studio in Tel Aviv by the Palestinian manufacturer himself.

The second was the unfolding for the first time of a new line by the youngest fashion designer in the world. Her identity should not come as a surprise. She is the daughter of Yaron Minkowski. Her name is Ori.
Ori launched her own fashion collection (OM) during her Bat-Mitzvah celebration when she was a mere 12 year old girl.

Now, at the age of 14 she has got her own line and was invited to present her own innocent designs at the Israeli fashion show. She was awarded with the honor to open the premiere scene.

It is noteworthy to mention that it is a prestigious opportunity for any Israeli designer to partake in such an event, let alone a girl Ori's age who started sketching for her own pleasure at the tender age of 5 and later had them translated into fabrics. Her childhood dream was realized through the models who were wearing what once used to be an experiment of her infancy
Photos by Silvia Golan