Life Style
Details

Written by

MFA
Tel-Aviv Florentin neighborhood second most hip in world
In a city already known for its Bauhaus-style architecture, inspired street art, and 24-hour nightlife, Florentin is the go-to spot for artists, musicians, and people who dress like artists and musicians.
Thrillist recently posted the ten most hipster neighborhoods on earth, stating that although the neighborhood of Williamsburg, NY takes the number one spot, the USA certainly does not have the only say on "hip" as "from Singapore to Stockholm, whole neighborhoods have been overrun with raw denim, ironic sunglasses, and a deep appreciation of the superiority of vinyl records."
The Israeli neighborhood of Florentin in south Tel Aviv came in second place. Thrillist noted that "it's the blend of traditional culture and contemporary style that ultimately drew the hipster crowd there. In a city already known for its Bauhaus-style architecture, inspired street art, and 24-hour nightlife, Florentin is the go-to spot for artists, musicians, and people who dress like artists and musicians."
Florentin attracts many tourists and visitors to Tel Aviv, with its bohemian and eccentric mix of bars, cafes, restaurants and nightlife. Levinsky Street, with its profusion of spice stores and foodie shops, is also a great tourist attraction.
The other eight most hipster neighborhoods according to Thrillist are: Kreuzberg - Berlin, Germany; Malasaña - Madrid, Spain; Tiong Bahru - Singapore; Shoreditch - London, UK; Södermalm - Stockholm, Sweden; Fitzroy - Melbourne, Australia; Vesterbro - Copenhagen, Denmark; Amsterdam-Noord - Amsterdam, Netherlands.
Photo Tel-Aviv's hip Florentin neighborhood

Copyright: Israel Ministry of Tourism
Details

Written by

Silvia G Golan
Experience in the 2nd Vineyard Extravaganza
The second Vineyard Extravaganza Festival at the Gezer Regional County will take place on September 3-5 2015.
Thursday September 3rd

The opening event will be at the BARKAN WINERY on Thursday evening September 3rd at 19:30.

A celebration of Israeli wineries, offering tastings of wines from our local region and also food stands will be available.

The opening session will be held in the beautiful Gardens of the Barkan Winery with live music during the evening,
Friday September 4th

Art Visits- Different local artists will open their houses and studios, providing art lovers the chance to browse and buy original artworks direct from the artist. With a focus on quality and value for money, the Artists Open Houses aim to bring a dynamic mix of arts and crafts to the widest possible audience, providing visitors and viewers with engaging and inspiring experiences.

Visitors can expect to see a wide range of art including jewelry, ceramics and textiles, paintings, sculpture, printmaking, photography and many other media whilst also having the opportunity to chat directly with the artists. The Artists Open Houses is free for visitors and open to everyone.

Saturday September 5th
The closing event will take place at Hulda Forest, families are sure to find something that everyone will enjoy. These events offer a time to have fun together, a place for kids to be kids.
The Festival is open to the public & free of charge!
More info : 050-6569296 / 08-9576450
http://www.gezer-region.muni.il
Photos Silvia Golan
Details

Written by

Silvia G Golan
Torii Ramat Aviv's Asian Restaurant celebrates its 3rd birthday with a selected menu from across Asia and selected wines from the whole world

Torii – Asian Restaurant & Bar, located in Neve Avivim, Ramat Aviv, is a place that lies in the borderline between Asian Restaurant and updated Wine Bar, and is inspired by both worlds; thus, it offers intimate recreation experience, where the stress is on the atmosphere as well as on the food quality.
Torii ("Entrance Gate to Sacred Temples" in Japanese) has opened a gate to the modern Asian kitchen with all its tastes and scents for its customers for 3 years; this kitchen combines east and west, traditional and contemporary, high-quality wines and selected menus from wide areas in Asia. In celebration of its 3rd birthday, starting in July, Torii will treat its customers with a treasure of surprises, sales and new dishes, including live shows every Friday, starting at 3 pm, hosting of leading chefs, such as cooperation with Indian master chef Sarandha, converting Torii into a modern Indian Restaurant; this, with a sale of unlimited wine at 33 NIS, and more.

Torii was founded owing to a great demand for a high-quality food and recreation place that is accessible to sushi and wine fans from Northern Tel Aviv and Ramat Aviv while saving a trip to the congested Central Tel Aviv. Accessibility is also a key word in a variety of other aspects, including service, prices, menu, and good food.

The forces combined behind Torii are the "Nelson" Group, which operates, among others, the "Tailor Made" Bar & Restaurant in Tel Aviv, and the "Nelson 33" Restaurant Chain, with branches in Givatayim and the Neve Avivim commercial center. The "Nelson" Group combined with two additional partners from the "Okinawa" Restaurant to achieve this project. This partnership provides this place with sparks of night life combined with excellent Asian food.

The menu was prepared by the chef of the "Okinawa" Restaurant and includes a variety of dishes of the new Asian kitchen, such as a variety of sushi dishes, first dishes, soups, main dishes, salads, Asian noodles, and great desserts. The alcoholic drinks offered include a variety of Japanese beers, and about 20 types of wines, including Israeli boutique wines.

We recommend you to check Torii's worthy business dishes, served from Sunday thru Thursday at 12 to 4 pm, where you can enjoy first and main dishes at the price of main dish only, from the offered menu.

Not only the restaurant's name is related to the Asian culture; its design includes Asian details, such as plates of light wood positioned in different places, carbon lamps, Bonsai trees in external planters and world music played in the background.
Torii : 13 Oppenheimer St., Neve Avivim, Tel Aviiv – 03-6204777

Opening hours: all week from 12 pm to 00 am
Photos Silvia Golan
Details

Written by

Jonathan Danilowitz
Sweden, Ikea, Eurovision – a Winning Combination.
The Swedish Ambassador to Israel, His Excellency Carl Magnus Nesser and his charming wife Maria hosted an unusual party at their Herzlia residence last night, with a double celebration: first, to honor the winner of the 2015 Eurovision concert, Swedish singer, entertainer and TV host, Måns Zelmerlöw, who was visiting Israel, and secondly to announce the launch of the 2016 Ikea catalog. Ikea, in case you are unaware, is an international Swedish company with a major presence in Israel with three huge store locations. The catalog launch was perfectly timed to match the launch worldwide (no less than 213,000,000 copies) with about 1,700,000 copies in Israel alone (in Hebrew of course, perfectly attuned to international and local markets.)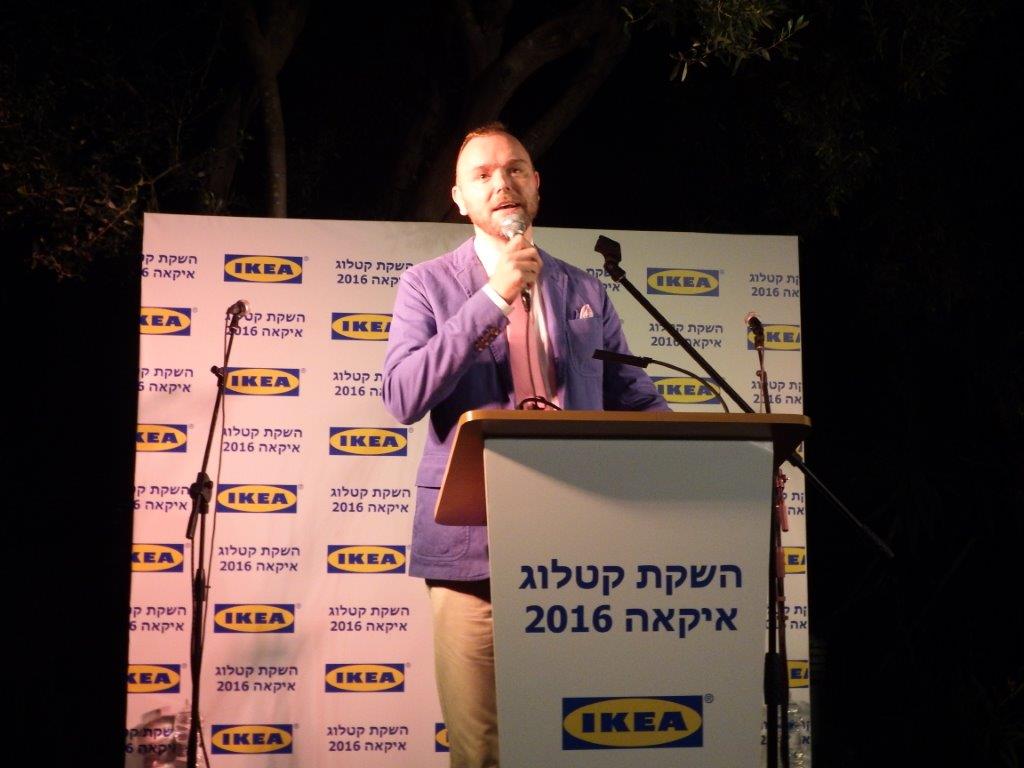 The guest list was long – and interesting. In his brief welcoming address to the assembly, the Ambassador mentioned that the "Swedish Embassy had never been as popular as this evening", and that many people who asked for invitations had to be turned away. Shuki Koblenz, CEO of Ikea Israel and co-host of the event also addressed the guests. "Ikea is one of the most powerful Swedish brands in Israel", he said. He gave a brief overview of Ikea and the services and locations in Israel, referring to the new 326-page catalog as a guide.
Among the guests: Itzhak Aberkohen, CEO of the giant Supersol ("Shufrasal") supermarket chain; David Castel, Consul General of Sweden in Haifa; Doron Sapir, CEO of CAL – Israel Credit Cards Ltd.; Nira Awad, Israeli finalist in the 2009 Eurovision contest; Svika Pick, who in 1998 wrote the song "Diva", performed by Dana International, who won the Eurovision Song Contest that year; and many other VIPs of Israeli industry, the media and entertainment. (It is interesting to note that Pick was also asked to write songs for contestants from other countries, including the Ukraine, Belarus and Georgia.) Guests mingled inside and outside the elegant residence, enjoying a delicious buffet and a selection of beverages.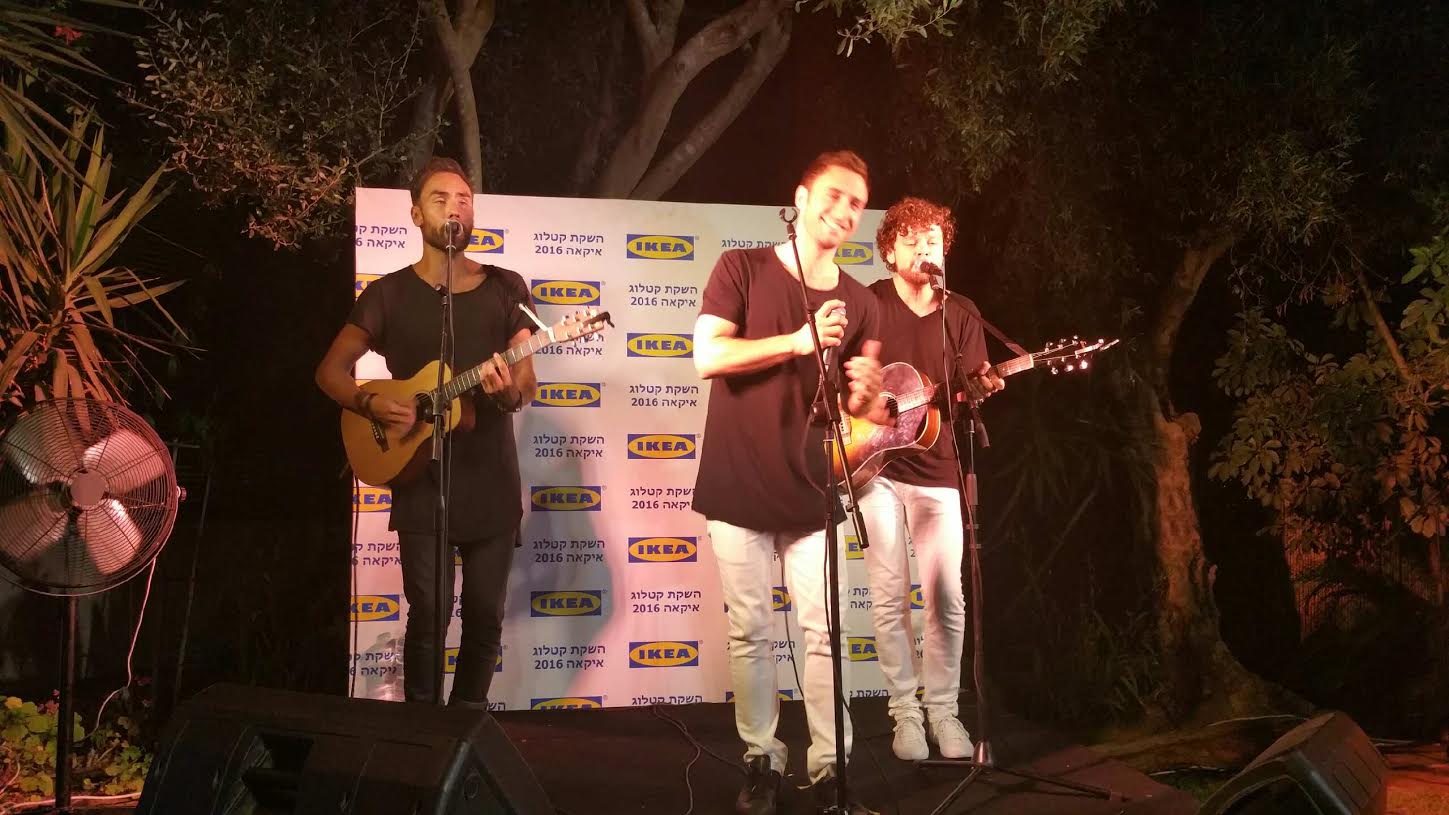 Sweden has won the Eurovision contest seven times, a record matched by only one other country – Ireland. Sweden's first and perhaps most famous winners were the "ABBA" (ᗅᗺᗷᗅ) group in 1974. However, Måns Zelmerlöw's popularity seems destined to match. His performance of five hits last night, including the winning Eurovision song "Heroes", was met with an astonishing audience response. No doubt his charming personality (in fluent, unaccented English) added to his appeal.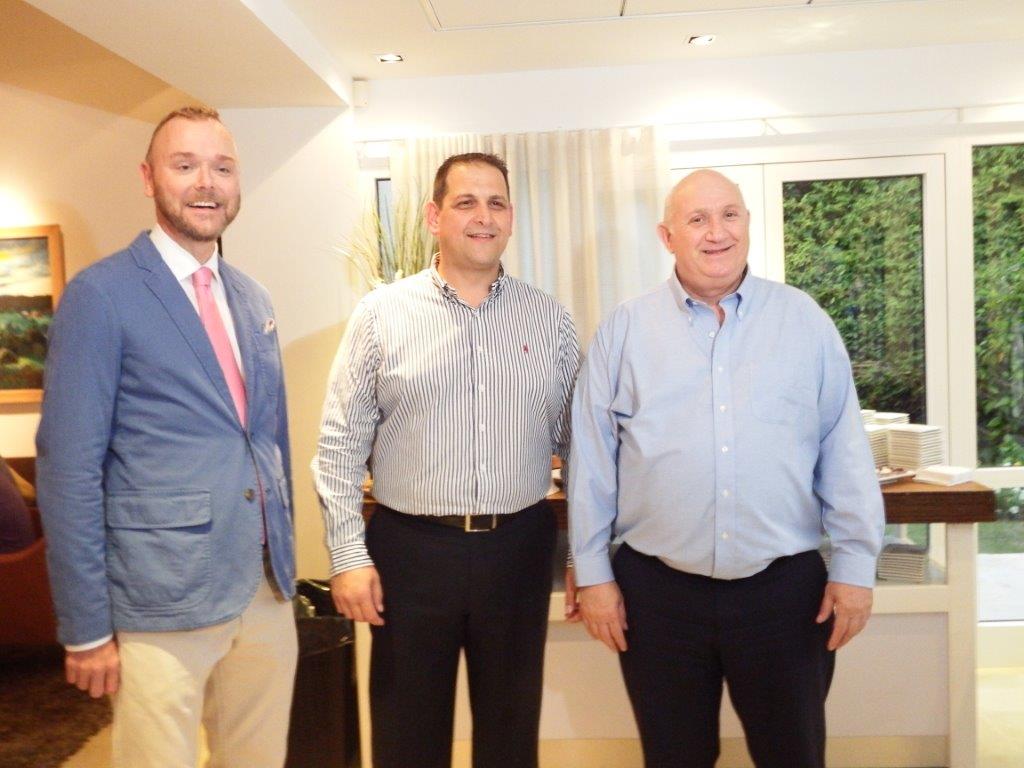 Tiny Israel has not been unappreciated at the Eurovision contest, with three winning songs and many other results in the top echelons. The event has been hosted twice in Jerusalem (for several reasons Israel was unable to host the event after the 3rd win.)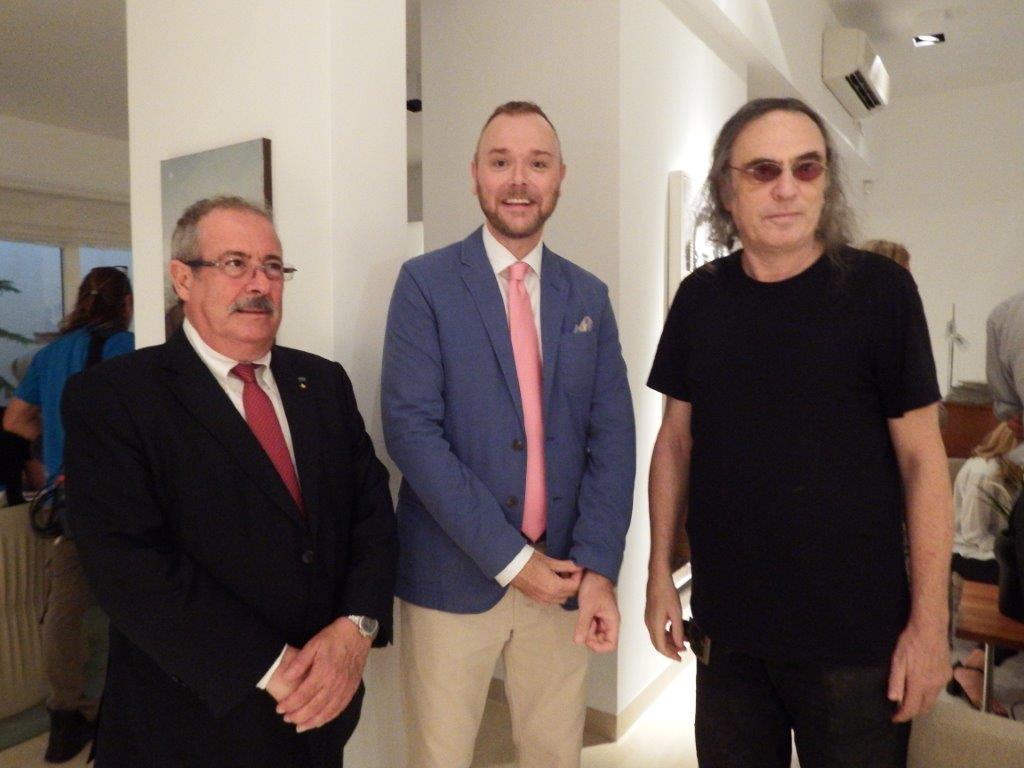 The Ikea concept of hosting the Swedish winner as a parallel to the other Swedish winner – Ikea – seems to have paid off. Both are popular and successful Swedish icons. What better reason to multiply success than to use both? It is a powerful recognition of Israel's importance that on the occasion of the Ikea magazine 2016 launch, the much-in-demand Swedish performer appeared in Israel, of all countries.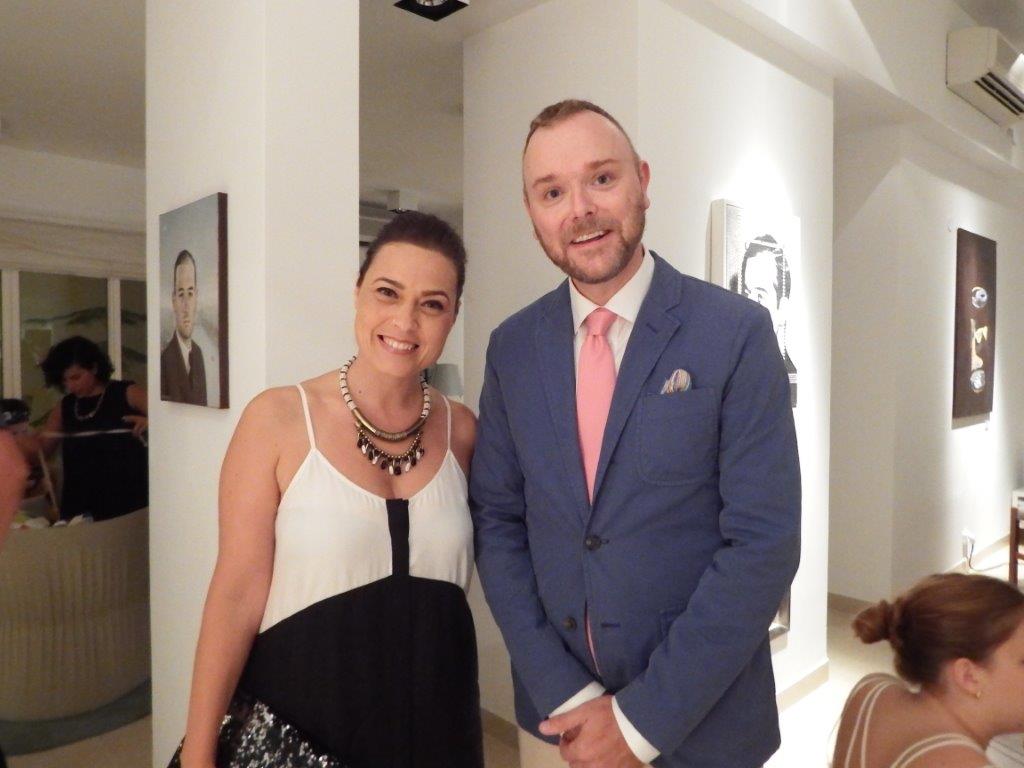 Photos : Silvia G. Golan
Details

Written by

Silvia G Golan
The Dan Hotel chain enriches their hotel's and restaurant buffets with menus that will combine a selection of favorite Thai dishes which Israeli guests and tourists love.


As part of the move, the network has sent two of its top chefs, chef Ofir Kedem at the Dan Eilat and chef Eric Porat from the Dan Acadia to study at the "Cordon Bleu" in Bangkok and experience professional tours in hotels and restaurants in Thailand to learn the secrets of the Thai cuisine to bring back with them to the guests at the Dan Hotels in Israel.


Upon returning to Israel, chefs Kedem and Porat preceded by a special seminar which included 14 of the top chefs from the Dan hotels and guided them to the secrets of Thai cuisine. In addition, the Thai chef Swalli Eldar participated in the workshop and gave her Thai kitchen tips.
Haim Spiegel, director of food and beverage hotels Dan said: "Thai cuisine has won over a large body of fans in Israel with the eclipse of Chinese restaurants. At the Dan hotels we were happy to 'take up the challenge', we sent two top chefs to study in Thailand and we are pleased to have our Far Eastern cuisines included at canteens and restaurants,"


The Dan Hotel chain enriches their hotel's and restaurant buffets with menus that will combine a selection of favorite Thai dishes which Israeli guests and tourists love.


The honorable ambassador of Thailand Mrs.Angsana Sihapitak and members of the embassy was also present at the event , as well as Eyal Katzdan CEO of "F lying Carpet" tourism, and Stella Yudko producer and headliner of the exciting concert "Unforgettable".
I recommend it !!!!!!!!
Photos Silvia Golan