Life Style
Details

Written by

Buzzy Gordon
Regina, the veteran kosher restaurant in the Hatachana compound, has launched a new winter menu and a lavish "all you can eat" buffet, served Fridays from 11.00 until 14.00 (or one hour before the commencement of the Sabbath).
The buffet reflects the philosophy of the restaurant, which is to serve traditional Jewish food representing the cuisines of all the ethnic communities of the Diaspora: Ashkenazic, Sephardic, North African and Middle Eastern. As such, it is a smorgasbord of dishes that could justifiably be classified as Jewish comfort food, featuring stews and casseroles that are hearty, filling and warming -- ideal fare for the winter.
The categories of food on display at the buffet include appetizers, salads, soups, main courses and desserts. The main courses comprise meat, fish chicken and even vegan options.
Among the appetizers and mezze are a creamy ikra, an intense chopped liver, puffed pastry stuffed with ground meat, homemade tehina, and baked eggplant with tehina, date honey and pomegranate seeds. These are complemented nicely with thick slices of fresh hallah.
The piping hot soups are chicken and vegetable with kreplakh (meat-filled dumplings), and puréed lentil soup.
Main courses include a traditional cholent (hamin) with kishka (stuffed derma), moussaka, osh pilaf with chicken and beef, shakshuka with eggplant, fish patties in a savory tomato sauce, sofrito with meatballs, and Hungarian goulash.
Desserts are Regina's cakes, apple strudel, dates and halva. The restaurant has its own creative specialty cocktails and an adequate wine list, along with the usual soft drinks.
The cost of the buffet is a reasonable NIS 84 for adults, and NIS 50 for children. The regular menu -- including kids' menu -- is also available, as well as breakfast, served Fridays from 10,00 until 13.00.
Website: http://www.reginarest.co.il/
Location
Neve Tzedek – the Tachana complex (building 10), Tel Aviv
Contact Details
Phone: 0579428604
Fax: 03-7367575
Photo1 Regina;s owners Tzippy Varnel Elizabeth Levy & Nir Shafrir with Silvia Golan
Photo 3 Chef
Details

Written by

Buzzy Gordon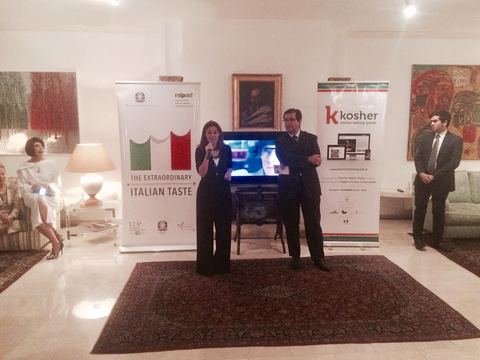 Italian embassies around the world this week are marking "The First Week of Italian Cuisine in the World," an initiative of that country's Ministry of Economic Development to promote Italy's famous cuisine, which represents an industry estimated to be worth USD 60 billion annually; in Israel, The First Week of Italian Cuisine in the World was launched by Ambassador Francesco M. Talò at a reception held at his residence in Ramat Gan on November 21.
In his remarks to the assembled guests, Ambassador Talò introduced the slogan of The First Week of Italian Cuisine in the World -- "the extraordinary Italian taste" -- and inaugurated an app designed especially for the Israeli market: the kosher Italian eating guide (www.kosheritalianguide.it).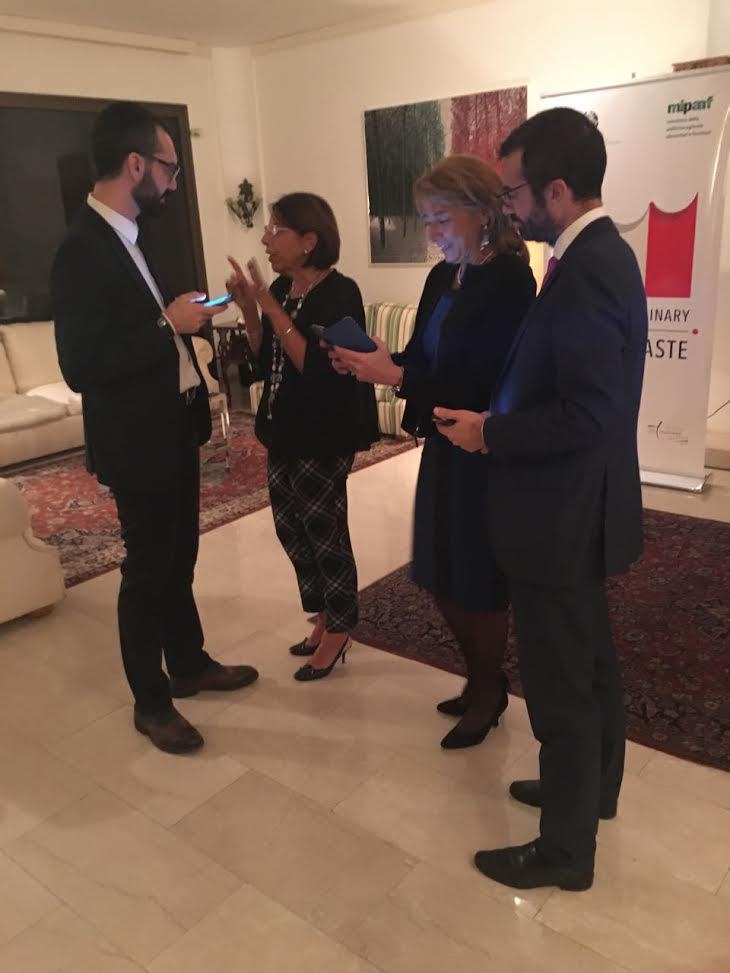 Also addressing the reception was a special guest from Italy, Elena Toselli of the Ministry of Economic Development, who explained that the new app featured a database of 500 purveyors of Italian foodstuffs that are certified kosher.
Guests received a pamphlet outlining special events -- lectures, demonstrations, cooking classes, movies and tasting -- revolving around Italian cuisine taking place in Israel the week of November 21-29. The evening concluded with a three-course banquet of Italian delicacies -- antipasti, pastas and desserts -- prepared by visiting Chef Laura Ravaioli, in collaboration with local chefs Massimiliano Di Matteo, a winner of the Master Chef television competition, and Michele Bozzetto, of the Sheraton Hotel's Olive Leaf restaurant.
The reception attendees largely comprised Israeli residents of Italian descent, including Cinzia Klein, the local representative of the Italian Academy of Cuisine.
Photos provided by Massimiliano Guido , Italian Embassy
Photo 1 Ambassador Francesco Maria Talò and Elena Toselli (Ministry of Economic Development)
Photo 2: Marcella Pedroni (Fiere di Parma), Jacqueline Fellus (Union of Italian Jewish Communities), Giovanni Delle Donne (Federation of Food and Drinks Industries), Massimiliano Guido (Italian Trade Commissioner)
Photo 3 Chef Massimiliano Di Matteo and Chef Laura Ravaioli
Details

Written by

Buzzy Gordon
Mateh Yehudah Wine Festival Celebrates the Judean Terroir
Mateh Yehudah, a region extending from the hills just west of Jerusalem to the valleys southwest of Beit Shemesh, will be hosting a wine festival extending over the three weekends between October 27 and November 12, 2016. The festival, which boasts the participation of 35 wineries, is one of Israel's most prestigious annual wine festivals, now marking its 18th consecutive year.
The wineries involved in the festival range from some of Israel's largest, producing more than 100,000 bottles a year, to some of the country's newest boutique wineries. Many are known for their award-winning wines, encompassing both kosher and non-kosher labels, as well as white, red and rosé wines.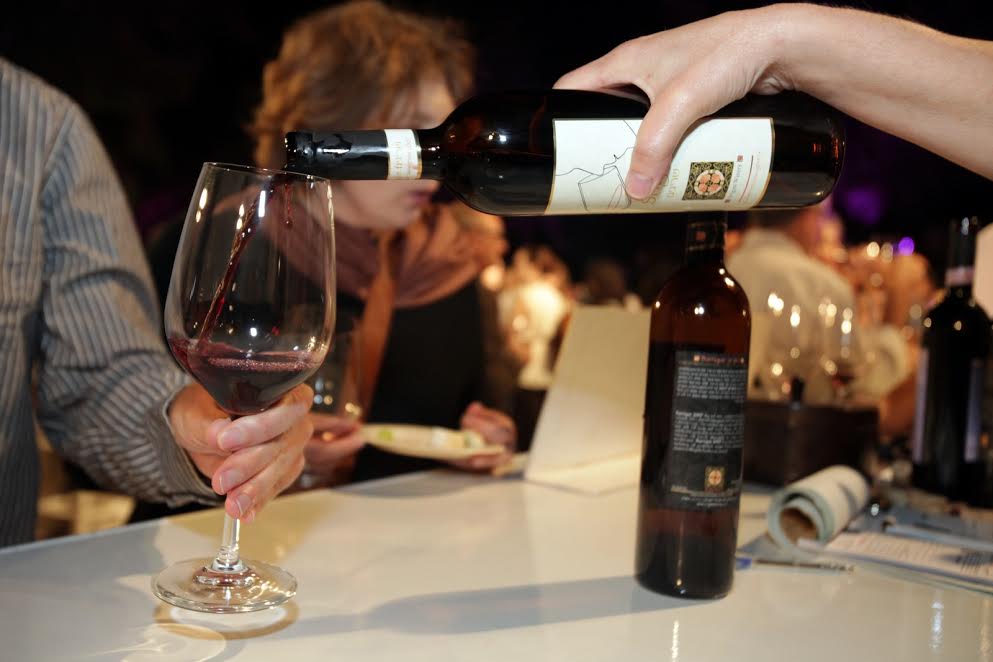 The festival will kick off with an evening of tasting to be held on 27.10.16 at the Yad Shmona Country Hotel in Kibbutz Yad Shmona. A number of the wines to be served during the event and the festival are being introduced to the public for the first time.
A noteworthy innovation of the festival this year is an initiative being sponsored by festival organizers together with local hotels and B&Bs: free transportation to and from tasting events and participating lodgings, so that visitors may imbibe wine without needing to drive afterwards. Designated drivers also enjoy special discounts.
The region, which is rich in Biblical history, is home to numerous fine restaurants, as well as artists' studios. Another popular culinary aspect of the festival is home-cooked ethnic meals served in hosts' houses.
For more information, visit the Hebrew website www.tour-yehuda.org.il.
Photo Inval Ros / Haim Ros
Details

Written by

Buzzy Gordon
The Cafe Rothschild chain has opened in newest restaurant in the suburb of Givatayim, a block away from the municipal border with Tel Aviv. The kosher chain, which serves dairy but no meat dishes, has been expanding rapidly into the center of the country from its base in the North.
Cafe Rothschild, whose slogan is b'n'divut -- meaning, "generously" -- is known for its freebies, large portions and value. Guests are greeted with a complimentary drink on arrival, and free popcorn is distributed in the evenings. Instead of the conventional happy hour, beer (part of an alcohol menu that includes spirits and wine) is always two-for-one.
The categories of the bilingual menu comprise breakfast, salads, pastas, appetizers, sandwiches, tortillas, pizzas, focaccias and fish dishes. In addition to the usual hot and cold beverages, there are fresh-squeezed juices, smoothies and shakes. Vegan and gluten-free options are also available.
Desserts appear on a Hebrew-only menu, but can be explained in English by the staff. The super-sized sweets are prepared by pastry chefs off-site.
Among the special offerings of Cafe Rothschild are Italian Tuesdays -- when pasta is NIS 29 and glasses of wine NIS 10 -- and Greek Fridays, featuring mezze.
Website: http://www.rothschild-cafe.co.il/
Photos Silvia Golan
Details

Written by

Buzzy Gordon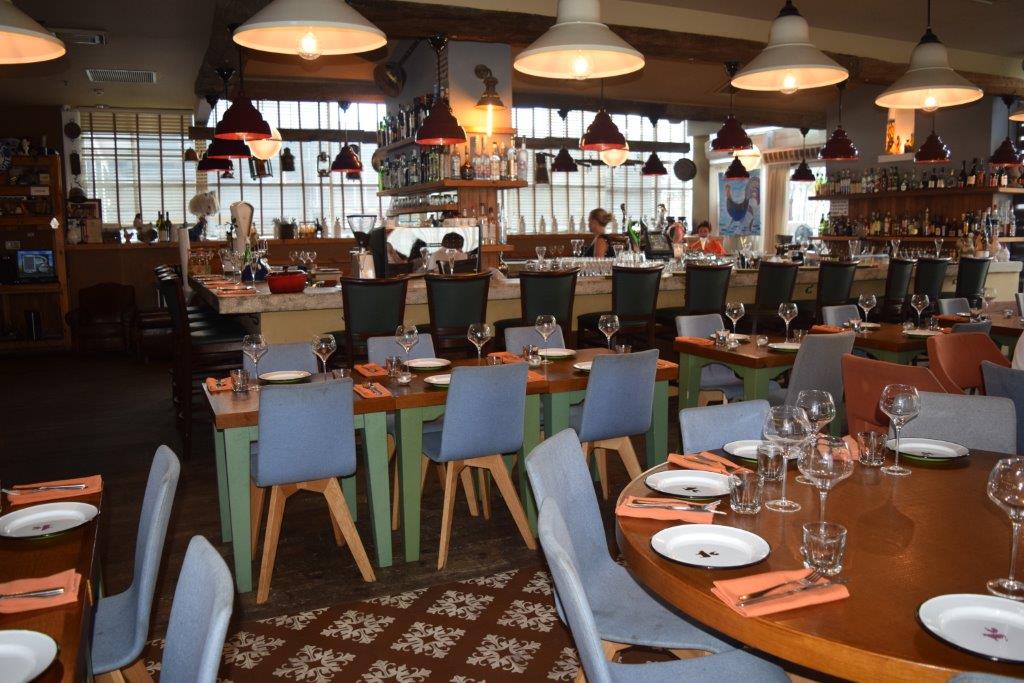 The intriguingly named The Blue Rooster is the restaurant, deli and bar of two of Tel Aviv's most distinguished chefs: Shaul Ben Aderet and Charlie Fadida. Situated in the upscale Tzameret G shopping mall, the restaurant encompasses a handsome bar and interior, as well as an attractive al fresco area on the second floor rooftop, with stunning views of the residential towers of north Tel Aviv, and cooling evening breezes.
We were greeted with complimentary glasses of apple cider with strawberry syrup, a welcome and refreshing gesture. The alcohol and wine menus recently underwent changes, and the new English wine list -- rather extensive, featuring Israeli and imported wines -- should be unveiled soon.
Meanwhile, the food and dessert menus are in English, and the wait staff also speak the language well. They explained the specialty cocktails, from which I ordered the house caipirinha, made with cachaça, lime, ginger and honey and garnished with mint and purple flower. Quite simply, it is the best caipirinha I have had in Israel.
Non-alcoholic ("virgin") versions are available for most of the cocktails; my companion enjoyed her blend of tropical fruit juices immensely.
The Blue Rooster offers a tasting menu, which takes the guesswork out of deciding among the many options on the menu. As we awaited our appetizers, we were served a loaf of braided hallah in honor of the Sabbath, together with olive oil and balsamic vinegar, as well as herbed green olives.
Our first starter was tuna ceviche on a bed of guacamole, with tomato salsa garnished with leafy herbs and topped with black "caviar" made from seaweed. The freshness of the fish was evident, and the unique vegetarian mock caviar a nice extra touch.
Our salad appetizer was a sweet and spicy cold pumpkin salad lightly dressed in a pomegranate vinaigrette, with Gorgonzola cheese, dried cranberries, mint and nuts. This was a delicious eye-opener -- a veritable symphony of flavors.
Next came white fish carpaccio on a bed of ikra -- white taramasalata -- with seasoned garden vegetables. The beautiful presentation made this dish a feast for the eyes as well as the palate, while the razor-thin slices of fish were enhanced nicely by the inspired combination of ingredients.
There are some excellent vegetarian options as well: the classic risotto in a porcini mushroom broth with a mix of mushrooms, Parmesan cheese, peas and truffles was one of the outstanding dishes of the evening, rich and hearty.
Similarly, the polenta with shimeji mushrooms, asparagus, truffle oil and caciocavallo cheese was a creamy delight, the al dente vegetable a brilliant counterpoint to the cornmeal delicacy.
Progressing to the main courses, we were treated to two meat dishes: sirloin steak creatively encrusted with sunflower seeds, and butcher's cut with a smear of chimichurri. Both cuts of prime beef were grilled to perfection, tender and flavorful.
Our main course in the fish category was Asian-flavored cod in a coconut milk casserole with curry, chili, ginger and lemongrass. The generous chunks of flaky white fish were succulent, in a dish that would please any fan of Thai cuisine.
The dessert menu is varied and eclectic, with Western, Middle Eastern and Asian options.
The kanaffeh was a confection of soft, salty goat cheese wrapped in golden strands of crispy angel hair kadaif and then suffused in lemon, geranium and honey syrup. All in all, a wonderful interplay of flavors and textures.
The semifreddo pistachio creme brûlée was like a cross between pudding and ice cream: both cooling and intense, the creme brûlée burst into flavor with ever bite.
Finally, the shortest description on the dessert menu was "the perfect Malabi." I confess that I am not generally a fan of this Levantine sweet, but this one was truly exceptional. I would order it again in a heartbeat.
The Blue Rooster is a popular place not only for romantic dates and families, but also for events, with an elegant room off the wine cellar for private functions. Private parties may also be held in the restaurant or the rooftop garden. For more information, contact the Events Manager, Michael, at (054) 222-1100.
The Blue Rooster: Restaurant/Deli/Bar
Tzameret G Mall, Nissim Aloni Street 10, Tel Aviv
Tel. (03) 544-3349
Website: http://thebluerooster.co.il/en/
Instagram @the_blue-rooster
https://www.instagram.com/the_blue_rooster/
Photo Silvia Golan