More

Life Style
Life Style
Details

Written by

Jonathan Danilowitz
Cognac – Not only a Winter Treat
Tradition has it that cognac is a winter drink, to be sipped before the fireplace on a cold winter's night. Surprise! Thanks to the innovative marketing and creative presentation of the folks Hennessy Cognac, summer's arrival heralds a new source of pleasure for casual drinkers.
At a presentation on Monday evening at Villa Dallal in Tel Aviv's Neve Zedek suburb, we learned that cognac is certainly a welcome addition to our favorite summer coolers. Their newest cocktail creation, "Hennessy Coconut", was a welcome thirst quencher on the warm afternoon. So simple, so good: Coconut milk frozen into cubes over which Hennessy cognac is poured. It sounds almost sacrilegious – cognac with ice, but it works. Beautifully.
We also tried another trendy summer chiller – "Hennessy Ginger". It includes 6cl of Hennessy V.S., fresh ginger, mint, lime juice, orgeat syrup, tonic water, crushed ice and sprigs of mint to garnish. A professional barman can easily shake that up for you for your pleasure and enjoyment.
It appears that Hennessy is the world's most senior cognac manufacturer – dating back 250 years. Hennessy was introduced to Israel in 1986 and the versatility of the brand with its three major (but not only) types – VS, VSOP and XO becoming more popular each year. Worldwide, Hennessy sells more cognac than the next three most popular cognac brands combined! The alcohol content of the 3 major types is about the same – about 45%. The differences are in the shade, the taste, the blending and the aroma. VS is cask-aged for about 3 years, VSOP for about 7-8 years and XO is blended from cognacs aged from 10 to 30 years.
L'haim! Cheers! Salut!
Photo Rafi Daloya
Details

Written by

Jonathan Danilowitz
Indian Culinary Week in Israel
The "shining star" of the Indian culinary orbit, Chef Sanjeev Kapoor, is in Israel to orchestrate the culinary festival organized by the Indian Embassy, under the able conductorship of his Excellency Ambassador Pavan Kapoor. (It is a singular coincidence that both the ambassador and the chef bear the same name.)
So on Tuesday morning Chef Kapoor was presented to the media at a reception hosted in conjunction with Israel's leading hotel chain, Dan Hotels, at their flagship property, the Dan Tel Aviv. Chef Kapoor is an internationally acclaimed chef and an award-winning TV celebrity and media personality in his native India. Dan Hotels and the Indian Embassy united to bring him to Israel where he will share his skills and innovative techniques with Israeli chefs, restauranteurs and other foodies. The Ambassador introduced the guest of honor and then spoke briefly of the fine bilateral diplomatic relations between India and Israel. He noted that cultural ties – as in the exchange of traditional foods, music, literature and more – go a long way to improving political and diplomatic ties. Ambassador Kapoor also praised and thanked the Dan Chain for their cooperation.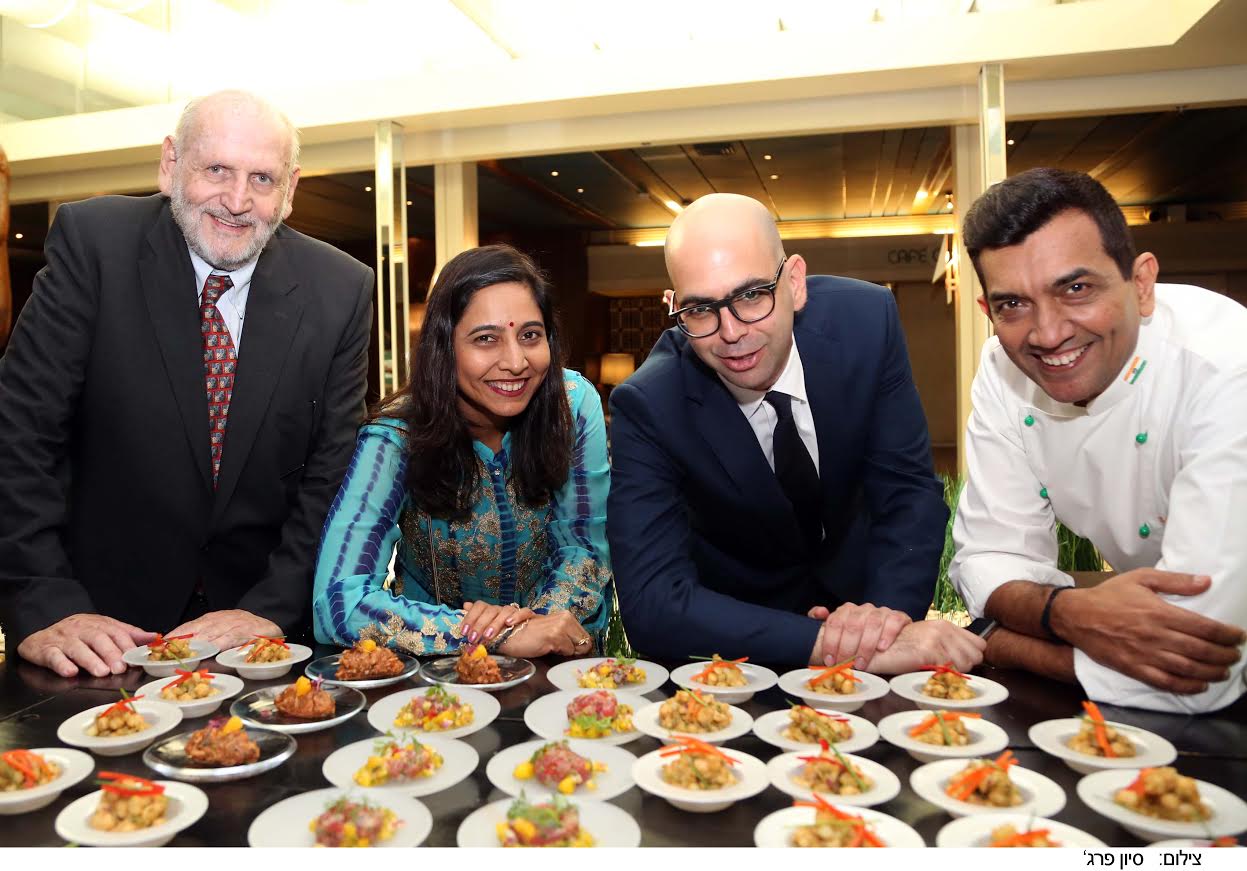 Chef Kapoor then addressed the guests and told them that he had come to Israel to learn as much as to share his knowledge. "This is my first time in Israel", he said and added, to much amusement: "Israelis don't know "Indian food" because even Indians don't know Indian food". He explained that his country on 1.25 billion inhabitants is so large and diverse that what is "Indian food" in one area, is possibly unknown in another. The scale and novelty of Indian culinary secrets awaits us all.
And what better opportunity to discover some of those secrets, in Jerusalem, than at the King David Hotel's elegant "La Regence" restaurant on the 17th to 19th May. There the hotel's Executive Chef David Biton will join forces with Chef Kapoor in offering authentic (and kosher) Indian dishes on a special celebratory menu. Think of bhatti ka murgh, galouti kabab, mango murgh makhani, nalli roganjosh and dum gosht biryani. The very names make us hungry.
Let's talk international: Besides his five popular restaurants in India, Chef Kapoor also has several restaurants in various parts of the world. We can't wait to dine at the "Yellow Chilli" in Bangalore, and the great opportunity will arise in about 10-12 months when the Dan Chain opens its first property, a luxury hotel, in India in – Bangalore!
And if that is not enough to whet your appetite, right now "Neptune Foods" is running an Indian Food Festival at several Israeli supermarket chains. Spices, preserves, sauces and more, that are often impossible (or very difficult) to find, are on sale now until the 25th May. For information on where to purchase: www.neptunefoods.co.il
Bon appetit.
Photo Sivan Farag
Details

Written by

Buzzy Gordon
Retro pancake big opening
'Retro pancake' restaurant in Rishon Lezion is expanding and opening another branch in 'Kfar Saba Green Mall'
The Family Pancake network reaches the Sharon region, bringing the familiar and beloved dishes, including a variety of sweet and savory pancakes, gluten free and vegan dishes.
The menu includes sweet and savory pancakes, salads and toasts. Such as "White Night" - Warm white nougat cream, chocolate syrup, chocolate pearls and white chocolate topped pancake.

"strudel Pancake" served with apples , pastry cream , raisins , walnuts , crumble and vanilla ice cream , this dish also comes in gluten free and vegan versions.

Salted Pancakes with tahini, chickpeas, fried onions, fried eggplant and hard-boiled egg.
The price range moves between 22-48 shekels per portion, Including The "Retro Pancake luxurious Dutch Breakfast" which offers 4 mini pancakes, Kesten bread, salad, two eggs with a side dish, dips, hot and cold drinks. An alcohol menu of beers and liquor is also available.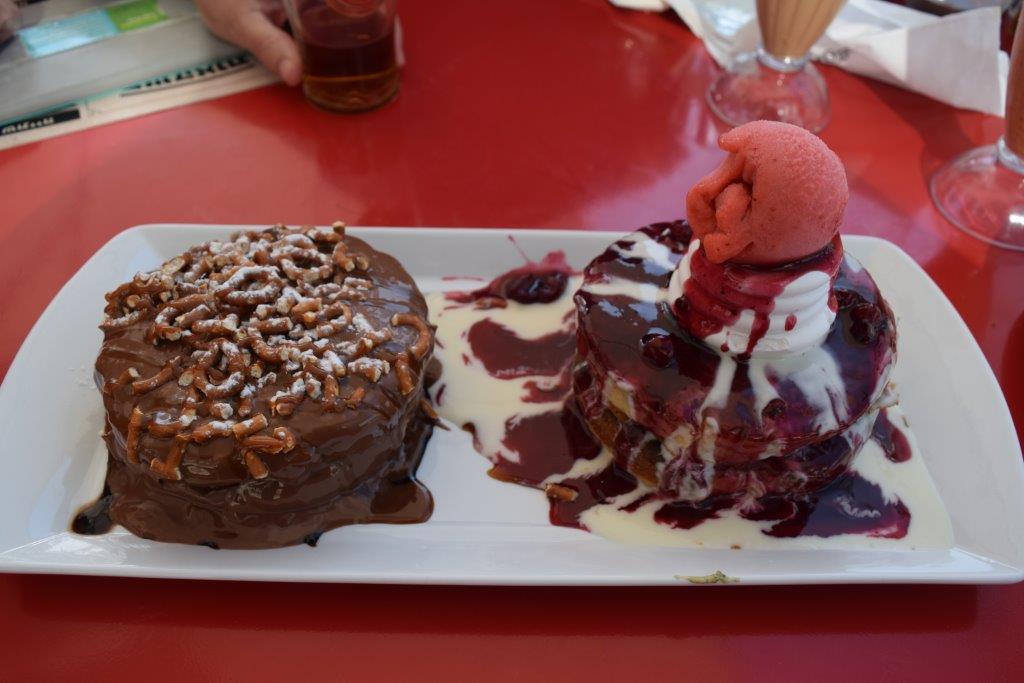 Like the restaurant in Rishon Letzion the one in Kfar Saba has a unique retro décor that gives the feeling of an authentic American diner. With musical instruments hanging from the ceiling, old newspaper clippings, photographs and rare collectibles such as music machines, accordions, trumpets, radio and more.
Live music shows are playing every Tuesday and Friday afternoon until night
"We are pleased to come to Kfar Saba and bring with us the music, the atmosphere and of course our pancakes", says Doron Schwartz, owner of Retro pancake.
Photo Silvia Golan
Details

Written by

Buzzy Gordon
Retro Pancake and Bar Expands to Kfar Saba
Retro, Rishon Lezion's unique combination of pancake restaurant and bar, is now officially a chain, with the opening this month of its second branch, in Kfar Saba. The name of the chain derives from its distinctive decor, resembling an old-fashioned American diner, complete with chairs upholstered in red vinyl, antique signs and period black-and-white photos.
The chain's menu is built around authentic American-style pancakes; and at Retro, they are thick, fluffy and very satisfying. Moreover, an order of the basic version starts at a very reasonable NIS 22 (NIS 28 with the standard additions of butter and maple syrup), and a stack of two flapjacks is quite filling.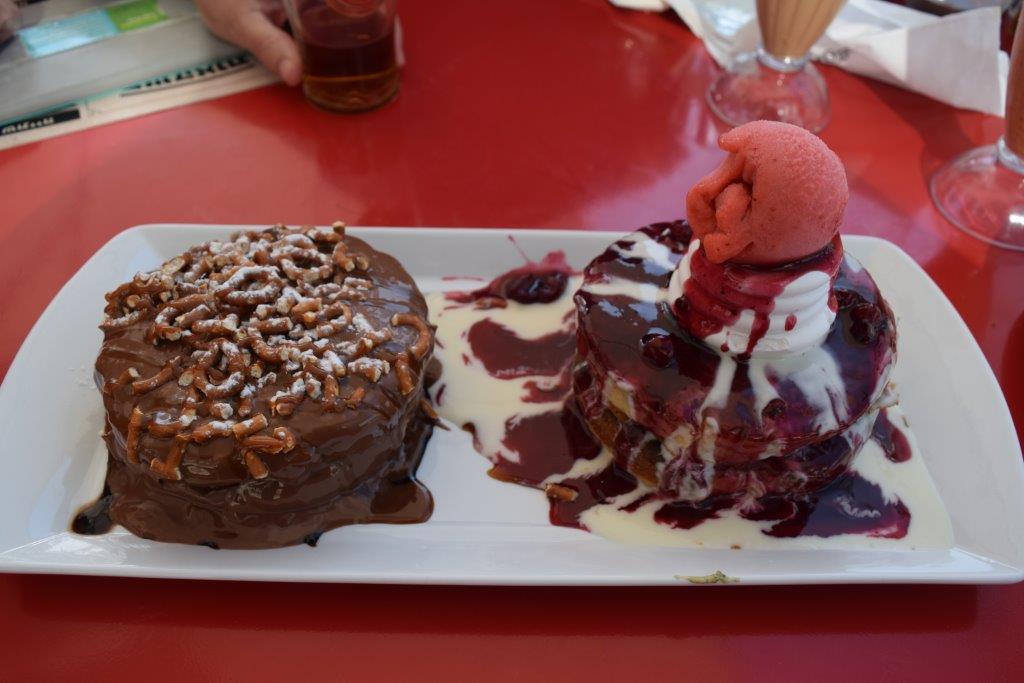 Retro's specialty, however, is taking these basic building blocks and creating innovative dishes, of both the savory and sweet variety. There are literally dozens of these towering creations, imaginatively reflecting North American, Middle Eastern and continental European cuisines. They also bear intriguingly cosmopolitan names, like Florence, Provence and Saloniki.
Retro is open virtually around the clock -- seven days a week, from morning until after midnight -- and thus there are dishes suitable for breakfast, brunch, lunch, and dinner, not to mention both main courses and desserts. In addition to the pancake-based entrées, there is more standard fare, as well as salads and toasted sandwiches. Moreover, there are ample vegetarian, vegan and gluten-free options.
Retro's new location has seating both indoors and al fresco, on a spacious terrace on the top floor of the Kfar Saba Hayeruka shopping center. The rooftop venue is also the site of weekly live music performances, on Friday afternoons and evenings.
Retro Pancake and Bar is a novelty restaurant that should certainly pique the curiosity of any food lover. And while the alcohol menu and late hours may target an adult market, both the comprehensive food and beverage selections and price ranges render the chain family-friendly. Menus are available in both Hebrew and English (the latter starting next week).
http://www.rol.co.il/sites/retro-pancake-bar/ SITE
https://www.facebook.com/Retro-Pancake-Bar-%D7%A8%D7%98%D7%A8%D7%95-%D7%A4%D7%A0%D7%A7%D7%99%D7%99%D7%A7-%D7%95%D7%91%D7%A8-705938556146108/ FACEBOOK
Address
Kfar Saba Hayeruka Shopping Center, Rapoport Street 3, Kfar Saba
Tel 09-772-2688
Photo Silvia Golan
Details

Written by

Pamela Hickman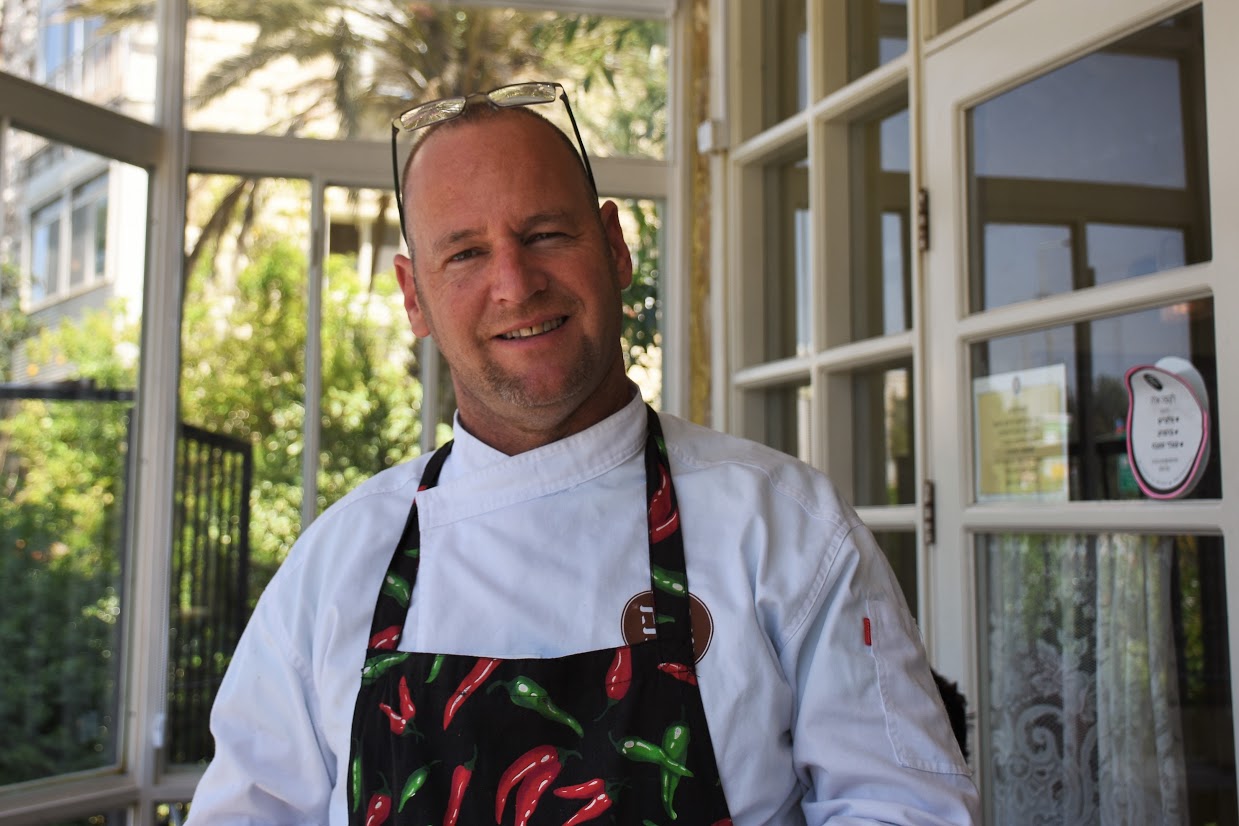 Café Ella, one of Jerusalem's most charming eateries
Café Ella, located a few steps away from the shops on Jerusalem's busy Herzog St., but high enough off the road to offer people a quiet place to meet, to take time out from the bustle of everyday life and enjoy coffee or a meal. On April 17th2016, Shirley and I visited Café Ella at noon. The charming establishment, with its air of tranquillity (no noisy music) and European look, was already quite busy. Opened four and a half years ago by Avichai van Levin, the café is kosher and offers some interesting and nutritious dairy meals. Van Levin, there to help and see that all runs smoothly, joined us at a table on the balcony. "I have always worked with food" said the gently-spoken restaurateur. "At age 15 I began to work in various Jerusalem restaurants, starting with dishwashing, then learning kitchen skills and eventually working as a waiter. After my army service I travelled to the USA, where, for some years, I worked in a large New Jersey restaurant that also catered events. I learned a lot about the profession there." Making for a family atmosphere at Café Ella, van Levin's sister Hefzi also works there; we found her most attentive. The café takes its name from van Levin's daughter, Ella. "So, you see, my heart is in this place", the owner added.
What kind of food does Café Ella serve? Italian, French, Israeli and a combination of all, fish and fresh pasta. All the dips, pickles and sauces are prepared in the kitchen, as are the cakes, biscuits and desserts. Van Levin lays emphasis on the importance of careful preparation and on the fact that the food must be tasty. The menu changes every year. "But we do have a fixed menu, which guides us in our daily preparation. We also have specials; when it comes to those, our chef Roy has carte blanche from me; I never limit him, even if he wants to create a dish using expensive ingredients. This spontaneity is important as it adds interest to his job and to what we offer our clients; profit is of secondary importance." In summer, Cafe Ella offers cold soups, such as iced cucumber- or tomato soup, also more salads and fruit; in winter, there are hot soups and more substantial dishes, "which is what we need in cold weather". I asked Avichai whether Café Ella does catering. He said they do not cater large events, but if clients request some dishes for small celebrations, he will oblige.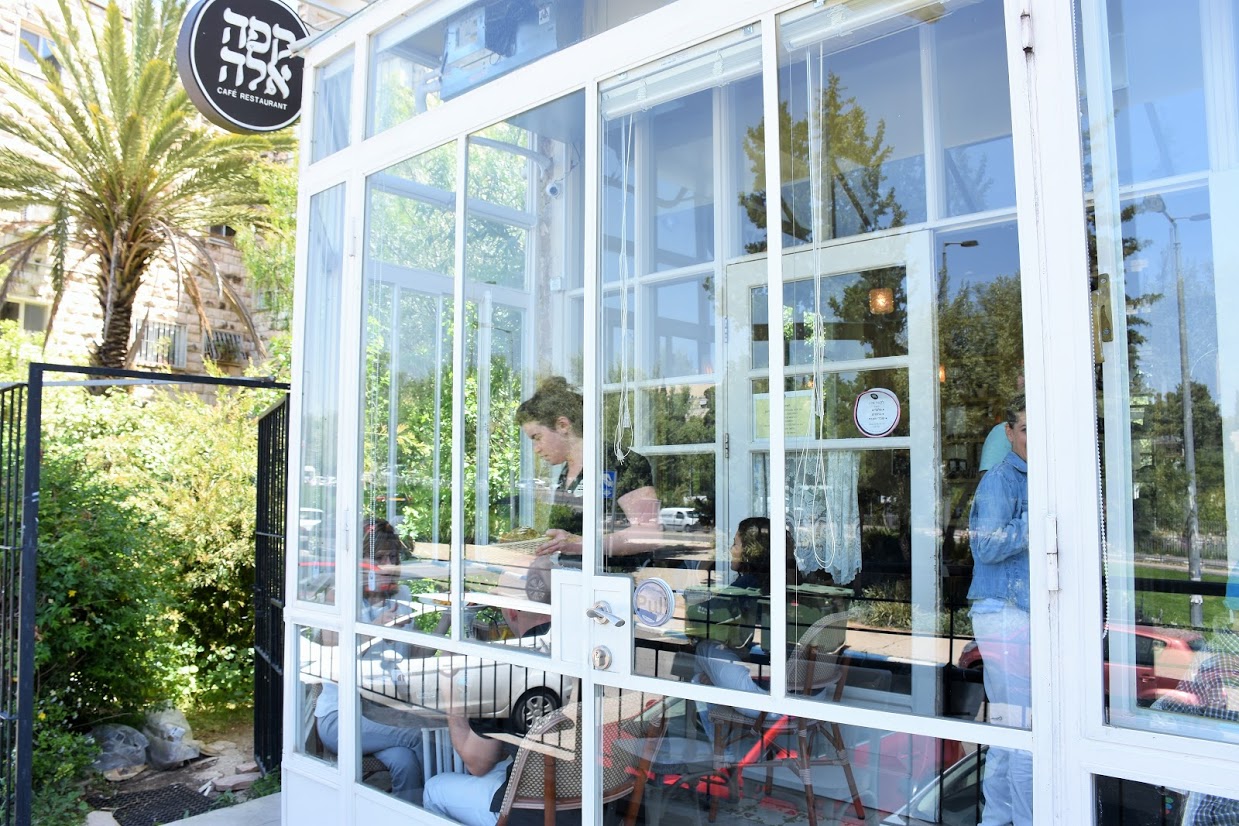 For those going out for a special breakfast, the café opens at 7 a.m. and, because Israelis are so keen on their breakfast, they can order from the breakfast menu up to 4 p.m.! Breakfast at Café Ella offers a number of options – for one or two people; for those whose appetite is smaller, there is a "quick" breakfast consisting of a bruschetta roll with cream cheese, salmon, scrambled egg, a small dish of muesli and coffee. Chef's Morning for two, on the other hand, is more comprehensive and includes special cheeses, Teller bread and more treats.
I asked the owner to mention some of what he considers to be the restaurant's more unique dishes. He thought for a moment. "Perhaps… beetroot filled with cheeses in a spinach sauce, fish we cook in our stone oven and risotto with asparagus and mushrooms, to mention a few." Shirley and I relished every bite of the beetroot dish Hefzi brought us, the tasty polenta with asparagus and mushrooms, as well as he fresh, crunchy focaccia served with pesto-, tapenade- and sun-dried tomato dips. We rounded off our meal with a delicate pear-and-almond tart.
Café Ella, 69 Herzog St., Jerusalem