Life Style
Details

Written by

Jonathan Danilowitz
Once again, for the 22nd successive year, the International Mediterranean Tourism Market (IMTM) will take place at the Convention Center of the Tel Aviv fairgrounds 9-10 February 2016
The successful ITN – ORTRA team is organizing the event again. Israel Travel News (ITN – publishers of tourism magazines, websites and newsletters) and ORTRA (Israel's premier conference organizers) make sure that the fair, which has grown in leaps and bounds from year to year, will be a grand success.
The Israeli public is hungry for travel news on new destinations and also on the old favorites. IMTM is the perfect solution. As always there will be an interesting range of special presentations, screenings, lectures and discussions, some by invitation only, but most open to the general public. This year two interesting presentations will focus on medical tourism, incoming and outgoing. This hot topic is being given center stage at IMTM for the first time. There are multiple aspects and the discussions promise to be absorbing.
One of the desirable "by invitation only" events is the lavish pre-opening breakfast on the first day, exclusively for ambassadors serving in Israel. All ambassadors have already received an invitation. Ambassadors who have not yet responded ("RSVP") are reminded to do so as soon as possible.
Once again, a series of start-ups under the title of "Digital Travel Dome" (designated separately in the catalog, distributed free) display the ingenuity of Israel, the "start-up nation", in the field of digital apps that make information easy to find on your smartphone. If for no other reason (and there are plenty of other reasons), make sure to get your catalog when you visit the fair.
No need to say that Israel is going through trying times, so the promised success and numerous exhibitors is a real indication of the attraction that IMTM has for travel-industry professionals worldwide. Cross-border travel is the hallmark of peaceful coexistence. Can tourism will be the flashpoint of peace in the Middle East? Perhaps for world peace as well? Time will tell.
Silvia Golan, the Executive Director of www.diplomacy.co.il , and yours truly, will be at IMTM 2016. We hope to see you there.
The Tel Aviv Convention Center, commonly known as Ganey Hataarukha, is located on Rokach Boulevard in northern Tel Aviv, Israel, adjacent to the Tel Aviv University Railway Station.

Address: Rokach Blvd 101, Tel Aviv-Yafo
Details

Written by

Silvia G Golan
Lifestyle: Opening of the New Central of Hair Center Chain
The Hair Center chain of hairdressing shops, owned by businessman Zahi Revivo, opened its new center in Tel Aviv, at 14 Ahad Haam St., facing Kolbo Shalom, which is the fifth branch of this chain, together with those in Haifa, Natania, Rishon LeZion and Beer Sheva. This new center includes, besides the regular rooms, five VIP rooms for private reception.
Founded in 2015, Hair Center always leads the high technology in Israel relating hair treatment and care. Next year Zahi Revivo plans to open three new branches in Tel Aviv and three abroad.
Hair Center Israel is an integral center de of hair treatments, such as hair restoration, extension, mesotherapy, filling and preservation (for women and men). It also provides coloring, cuts, hairdressing, and advanced hair designs, such as straightening, curling, filling, etc.
Hair Center Israel brought to Israel the most advanced method for hair extension using laser and Keratin treatment, widely used in Hollywood, lasting 4 to 6 months.
http://www.haircenter.co.il/
Phones * 27597 * 8959 *
Facebook www.facebook.com/haircenter.il
Instagram #haircenterehadhaam Haircenter_il
Youtube https://youtu.be/HN3qbsrxMBg
http://www.silviagolan.com/l…/358-haircenter-14-1-haircenter
Photos Silvia Golan
Details

Written by

Bat-Zion Susskind-Sacks
An Evening to Remember - Yaron Minkowski at Gindi TLV Fashion Week

The glamour surrounding the Israeli Fashion week was an integral part of last Tuesday's event where a very unique experience awaited the guests. It was a twofold one.

The first was the line by top Israeli fashion designer, Yaron Minkowski. In the midst of strife, suffering and pain which has been an inseparable part of life in the middle east for Arabs and Israelis, Yaron was able to inject a ray of sunshine, a ray of Hope.
Yaron's talent and vision joined hands to craft and forge a cemented alliance through the breath of art via the convergence of the ultimate defining symbols of garb, The Kaffiya, the traditional fabric worn by Arabs and his ingenious craftsmanship.

Minkowski envisioned an alternative solution to the current raging conflict. By fusing fashion with the prospects of collaboration between the feuding sides, Minkowski paved the way to Peace on the catwalk.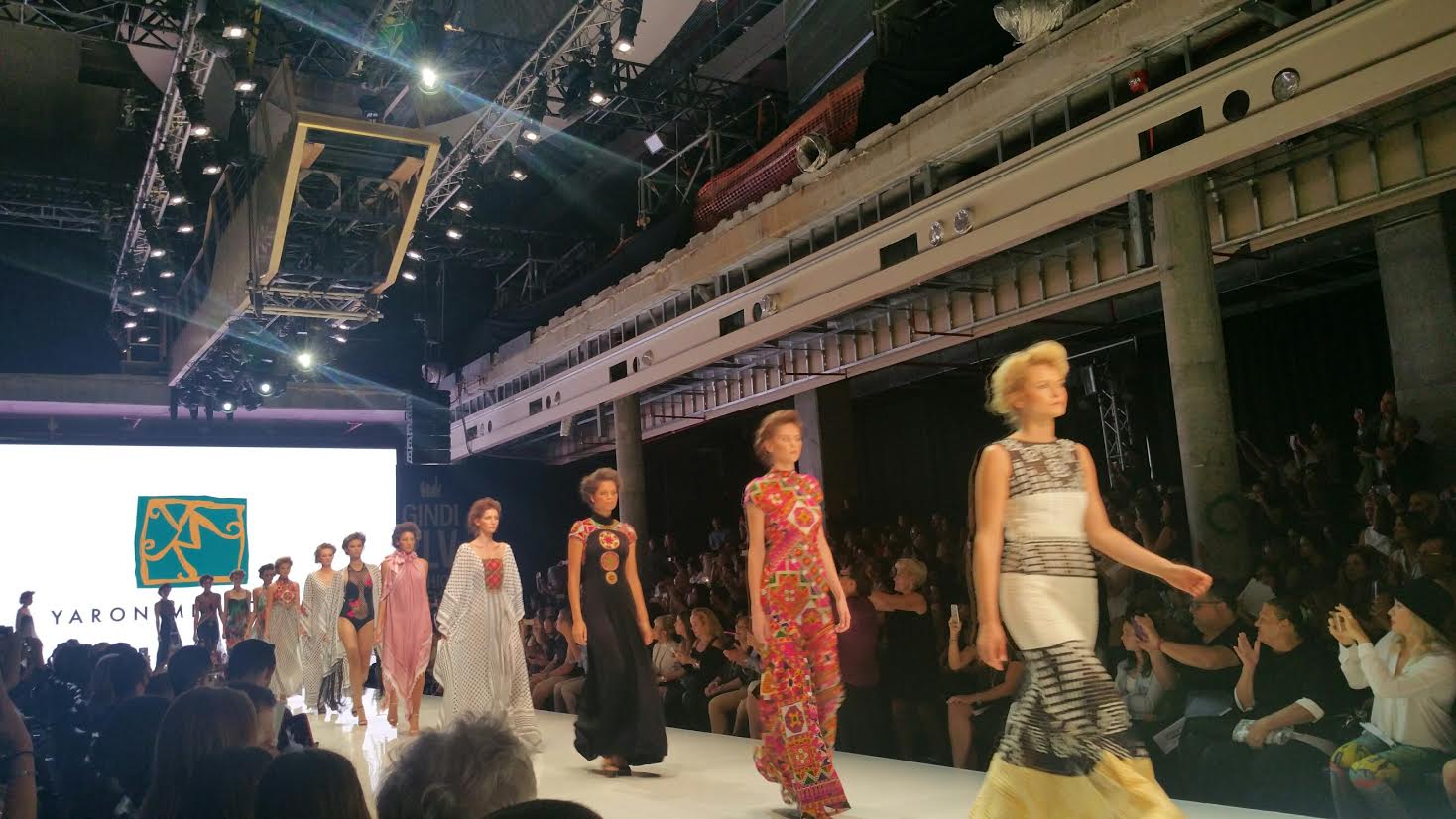 The models wore the colorful Kaffiya fabric design as glam dresses. The fabrics originated in Hebron and East Jerusalem and were hand delivered to Minkowski's studio in Tel Aviv by the Palestinian manufacturer himself.

The second was the unfolding for the first time of a new line by the youngest fashion designer in the world. Her identity should not come as a surprise. She is the daughter of Yaron Minkowski. Her name is Ori.
Ori launched her own fashion collection (OM) during her Bat-Mitzvah celebration when she was a mere 12 year old girl.

Now, at the age of 14 she has got her own line and was invited to present her own innocent designs at the Israeli fashion show. She was awarded with the honor to open the premiere scene.

It is noteworthy to mention that it is a prestigious opportunity for any Israeli designer to partake in such an event, let alone a girl Ori's age who started sketching for her own pleasure at the tender age of 5 and later had them translated into fabrics. Her childhood dream was realized through the models who were wearing what once used to be an experiment of her infancy
Photos by Silvia Golan
Details

Written by

Pamela Hickman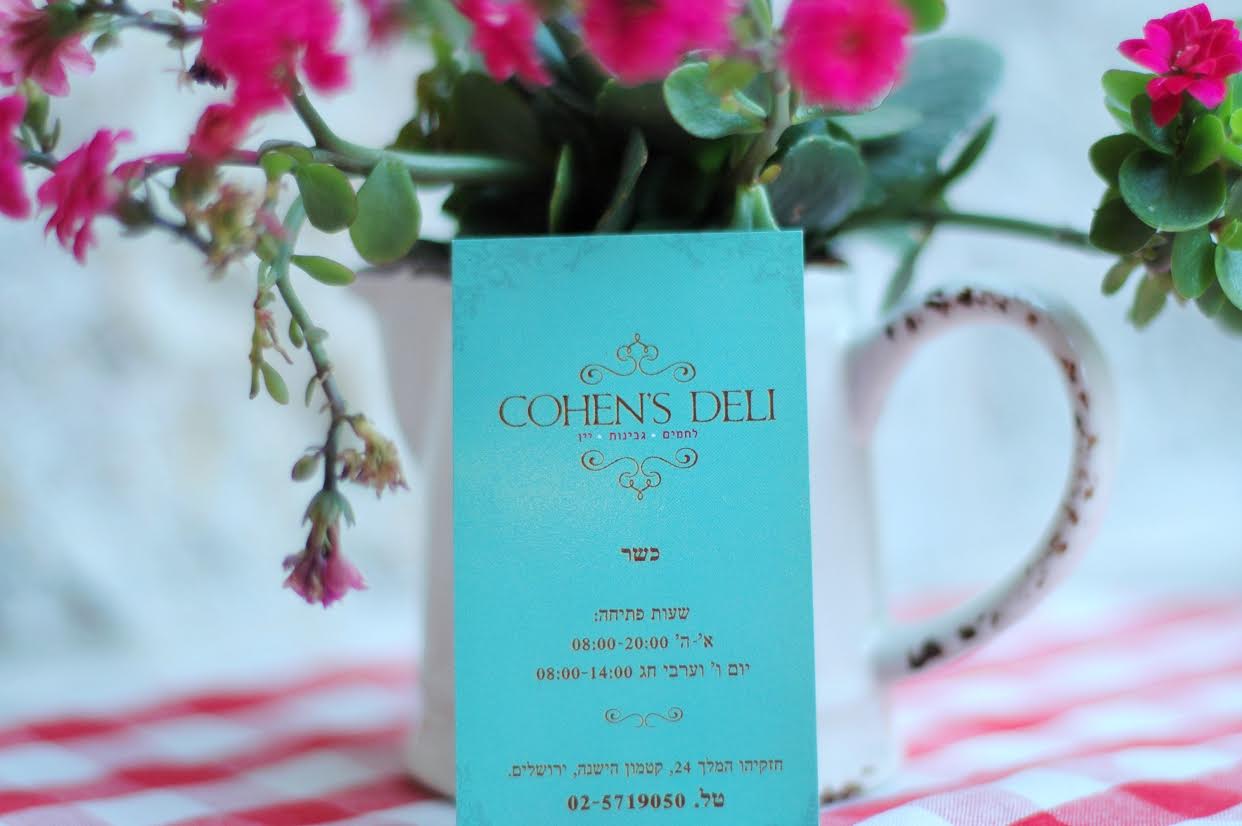 Cohen's Deli nestles in the tranquil Jerusalem suburb of Old Katamon. Owned and managed by Shimon and Yehuda Cohen, the business has quite some family history. It began as their grandfather's grocery and was then taken over by their father. Coming from a restaurant background, brothers Shimon and Yehuda moved into the premises three and a half years ago and decided to change the business into a café and deli. With its attractive red-rimmed shop-front and pot plants adding color to the street, clients and passers-by find the shop a high quality place to buy specialty foods, its large selection of cheeses, wine, olives, honey and jam, crackers and excellent breads appealing to those with finer taste. Shimon travels all over Europe visiting dairies and choosing the most exclusive cheeses to sell in the shop, a place where clients come to buy specialty cheeses not otherwise available in Israel. All the other food products in the shop are locally sourced.

The intimate café, with its cheery, warm décor serves dairy meals – quiches, sandwiches and salads, soups in winter, to be followed by some inviting sweet treats for dessert. Clients can choose to sit inside or outside. I spoke to Yona and Ilana, two local ladies, who had met there for morning coffee and a chat. Regular customers, they enjoy the high quality coffee served as well as the café's special ambience. They are happy about the fact that clients wishing to relax there in peace and quiet can find some interesting magazines to read but no newspapers! Ilana also insists that there are no better salads served in Jerusalem eateries than at Cohen's Deli. Shimon spoke of the business's clientele as coming from all sections of the community - local people, tourists and people working in Israel… also plenty of English speakers. Yehuda and Shimon are friendly and welcoming, addressing several of their regular customers by name.

My companion and I decided to sit ourselves outside to enjoy the noon sun. Shifra, a waitress working at the Deli, served us with a rousing glass of tea with cinnamon, fresh lemon, ginger and honey, the perfect tea for a winter's day. A native of New York, she is well informed as to all the food items they serve and sell and is happy to talk about them. We were then served a selection of four cheeses – Manchego – a Spanish sheep cheese, Bouche – a French goat cheese, Landana – a Dutch goat cheese and a French cow's milk Camembert. These came with green olives, sun-dried tomatoes and thin slices of good bread from Russell's Bakery in Jerusalem. Shifra also brought us a generous serving of salad. Ilana was absolutely right in her opinion of Cohen Deli's salads! Comprising cucumbers, tomatoes, red onion, parsley, almonds, walnuts, tahini, olive oil, lemon and seas salt, this salad was a celebration of flavors and textures…a joy to the palate, an absolute winner! We were delighted with our visit to Cohen's Deli, enjoying both the ambience and the food. The Cohen brothers recently opened another deli-café not far away – at 16 Harlap St., Rehavia.
Cohen's Deli
24 Hizkiyahu Hamelech St.,
Old Katamon,
Jerusalem
Open 7:30 a.m. to 8:00 p.m. weekdays
Fridays 7:30 to mid-afternoon
Tel: 02-5719050
Photos by Shirley Burdick
Details

Written by

MFA
Tel-Aviv Florentin neighborhood second most hip in world
In a city already known for its Bauhaus-style architecture, inspired street art, and 24-hour nightlife, Florentin is the go-to spot for artists, musicians, and people who dress like artists and musicians.
Thrillist recently posted the ten most hipster neighborhoods on earth, stating that although the neighborhood of Williamsburg, NY takes the number one spot, the USA certainly does not have the only say on "hip" as "from Singapore to Stockholm, whole neighborhoods have been overrun with raw denim, ironic sunglasses, and a deep appreciation of the superiority of vinyl records."
The Israeli neighborhood of Florentin in south Tel Aviv came in second place. Thrillist noted that "it's the blend of traditional culture and contemporary style that ultimately drew the hipster crowd there. In a city already known for its Bauhaus-style architecture, inspired street art, and 24-hour nightlife, Florentin is the go-to spot for artists, musicians, and people who dress like artists and musicians."
Florentin attracts many tourists and visitors to Tel Aviv, with its bohemian and eccentric mix of bars, cafes, restaurants and nightlife. Levinsky Street, with its profusion of spice stores and foodie shops, is also a great tourist attraction.
The other eight most hipster neighborhoods according to Thrillist are: Kreuzberg - Berlin, Germany; Malasaña - Madrid, Spain; Tiong Bahru - Singapore; Shoreditch - London, UK; Södermalm - Stockholm, Sweden; Fitzroy - Melbourne, Australia; Vesterbro - Copenhagen, Denmark; Amsterdam-Noord - Amsterdam, Netherlands.
Photo Tel-Aviv's hip Florentin neighborhood

Copyright: Israel Ministry of Tourism